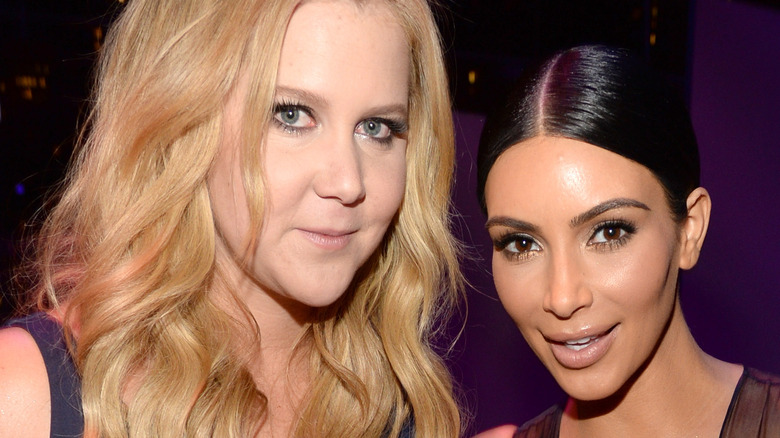 It's a celebrity friendship perhaps no one saw coming. But as fans are seeing in the first season of Hulu's "The Kardashians," Amy Schumer and Kim Kardashian are girls! The comedian helped the reality star write her monologue for her highly-anticipated appearance on "Saturday Night Live."
But their association goes much deeper than just getting together to review a few jokes. In fact, the mom of four took to her Instagram Story to pay tribute to Schumer after the episodes aired featuring the two stars appearing super chummy — yup, all 306 million of her followers saw Kardashian's kind words for her pal. More on that in a minute!
First, it's worth noting that Kardashian didn't take all of Schumer's advice when it came to what to include in her monologue. But ultimately, the "Life & Beth" star told Andy Cohen in an interview that she thinks her celebrity BFF did "amazing" on "SNL."
She also dished on their friendship.
Kim Kardashian and Amy Schumer solidified their friendship at a high-profile event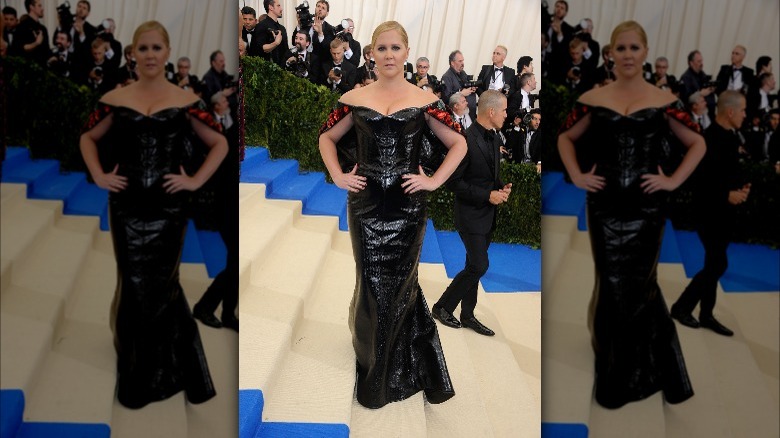 Amy Schumer shared more about the dynamic of the stars' friendship in her interview with Andy Cohen, proving their connection goes deeper than simply spitballing back and forth. The star said about Kim Kardashian's turn on "SNL," "I learned from her that night."
If you're wondering how Schumer, a comedian based in New York City, became thick as thieves with Kardashian, a reality star who calls Calabasas, California home, well, you aren't alone. Even Howard Stern noted his surprise that the two women are friends while interviewing Schumer in April of 2022. But the star went on to gush about Kardashian, calling her "an amazing person" and praising the SKIMS founder's accomplishments.
Schumer shared that while the two celebrities don't get coffee together all the time for instance, which of course may have something to do with the fact that they live on separate coasts, they "text" frequently.
As for how their friendship started in the first place, the actress explained that she first clicked with the Instagram influencer at the Met Gala. It seems the two ladies hit it off and shared a lot about how they were feeling about the event and, well, life.
The Met Gala wasn't the first time Amy Schumer crossed paths with Kim Kardashian
Lest we forget, Amy Schumer pulled a prank on Kim Kardashian and Kanye West at the Time 100 event in 2015. Apparently, falling right in front of the former star couple was the comedian's idea, with Schumer recounting to Time about the epic moment, ​​"I saw them and said to my publicist, 'Can I pretend to fall?' and she said, 'I can't stop you." And so, that's what she did, taking a tumble on the red carpet at the feet of arguably Hollywood's most famous couple at the time.
Kardashian remained mostly stoic after the fall, with the Independent reporting that she barely even reacted. Meanwhile, West seemed completely composed during the incident, with Schumer later saying to The Hollywood Reporter, "Kanye was smiling at me, but as if you programmed a robot to smile."
Ultimately, at the time, the New York native added, "There's no way either of them had any idea who I am." Clearly that has changed since 2015.
Amy Schumer is a big fan of Kim Kardashian
Once upon a time, Amy Schumer made fun of the Kardashians. During her 2015 stint hosting "SNL" herself, the comedian had a little fun at Kim's sister Khloé's expense (via VH1). "We used to have Khloé. Khloé was ours, right?" Schumer asked the audience during her monologue, going on to joke, "Khloé, she lost half her body weight. She lost a Kendall [Jenner], and we have nothing."
But as the HuffPost notes, Schumer went from pulling pranks on and making jokes about the Kardashians, to supporting them, taking to Instagram to commend the famous family in 2019. The star called the finale of "Keeping Up With the Kardashians" "a true delight," going on to admit, "I have made a million jokes over the years. But I love that family. They are good, kind girls and I appreciate how open they are. They are such great sports and have always been very kind to me and my family and are the first one to laugh at jokes about themselves."
She ended her post by sharing that she is especially impressed with Kim due to her ability to laugh off a joke at her expense and it's worth saying again she has been hugely supportive of the reality star's "SNL" hosting gig.
Kim Kardashian is also a fan of Amy Schumer
Proving that Kim Kardashian is also in Amy Schumer's corner when it comes to supporting the comic's work, the reality mom apparently crashed an interview the actress was giving about her Hulu show, "Life & Beth" (via PopCulture).
In the 2022 interview, the mogul called in via FaceTime and went on to refer to the Schumer-helmed show as "really special" and "really different."
Of course, Kardashian also praised Schumer after the "I Feel Pretty" star helped her with her turn on "SNL," saying on her Instagram Story she was a "girl's girl," alluding to how the New Yorker wanted her to be successful hosting the sketch show instead of acting jealous
Amy Schumer and Kim Kardashian also share a Pete Davidson connection
Before Kim Kardashian was making her relationship with Pete Davidson red carpet official, the actor and comedian was friends with the actress. The Staten Island native told Maxim in 2015, "Amy Schumer is a good friend." He went on to share that she is partly responsible for his mega-success, explaining that Schumer got him a small part in her movie, "Trainwreck" (via EW).
"She said, 'It's going to be a three-person scene, we're going to improvise some lines, and the scene will be you, me, and Bill Hader,'" Davidson went on to tell the magazine, adding that he loves Hader and working with him was a blast. "Not long after that, Bill calls and says, 'Hey, buddy, I recommended you to Lorne [Michaels]. You're going to need to come in and audition.'"
Now that Kardashian and Davidson are dating, perhaps they will double with Schumer and her husband, Chris Fischer.