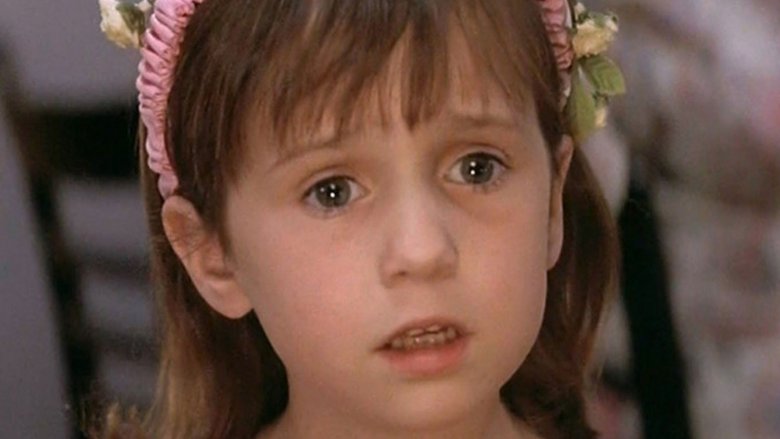 We may receive a commission on purchases made from links.
Child star Mara Wilson hit the big time in 1993 when, at just 6 years old, she starred alongside Oscar-winners Robin Williams and Sally Field in the family comedy classic Mrs. Doubtfire. She followed that with another giant hit, the 1996 film adaptation of Roald Dahl's Matilda, but then she soured on the entertainment biz almost as quickly as she became a star.
After Matilda, Wilson had a few roles in lesser known films and TV series before walking away from the set for a solid decade. She took up theater and writing instead, and also began working with charitable causes. And, believe it or not, she grew up! Crazy how that works, huh?
Keep reading to find out what the adorable little girl from Mrs. Doubtfire looks like now, as well as what she's been up to since her heart-melting performance helped us all forget that we were basically just watching Robin Williams in old lady drag.
She peaked early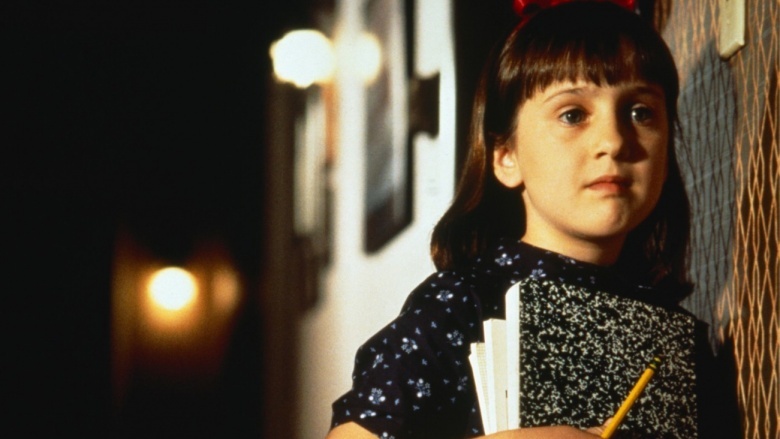 In a 2013 blog post, Wilson opened up about why she decided to quit acting after such a successful run on the big screen. "Film acting is not very fun," she wrote. "Doing the same thing over and over again until, in the director's eyes, you 'get it right,' does not allow for very much creative freedom. The best times I had on film sets were the times the director let me express myself, but those were rare."
She went on to describe how "dehumanizing" auditions can be, as well as how inherently "ridiculous" it is to even be a celebrity in the first place. A few years later, she expanded on her lost love for the big screen in a 2016 interview with NPR. She explained how the death of her mother, which happened when Wilson was 8 years old, combined with what she viewed as her career-peak performance in Matilda, led to her becoming "kind of disenchanted with acting, with Hollywood." She kept acting for a few years, however, because it was "a crutch" that helped her deal with the depression and anxiety she suffered after her mother's death, but even the sense of stability she felt from her career soon faded.
Throwing in the towel
On top of the aforementioned creative frustration Mara Wilson experienced with film acting, she also suffered an on-set embarrassment during her formative years with which even non-famous adolescents could identify. According to an interview with NPR, Wilson said that while starring in 2000's Thomas and the Magic Railroad, it suddenly became clear that she could no longer pull off the child roles for which she became famous.
"I came to set one day after a few months away, and people were kind of giving each other worried looks," she said. "And I had to have the director come and sit with me and explain to me that my body was changing." That sound you just heard was a million teenage girls running upstairs and slamming their bedroom door.
Though Wilson also said, "There wasn't like one big moment where I knew I was done," we have to imagine that the one-two combination of already not feeling the biz and having to chat about your bra with your boss when you're still a pre-teen basically does the trick. Perhaps it's unsurprising that Thomas and the Magic Railroad was her last acting credit until 2011.
Going from screen actor to scribe
Although she quit acting, Wilson went on to study at New York University and didn't dismiss her creative juices. Over the years, she's developed a rather fine resume as a writer. She wrote a book, a play, and articles that landed in high-profile places such as McSweeney's, the Daily Beast, and Elle.
One particular piece called "7 Reasons Child Stars Go Crazy (An Insider's Perspective)," written for Cracked, made national headlines due to Wilson's humorous, yet completely on-point rundown of why actors such as Lindsay Lohan and Amanda Bynes struggled to find their footing as adults. "If I were to talk to Lindsay Lohan, I'd encourage her to get the hell out of acting and into something soothing," she wrote. "Take up botany or something."
Lindsay Lohan: the botanist. Now, there's a thought.
She worked for a nonprofit
In addition to her writing, Wilson occasionally does voice-over work and cameos (more on that in a moment), but for a while, she also dedicated much of her time and energy to the nonprofit organization Publicolor. According to its website, the youth development program "engages high-risk students in their education throughout the year with a continuum of designed-based programs that mentor them for success in college, career, and life."
As of this writing, it's unclear what affiliation Wilson still has, if any, with the program, however she was still promoting it and helping to raise funds in Feburary 2017 when she tweeted, "I worked with Publicolor for years. I love this organization so much. Please give!"
A child star who now mentors young kids? Is there some kind of honorary Oscar for that?
The Matilda Challenge was literally Matilda-approved
If you're unfamiliar with internet "challenges," welcome to the world wide web! It's weird here. Anyway, challenges are an entire genre of internet video in which people participate in anything from dance crazes, to dangerous Kylie Jenner lip-based activities, to dumping ice water on their heads for charity. They can be literally anything, which is why, more than two decades after the film was released, Matilda became the inspiration for one such challenge. (No, we do not know why, and we would argue no earthly being does.)
Regardless of how the Matilda Challenge came to pass, Mara Wilson absolutely loved it, which is pretty much the holy grail of any celebrity-based challenge. She gave her seal of approval by sharing a video of a young girl hilariously pretending to have telekinesis, a trick she pulled off by having several ineffectively obscured helpers tossing items around the room while she pointed at them using her "powers." Eat your heart out, George Lucas.
Matilda vs. Eleven? Mara Wilson knows who wins.
Speaking of internet things, Mara Wilson also weighed in on another web trend: memes. This one involved people pitting her character from Matilda against another similarly-gifted character from more recent times, Eleven from Stranger Things. According to Buzz Feed, this debate got downright technical, with one journalist (yes, journalist) weighing in on Twitter: "Folks are really saying Eleven would win and I am perplexed. She had training and still could barely wiggle a truck. Matilda's skills were sharp and precise. She had kids flying, electricity going crazy, multiple objects moving simultaneously. Eleven don't want no smoke."
Mara Wilson took a more egalitarian approach and shut the whole conversation down by tweeting, "Matilda and Eleven would choose not to fight, and would instead become friends." Granted, that probably depends on how much attention Matilda got from Mike, but look, there's no need to send this thing right back into the weeds, right? Moving on.
She's probably not going on your podcast
Though Mara Wilson seems extremely well-versed in all things internet, podcasting was not something she embraced with abandon. In fact, according to the FAQ section of her website, she said, "The great thing about podcasts is anyone can make one. The bad thing about podcasts is anyone can make one." We're not sure when she wrote these sentiments, but she also felt at the time, "If you have a small audience, there really isn't much payoff for me. I know that sounds cruel, but think about what you do for a job, and imagine if people wanted to you to do it for free and without much recognition."
She then said she really only does podcasts that she's a fan of, or ones that are favors for friends, but something must have changed somewhere along the way. A quick Google search for "Mara Wilson podcast" returns several pages of appearances she's made over the years, including one for something called "Pounded in the Butt by My Own Podcast." So yeah, that's either an extremely good friend of hers, or Wilson certainly seems to have relaxed her stance on podcasting a bit.
She has struggled with mental illness
In 2015, Wilson teamed up with Project UROK to create a video discussing her many battles over the years with depression, anxiety, and obsessive-compulsive disorder (OCD).
"I wish somebody had told me that it's okay to be anxious, that you don't have to fight it," she says in the video. "That, in fact, fighting is this thing that makes it worse, that pushing it away is really what it is; it's the fear of fear. And that it's okay to be depressed," she continued. "Also, not that it's okay, but it's not a romantic thing. You don't have to be depressed; you don't have to suffer with it. You can get help. You can reach out."
Wilson also turned her personal battles into a comedy show called What Are You Afraid Of? in 2014.
She addressed her sexuality on Twitter
Wilson's sexuality became a hot topic in June 2016 when she tweeted, "I *used* to identify as mostly straight. I've embraced the Bi/Queer label lately." It was part of a series of tweets that Wilson decided to share in the wake of the mass shooting in Orlando that claimed the lives of more than 50 people at the LGBT-friendly Pulse nightclub, according to People.
Though she was open with her followers, even sharing the above photo of herself "at a gay club when [she] was eighteen," she decided to press pause on the conversationg for a while, tweeting, "I think I'm going to stay off Twitter for a few days. I had no idea this would be such a thing, but I guess it's flattering."
In September 2017, she returned to the topic in an interview with Ariel Goldberg in which she said the reason that she came out was to "show solidarity with her community," and that she'd like to see bisexuality de-stigmatized, particularly within the entertainment world. Wilson summed up her feelings by saying that embracing someone's sexuality is a simple matter of respect. "You don't need to understand something completely to be okay with it," she said.
She did a cameo for Broad City
Although Wilson has backed away from acting and explained her reasons for doing so multiple times, she still agreed to appear in a cameo in a 2016 episode of Broad City that paid homage to Mrs. Doubtfire. How did that come about?
According to an interview with Brokelyn, Broad City star and co-creator Abbi Jacobson told Wilson about the upcoming Mrs. Doubtfire homage episode after Wilson began following her on Twitter. A few days later, the typically reserved Wilson said she "felt emboldened…I think it was after a glass of wine, and I said, 'You know, if you want me to make a cameo or something on this, I totally would. I don't act much, I don't really like film or TV acting, but this would be really fun and I have a lot of respect for you two.'" Wilson told Brokelyn. "They were like, 'Totally, we'd love to have you on.' They were both really excited. Ilana sent me a 'Yes, yes kween!' email."
She's dealt with social media harassment
As a writer who promotes her own work, Mara Wilson uses social media, in part, to share her projects with her fans. You really don't have to look any further than her prolific use of both Facebook and Twitter to realize that she also happens to love the medium. However, in a 2014 interview with Longreads, Wilson lamented that Twitter, her "favorite social media platform," is "not good of [sic] taking care of harassment." She expanded on her feelings in a 2018 piece she wrote for Elle, in which she outlined some pretty scary treatment she endured from a fellow Twitter user:
"He had threatened to sexually assault me and several of my friends, kill our pets and partners, and even my friend's newborn baby," Wilson wrote. "He found phone numbers and addresses, tweeted them publicly, and reminded us that he lived in New York and could easily show up at our homes if we didn't do what he wanted."
Wilson even confessed that she "would not hesitate to leave Twitter and Facebook if there was a better alternative," but that she sticks around for the promotional benefits, the ability to crowdfund worthy causes, and the positive interactions she has with fans. "The truth is that no one actually cares about the platform," Wilson wrote. "They care about the people who use them."
She's very aware of her responsibility to her fanbase
In a June 2018 essay, Mara Wilson shared a funny anecdote about an email she got from a dude named Jason, who offered her $50,000 to attend a "retreat" at a Montreal cabin where he wanted her to pick and eat magic mushrooms with him and 9 of his "long lost bros" so that she could "moderate" their "catching up session." Nope, that doesn't sound ominous at all, huh? But in spite of dismissing the email for being what it was — ludicrous on its face — Wilson offered a thoughtful explanation of why she would never do such a thing.
Wilson is extremely cognizant of her youthful fanbase, which is kind of surprising, considering anyone who loved her as the little girl from Mrs. Doubtfire when that film premiered would be well into adulthood by now. Regardless, Wilson wrote that she feels she has "to be discreet, to try to live as if I'm a role model."
"It's not that I believe things like sex and substances are inherently immoral, I just think they are solely for grown-ups," she wrote. "Children should not be concerned with them: they've got enough to deal with already."
We're trying really hard not to bring up that oddly-title podcast right now.