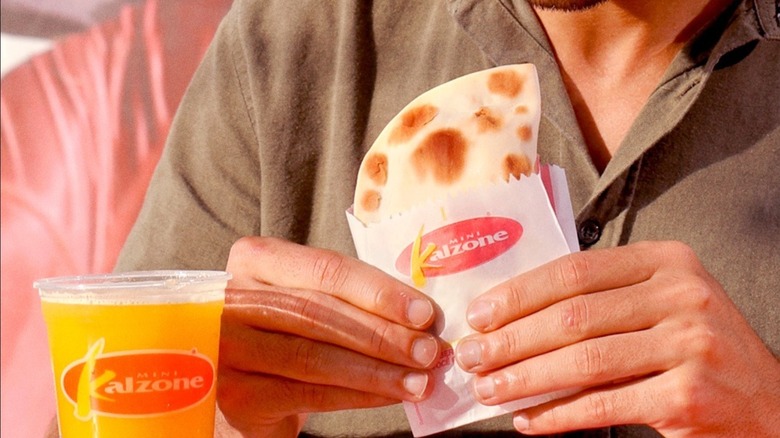 When we refer to the globalization of fast food, we're typically focused on American expansion — the ambitious McManifest destiny that's our great culinary contribution to the world. With the most locations worldwide belonging to McDonald's (38,600+), Subway (37,500+), Starbucks (32,600+), and KFC (24,100+) (via Foodydata), it's true that the top players in the global game hail from the grand ole U.S. of A. Lately, however, we're seeing evidence that the economic and cultural phenomenon of fast-food globalization may very well be a two-way street.
For many budding Latin American enterprises, the United States is what they refer to as an "emerging market." The past decade has seen an uptick of franchise locations popping up around tester market communities — some of which are not only thriving but gaining followings from Americans across all backgrounds. Recently, franchises like El Meson Sandwiches, Churromania, and Giraffas have found a welcoming home in the States after success in their origin countries.
Partly due to American's evolving culinary trends, these counter service restaurants appeal to the adventurous eater in us, often featuring regional Latin American flavors and unique menu items. As it turns out, fast, affordable, and flavorful is a global trend that doesn't appear to be going out of style as new franchises expand both regionally and globally.
Here are some top contenders in the Latin American fast-food market we'd love to see make their way over the border and onto our plates.
1. Bob's Burgers – Brazil
Just so everyone is clear, Bob's Burgers in Brazil predates the show "Bob's Burgers" by about 60 years (via Bloomberg). While lacking in kitschy names for specials, the burgers here have withstood the test of time.
Bob's features simple burgers with "Big Bob Sauce" and specializes in Ovaltine milkshakes. In fact, Ovaltine, (yes, the powdered malt mix), is a standard household item in many kitchens in Argentina and Brazil.
Bob's has also been on the cutting edge of creative and unusual marketing gimmicks when they launched "edible packaging" for their burgers. More than curbing environmental waste, Bob's pivoted the move to advertise to hungry consumers, too ravenous to waste time unwrapping their meals. The slogan "Não dá pra controlar," (loosely translated to "can't control yourself") encouraged diners to eat the wrapper itself. (via NY Daily News).
Whether washing down wrappers with Ovaltine can become a hit in the U.S., we're not sure, but we're ready to give it the ol' Belcher family try.
2. Mini Kalzone – Brazil
Much like the States, many of Latin America's fast-food franchises don't solely specialize in traditional cuisine. Shifting immigrant populations and diversified trends in cooking have resulted in companies profiting from introducing Italian, Middle Eastern, and even Japanese cuisine. Just like the "Mexican" cuisine in the Taco Bell franchise, many Latin American countries have found local acceptance in international flavors, served fast.
Mini Kalzone in Brazil has had just this sort of success by introducing fast Italian, mainly in the form of cheese and meat-filled pockets. With almost 20 different kinds of calzones, from "Premium" varieties to their popular "Maxi Beef" pocket, Mini Kalzone keeps variety baked in.
Similar to Taco Bell's Nacho Cheese Locos Tacos made with Doritos flavored shells, Mini Kalzone likes to mix traditional style with recognizable brand favorites. On the dessert side of the menu, you'll find a Kalzone mixed with the popular dessert spread, Nutella. Without sticking to standard fillings favored in Italy, Mini Kalzone does its own thing — and that's okay, too.
Takeaway: A Kalzone is not a calzone. It's a Mini Kalzone.
3. El Corral – Colombia
Hamburguesas El Corral specifically refers to itself as "anti-fast food," and that title may very well be deserved. While the restaurant tops Colombia's charts as the biggest burger chain (over McDonald's), this affordable, counter service stop checks all the boxes of what you would expect fast-food to look like, outside of being fast (via América Retail).
The restaurant features a wide variety of burgers, with endless toppings and styles. Burger portions are huge, with big meaty slabs competing in thickness to surrounding buns. The restaurant also serves specialty hot dogs (called "Cowboys"), as well as fries, salads, and standard American fare.
While El Corral may be American fare, the restaurant did not fare well in Miami, with their flagstaff American locations closed and their English website currently offline (via Burger Beast). Whether the popular chain will give a new Stateside location a shot, it's unclear. With North America's seemingly never-ending demand for craft burgers, El Corral may find a welcoming home with a few tweaks to its game plan.
4. Frisby – Colombia
Pizzeria turned fried chicken titan, Frisby, currently has over 200 locations. Specializing in "Broaster" chicken (using both a pressure cooker and deep fryer) and incorporating Colombian cuisine such as plantains, arepas, and honey, Frisby is Latin America's answer to KFC (via DBpedia).
According to its mission statement, Frisby's also has a novel consideration for environmental issues for the fast-food realm. Featuring eco-friendly packaging made from sugar cane bagasse, the restaurant is committed to recycling and sustainable factory practices — even going so far as starting an initiative to reduce the number of straws its restaurants use — something that most American fast-food giants have turned a blind eye to.
While Frisby has done a brief stint with a location in Jackson Heights, New York, the first North American enterprise has since closed (via Queens Gazette). While 2007 may not have been ready for Colombian fried chicken, we think Frisby's sustainable practices and delicious fried chicken may be ready for a comeback.
5. Bembos – Peru
Bembos is a Peruvian burger joint that features a whole lot of flair. From their eccentrically decorated restaurants to their creative burgers, you know when you're in a Bembos. With more than 55 stores in the country, Bembos was one of the first restaurants to introduce Peruvians to hamburgers and fries. In this way, the company was able to make their menu all their own — creating new burger combinations and interesting offerings by incorporating traditional ingredients and spices.
Toppings include banana, string potatoes, chimichurri mayo sauce and Bembos' own "Chili Sauce," which is a spicy dipping sauce. Bembos also offers Peru's own Inca Kola, which is a sweet, fruity drink also known as the "Golden Kola."
Lastly, for dessert, Bembos also features another local favorite, condensed milk ice cream with Dona Pepa (traditional sprinkled cookie) toppings. An entire meal at Bembos can be a unique and flavorful partnership of Peruvian and American foodie favorites. The best of all worlds.
6. Pollo Pepe – Mexico
If North America is missing out on rotisserie chicken fast-food (not that there is a shortage of fast food chicken in the U.S.) we welcome Pollo Pepe to bring its bird and step up to the plate. Pollo Pepe has expanded in Mexico, featuring just under 60 restaurants, according to its website.
The menu has a bit of an ambitious collection outside of the chicken combinations — hosting pizza, flautas, and hamburgers, in addition to the chicken. Sticking to the restaurant's namesake, however, one can get a delicious, slow-cooked and glazed chicken with a side of Mexican traditional or American coleslaw, rice, codito (Puerto Rican macaroni salad), charros (beans), and/or mashed potatoes.
To wash down a pollo (Pepe-style), opt for a horchata or Tamarindo drink to do it as they do down south of the border. It's a wonderful flavor combination that we feel would fill a fast-food niche in the U.S.A.
7. Pasquale Sangucheria – Peru
Peru really does a sandwich right and for too long, the United States has been missing out. At Pasquale Sangucheria, one can get all the exotic flavors of this beautiful Latin American country, nestled right between two buttered buns. The restaurant also features a variety of classic and international dishes.
Local favorites to try are the chicharrón sandwich (pork and potato) and the lomo saltado clásico (classic stir fry). Pasquale is also famous for its sauces which include rocoto and huancaína. Slathered on crusty bread and with warm turkey breast, grilled chicken, or pork and plantains, these sandwiches are packed with flavor and come with infinite ways to mix it up.
While an American sandwich can be boring at times, Sangucheria brings the power of Peru to the plate. If you ever find yourself in Lima, be sure to grab a bite from your local Pasquale to get a taste of what the United States is missing out on.
8. Doggis – Chile
If you're looking for something exciting in the Latin American fast-food world, head to Doggis in Chile for a hot dog that feels like it's action packed.
The hot dog toppings get kind of radical at Doggis — way beyond little wavy lines of mustard and ketchup. Try mayonnaise, salsa, ranch, guacamole, or queso — or everything at once for those reckless customers that know no fear. These big dogs are known as "completes" at Doggis, with the large version going as long as 8.5 inches. Yes, that's a whole 'lotta dog. (via Visit Santiago)
If that seems a bit intimidating to you, no worries. Doggis also features delectable sides. Order empanadas, fries, a chicken sandwich, or ice cream with candy toppings. This fun Chilean restaurant is more than just a hot dog stand.
For avant-garde hot dogs, we'd love to welcome Doggis to the North American landscape of fast-food. Frankly, we don't have enough doggone hot dogs around here.
9. Juan Maestro – Chile
Doggis' sister restaurant, Juan Maestro, specializes in sandwiches made Chilean style. Featuring piles of shredded meat, avocado, homemade mayonnaise, empanadas, fries, and smoothies — Juan Maestro is the ultimate quick-serve sandwich shop for everything you're in the mood for.
These traditional Chilean sandwiches claim buttered burger buns rather than sliced bread. Additionally, rather than appealing to crowds as a greasy, quick bite, Juan Maestro focuses on fresh ingredients and "healthier" options like "Churrasco" (meaning grilled meats) rather than fried. With dozens of locations around Chile and growing, it's clear that Chileans are favoring the fresh and healthy options as well (via bio).
This sandwich shop is under the G&N Brands group that also manages five other culinary franchises but has yet to break into the North American market. As the group continues to grow, it's possible we may begin to see international expansion in the near future.
10. Tipicas Empanadas – Colombia
If there is one thing that is universally loved, it's a pocket of meat encased in dough and baked or fried. From dumplings to perogies, almost every culture seems to have discovered this heavenly receptacle.
At Tipicas Empanadas, you can enjoy your meat pocket to go with a variety of flavor combinations influenced from all over the world (via Popsugar). Choose a "Typical Meat" for the Colombian version of a corn empanada with spiced beef, potato, and house stew. Branch out for other "Typical" collections, including Hawaiian, cheese, Mexican, Ranchera, Thai, and Paisa, which includes three types of pork, beans, plantains, rice, and house stew.
Outside of the traditional corn offerings, Tipicas also does a "baked" wheat version and arepas. With eight different sauces for dipping 14 different empanadas (that's a little over 3,000 combinations of flavor, yes, we did the math), we believe that this little Colombian establishment has the key to our collective American hearts.
11. Habib's – Brazil
If you've been craving a Brazilian version of Middle Eastern cuisine, you've clearly been to Habib's (via BBC). If you haven't, Habib's menu may seem a bit strange at first — but trust us, you're in for a treat. This novel little fast-food establishment took a risk and came up on top. With over 300 outlets, Habib's is largest Arab food chain in the world (via Brazil Partner).
Habib's specializes in "Bib'sfihas," or, more traditionally, "Sfihas," which are Middle Eastern flatbreads stuffed with minced beef and other traditional toppings. Toppings range from plain cheese to broccoli and bacon to an Italian version that resembles pizza. Habib's even has dessert Sfihas with M&M's on chocolate.
Habib's also features more traditional pizza and chicken dishes like parmigiana, stroganoff, and fried fillets. Still, if none of that tickles your fancy, grab a burger, a chicken sandwich or "Beirut" sandwich, a kibbe (with cheese or without), cheese fries, or even a combo featuring two cans of beer and four cod cakes. Yep, Habib's really has it all.
12. La Casa de Tono Restaurante – Mexico
Pozole is a traditional soup or stew in Mexico made from hominy and featuring meats, cabbage, chile peppers, garlic, avocado, radishes, and limes. At La Casa de Tono Restaurante in Mexico, it's really the star of the show.
While more like a 24-hour diner than a traditional fast-food establishment, La Casa de Tono is well-known for its quick service and busy atmosphere. And, with over 50 branches, La Casa de Tono's house has become an institution in Mexico (via Bon Appetit). Rapid fire food is part of the scene as this little restaurant serves up bowl after bowl of pozole and hefty plates of enchiladas, quesadillas, tacos, rice puddings, flautas, flan, and everything you love about Mexican cuisine.
Tono's House is also known for its breakfast foods, small menu, inexpensive offerings, and friendly staff. Voted as one of the "Best Restaurants in Mexico City," by the Independent, we'd love to see a version pop up in the States.
13. Casa do Pão de Queijo – Brazil
Self-described as a "pioneer in the commercialization of cheese bread," Casa do Pão de Queijo had us at "hello." With success in the 50-year-old company's signature bread, franchises featuring a little grandma as its mascot soon spread across Brazil.
In addition to cheesy breads, the bakery restaurant also claims a dessert named the "Best Chocolate Cake in the World." While perhaps leaning on the cusp of bombastic, we must admit, we're intrigued. Casa do Pão de Queijo is known in Brazil as being the go-to quick service place for breakfast and coffee. Also serving paninis, sandwiches, savory stuffed puffs and pastries, you might even consider Casa do Pão de Queijo to be Brazil's version of a Starbucks — somewhere reliable to grab a quick bite and pick-me-up around the city.
Hopefully, sometime in the near future, the United States will find itself enjoying a hot cup of Brazilian coffee with a cheesy puffball in the morning. Frankly, we are so down.