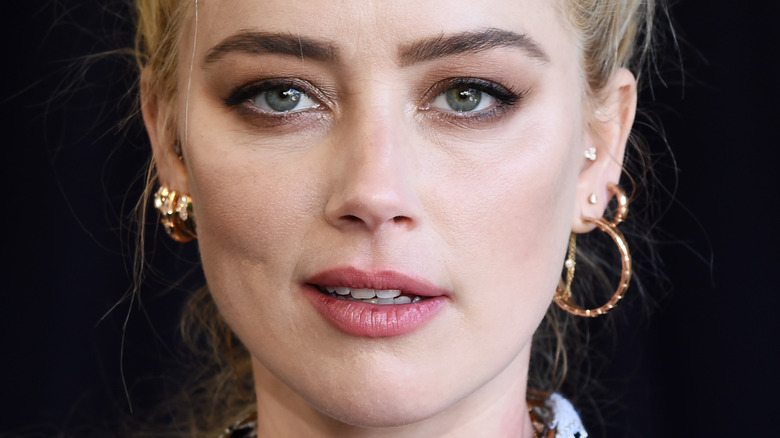 This article contains references to domestic violence and sexual abuse.
Prior to her relationship with Johnny Depp, Amber Heard was known for her roles in films like "Pineapple Express," "Drive Angry," and NBC's "The Playboy Club." But in 2011, her fate changed when she was cast alongside Johnny Depp in "The Rum Diary." Per CNN, during his defamation case against his ex-wife, the actor described how shooting a shower scene together in the film helped him to identify his romantic feelings towards his co-star. "That moment … felt like something I should not be feeling. I think there was something in the kiss in the shower that was real," he told the court.
The couple got married in 2015, but just 15 months later Heard filed for divorce and accused her former spouse of domestic abuse. In 2018, the "Aquaman" star then wrote an op-ed published by the Washington Post about being a survivor of sexual violence. Despite not explicitly naming Depp in the piece, her ex-husband sued her for defamation, prompting her to counter-sue him. In 2022, what transpired was a major court proceeding where some of the more curious and disturbing details about Depp and Heard's relationship were exposed to the public.
Since the two began their extremely public and fraught breakup, many celebrities have come forward to share their feelings about Depp's ex-wife. These are all the celebrities that can't stand Heard.
Ireland Baldwin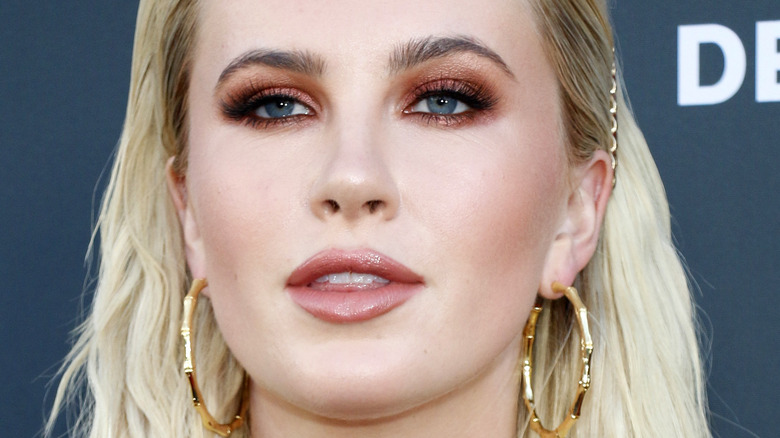 Alec Baldwin and Kim Basinger's daughter, Ireland Baldwin, didn't hold back on social media when speaking about Amber Heard and the ongoing lawsuit with Johnny Depp. In a post shared on her Instagram Stories (via the Mirror), Ireland shared an audio clip of Heard seemingly admitting that she hit Depp along with a statement suggesting she was more than familiar with this type of person. Speaking about the gendered lens placed upon alleged cases of domestic abuse, Ireland suggested there are some manipulative women who use their gender to falsify abuse allegations in the hope that society will support them over the man.
She wasn't shy in calling out Heard as being one of these alleged women. "Men can experience abuse too and this absolute disaster of a human being is a terrible person," she wrote about the "Justice League" star, "… I hope Johnny gets his reputation and his life back and I hope he's in like five Pirates movies." Baldwin was referring to Depp's claims in court that Heard's allegations of abuse cost him his career and his reputation, per Reuters. Once in high demand, the actor was dropped by Disney and the "Pirates of the Caribbean" franchise following his ex-wife's allegations.
If you or someone you know is dealing with domestic abuse, you can call the National Domestic Violence Hotline at 1−800−799−7233. You can also find more information, resources, and support at their website.
Vanessa Paradis and Lily-Rose Depp
It might not come as a huge surprise that Johnny Depp's former partner and the mother of his children, Vanessa Paradis, jumped in to defend him against Amber Heard's allegations of abuse. The couple met in Paris in 1998 and they were together for 14 years, per the Daily Mail. Speaking to the outlet about the first time he laid eyes on the French star, he said, "My life as a single man was done."
In 2016, TMZ obtained a copy of a statement Paradis wrote to defend Depp, in which she praised the integrity of her ex. "I believe with all my heart that these recent allegations being made are outrageous," she wrote. "In all the years I have known Johnny, he has never been physically abusive with me and this looks nothing like the man I lived with for 14 wonderful years."
In 2022, Depp made claims during his witness testimony that his daughter, Lily-Rose Depp, didn't get along with Heard (via People). Stating how she didn't attend the couple's wedding, the actor explained, "She and Ms. Heard were not on particularly great terms, for several reasons." When allegations against her father were initially raised, the young star paid tribute to him in a since-deleted Instagram post where she highlighted her dad's loving nature and claimed that his soundness of character was recognized by everyone who knew him.
Paul Bettany
In 2010, Johnny Depp and Paul Bettany formed a friendship while filming the romantic thriller, "The Tourist." Six years later, the British star took to Twitter to defend his former co-star following Amber Heard's allegations against him. Stating that he'd known the actor for years, Bettany wrote, "He's the sweetest, kindest, gentlest man that I've ever known."
Curiously, the friendship between the pair came up during the defamation trial between Depp and Heard. The two men occasionally exchanged text messages and during some of the correspondences, the "Edward Scissorhands" star reportedly joked about murdering his ex-wife, per Newsweek. After Depp quipped that they could set fire to Heard, Bettany darkly wisecracked that they could drown her to see if she was a witch, instead. In response, Depp wrote, "Let's drown her before we burn her!!! I will f*** her burnt corpse afterwards to make sure she is dead."
Days later, the actor shared in court that his ex-wife never got along with Bettany. According to People, the actor alleged that Heard hated the close friendship he shared with the "WandaVision" star and that it was a source of conflict in the relationship. "For her, he was a threat and would take me away from her," he claimed. "With regard to if Paul Bettany were getting the attention from me, that was a show-stopper." Depp also claimed that the two once got into an argument so heated that she made Bettany's 18-year-old son cry.
If you or someone you know is dealing with domestic abuse, you can call the National Domestic Violence Hotline at 1−800−799−7233. You can also find more information, resources, and support at their website.
Penelope Cruz and Javier Bardem
Having appeared in films like "Blow," "Murder on the Orient Express," and "Pirates of the Caribbean: On Stranger Tides," alongside Johnny Depp, it's unsurprising that Penelope Cruz jumped in to declare her support for her frequent co-star. In 2020, the Spanish actor wrote an impassioned statement defending Depp. Published by The Blast, Cruz shared how she was first introduced to the star by filmmaker Pedro Almodovar when she was 19-years-old. "The only sentences I knew how to say in English at that time were, 'how are you' and 'I want to work with Johnny Depp,'" she wrote. The two became friends with Cruz suggesting that, as she'd experienced Depp's kindness first-hand, she was baffled by the accusations against him. "The idea that he is an incredibly violent person is the farthest thing from the Johnny I knew and loved," she added.
Cruz's husband, Javier Bardem, similarly shared his own statement in support of Depp. Also published by The Blast, the star wrote about how benevolent and supportive Depp had been to him and his family and suggested that he believed his friend to be a victim, not a perpetrator. Bardem wrote, "I love Johnny because he is a good human being, trapped in the lies and manipulations of toxic beings and yet smiling and loving us all in spite of it."
Sia
In October 2020, singer Sia jumped on Twitter to show her support for Johnny Depp and to critique Amber Heard while she was at it. Per ET Canada, the Australian star shared a link to a YouTube video titled "Amber Heard & Johnny Depp: The Real ABUSER FINALLY REVEALED!!," which claimed to feature uncensored audio of an argument between the two.
Per the outlet, Sia followed up the tweet with another which suggested she saw Depp as the true victim. A third and final tweet made reference to the $7 million Heard was said to have made in her 2016 divorce settlement, which she claimed to have donated to charity – Depp later alleged his ex-wife was lying about having done so. Sia alleged that Heard's ex-boyfriend Elon Musk was somehow involved and addressed the tweet to him directly. She wrote, "Didn't you give her the seven million she 'donated' from her settlement? She still came out seven million richer. Why are you protecting her? She will never get the help she needs if we all stay silent!" (via ET Canada).
Musk and Heard started dating in 2016, following her split from Depp, but the relationship ended after a year. Despite Sia's claims, as of April 2022, there has been no indication that the Tesla billionaire gave his ex-girlfriend this sum of money.
Laura Wasser
Laura Wasser, a California-based attorney in family law, has carved out an incredible career representing celebrities in their divorces. According to Vogue, the high-profile attorney has worked on several celebrity divorce cases including the one between Brad Pitt and Angelina Jolie. She is also said to have been hired by Kim Kardashian for her divorce from Kanye West. Given her stellar reputation, it's unsurprising that Depp also retained her during his divorce — and she certainly didn't hold back against Amber Heard during proceedings.
After the "Her Smell" actor was granted a temporary restraining order against her ex-husband, Wasser responded by alleging that Heard's behavior was driven by a monetary agenda. In legal documents shared by CNN, the attorney claimed, "Amber is attempting to secure a premature financial resolution by alleging abuse." She further suggested that the star was acting in response to negative reports that had started circulating about her following news of the couple's divorce proceedings.
According to Radar, the legal documents also slammed Heard's request for money as part of the settlement. Wasser contended, "Amber is a successful model and actress who earns her own income and is capable of supporting herself."
Doug Stanhope
American comedian Doug Stanhope made major waves in 2016 when he wrote an article for The Wrap alleging that he'd witnessed Amber Heard manipulating Johnny Depp. Speaking of the behavior that he and his girlfriend purportedly saw during Depp's marriage, he wrote, "We have watched Amber Heard f *** with him at his weakest." Stanhope also suggested Depp couldn't sleep in the days leading up to their alleged domestic dispute, due to the actor being afraid of Heard. "He still pronounced his love for Amber but was presciently aware that she was going to pull off some kind of ruse to f*** him over."
The piece didn't go down well with Heard and she sued Stanhope. However, she dropped the lawsuit a few months later after she settled with Depp, per E! News. Heard's lawyer told the outlet, "I can tell you that Ms. Heard and Mr. Stanhope did NOT reach any agreement to settle the case." They added that there was no financial compensation of any kind and that the lawsuit was dropped as part of divorce negotiations.
Still, the outspoken comedian is continuing to stand by his friend. In 2020, when the Daily Mail shared audio recordings appearing to show Heard confessing to hitting Depp, Stanhope wrote on Twitter, "The calculating barnacle that is Amber Heard has just hung herself on just released audio."
Winona Ryder
After meeting in 1989, Johnny Depp and Winona Ryder's romance lasted for four years and included an engagement. The two were wildly and outspokenly in love with each other, with Depp telling People in 1990, "There's been nothing in my 27 years that's comparable to the feeling I have with Winona." For Ryder, the impact was equally earthshaking. Speaking to Cinema.com about the impact of the relationship, she appeared to stop short of suggesting it was a tough one to get over. "I had my first real relationship with Johnny [Depp], a fiercely deep love that I don't know that I'll ever … The first love is like that isn't it?" she mused.
In 2020, those feelings likely prompted Ryder to step up in defending the character of her first love. In a statement published by The Blast, the "Heathers" star suggested she was deeply upset by the domestic violence allegations made by Amber Heard against the actor. She took care in discussing the issue and wrote, "I do not want to call anyone a liar but from my experience of Johnny, it is impossible to believe that such horrific allegations are true." Ryder also added that Depp was never violent or abusive towards her, nor had she ever witnessed him exhibit such behavior against others. "I only know him as a really good, loving, caring guy who is very, very protective of the people that he loves," she noted.