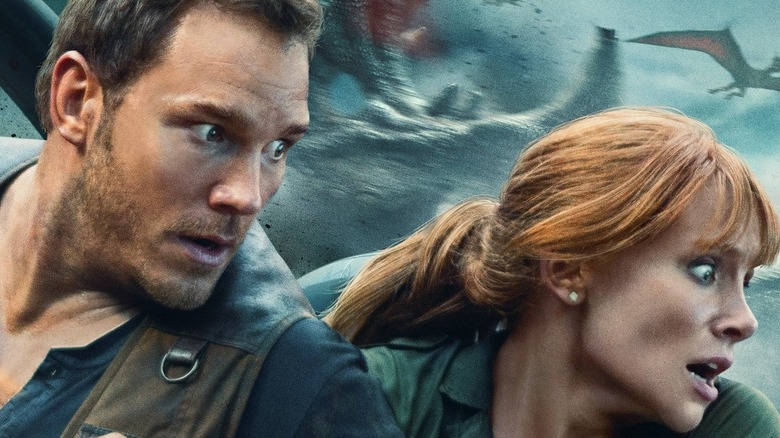 Steven Spielberg's "Jaws" is often credited as the birth of the summer blockbuster, but his adaptation of Michael Crichton's most famous novel was an equally important benchmark in filmmaking. Released in 1993, "Jurassic Park" was truly game-changing. CGI was still considered a novelty at the time, but Spielberg and his team proved beyond any doubt that it was more than a passing fad. "It was like one of those moments in history, like the invention of the light bulb or the first telephone call," Spielberg's friend and colleague George Lucas said after seeing the first test shots of the dinosaurs in "Jurassic Park" (via The Atlantic). "A major gap had been crossed and things were never going to be the same."
Visual effects improved exponentially as the years passed, even if the quality of "Jurassic Park" movies did not. Two sub-par sequels followed, leaving the franchise on the brink of extinction. It wasn't until 2015 (14 years after the particularly lackluster "Jurassic Park III") that we returned to the dino-infested islands off the coast of Costa Rica, and while "Jurassic World" didn't quite capture the magic of Spielberg's original, critics agreed that it was the best entry since "Jurassic Park." The 2018 follow-up "Jurassic World: Fallen Kingdom" was far more divisive, but it still made over a billion dollars at the global box office, making another sequel inevitable.
Here's everything we know about the third Jurassic World — revealed in February 2020 to be titled "Jurassic World: Dominion" — so far.
What's the release date for Jurassic World: Dominion?
A third film became a certainty when "Jurassic World: Fallen Kingdom" made over a billion dollars, but a "Jurassic World" trilogy was actually the plan all along. Speaking at the TIFF back in 2016, "Jurassic World: Fallen Kingdom" helmer J.A. Bayona confirmed that Colin Trevorrow (director of "Jurassic World" and co-writer of "Fallen Kingdom") had a three-movie arc in mind from the beginning. "It's very interesting where he's leading the story," Bayona said (via MovieWeb).
Universal had so much confidence in its resurgent franchise that it announced a date for the third "Jurassic World" film before "Jurassic World: Fallen Kingdom" was even out. "The studio has set a June 11, 2021, release date for the movie," The Hollywood Reporter confirmed in 2018, four months before "Fallen Kingdom" premiered.
The fact that Universal sees "Jurassic World: Dominion" as a summer event doesn't come as much of a surprise, but a summer 2021 release date was thrown into jeopardy in March 2020, when production on "Jurassic World: Dominion" ceased amid the coronavirus outbreak. The blockbuster was being filmed at Pinewood Studios near London, the most affected city in the UK. Pinewood remains operational, but the "Jurassic World: Dominion" cast and crew have been ordered to abandon ship — British tabloid The Sun printed some eerie aerial images of the abandoned set.
The good news is that filming resumed in July 2020. The bad news is that the movie didn't make its June 11, 2021 release date. Instead, it's set to hit theaters on June 10, 2022.
What cast members are returning for Jurassic World: Dominion?
"Jurassic World" fans will be thrilled to know that Chris Pratt and Bryce Dallas Howard are reprising their roles as Owen Grady and Claire Dearing, respectively. Thanks to the "Jurassic World: Dominion" trailer, we also know that Isabella Sermon is returning as Maisie Lockwood, who, as you probably remember, freed the dinosaurs at the end of "Fallen Kingdom." The trio has been living together since the events of the last film, with Owen and Claire becoming Maisie's guardians.
However, these aren't the only familiar faces returning for "Dominion," as the original "Jurassic Park" trio also prepare to reunite on screen. Jeff Goldblum all but confirmed their return during an appearance on "Watch What Happens Live." The actor had already teased the idea at a red carpet event, and his cryptic answer all but confirmed that the original characters would be involved in some way. In September 2019, Trevorrow finally made it official — the director revealed that Goldblum (Ian Malcolm), Laura Dern (Ellie Sattler) and Sam Neill (Alan Grant) all had key roles in the upcoming sequel, bringing the franchise full circle.
Neill, Dern, and Goldblum have all reprised their iconic roles since starring in 1993's "Jurassic Park" together, but this core trio hasn't featured in the same movie since appearing in the franchise opener all those years ago. Goldblum's Dr. Ian Malcolm popped up most recently, though his part in "Jurassic World: Fallen Kingdom" was little more than a glorified cameo. Speaking to Empire, Trevorrow explained why he chose to hold off on throwing the legacy characters into the mix properly until this moment. "We'd have had to come up with a reason why Ellie, Malcolm, and Grant all went to the theme park on the exact same day it broke down — again," he said. "The next film allows the legacy characters to be a part of the story in an organic way. [Co-writer] Emily Carmichael and I call it 'Jurassic Park VI,' because it is."
The original Jurassic Park stars are excited to reunite for Dominion
The stars of 1993's "Jurassic Park" are just as excited as the fans are about their return to the franchise. Laura Dern was there in person when Colin Trevorrow revealed that Dern, Sam Neill, and Jeff Goldblum all had "major roles" in "Jurassic World: Dominion," and she could barely contain her joy when she addressed the audience at the Collider Q&A event. "I love dinosaurs," she said. "I love that you love them like we do."
Since then, Dern's co-stars have also been speaking about reuniting for what's set to be the biggest "Jurassic" movie to date, and they're equally as excited. Goldblum took to Instagram, where he quoted a classic Ian Malcolm line and declared himself "happy as a clam-asaurus" to be working with his "brilliant" co-stars once again. Sam Neill was also full of compliments, calling Dern and Goldblum "the bestest of best company" in his own Instagram post. "We always had a ball on the previous, and are sure to again."
Speaking to Empire in October 2019, Trevorrow revealed that Neill, Goldblum, and Dern would all have a say in how their characters have been doing since we last saw them. "Who are these people now? What do they make of the new world they're living in, and how do they feel about being part of its history?" Trevorrow said. "Ultimately it will be in collaboration with the actors. They know and love these characters. We'll do it together."
Justice Smith and Daniella Pineda will be back in action for Jurassic World: Dominion
Justice Smith's Franklin Webb and Daniella Pineda's Zia Rodriguez were both introduced during "Jurassic World: Fallen Kingdom," aiding the main stars in their efforts to stop money hungry mercenary Ken Wheatley (Ted Levine) and Benjamin Lockwood's mutinous aide Eli Mills (Rafe Spall). Webb, a Jurassic World IT technician turned cyber hacker, and Rodriguez, an ex-military paleo-veterinarian, were on Isla Nublar representing the Dinosaur Protection Group. Both had close shaves when the dinosaurs they were there to protect wreaked havoc on the island, but they escaped with their lives, meaning a return in the third "Jurassic World" film was always a possibility. Now, their comeback has been confirmed.
According to Collider, Smith (best known for his lead role in live action Pokémon movie "Detective Pikachu") and Pineda (who appeared in Netflix's "Cowboy Bebop" series) have both agreed to reprise their "Jurassic World: Fallen Kingdom" roles in the upcoming sequel. It's a chance for the two characters to develop their relationship, which Smith claims is most definitely platonic. "It's not romantic," the actor told /Film. "Not in the slightest." The way Smith describes it, Franklin and Zia are more like brother and sister. "She kinda just picks on him," he explained. "He tries to give it back to her and she always ends up shutting him down. That just represents the bond that they have. They've worked together for so long trying to save these dinosaurs."
After the release of "Fallen Kingdom," Pineda revealed that a scene confirming that Zia was a lesbian had been cut from the film. Hopefully "Jurassic World: Dominion" will take the time to develop this aspect of her character.
Jake Johnson and Omar Sy will reprise their Jurassic World roles
Jake Johnson put in a scene-stealing performance as Lowery Cruthers in "Jurassic World," so the news that he wouldn't be returning for "Jurassic World: Fallen Kingdom" was a blow for fans of the easy-going control room worker. Colin Trevorrow told Den of Geek that Johnson (who starred in the director's critically acclaimed sci-fi rom-com "Safety Not Guaranteed") didn't show up in the first "Jurassic World" sequel because there wasn't a "genuine, organic way to make it not seem like he's just in it because he was a great character in a previous film." Now that the dinosaurs are out, however, there's an opportunity to bring characters that weren't dumb enough to return to Isla Nublar in the second film back into the story.
Johnson will reprise his role in "Jurassic World: Dominion" (he confirmed the news in an Instagram post, captioning a picture of his character with the words "Lowery's coming home"). And he isn't the only returning cast member from the first film. French actor Omar Sy (best known for international crossover hit "The Intouchables") has also signed up for the threequel. The European star played raptor handler Barry Sembene in "Jurassic World," a friend and colleague of Chris Pratt's Owen Grady. "And here we go again," Sy posted to Instagram. Trevorrow clearly found a way to bring Johnson and Sy back into the fold without it feeling too forced, and he's apparently looking forward to their reunion.
The original Jurassic Park kids are reportedly open to returning for Jurassic World: Dominion
When the news broke that Laura Dern, Sam Neill, and Jeff Goldblum were returning for the third "Jurassic World" film, fans of the franchise began fantasizing about how cool it would be if the original kids from "Jurassic Park" were to join them. A campaign to get Ariana Richards (Lex Murphy) and Joe Mazzello (Tim Murphy) on board was soon launched, and it was reportedly well received by both actors — "Entertainment Tonight" sources confirmed that Richards and Mazzello were "open to the idea" of playing the Murphy siblings again. Things went quiet after that, but in February 2020 Mazzello dropped a cryptic tweet that seemed to tease his involvement in the upcoming threequel. "I think it's time to get back to work," he said. "What do you say gang?"
He didn't mention it by name, but the timing suggested that Mazzello was referring to "Jurassic World: Dominion" — he sent his tweet out a couple of days before the film entered production. Could Mazzello (who appeared as Queen bassist John Deacon in the Freddie Mercury biopic "Bohemian Rhapsody") make a surprise appearance? There's been no official word on him or Richards yet, but it seems increasingly likely that one or both of them could at least cameo. Chris Pratt appeared to confirm their impending return to the franchise during an interview with Ellen DeGeneres. "All the cast from the original 'Jurassic Park' is coming back," he said.
Who are the new cast members of Jurassic World: Dominion?
It's safe to say that the "Jurassic World: Dominion" cast is stacked. However, that's not stopped director Colin Trevorrow from adding several fresh faces to the film, too. In 2019, Deadline confirmed that "Black Box" star Mamoudou Athie had joined the franchise and will take on the role of BioSyn employee Ramsay Cole. The following day, the outlet reported that DeWanda Wise has also joined the cast of "Dominion" as pilot Kayla Watts. Wise spoke to Empire about her upcoming role, revealing a couple of details about her character. Kayla is "fresh out of the Air Force and her main thing is flying cargo: mostly dinosaur stuff," she said. Thanks to the trailer, we also know that Wise's character gets up close and personal with a few dinosaurs during the film but never fear because she's working alongside Chris Pratt's Owen Grady.
"Jurassic World: Dominion" marks Irish actor Elva Trill's first international movie role. Not only is this her biggest role to date, but the actor admitted to the Irish Independent that joining the franchise was a dream role for her since she was a "huge fan of 'Jurassic Park' growing up." Trill is set to play Charlotte Lockwood. Not much is known about the character but it is possible she's somehow appearing as the daughter of Benjamin Lockwood, who was Maisie's genetic template.
"Wonder Woman: 1984" actor Kristoffer Polaha, "Venom's" Scott Haze, and "Agents of S.H.I.E.L.D." star Dichen Lachman round out the film's new cast. Not much is known about their characters yet, other than their names. Polaha plays Wyatt Huntley, Haze takes on the part of Rainn Delacourt, and Lachman's role is currently undisclosed.
What do we know about the plot of Jurassic World: Dominion?
The last installment of the "Jurassic World" franchise left viewers with scenes of dinosaurs roaming around North America after Maisie Lockwood freed them. "I had to. They're like me. They're alive," she reasoned, and from then on, there was no going back. Now, "Dominion" picks up after the events of "Fallen Kingdom" as the dinosaurs have essentially taken over the world. "We're racing toward the extinction of our species," Dr. Ian Malcolm (Jeff Goldblum) explains, setting the scene in the trailer. "We not only lack dominion over nature, [but] we're subordinate to it," he adds.
The plot of "Jurassic World: Dominion" does not follow a traditional movie structure, Colin Trevorrow revealed to Collider. Instead, the film follows two parallel tracks. On one side you have Owen, Claire, and Maisie, and on the other side you have Ellie, Alan, and Ian. "[We're] telling two parallel stories that are just driving closer and closer together … and you start to understand how they're going to intersect, and then they do."
The film's second trailer revealed a few details about what's going to be happening in Owen, Claire, and Maisie's side of the story. It begins by reuniting Owen and Blue and the revelation that the Velociraptor had a baby. However, moments later, the baby is kidnapped. Owen vows to get her back, but based on past experience, we know it's not going to be an easy mission. Meanwhile, the original trio are racing against the clock to stop an ecological disaster.
Chris Pratt teases time jump for Jurassic World: Dominion
So, now we have a bit more insight into what happens in "Jurassic World: Dominion," the big question is when does it happen? In an interview with MTV News, Chris Pratt let slip that the film would follow the events of "Jurassic World: Fallen Kingdom," but implied that a significant amount of time would have passed. "We jump forward, and it's like, 'Oh! Oh, right! Oh, damn.' It's going to be pretty epic," he teased.
Since there was a three-year gap between the events of "Jurassic World" in 2015 and "Fallen Kingdom" in 2018, speculation was rife that "Dominion" would also follow this pattern and be set in 2021. This made sense given the film's intended 2021 release date — however, since it was pushed back a year, that turned out not to be the case. Speaking to Collider, director Colin Trevorrow confirmed that it's set "in real time" and because the release date was pushed back, the film is now set in 2022.
This time jump is important both in terms of how far the dinosaurs have spread and ingratiated themselves in the human world, but also in terms of the appearance of the cast. Maisie Lockwood was a child of nine years old in "Fallen Kingdom," but when "Dominion" picks up, she's a teenager.
Who will be the big bad in Jurassic World: Dominion?
There's one last addition to the slew of new faces in "Jursassic World" Dominion," and it's quite a significant one. In June 2020, Collider announced that Campbell Scott had joined the cast. "The Amazing Spider-Man" actor will play Lewis Dodgson, a previously unseen character from Michael Crichton's novels. "Dominion" director Colin Trevorrow held nothing back when he spoke to Entertainment Weekly about the character, revealing exactly what viewers could expect from Dodgson. "He is the main villain throughout both of [the] novels," he revealed. "I think what Campbell's done with the character is just amazing. I can't wait for people to see it," he added.
However, there's one other villain in the "Jurassic World" franchise who's still unaccounted for: BD Wong's character Dr. Henry Woo was tipped to be the film's big bad given his past track record — if you've forgotten, he's responsible for bringing the dinosaurs back to life. However, he may have had a change of heart. In the movie's second trailer, Wu can be seen speaking to Maisie Lockwood, admitting "we made a terrible mistake." It makes sense that he's talking about his genetic experiments and creating the dinosaurs which are now roaming the world, so perhaps he's changed sides?
Previously unseen dinosaur species will appear in Jurassic World: Dominion
Every new "Jurassic" movie is an opportunity to introduce some previously unseen species of dinosaur, and Jurassic World: Dominion is no different. Colin Trevorrow has been overseeing the selection process since coming aboard for 2015's "Jurassic World," but he's had a little help from his colleagues. "I've been lucky enough to be able to choose the dinosaurs, but ['Jurassic World' and 'Jurassic World: Fallen Kingdom' co-writer] Derek Connolly and J.A. Bayona, and now Emily Carmichael, will have each made contributions when it's all said and done," he told Jurassic Outpost. "It's just a bunch of kids sitting on the floor with their toys."
The filmmaker clearly relishes flicking through his dino Rolodex and handpicking the perfect dinosaur for each specific scene, but it's not all fun and games. "It's the best part of my job, but also the hardest," he added. "You have to keep some great ones in the tank." Trevorrow explained that he liked the look of both the Carnotaurus and the Baryonyx when he was putting the pieces of "Jurassic World" together, but he didn't want to see them reduced to background dinosaurs. "They deserve an entrance," he said. "So we put them on the park map, but held the reveal for the second film."
Which dinosaurs has Trevorrow been holding back for "Jurassic World: Dominion"? That would be the Giganotosaurus, or Giga for short. This is a scientifically accurate dino from the Cretaceous period that's set to wreak havoc on the world's human population. "I wanted something that felt like the Joker," Trevorrow explained to Empire. "It just wants to watch the world burn."
Spielberg wanted Trevorrow back in the director's chair for Jurassic World 3
Colin Trevorrow may not have been the right fit for "Star Wars" (the director was fired from "Episode IX – The Rise of Skywalker" over creative differences, despite having dedicated two years of his life to the project), but when it comes to the "Jurassic" franchise, he's now the go-to guy. He only had his indie hit "Safety Not Guaranteed" to his name when he was chosen to helm "Jurassic World," but Trevorrow handled the big budget blockbuster like a seasoned pro, impressing the man behind the movie that started it all.
During his Entertainment Weekly interview, Trevorrow revealed that Steven Spielberg personally asked him to helm the third "Jurassic World" film, an offer that he simply couldn't refuse. "Steven Spielberg asked me [to direct], and when he asks you, what can I tell you, man?" he said. "In all honesty, over my past few years, I've grown to love and cherish the value of the gift that I've been given with this franchise." Interestingly, Trevorrow only came aboard the franchise after J.A. Bayona turned down the chance to direct "Jurassic World." While Bayona later agreed to take the reins for "Fallen Kingdom," Spielberg wanted Trevorrow back in the hot seat for the all-important trilogy capper.
Does an unused script offer some clues about Jurassic World: Dominion?
14 years passed between "Jurassic Park III" and "Jurassic World," though that long gap wasn't down to a lack of trying. Numerous sequels were reportedly floated during that period. The one that got closest to getting greenlit came by way of screenwriter John Sayles. "Jurassic Park IV" never got off the ground, but what's interesting is that a lot of Sayles' ideas ended up being used in "Jurassic World" and "Jurassic World: Fallen Kingdom."
The star of Sayles' story was an unemployed mercenary named Nick Harris, who seems very much like the blueprint for Chris Pratt's ex-Navy man, Owen Grady. Most notably, it was Sayles who came up with the idea of shady types attempting to train dinosaurs as weapons, the overarching theme of the "Jurassic World" trilogy. If this unused screenplay influenced the two recent movies, does it also contain clues as to where "Jurassic World: Dominion" is heading?
According to Den of Geek, Sayles' draft touches on "the idea of an America plagued by rogue dinosaurs." With the United States facing its biggest ever threat, a corporate stooge "spots a business opportunity." We know that some of the black market bidders from "Jurassic World: Fallen Kingdom" escaped the ill-fated auction with their dinosaur specimens. Who will the U.S. government turn to when all seems lost? If this "Jurassic World 3" theory holds true, humans will fight dinosaurs with their own dinosaurs in an effort to stave off extinction.
A new short film gives us a look at Jurassic World's new world
In September 2019, a short film directed by Colin Trevorrow and written by Trevorrow and Emily Carmichael dropped on the official "Jurassic World" YouTube channel. The 8-minute "Jurassic World: Dominion" prelude confirms that the movie will indeed take place in an America inhabited by rogue dinosaurs. "Battle at Big Rock" features a family on a camping trip in Big Rock, a national park 20 miles from Lockwood Manor (the mansion that the dinosaurs escaped from with Maisie Lockwood's help at the end of "Jurassic World: Fallen Kingdom").
The family's bonding time is interrupted when a triceratops and its baby show up and start digging through their food. They watch from the safety of their trailer, though the trailer doesn't offer much protection when a hungry allosaurus arrives on the scene. After being fought off by the parents of the little triceratops, the carnivore notices the tasty looking humans and attacks. Fortunately, a fellow camper brought a crossbow along, and the daughter is a pretty good shot. The family escapes with their lives, but the implications are clear — woodland areas are no longer safe for humans.
The dialogue establishes that warnings have been issued about possible dinosaur encounters ("The ranger said that we should just stay calm and wait for it to go away," the mother says), but the reality doesn't appear to have sunken in just yet. The short's credits suggest that these attacks are going to be commonplace by the time we catch up with the gang in "Jurassic World: Dominion."
Will dinosaurs run rampant in American cities for the third Jurassic World?
We know that dinosaurs will be lurking in the wilderness thanks to Colin Trevorrow and Emily Carmichael's short film Battle at Big Rock, but will these ancient animals be terrorizing our cities, too? According to Trevorrow, this won't be the case. Speaking to fan site Jurassic Outpost, the director and co-writer of the upcoming threequel said that there's no motivation for that kind of behavior. "They can't organize," the filmmaker said. "Right now we've got lethal predators in wild areas surrounding cities all over the world. They don't go pack hunting for humans in urban areas. The world I get excited about is the one where it's possible that a dinosaur might run out in front of your car on a foggy backroad, or invade your campground looking for food."
This will be music to the ears of those who were starting to get worried about "Jurassic World: Dominion" becoming a CGI-heavy disaster movie. The idea of raptors running rampant in Times Square or a tyrannosaurus tearing down Hollywood Boulevard might sound cool in theory, but that's not what this franchise is about. Thankfully, Trevorrow is well aware of this. The director wants to create a world in which "dinosaur interaction is unlikely but possible, the same way we watch out for bears or sharks. We hunt animals, we traffic them, we herd them, we breed them, we invade their territory and pay the price, but we don't go to war with them."
Will Jurassic World: Dominion's dinosaurs have feathers?
While they're obviously works of fiction, the "Jurassic" movies have informed our understanding of dinosaurs in a number of ways, particularly their appearance. The movies have always played into the old idea of dinosaurs as giant scaly beasts. That didn't seem like much of a problem when "Jurassic Park" premiered in 1993, but in recent years it has become evident that they weren't actually as reptile-like as we like to think.
Fossils unearthed in China have revealed that dinosaurs belonging to the raptor family were actually covered in feathers rather than scales, and in 2014 a discovery in Serbia appeared to confirm that all dinosaurs shared this trait. "Probably that means the common ancestor of all dinosaurs had feathers," Pascal Godefroit of the Royal Belgian Institute of Natural Science in Brussels told National Geographic. "Feathers are not a characteristic [just] of birds but of all dinosaurs."
What does this mean for the future of the "Jurassic" franchise? When Jurassic Outpost raised the feather question with Colin Trevorrow, the director said that he would not alter the appearance of dinosaurs we've already seen in the previous movies. "Those are established characters to me — they were made with reptilian DNA bridging the gaps in the genome and they have their own identity," he said. "But now we're headed into a world in which the ability to clone a dinosaur is no longer exclusive to Dr. Henry Wu. That leads to innovation, and new opportunities for us to introduce species that represent the full spectrum of our knowledge."
The Dark Crystal animatronics team joins Jurassic World: Dominion
When Colin Trevorrow sat down with Empire to discuss the "Battle at Big Rock" short film in September 2019, the director revealed some interesting information about the animatronics that are currently being created for the upcoming sequel. It had previously been reported that Oscar-winning creature and special makeup effects supervisor Neal Scanlan (who worked on 2018's "Jurassic World: Fallen Kingdom") would be returning to ply his trade on the follow-up, but that won't be the case. Scanlan, perhaps best known for his work on the "Star Wars" sequel trilogy and spin-offs, has chosen to pursue other projects.
Scanlan has been replaced by John Nolan, who recently did some pretty amazing work on "The Dark Crystal: Age of Resistance." According to Trevorrow, Nolan and his team are hard at work creating new dinosaurs for "Jurassic World: Dominion," and the filmmaker is super excited about what they're going to bring to the table. "We've got everyone [at Pinewood Studios] carving dinosaurs out of clay," the writer and director said on The Empire Film Podcast (via Jurassic Outpost). "If any of you have seen 'The Dark Crystal' on Netflix, John Nolan who did all of the animatronics for 'The Dark Crystal' is doing the animatronics on 'Jurassic World 3.' He's starting to actually build things, and we're going to his workshop and seeing the things he's doing with eyes and joint movement. He's really innovating in a really exciting way."
Sam Neill speaks out about Jurassic World: Dominion's shutdown
"Jurassic World" fans were obviously disappointed when the upcoming film was put on hiatus because of the coronavirus pandemic, but the cast were just as devastated. Writing in a guest blog for Variety, returning "Jurassic Park" star Sam Neill compared the shutdown to being "cryogenically frozen" and revealed that he's already itching to get back to work.
"Suddenly, here we are," Neill wrote. "'Jurassic World: Dominion' is on hold. Insects in amber. And like virtually every actor in the world right now, I'm not working. Dammit. But we will return. We will. And what joy it will be to be back on a set, doing what I love best, with just the kind of people I love: other actors and all the remarkable people it takes to make a movie." The New Zealander went on to call movie-making a "rare privilege" and reminded readers (and himself, it seems) that there are "many worse things than a suspended movie."
"Jurassic World" co-leads Bryce Dallas Howard and Chris Pratt both went into self isolation when they returned from the UK, but they've been active on social media. Howard played an April Fool's prank on her Instagram followers when she posted a picture of herself with a wild new hair color, writing: "I'm sure 'Jurassic World' won't mind I changed Claire's hair to fuchsia." Meanwhile, her co-star Chris Pratt has been encouraging people to "rise up" in the fight against COVID-19.
Where is Jurassic World: Dominion set?
"Jurassic World" and a large part of its sequel "Fallen Kingdom" were set on the fictional Isla Nublar, a remote island off the coast of Costa Rica, so most of this filming took place in Hawaii. The latter half of "Fallen Kingdom" is set in North California, but was filmed in the UK, both on location in Berkshire and Hampshire and at Pinewood Studios. The cast and crew ventured further afield to film the third installment of the "Jurassic World" franchise, which is a "big globe-hopping adventure," as Colin Trevorrow told Collider. However, because of these global locations, the movie was deeply affected by the pandemic lockdown.
Once production could resume, filming began again at Pinewood Studios, but also took place in new, exciting locations like Malta and British Columbia. "There's another major location that I don't want to disclose just yet," Trevorrow added. "But [if] there's any environment you can imagine, ecological environment, physical environment that you can think of, it's represented in this movie," he teased. This globe-trotting is not just a picturesque plot device, either. It shows just how far across the world these dinosaurs have spread. "Dominion" has a different tone than the past "Jurassic World" movies, but Trevorrow is excited for fans to see it. "It's got a little bit of Bourne and Bond and a bit of a spy movie thrown into it, too. Spy movie, science thriller with dinosaurs."
How Jurassic World: Dominion connects to Jurassic World: Camp Cretaceous?
In September 2020, "Jurassic World: Camp Cretaceous" premiered on Netflix. The dino spin-off series follows six teens as they attend an adventure camp on Isla Nublar. However, their trip is quickly interrupted when the dinosaurs escape their habitats and campers must try to find a way off the island alive.
"Jurassic World: Dominion" director Colin Trevorrow co-wrote the show, which is still part of the "Jurassic" franchise, but aimed at younger audiences. He stressed to Entertainment Weekly that "Camp Cretaceous" is its own story. However, thanks to Trevorrow's involvement, the series does share a similar tone to the upcoming film. "As we take [the 'Jurassic' franchise] into a new place where it's about humans and dinosaurs sharing the planet as we do with animals, it gives us an opportunity to make more character stories with people you know and love and care about. That's really our same exercise on the show."
Although he wants to acknowledge the films and series separately, Trevorrow told the outlet that it felt important to him to acknowledge "Camp Cretaceous" in the films too, so there will definitely be some tie-ins. He clarified exactly what fans could expect when speaking to Collider. "What may be coming in the future of 'Camp Cretaceous' will tie in a bit more directly to something in Dominion," he explained.
Is this the last Jurassic World film?
"Jurassic World" was always billed as a trilogy, meant to continue the story of "Jurassic Park" but for a new generation. However, with its unmitigated success ("Jurassic World" grossed $1.67 billion while "Fallen Kingdom" made $1.31 billion), it makes sense that Universal Pictures might want to extend the franchise further.
However, it appears the cast and crew are quite divided on whether there is a future for the "Jurassic" film franchise or not. Actor Chris Pratt seems ready to put the dinosaur franchise to bed after "Dominion," a film which he said "feels like [the end]" on "The Ellen DeGeneres Show." "It's gonna feel pretty much like how Endgame brought everything together in Marvel," he said. Director Colin Trevorrow issued a similar sentiment to Collider, saying "for the last three movies, I've done with it what I thought was a cool way to move it forward and to respect what Steven and what Michael Crichton have created." Although, he added he's only "a custodian" of the "Jurassic" franchise, which is much bigger than him, and he couldn't speak to its future, although it sounds like he might be ready to call it a day.
"Jurassic World" producer Frank Marshall, takes a different view, however. "It's a new era," he told Collider. Whether Marshall's words are true remains to be seen, but what we do know is that viewers can expect "Dominion" to bring the main "Jurassic World" storylines to a close. However, never say never on the franchise continuing in the form of another trilogy one day in the future.