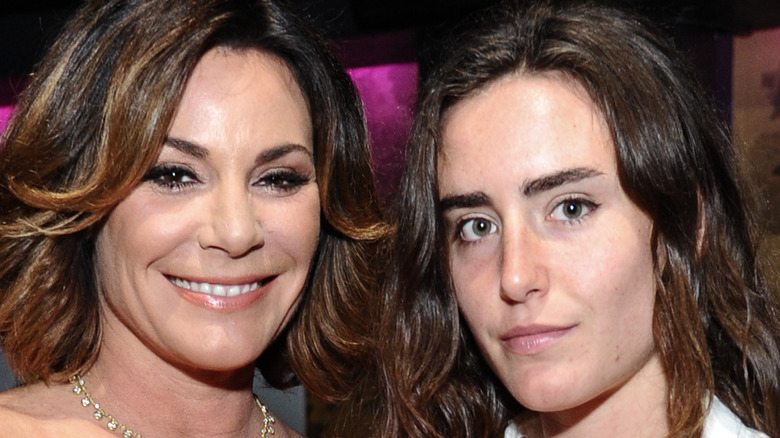 The following article includes mentions of drug use, domestic violence, sexual assault allegations, and homophobic, transphobic, and racist language.
For the most part, the kids of the "Real Housewives" franchise are okay — or as okay as you can be when your mom is on a show that's based around being rich and yelling. Gigi and Bella Hadid are famous models; not to mention, Lisa Rinna's daughters, Amelia Gray and Delilah Belle Hamlin, are rapidly ascending the ranks themselves. Telling Page Six in 2021 that his daughters have "done an extraordinary job of keeping it together," proud dad Harry Hamlin explained, "They've dealt with the things that all kids have dealt with. Especially in this day and age, when you've got the cellphone, the internet, social media, and all eyes on you."
Meanwhile, Jeana Keough's daughter, Kara Keough, is a college graduate, married with a baby, and runs a super funny Instagram; Riley Burruss began a singing career before switching gears to study at NYU; and in spite of often having to maintain her mother, Vicki Gunvalson, and a lupus diagnosis, Briana Culberson is running her own family and has long provided a much-needed shot of reality to "The Real Housewives of Orange County."
But that's enough happy news. Sadly, there are some "Real Housewives" offspring who are not doing so well, and that's unfortunately putting it mildly. It can be pretty easy to fall down a trouble hole when you have never-ending access to money and privilege, not to mention famous parents. Here are the "Real Housewives" kids who have faced trouble over the years.
Tamara Judge's son should probably delete his account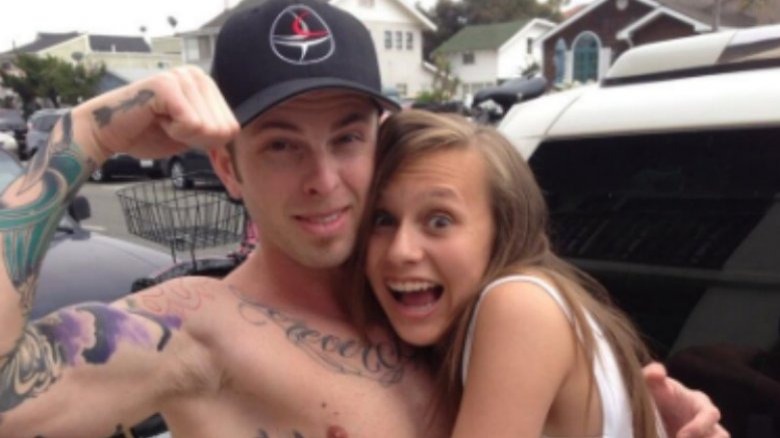 Ryan Vieth, Tamra Judge's 30-something son, has been in trouble since we first met him on "The Real Housewives of Orange County." His troubles escalated in 2015 when he was arrested for alleged domestic violence after reportedly fighting with his fiancée and baby mama, Sarah Rodriguez.
Judge downplayed the incident on Instagram, but Vieth and Rodriguez have since broken up. Cue: a total social media showdown. There's nothing like watching a nasty celebrity breakup play out in real-time through a series of snide remarks on Instagram, but that's actually far from the worst thing Vieth has done online. The next time around, offensive language was the soup du jour.
One month after trashing his ex online, the by-proxy Bravolebrity got grimy on the Gram in the comments section of a post Snoop Dogg made about police brutality. Vieth chimed in to show support for a commenter who wrote that Snoop's "people [are] straight up f***ing savages with no f***s to give because their ancestors were slaves." Three years later, he was still playing the same ill-advised game. Most recently, as of this writing, Vieth shared a homophobic, transphobic, and racist Instagram Stories rant that was captured by Reality Tea. "Who else is sick of hearing about gay/trans people or how racist white people are toward black [people] or asians now?" he wrote. Instagram Stories expire, but this one couldn't disappear fast enough.
If you or someone you know is dealing with domestic abuse, you can call the National Domestic Violence Hotline at 1−800−799−7233. You can also find more information, resources, and support at their website.
Alexa Curtin has been through a lot
Lynne Curtin joined the cast of "The Real Housewives of Orange County "in the middle of Season 4 and remained until the end of Season 5. She had her hands full from the beginning with financial difficulties (she and her family were evicted from their home in Laguna Beach during her time on the show) and with her two teenage daughters, Raquel and Alexa.
Things have gone south for Alexa, who will be turning 30 in 2022. Back in June 2016, she was pulled over and found to be in possession of drugs and drug paraphernalia. Exactly one year later, Alexa got a DUI for allegedly driving under the influence of prescription drugs. The following month, Alexa's maternal grandmother, Marilou Colee, accused her granddaughter of breaking into her house and threatening her. Just two months after that, cops busted her again for allegedly smoking heroin in her car. She was also accused of keying her boyfriend's car in February 2018. After pleading guilty to a variety of similar charges in 2021, she was sentenced to over two months behind bars, per The Blast.
In addition to Alexa's prolific criminal activity, it should also be noted that in August 2017, she won a $2.25 million civil suit against the County of Orange and Deputy Sheriff Nicholas Lee Caropino, whom Alexa claimed sexually assaulted her after investigating a 2014 domestic dispute between Alexa and her ex-husband. Though Caropino was cleared of criminal charges after a lengthy investigation, Alexa maintained her allegation, telling People, "This has been the hardest thing I've ever gone through."
If you or anyone you know has been a victim of sexual assault, help is available. Visit the Rape, Abuse & Incest National Network website or contact RAINN's National Helpline at 1-800-656-HOPE (4673).
Bryson Bryant's life was more like an episode of Cops
NeNe Leakes was already battling son Bryson Bryant's legal woes in the early seasons of "The Real Housewives of Atlanta." He was arrested twice in 2010 on gun and drug charges, which Leakes seemed to downplay in a statement to People. "Like any parent, I am disappointed with the actions and arrest of my son, Bryson," she said, noting that she and late husband Gregg Leakes planned to "deal with this family issue in a private manner."
Unfortunately, Bryant has been arrested multiple times since, including in 2011, when he got caught stealing from an area Walmart. (NeNe Leakes, who subsequently left and returned to the show and then left again, refused to bail Bryant out of jail and kicked him out of the house, per Distractify.) In fact, things spiraled out of control so badly that by late 2014, he was sent to the slammer for three months and ordered to check into an "intensive" rehab program, according to Radar. In 2015, the Atlanta Journal Constitution reported that Bryant had been arrested again, this time for providing police with a false name. To make matters even worse, someone leaked photos of Bryant to Radar in October 2017, alleging they had partied with him and observed him snorting cocaine.
While it seemed like his troubles were far from over, Bryant thankfully turned things around. In addition to welcoming three children in more recent years, Bryant's Instagram bio states that he is an aspiring music producer, manager, and actor, as well as a proud family man.
Josh Waring has faced lots of legal trouble
Josh Waring's rap sheet is longer than his mother's short-lived time on "The Real Housewives of Orange County." Lauri Peterson stuck around for two seasons, but — as she told The Orange County Register — left to deal with the fallout of her son's ongoing drug problems. Sadly, his issues have escalated in the years since her departure, and now include everything from battery to felony drug and forgery charges, according to Crime Watch Daily (via Celebuzz). Still, nothing is quite as shocking as his 2016 arrest for alleged attempted murder.
According to the Los Angeles Times, the dramatic arrest involved a police chase and brief standoff, among other jaw-dropping moments. Waring pleaded not guilty to all 12 charges related to the incident. For the next two years, his case continued to make news when he was caught with wine in his prison cell; sued by the man he allegedly shot; screamed profanities during a court appearance; and fired his lawyer while simultaneously alleging a grand conspiracy to frame him by the Costa Mesa Police Department. It doesn't end there, though.
Waring pleaded guilty to the shooting in 2021 so he could avoid additional jail time, but he was back behind bars shortly after his release. According to CBS News, Waring was arrested twice in two years for drug charges involving fentanyl (along with a spate of felonies). When he missed his court date, he was declared a fugitive and sent back to the slammer.
Did Peter Rosello learn his lesson?
One so-called "Housekid" who seems to have possibly rebounded from trouble is Peter Rosello (above, right), the son of "The Real Housewives of Miami" star Alexia Echevarria. He had a tumultuous couple of years when he was arrested for allegedly assaulting a homeless man and posting a video of the incident online in 2012. Then, less than a year later, he was arrested for possession of marijuana and drug paraphernalia, according to Gossip Extra. Apparently, police only found him out because he was riding in a car that struck an unmarked police vehicle and fled the scene. Whoops.
Today, Rosello still seems to struggle. According to People, he was arrested for battery after allegedly getting physical with his girlfriend in early 2022. The charges were later dropped, and while speaking with Showbiz CheatSheet, Echevarria tried to explain her son's ongoing issues. She revealed that Rosello was traumatized when his younger brother, Frankie (above, left), was involved in a head-on collision and put in a medically induced coma. At the time, Rosello reportedly claimed that he didn't want to live without his brother, who eventually emerged with a debilitating traumatic brain injury. It looks like everyone involved needs a lot of healing.
If you or someone you know is struggling with mental health, please contact the Crisis Text Line by texting HOME to 741741, call the National Alliance on Mental Illness helpline at 1-800-950-NAMI (6264), or visit the National Institute of Mental Health website.
Luann and Victoria de Lesseps have bonded over similar experiences
Luann de Lessep's daughter, Victoria de Lesseps, successfully offended Aviva Drescher on "The Real Housewives of New York City" in 2014 when her art, which often features the naked bodies of women, was included in Drescher's art party. By all accounts, Victoria seems to be living a pretty typical life in the Big Apple these days as a budding artist and designer. However, her time in her mom's spotlight hasn't always been filled with wine and roses.
Case in point: in April 2017, Victoria was pulled over in the Hamptons for driving without her headlights on; when she was given a breathalyzer test, she blew a .15. (The legal limit is .08.) Victoria was arrested and spent the night in jail. Bravo fanatics may recall that mom Luann was similarly arrested in Palm Beach that December for "battery on an officer, disorderly intoxication, resisting arrest with violence and crimes against a person," according to E! News.
Luckily, the former countess and her daughter have since been able to keep their noses pretty clean. Luann has long been open about her journey toward sobriety, telling People in 2019, "I take my sobriety very seriously and like many in my situation, it is a daily struggle." She's also bonded with Victoria over the decision to give up drinking alcohol, telling her kiddo in a 2021 episode of "RHONY" (via Page Six) that she was "very grown-up for getting it at this age. It's impressive, really."
If you or anyone you know is struggling with addiction issues, help is available. Visit the Substance Abuse and Mental Health Services Administration website or contact SAMHSA's National Helpline at 1-800-662-HELP (4357).
Lindsey Knickerbocker could maybe use some bail money
Tammy Knickerbocker only appeared on "The Real Housewives of Orange County" for two seasons, but her adult daughter, Lindsey Knickerbocker, is still catching headlines for allegedly bad behavior. According to local news outlet WREG Memphis, she was cuffed in a Motel 6 parking lot in Arkansas in February 2022 — and it was all because of a broken license plate light.
Per the report, officers searched Lindsey's car after noticing her license plate light was out and "found .4 grams of meth, more than $2,000 in counterfeit money, 2 forged checks and a device to print more checks." To them, this was a run-of-the-mill arrest … until TMZ reached out about the incident, that is. Chief Todd Grooms told WREG, "It was a complete surprise. I had no idea that we had someone in our jail that was related to a television personality."
More than a week after her arrest, The U.S. Sun reported that Lindsey was still behind bars because her family failed to pay off her $25,000 bail. Was it a small slap in the face or a full-on table flip? One thing is for certain, this drama won't play out on Bravo, so we'll have to keep our eyes on the tabloids to find out.