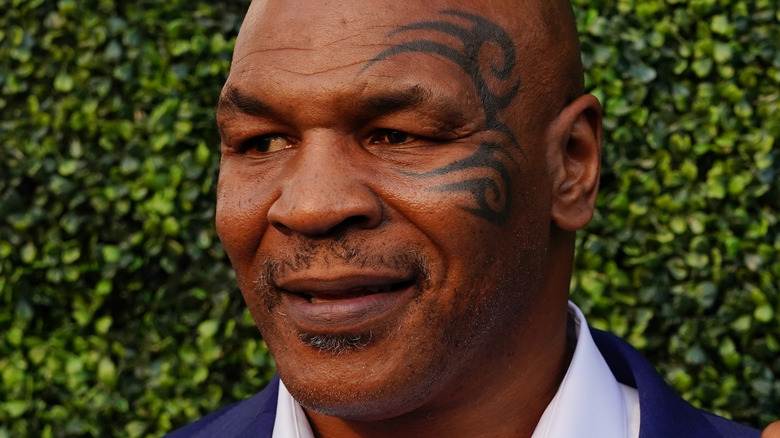 Tattoos have long been a part of everyday life, and they have been for thousands of years. These days, people from all walks of life can be found with a bit of ink on their bodies. Still, while tattoos have become more commonplace as time goes by, one group tends to have more ink than others: professional athletes. For whatever reason, there are a ton of inked-up athletes dominating their chosen sports, and some of these tattoos are truly bizarre.
Granted, there are many poorly done tattoos that set folks apart. Of course, there are also plenty of examples of sports stars with tattoos that are absolutely glorious to behold. Still, that doesn't necessarily make any of them "bizarre." That word doesn't really work for good or bad art, so forget about athletes with exceptionally good or bad tattoos. The image and/or text must be truly unique for a tattoo to be considered bizarre.
Typically, these tattoos draw the most attention because, while the ink may mean something to the athlete, it could be a total mystery to everyone else. Strange logos, specific numbers, and more can be found throughout the NBA, NFL, and beyond, but even those aren't often bizarre enough to land in an article like this. For those tats to be bizarre, they have to be in a strange, or at the very least, unusual location. Tattoo placement can be just as bizarre as the imagery, especially if it's found in a spot that's considered socially taboo.
Shawne Merriman's illustrated nickname is odd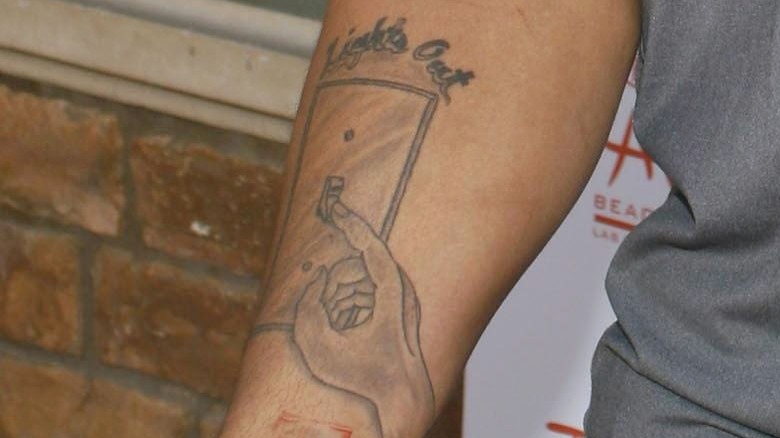 Shawne Merriman has retired from the NFL due to persistent injuries. Still, for much of the early 2000s, he played ball for the San Diego Chargers and the Buffalo Bills. Merriman did incredibly well as a linebacker, having earned the NFL Defensive Rookie of the Year during his inaugural season. Merriman managed to score dozens of quarterback sacks in his professional career, but that's not where he earned his nickname, "Lights Out." That came during his time playing ball in high school when he knocked out four players in a single game.
He carried some serious power with his hits, making him an ideal candidate for the NFL. While his career ended prematurely due to injury, he managed to set himself apart from his peers on the field. Of course, his skills weren't the only distinction Merriman had setting him apart; he also has a genuinely bizarre tattoo that celebrates his nickname. While it would make sense to just have "Lights Out" written in text somewhere on his body, that wasn't good enough for Merriman.
Instead, he wanted an illustration along with those words. The only thing that truly fit doesn't really look like something anyone (else) would want to have permanently inked onto their body. Merriman's right forearm features a poorly illustrated hand flicking a light switch into the off position. Speaking to Sports Illustrated about the ink in 2005, Merriman said, "I always thought of myself as an entertainer. If you don't love hitting people — you don't love football."
Mike Tyson shocked the world with his face tattoo
Mike Tyson had some severe ups and downs throughout his career. He went from being the heavyweight champion of the world who could knock out an opponent in seconds to an inmate in prison. After his stint in the joint, he started boxing again and bit off part of Evander Holyfield's ear because, as Tyson later explained in an interview on Fox News, he "wanted to kill him." That event in 1997 was controversial, and his career suffered for it.
Tyson continued to fight sporadically for a few years, but he didn't make many headlines. That all changed in 2003 when the former Heavyweight Champion showed up with a massive tattoo on the left side of his face. The design of the tattoo is Maori tribal, but that's not what he initially wanted. When he strolled into the tattoo parlor, he wanted his entire face covered in stars, but the artist on duty refused to accommodate, so the tribal design was a compromise.
It wasn't until 2014, when Tyson was interviewed by The Guardian, that he finally opened up about his tattoo. Tyson explained that "I just hated myself then. I literally wanted to deface myself." While Tyson's facial tattoo shocked many when he revealed it, the sight of the Champ's ink isn't as unsettling as it once was. He even got in on the joke about his tattoo while cameoing in "The Hangover Part II," which features Ed Helms' characters' own facial tattoo homage to Mike Tyson.
Marquis Daniels' suicidal imagery is disturbing, to say the least
Marquis Daniels played ball with the Dallas Mavericks, Indiana Pacers, Boston Celtics, and Milwaukee Bucks during his decade with the NBA. He's since retired from playing professional ball, but he's still on the court, working on the coaching staff for Auburn University, his alma mater. Daniels also tried his hand at hip-hop under the name Q6 and released several singles, including one with Lil Boosie. Still, his passion is basketball, and that's where he prefers to spend his time, so if he isn't on the court, he's on the side, coaching the next generation of players.
While Daniels is known for his ball-handling skills, he's also well known in tattoo circles for having more than his fair share. He has tattoos emblazoned all over his body, and compared to his peers, most of them are a bit out there. There's some bizarre stuff, including a neck tattoo that reads "1090 Blokk Boyz" covering his throat. There's a massive map of the state of Florida with "407," the area code for the Orlando Metro area, on his back and plenty of other distinctive and strange designs.
The majority of Daniels' tattoos are well-illustrated and not too strange. However, he has one highly questionable design on his right forearm. The image is of a man with a shotgun to his mouth, blowing his brains out under the caption, "ONLY THE STRONG SURVIVE." The suicidal imagery is incredibly offputting, as is the mediocre artwork, making it truly unsettling and bizarre.
If you or anyone you know is having suicidal thoughts, please call the National Suicide Prevention Lifeline​ at​ 1-800-273-TALK (8255)​.
Mario Balotelli's Genghis Khan quote is kind of freaky
Mario Balotelli probably isn't as well known in the States as he is in Europe, where he's played professional football since 2005. In addition to the Italian National Team, he's played for football clubs throughout Europe. He is widely regarded as one of the best penalty kickers in the sport. Balotelli is easily one of the most popular players in Europe throughout the 2000s and 2010s, and he's almost as well known for his tattoos as he is for his work on the field.
If you take a look at Mario Balotelli's many tattoos, you're going to find several that could be deemed questionable. Unlike the vast majority of folks who keep the ink off their faces, Balotelli has several face tattoos, including one reading "MB 459" below his left eye, "Black Power" and a cross around his right eye, and a laurel where his left sideburn would be. Still, his most bizarre ink isn't on his face — it's written on his chest.
At first glance, the large passage of text on his chest isn't too off-putting. It reads, "I am the punishment of God, If you had not committed great sins, God would not have sent a punishment like me upon you." That's a quote from Genghis Khan, which the footballer got after scoring his first goal in the 2012-13 season. It's a quote from a world conqueror responsible for massacring an estimated 40,000,000 people, making his words those many wouldn't consider appropriate for their body art.
Artur Boruc used his belly button as part of his tattoo
Artur Boruc has been a professional footballer since 1998, having played for numerous teams throughout Europe. He played on the Poland National Team for 13 years and is an excellent goalkeeper. He's known as "The Holy Goalie" due to his devout Catholicism, and he's had a successful yet controversial career. He's been in trouble a few times for some rude gestures and other similar offenses related to his religious beliefs. Still, for the most part, he keeps his offenses limited to his body art.
To be fair, Boruc has some incredibly well-drawn tattoos on his arms — they are definitely examples of tattoos done right. They consist of somewhat spooky imagery, but that's not really bizarre when you're talking about tattoos. He has a neck tattoo that reads in Polish, "Addicted to," followed by the English letter "S," relating to his wife, Sara Mannei. He also has tattoos on each of his hands, but the really bizarre ink is on the goalkeeper's belly.
Boruc seemed to decide that his navel looked like a body part that isn't often talked about in polite company, so he did something about it. He had a tattoo of a monkey bending over, revealing his belly button as if it were dead center where the sun don't shine … on the monkey. It's undoubtedly crude and bizarre, but it's also funny, unusual, weird, and offputting at the same time. The monkey has an "A" on it for "Artur," but other than that letter, it's inexplicable.
DeShawn Stevenson's Lincoln ink was meant to be MLK
DeShawn Stevenson played professional basketball for 13 years, having been on numerous teams, including the Utah Jazz, Dallas Mavericks, and Atlanta Hawks, to name a few. He's known as a trash-talker with a lot of tattoos, and for the most part, they aren't that bizarre until you look at his neck.
Neck tattoos aren't as unusual these days as they once were. They're common in most professional sports, but not every neck tattoo is as typical as the next. Some are bizarre because of the story that goes along with them, and DeShawn Stevenson probably has the funniest story of them all. He has a large tattoo of Abraham Lincoln on his throat, and sitting beside Lincoln's head are two fives, drawn in the style of the $5 bill.
Stevenson explained how and why he got the tattoo during an interview with 105.3, "The Fan in Dallas with Josh, Elf, and Arnie." They were speaking to discuss DeShawn's arrest soon after winning the championship. Talk of the tattoo inevitably arose, resulting in an amusing explanation. "I was going to get Martin Luther King, and I told Gilbert Arenas. You should never tell nobody your idea. That summer, he came back and got it. So I didn't know who to get. I got Abraham Lincoln because he freed the slaves. I just had Abraham Lincoln, and, from a distance, everybody kept saying, 'Who is that?' So I put the five-dollar bill so everybody would stop asking me" (via Deadspin).
Andre Santos' happiness statement reads like a ransom note
André Santos has been playing football throughout his native Brazil since 2004, though he's played for several teams outside the country. His career has been very successful for the most part despite getting limited playtime at various points. He hasn't been extremely controversial, though he was busted for driving 145 mph outside Arsenal's London Colney training ground, which earned him a 12-month driving ban in the United Kingdom. Still, he's not the most controversial player on this list, and he doesn't have a lot of tattoos either.
In 2012, he decided to get a tattoo on his left calf, and it's a big one. The ink isn't a horrific monster or anything else that would immediately register as bizarre, but it still requires a double-take. According to Metro, Santos had Croatian tattoo artist Damir Stancic write, "No One Can Take Away Your Pain So Don't Let Anyone Take Away Your Happiness," and he posted a video of the process on YouTube for his fans.
It's not unusual that Santos got a happiness statement tattooed onto his body — it's the look of the thing that makes folks do a double-take when they see it. Instead of choosing a nice, cursive font (or something normal), he made it look like a ransom note somebody cooked up after watching a bad movie about a kidnapper sending out a bogus ransom note. Each word (and some of the letters) are in different fonts, making it hard to read and bizarre to behold.
Brock Lesnar's tattoo placement is as bizarre as it is noticeable
Brock Lesnar has dabbled in more than a few professional sports over the years. Whether you know him from his time in the UFC, his stint with the Minnesota Vikings, or the WWE, odds are you know The Beast Incarnate. He's recognized as one of the best in his field, and that's not an opinion — he has won the heavyweight championships of the NCAA, WWE, and the UFC, making him the only athlete to earn such an achievement (per CBS).
It's not rare for someone to get a tattoo of a sword, but Lesnar decided it would be wise to get one tattooed onto the center of his chest. It's a bit strange to look at, and the placement is probably the most bizarre thing about it. Lesnar got the ink back in 2005, shortly after he left the WWE. In his book, "Death Clutch: My Story of Determination, Domination, and Survival," Lesnar explained that he was undergoing a very high amount of stress. "I felt like life was holding a sword right up against my throat, so I went under the ink gun because I never wanted to forget exactly how I felt at that time."
Lesnar further explained that "The tattoo on my chest has so much meaning to me. In some ways, it's funny because the period of my life that I'm talking about is a time I so want to forget, but I know I can use this memory as motivation" (via Heavy).
Stephen Jackson's praying hands are holding a gun for some reason
Stephen Jackson played professional basketball for 14 seasons, having operated as a small forward and shooting guard for 15 teams, including one in Australia early in his career. He managed to score an NBA Championship with the San Antonio Spurs in 2003. When he retired from the NBA, he got involved in the BIG3 league, where he took over as head coach of Trilogy. He's also a successful podcaster and often interviews other players on his show, "All the Smoke with Matt Barnes and Stephen Jackson."
In terms of tattoos, Jackson is one of the most inked players to play basketball. That said, most of his ink is relatively typical, having a variety of images and text covering large portions of his body. He has several tattoos on his neck and others involving religious imagery, nearly all of which are perfectly normal. The keyword there is "nearly" because it's one of the religious tattoos that landed him on this list. In most cases, praying hands wouldn't be bizarre, but Jackson's praying hands tattoo isn't typical by any means.
Jackson's tattoo of praying hands also features a handgun, which is between the two hands. If that's not conflicting imagery, what is? While it's an unusual image, Jackson got it for a good reason. According to ESPN, he got into a fight outside a strip club and fired a gun into the air. He got the ink because he prayed he would never have to use a firearm again.
Dennis Rodman's back tattoo is way more graphic than it needs to be
If you're looking for the most "out there" and flamboyant player in the NBA, you need look no further than Dennis Rodman, who spent his professional career peacocking the world. While he was wearing outlandish outfits and expressing himself as he saw fit, he also managed to become one of the greatest players in the NBA. He spent much of his career playing for the Detroit Pistons, San Antonio Spurs, and Chicago Bulls before transferring to other teams until his retirement in 2006.
In terms of expressing himself, Rodman didn't commit solely to unusual clothing and many piercings — he's also got a lot of tattoos. According to the New York Post, his obsession with tattoos began in the mid-1990s, when he had his daughter Alexis pictured on his left forearm. After that, he was hooked, and he racked up tons of images, including various tribal designs, a couple of bulls, and more. But the most bizarre tattoo Rodman has on his body is far too graphic to be displayed here.
Rodman has a tattoo of a woman on his back, and she takes up about 75% of the real estate there. The image is too graphic to display and almost too naughty to describe. To put it as politely as possible, a young, naked woman is sitting with her legs apart while pulling something with her teeth. A tribal design behind her looks like demonic wings, which you can see via The Sun (warning: NSFW).
Jason Williams' finger ink isn't exactly his nickname
Jason Williams began playing professional basketball in 1998, and he managed to spend a few years with the Memphis Grizzlies, Miami Heat, and Orlando Magic. He ultimately returned to the Grizzlies, where he retired in 2011. Williams has since made the jump to the BIG3 league, where he played with the 3 Headed Monsters before an injury took him off the court. When he began playing professionally, it didn't take long for the other players to take note of his style of play, which was more akin to street ball than what you find in the NBA.
His style earned him the nickname "White Chocolate" by the "Sacramento [Kings] PR department." That name influenced a lot in Williams' life, including some of his tattoos. He's got a few spread all over his body, including a "third eye" on his chest, to which he attributes his exceptional passing ability. He also has a wolf holding a basketball on one of his arms, which also includes the names of his three kids. Then there are his knuckles, which feature letters that spell out words, and it's not what most people would think of as a good decision.
On his right knuckles, he has "w-h-i-t," and on the left, they read "e-b-o-y," so when he puts his fists together, they read "White Boy." Very few people would think doing that was a good idea, but Williams was committed. While you might think he'd remove the tattooed letters after retirement, his fingers haven't changed.
Mo Williams' collection of tats includes a prominent Mr. Peanut
Mo Williams is best known these days as the head coach of the men's basketball team at Jackson State University, but before he moved to the side of the court, he played on it. Williams' career spanned 15 seasons. He played point guard for several teams, including the Utah Jazz, Cleveland Cavaliers, and the Charlotte Hornets. He retired in 2017 and has been working as a coach to ultimately take over Wayne Brent's job after he retired, per NBC.
Like the other athletes mentioned here, Williams is no stranger to the tattoo parlor. His body is a tapestry of various designs. When he talks about his tattoos, he describes them as "motivational scriptures for me. They meant something to me in that particular time of my life." He got tattoos throughout his career, which he says "shows my growth, it shows my evolution." The vast majority of Williams' tattoos are as normal as possible. They're deeply meaningful to him, which begs the question — what's up with Mr. Peanut?
Of all the tattoos spread across his skin, the one that's easily the most bizarre is an illustration of Mr. Peanut on his left arm. The image looks exactly like it does on a can of Planters peanuts, so what does it mean to Williams? Unfortunately, he hasn't explained the unusual tattoo, leaving many fans scratching their heads, wondering if he was going for an endorsement deal or simply loves peanuts.
Chris Bosh's back is a tableau of unrelated imagery
Chris Bosh began playing ball with the Toronto Raptors in 2003, and he remained with the team until he transferred over to the Miami Heat in 2010. He finished paying with the Heat in 2017, and his career is impressive. As a member of the U.S. National Team, Bosh helped bring home the gold at the 2008 Beijing Olympics, and that's only one of his many accomplishments. He's since been inducted into the Basketball Hall of Fame, and he spends his time in retirement working with children.
Unlike most of the people on this list, Bosh isn't covered in tattoos from head to foot. Instead, he's thrown all of his ink onto his back, and what makes it bizarre isn't exactly the images. It's the combination of all of them together that makes it unusual. Bosh's back features a strange tableau of different interconnected images that seemingly have nothing to do with one another. Anyone who sees it walks away scratching their heads because the pictures and placement are inexplicable.
As described by NBC Sports, the images include a central dead tree, large music notes (Bosh is also a musician), a woman holding a human skull close to her open mouth, an eagle, the Roman Colosseum, a tiger, and several people's faces, including the Greek god Zeus. To be clear, the tattoo work, which reportedly took 40 hours, is brilliant, and the artistry is unmistakable, but that doesn't make it any less nonsensical to anyone but Bosh.
Andrei Kirilenko's homage to WoW is too big and terrifying
Andrei Kirilenko began playing professional basketball in his native Russia before heading across the pond to play with the Utah Jazz. He played with a couple of teams before finishing out his career with CSKA Moscow during the 2015 season. Thanks to his initials, player number, and Russian background, he earned the nickname "AK-47," which suited him perfectly. Since finishing his playing career, he's moved up in the world. He has taken over as the commissioner of the Russian Basketball Federation.
Kirilenko isn't the type of player who has tattoos all over his body, so you probably wouldn't even notice his ink if you saw him walking down the street … so long as he had his shirt on, of course. That's because Kirilenko's largest and most bizarre tattoo is on his back, and it's a big one. For most people, there's nothing wrong with showing some love for a game you enjoy playing. For Kirilenko, that game is the online MMORPG, "World of Warcraft."
To show his love for the game, he had a gigantic image tattooed onto the entirety of his back, and if you don't know "WoW," you're going to assume he's been doing some shady stuff. The tattoo features a warrior riding a dragon. The wings extend well over his shoulders. Kirilenko is a massive fan of the game and "could spend 36 hours in a row playing 'World of Warcraft' and ordering food from time to time" (via BodyArtGuru).