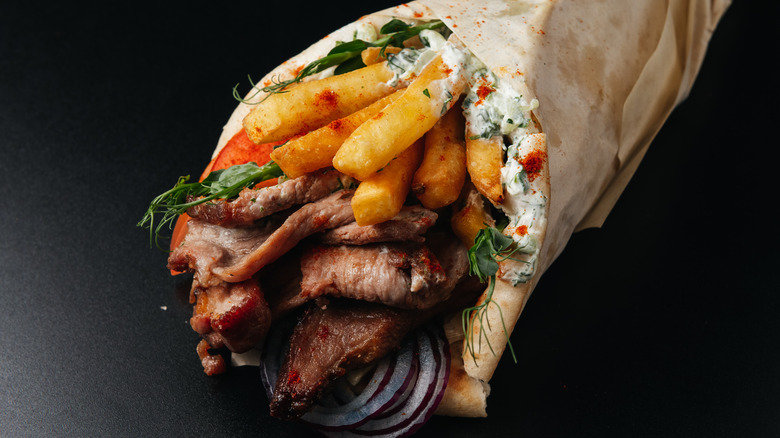 Ask anyone on the street to name a Greek dish, and nine times out of 10 they'll likely say the gyro. The Greek wrap, whose name refers to the rotational cooking method it utilizes (think the gyroscope) consists of seasoned beef and lamb seared on a vertical spit. The broiled meat is then sliced into strips and stuffed in a pita along with tomatoes, lettuce, and a tangy cucumber yogurt sauce called tzatziki. While the street food emerged in New York during the 1970s, historians say the sandwich can be traced back to Ancient Greece, where it's believed Alexander the Great's armies churned meats over an open fire (via What's Cooking America). Much like its close cousins the souvlaki or shawarma, its also cheap, filling, and easy to eat on the move. It's no coincidence the food originated in bustling metropolises like Chicago and of course, the Big Apple.
Lucky for you, finding a delicious gyro won't require a flight to Athens if it's authenticity you're looking for. America is a vast landscape of great eats, and between trendy food trucks and humble hole-in-the-walls, one can find this tasty Greek delicacy from coast to coast. Take a look at the absolute best gyros in the United States
Pepperjack Gyro from Glory Bound Gyro Co. – Tuscaloosa, Mississippi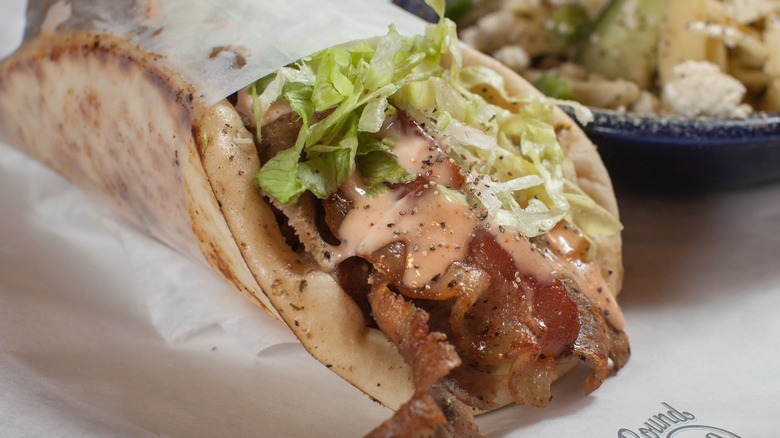 Bacon and cheese make everything better, so why not put it on a gyro? That's what Mississippi-based Glory Bound Gyro Co. did with the Pepperjack Gyro, a concoction of culinary daring that earned them the honor of 2018's "Best Gyro in America" by Restaurant Hospitality. Part of the restaurant's "Unique Gyros" lineup, the wrap takes the traditional rotisserie-cooked meats — that savory mix of beef and lamb — and puts a Southern twist on it with sharp Pepperjack cheese and crispy bacon. It's a crafty spin on a Greek classic, one that's drawn customers from around the country to sing its praises. One reviewer said they were "TO DIE FOR" (their emphasis), while others described them as "tasty" and "outstanding." This could apply to the entire menu, if we're being honest.
If an adventurous gyro is your thing, be sure to visit their outposts in Ocean Springs, Hattiesburg, and Tuscaloosa for varieties like the Pepperjack Pesto and Chicken Bacon Ranch. In addition to the traditional gyro, there's also Falafel and Veggie.
Classic Gyro from Parthenon Gyro – Madison, Wisconsin
It's no coincidence The Badger State's first Greek restaurant would also make a killer gyro. Run by a third-generation Greek family in Madison, everything is crafted in-house down to the Greek yogurt used to make the tzatziki dressing (via Parthenon Gyro's website). Plus, the restaurant looks like a Grecian palace smack-dab in the middle of downtown Madison. First-time visitors on Madison's State Street won't miss the building's bold blue lettering and grandiose columns.
To see what Parthenon is all about, you can't go wrong with the good old-fashioned Classic Gyro. It's everything a gyro should be. The beef and lamb is succulent, the tomatoes, onion, and parsley are fresh, and that extra-special tzatziki sauce will have you craving extra. Not to mention the pillow-y pita bread holding it all together. You won't find anything more authentic than that, and longtime visitors will agree, with reviewers calling them "the best gyros in Madison" and "a classic standby." Pair your wrap with a side of Feta-topped Greek Fries or the cheddar cheese-drenched Wisco Fries for some Midwestern flair. You are in America's Dairyland, after all!
The Titan from Loops – Columbus, Ohio
Loops in Columbus, Ohio slings Chicago-style subs alongside Polish dogs and Greek bites. This includes hand-crafted gyros with fresh ingredients and house-made sauce. While they've been a local favorite for years, the eatery blew up in 2017 after Guy Fieri tried their sandwiches on "Diners, Drive-Ins, & Dives." One of them was a Greek wrap called The Titan. Naturally, anything Guy Fieri eats, we eat, so we had to see what the fuss was all about.
And was it worth the fuss? An appropriately-named behemoth of a sandwich, The Titan contains the usual suspects of lettuce, tomato, and tzatziki (made from scratch, of course) stuffed into a pita. Only there's a catch. Instead of using beef or lamb carved off the spit, they use chopped pork shoulder, an alternative that's both flavorful and tender. It looks closer to a Philly Cheesesteak than the classic food truck gyro, but upon closer inspection it stays true to the Mediterranean spirit, all the while stuffing you silly. Pro-tip from Guy: carry plenty of napkins with you, because the sandwich is messy and doesn't mess around (via Diners, Drive-Ins & Dives Locations).
Housemade Greek Gyro from Charcoal Flame Grill – Morton Grove, Illinois
That giant log of meat you see spinning in most Greek spots across America? That's usually beef or lamb, or even a mix of both. Yet surprisingly, the traditional Greek gyros are actually made with pork (via Chicago Tribune), and a humble restaurant tucked in the Chicago suburbs is giving the gyros of Athens a run for its money.
Charcoal Flame Grill of Morton Grove honors the cuisine of both countries, courtesy of Chefs Gregory and Costa, who fuse Greek and American flavors into house-made delicacies. Featuring regional cuisine alongside kebobs, burgers, and salads, the gyro stands alone. The Housemade Greek Gyro embraces the Hellenic by using pork shoulder instead of beef or lamb, complete with onions, tomatoes, and tzatziki. The rub? It's even juicier, according to the Chicago Tribune who compares the pork to "thick slab bacon" in a twist from the usual meat mix. For a meal fit for Zeus, you can also order it as a dinner with sides, but the sandwich is quite hefty and costs just $6.95. Getting authentic, homemade food at a bargain price? That beats the drive-thru any day.
Lamb & Beef Gyro Pita Sandwich from King Souvlaki – New York City
When finding the absolute best gyros, look to the street. Being a hand-held food, gyros make ideal street food fare in big cities like New York, and King Souvlaki reigns supreme. Famous for its hand-stacked meats, imported spices, and scratch-made King Sauce, the bright blue food truck has doled out Greek fare to Astoria residents for over 40 years. To any hungry resident scrambling on their lunch hour, the smell of grilled meat and smoke billowing out of those trucks is a welcome sight to behold.
The Lamb & Beef Gyro Pita Sandwich is one you won't regret waiting in line for. It features the components of a classic pita — the sliced meats, the bread, the toppings — and kicks it up a notch with French fries stuffed inside. We repeat: there are French fries stuffed INSIDE. Normally a salty tray of fries make a great side addition, but something about nestling them in the wrap makes it even tastier. Reviewers have praised their authenticity and "generous portions," calling the meat "excellent" and "spiced to perfection." For a lunch on-the-go, find them across Manhattan and Astoria or visit their sit-down restaurant in Brooklyn.
Gyro Sandwich from Niko Niko's – Houston
Only one of two American restaurants Taste Atlas ranked for gyros outside of Greece, Niko Niko's is the real deal. The Houston counter-serve spot was voted the city's top restaurant for Greek eats and won over the hearts, minds, and stomachs of Texans craving fantastic Mediterranean in casual quarters. Among an array of salads, soups, and sandwiches, hungry visitors will find a bona fide gyro. Simply called The Gyro Sandwich, it features familiar fixings like lettuce, tomato, and creamy tzatziki, with perfectly-seasoned sliced meat. Not only is it bound to leave you stuffed, but at $9.75 it makes a budget-friendly takeout option on those nights when you'd rather do anything but cook. And who needs to cook knowing a Niko Niko's gyro is just an order away?
Not much of a meat eater? No sweat. They've got you covered with the Veggie Gyro, which a reviewer on TripAdvisor recommended as "an awesome vegetarian substitute." Great for groups with dietary needs!
Gyro from Papa Cristo's – Los Angeles
When the craving for a quality gyro hits, Angelenos know the drill: they go to Papa Cristo's. The "taverna," once a haven for Greek residents in the 1940s, serves Greek specialties on Los Angeles' West Pico Boulevard with the touch of tight-knit family. Recipes have been passed down from generation to generation, ensuring the food is as fresh as it is authentic to the skilled artisans behind it.
CBS Los Angeles ranked the standard Gyro with beef and lamb as one of the best entrees, and from the looks of it, we'd agree. The broiled meat is well-seasoned, while chopped tomato and a zingy dose of tzatziki offers a cooling contrast with each bite. Visitors always praise the big portions, so we'd recommend bringing a friend to share it or taking home leftovers. Like any old-school family, they make sure you never leave hungry and for that, we are eternally grateful. If you're not totally stuffed afterward, be sure to swing by the neighboring market and bakery for imported wines and the most heavenly baklava you've ever had.
My Big Fat Gyro from Yassou Greek Grill Cafe – Las Vegas
One of Las Vegas' best Greek restaurants is just a 20-minute drive from Caesar's Palace, where you'll find the most authentic cuisine this side of the Aegean Sea. Yassou Greek Grill offers casual Grecian fare in Sin City, including some of the biggest gyros known to man. My Big Fat Gyro lives up to its name, both in its gargantuan size and equally bold flavor (via Cheapism). It contains a mix of "flame-broiled" beef and lamb, as well as fluffy Feta cheese tucked inside a pita wrap. Be prepared to experience spillage, as the toppings are loaded to maximum capacity. Because it's not a gyro without the sides, grab the Greek Fries to go with it. They're sprinkled with herbs, spices, and creamy cubes of Feta that melt in the mouth.
The food is made to order, so you'll be receiving your gyro hot, fresh, and ready-to-eat. As a result, there'll be at least a 15-minute wait, but even if the wait is longer than that, your stomach will be thanking you later. What happens in Vegas, stays in Vegas, right?
Our Famous Gyro Pita from The Big Greek Cafe – Washington, DC
Did you know some of the best gyros can be found in Maryland? The Marmaras clan had decades of experience perfecting the wrap before opening The Big Greek Cafe's first shop in 2009, and their work has since paid off with five restaurants across the DC Metro area. In addition to traditional favorites and American fare, they also whip up a mean gyro wrap. Called Our Famous Gyro Pita, the hefty roll contains finely-sliced meat, tomato, onion, and creamy tzatziki rolled into an airy pita. A chunk of Feta and pepperoncini add flavorful (and colorful) garnish. One reviewer said the pita was "fresh" while the meat was "piled high" (via Trip Advisor).
With the gyro, we say go big or go home, and this one, in particular, is the entire package. If your mouth isn't watering already, it will be when you swing by on Wednesdays for their $6 gyro special, a killer deal that'll have you looking forward to Hump Day all week long. They even have a food truck that makes the rounds around town so you can enjoy a gyro on the move!
Chicken Gyro from Uncle Gussy's – New York City
A lunch break staple in Midtown Manhattan, Uncle Gussy's on 51st and Park is a family operation going back to 1971, with matriarch Katerina continuing to marinate meats by hand, using imported ingredients, and crafting some of the finest Greek fare in the city. No frozen meats or short-cuts here! Despite the long lines, customers say it's "worth the wait," and when you bite into that pita wrap, you'll remember why you came to Uncle Gussy's in the first place.
Most gyros feature the broiled beef and lamb, but at Uncle Gussy's it's the Chicken Gyro that's particularly noteworthy. It features tender grilled chicken that's cradled in a pita wrap and topped off with lettuce, tomato, onion, and creamy tzatziki dressing. According to foodies on Yelp, the chicken is "always well seasoned" and "nicely seared," two things that can make or break a well-made wrap if not done right. Add in friendly people and quick service, and you'll see why the family business is so beloved in the Big Apple.