Mazda might be best known as a car manufacturer, but the company's first vehicles were actually three-wheeled trucks, which it began producing in 1931. Its first passenger car was produced in 1960 and from there the company quickly expanded, launching in the United States in 1964, as per Britannica. Mazda first put a Wankel rotary engine in a production car in 1967, and the engine was one of the key reasons for the company's commercial success throughout the following decades.
As iconic as it might have been, the rotary was far from the company's only triumph. In 1989, Mazda would unveil the MX-5 Miata, which would go on to sell over one million units worldwide, making it one of the best-selling sports cars ever. Not only that, throughout the '90s and '00s it would further develop its passenger cars, making frequent use of cutting-edge technology but remaining focused on affordability. That development has culminated with the imminent arrival of the MX-30, an all-new electric crossover that heralds the start of a new chapter for the brand. As Mazda begins the process of converting its entire lineup to electric power, it's a good time to take a look back at some of its greatest cars so far.
Mazda Cosmo Sport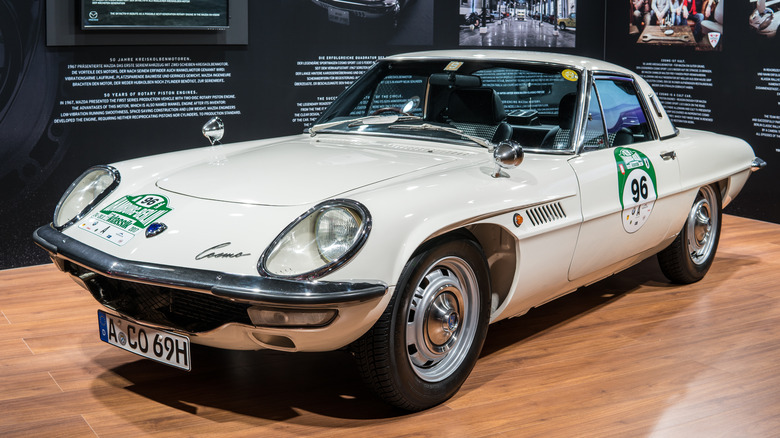 The Cosmo Sport was not only the first Mazda to feature a rotary engine, it was also the first mass-produced sports car ever to feature one. Development of the platform began in 1961 but according to Mazda was plagued by setbacks and problems. After six years, in 1967, production of the Cosmo Sport got underway. Its long development time was clearly effective, as the car sold well immediately upon release, with a total output of around 30 units per month, according to Mazda.
Despite becoming famous for its rotary engine, the engine itself wasn't actually developed by Mazda, rather it was licensed from German automaker NSU. When NSU merged with Auto Union to form Audi just two years later, the new company's priorities shifted away from the rotary, leaving Mazda to continue the engine's development. The Cosmo Sport became an important milestone in Mazda's history, and their rarity and desirability make them expensive to buy today. Pristine examples of the car will now command price tags well into six figures, according to Goodwood.
Mazda RX-3
Production of the Mazda rotary engine might have started with the Cosmo Sport, but it saw its first mass-market success with the RX-3, which was also sold as the Savanna. In just its first month after launch, the RX-3 sold 5,406 units, a huge figure for a Japanese automaker at the time. That commercial success would continue throughout the car's lifespan, both domestically and in international markets like the USA and United Kingdom.
As well as being popular with buyers, the car was also very successful on the track. According to Mazda, the RX-3 took on the Nissan Skyline GT-R in the Japanese touring car championship, beating it in 1972 and becoming the only challenger capable of stopping Nissan's previous dominant streak. By 1976, Mazda says, the car had claimed over 100 race victories in domestic championships, making it the most successful single car model ever at the time. It wasn't just Japanese championships that the RX-3 was successful in either, as it also took several high-profile wins in Australian touring car racing throughout the mid-Seventies.
Mazda MX-5 Miata (ND)
The latest and greatest version of the best-selling Mazda sports car, the current ND generation of the MX-5 Miata went on sale in 2016. When it first debuted, Road & Track called it "quite a serious little sports car," with a sharper, more athletic setup than the previous model. SlashGear's own Chris Davies confirmed that sentiment in a review of the 2021 Miata RF, calling it the "epitome of the modern, attainable sports car." With praise like that, it's easy to see why the car is a hit with buyers, with reported sales figures topping 10,400 units last year in the US alone.
One of the biggest reasons for the car's success is likely to be its low starting price, as the 2022 car starts at roughly $28,000. At that price point, there's simply nothing else as good as the Miata on the market, especially since its running costs are also very low for a sports car. With the ND, it seems like Mazda have really got the combination of affordability and performance just right, delivering a versatile car that's just as happy at a track day as it is on the morning commute.
Mazda R360
In 1960, Mazda revealed its first ever production car to the world, the R360. According to Mazda, it was designed to appeal to the increasing number of people in Japan who dreamed of having their own car but couldn't afford cars from the other manufacturers of the era. The company took advantage of the increased efficiency of new manufacturing methods to keep prices lower than most of its rivals, debuting its car with a starting price of just 300,000 yen (about $2,500).
The R360 fit the Japanese government's definition of a kei car, a class of microcar that benefitted from a 90% lower road tax than a traditional vehicle. That allowed families who would otherwise have been unable to afford a car to buy an R360, opening up an entire new portion of the market. As a result of these kei car requirements, the R360 was very small, measuring just 10 feet long and 4 feet 2 inches wide according to Classic and Sports Car. As small as it may have been, its legacy would become much larger, marking the start of over sixty years of Mazda passenger car production and counting.
Mazda Autozam AZ-1
During the Japanese economic bubble of the '80s and '90s, Mazda experimented with creating several sub-brands to produce cars that were outside the scope of its main lineup. One such brand was Autozam, which sold a variety of small and kei cars, many of which were developed in collaboration with fellow Japanese automaker Suzuki. The AZ-1 is one such car, as it was built by Suzuki, but designed by the same in-house Mazda studio that created the MX-5 Miata.
It featured a 657cc engine making 63 horsepower in order to comply with kei car regulations, but despite its lack of power, Top Gear says, it was developed with a focus on sporty handling. An enthusiastic tuning scene soon sprang up around the AZ-1 in Japan, but it failed to catch on with the wider buying public, selling only 4,392 units before being unceremoniously axed. Fast forward a few decades and the AZ-1 is now a cult icon with a strong global fanbase, a reminder of an era when Japanese companies could build cars simply because they wanted to, whether they made sense or not.
Mazda RX-8
The Mazda RX-7 was always going to be a tough act to follow, and when the RX-8 was released, there was some debate over whether it could properly match up to its predecessor and its more modern rivals. Many of the more critical reviews of the RX-8 focused on its high fuel consumption and complicated construction, pointing out that in many ways, the RX-8's achilles heel was actually its signature rotary engine. It was always dogged by low sales, and when it was axed in 2010, there would be no successor.
However, in retrospect it has become a very appealing used buy, as prices have remained low thanks to its mixed reputation. Look past its efficiency and the RX-8 is a great little sports car, with an addictively high redline, excellent chassis balance and delightfully sharp steering according to Evo. It might not be the most prestigious Mazda to own, but it's a surefire future classic in its own right, and it's a fitting swansong for the legendary Wankel rotary engine.
Mazda Eunos Cosmo
Alongside Autozam, another product of the Japanese economic bubble of the '80s was Eunos, a Mazda sub-brand that made a range of premium sports cars and grand tourers. The Eunos Cosmo was the latter of the two, with a particular focus on incorporating cutting-edge technology. It has the distinction of being the first production car to feature a built-in GPS navigation system, and came with a color touchscreen in the center console, which was almost unheard of at the time.
It was also the world's first, and only, production car to feature a three-rotor rotary engine, and when it launched in 1990 it was the most powerful engine made in Japan according to Mazda. Despite all of these technological firsts and performance innovations, the Eunos Cosmo never sold well, with just 8,853 units built, as per Pistonheads. Most examples of the car were sold domestically and it's rare to find one for sale outside of Japan.
Mazda 323 GTX
Mazda isn't associated with rallying in the same way that rivals Subaru and Mitsubishi are, but there was a time in the late '80s when the brand briefly competed in the World Rally Championship. The 323 GTX was entered into the Group A class, where its 1.6L engine was underpowered compared to its 2.0L rivals. But, despite being the underdog, the car was successful, winning a rally in 1987 and two further events in 1989.
To meet homologation rules, a production version of the car was also developed. It used many of the same components available in the competition car, although its engine only offered 132 horsepower, roughly 120 horsepower less than what was available in the competition car. Like its race-bred counterpart, the production 323 GTX had an all-wheel-drive system with a lockable differential, mated to a five-speed manual gearbox, according to Hagerty. It wasn't just the World Rally Championship where the car saw success either, as in 1988, Rod Millen won the SCCA Pro Rally Championship with a 323 GTX that was reportedly 90 percent out-of-the-showroom stock.
Mazda RX-7 (FD)
One of the most instantly recognizable JDM cars of its era, the RX-7 FD cemented its place in pop culture through its prominent appearances in the Fast and Furious movie franchise and the Gran Turismo video games. It became an instant hit upon its release thanks to its top-tier handling and blisteringly fast acceleration, made possible by an innovative twin-turbocharged rotary engine.
Power output varied depending on each market, with Japanese-market cars benefiting from a slight horsepower increase over export models, as per Top Gear. Over 70,000 examples of the FD generation RX-7 were sold, and over 800,000 RX-7s were sold overall between 1978 and 2002. That makes the RX-7 the best-selling rotary-powered car ever by some margin, and the FD has the distinction of being the ultimate iteration of this iconic nameplate. As a result, used examples are becoming very costly, a trend accelerated by the fact that FD RX-7s suffer from high maintenance costs that saw many sent to the scrapheap years ago.
Mazda Furai
In 2008, Mazda unveiled its new Furai prototype to the world at the North American International Auto Show. It was built to showcase the company's next evolution of its Nagare design language, according to its original press release, while simultaneously showing off the future of what Mazda's combustion technology could look like. Its flowing design, Mazda claimed, was based on an American Le Mans Series (ALMS) racing car, and the car utilized the same chassis that Mazda used to race in the series a few years prior.
Its unique looks and ethanol-powered three-rotor engine drew a lot of media attention at the time, with one high-profile appearance being a feature in Top Gear magazine. However, after that feature the car mysteriously disappeared, and Mazda refused to confirm the car's whereabouts or release any official statement on its status. Five years after its disappearance, it was revealed by Top Gear themselves that the prototype caught fire while being tested by one of their journalists, burning to a crisp before rescue crews could reach it. The charred remains of the car were collected by Mazda and it remains unknown what happened to it after that.
Mazda MX-5 Miata (NA)
The first Miata was originally conceived as a way to make Mazda stand out from its competitors, as at the time, no other Japanese manufacturer was offering an affordable lightweight sports car. Mazda was flush with cash thanks to the Japanese economic bubble, and so tasked a small group of engineers to begin development of an all-new roadster. Mazda reports that many different layout proposals were made for the car, including front-wheel drive and even a mid-engine layout. But ultimately, Mazda says, it was decided that the car would use a traditional front-engine, rear-wheel drive layout, and the NA Miata was born.
It was launched in the US in the spring of 1989, going on sale in Japan a few months later in September of that year. It surprised executives with its near-instant sales success, and has continued to remain popular decades after it was first launched. Over 900,000 units of the Miata have been produced across four generations, but it was the NA generation that initially formed the blueprint for the car that Mazda have barely deviated from since.
Mazda 787B
When Mazda entered the 787B into the 24 Hours of Le Mans in 1991, it wasn't expecting great results. The team had a fraction of the budget of most of its rivals, and an upcoming rule change meant that 1991 was the last year Mazda was allowed to enter its rotary-engined car anyway. But, an excellent performance from the team's drivers and a generous helping of luck saw the 787B walk away with the overall win, becoming the first Japanese car to win the race and the only rotary-engined car ever to do so.
The car ran faultlessly throughout the race as its competitors struggled, completing 362 laps at an average speed of 127.62 mph. It helped when Michael Schumacher, the race favorite piloting a Sauber Mercedes, was forced to retire early due to gearbox issues, according to Top Gear. Then, Stanley Dickens, another title contender who had won in 1989, ran over track debris, damaging his Mercedes and forcing him to retire. With two of their biggest competitors out of the way, the Mazda team were free to challenge for the win, and win they did, making history in the process and cementing the 787B as one of the most iconic Le Mans cars ever.