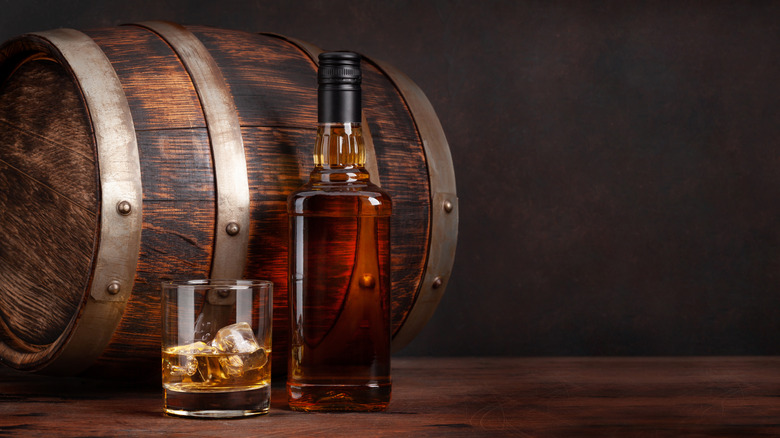 New year, new you, right? Okay, by mid-January a bit of the luster has worn off those shiny new resolutions. In fact, National Today says that January 17 is actually the official Ditch New Year's Resolution Day. Still, even if all your grand plans to walk 5 miles a day, save half your paycheck, and subside off nothing but kale, quinoa, and spring water have come to naught, that doesn't mean you can't make some revised resolutions that will be both easier and more fun to follow. Like, how about you simply resolve to try a few new things? This is hardly likely to hurt, particularly if you choose things you already enjoy, such as sampling a few new bourbons.
Sure, the #1 guy in your drinking life might be named Jack or Jim, but there's lots more bourbon out there, you know. Kentucky Bourbon Trail says there are currently 10 million barrels of the stuff aging in Kentucky alone, which works out to be about 2 ¼ barrels per every man, woman, and child in the state, per recent U.S. Census data. Well, you know the infants, children, and heretic gin drinkers won't be consuming their share, so come on, help Kentucky out! Not to mention Tennessee, Indiana, Wyoming, and wherever else fine bourbons are distilled. It's practically your patriotic duty, after all! To get you started, here are our suggestions for a few of the best bourbons you should be seeking out.
1. Barrell Bourbon Batch 031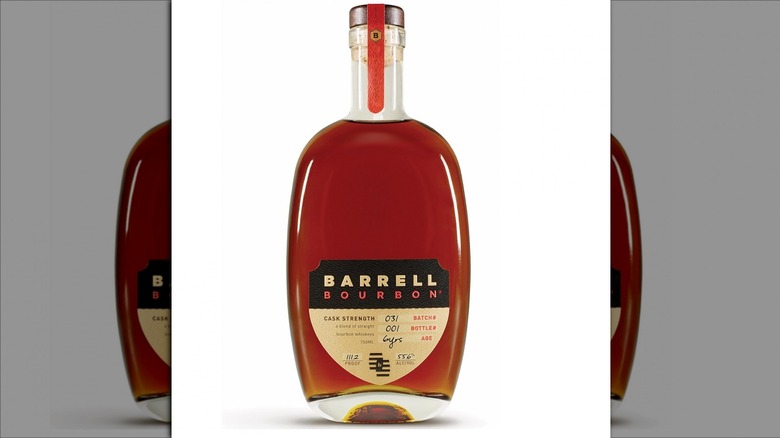 Barrell Craft Spirits is what is known in the booze world as a Non-Distilling Producer, or NDP for short. The company is based in Louisville, but they send their buyers out to obtain bourbons from other distilleries both in and outside Kentucky and then mix them together to come up with their own custom blends.
One of their more recent offerings, going by the evocative name of Batch 031, sent reviewer Whiskeyfellow into near-raptures. This "pool of liquid sunshine," as he called it, has the deep amber color found in the finest of bourbons, and conveys a dizzying range of flavor notes to the discerning palate: allspice, berry, black pepper, brown sugar, caramel, cinnamon, ginger, marshmallow, nutmeg, plum, oak, orange peel, rye, peppermint, and vanilla. Kind of sounds like Christmas in a glass, doesn't it? Needless to say, this bourbon could best be described as complex, so if you're looking to educate your palate, it's definitely one you should try. See how many of those different flavors you can detect, or if you can maybe even add a few of your own to the list!
2. Belle Meade Reserve
Belle Meade Bourbon is a product of the Greenbrier Distillery, which is not in Kentucky but Nashville, Tennessee, aka Music City. If we wanted to be cheesy here, we'd say something about how their products "sing to your tastebuds," but nope, we're not going to go there. (Oh, wait …) Anyway, Belle Meade Reserve is that company's premium brand, known for its high proof (108.3, according to the label) as well as its high rye content.
According to Bourbon Inspector's tasting notes, Belle Meade Reserve sounds as if it might be the pastry stout of bourbons. They first detected a strong "eau de maple syrup" (which, oddly enough, is also what Canadian money smells like, or so ABC News tells us), but they then found its taste to be reminiscent of caramel, cinnamon, pie crust, and unspecified baking spices with a few hints of oak and pepper. They did caution, however, that while this bourbon is a great buy if you can pick it up for around $70, it might not be such a bargain if the price creeps up too much higher than that.
3. Blanton's
If you're wondering what the people's choice for best bourbon may be, look no further than the voting site Ranker. Sitting right on top of the list by a comfortable margin of votes is Blanton's, a product of the Buffalo Trace Distillery in Frankfort, Kentucky. Blanton's, unusual for a bourbon, isn't a blend but is instead bottled straight from a single barrel, and this brand claims to be the first to produce such a bourbon.
Over recent years, Blanton's has become super-trendy among bourbon afficionados, such that at times it's only possible to snag a bottle if you do so shortly after its release. While the 2022 batch isn't out yet, if it's anything like the 2021, it's bound to be a winner. Breaking Bourbon reviewed last year's release and found it quite satisfying, indeed, and well worth a price tag of around $65 per bottle (although the same caveat applies that it may not be worth the overinflated prices it sells for as supplies decrease). Among the flavors you may detect in a glass of this bourbon are baking spices, brown sugar, caramel, honey, leather, oak, pepper, rye, and vanilla, and there's even a tiny hint of heat that lingers after the last swallow. Oh, and the bottle even has a cute little racehorse topper! Who doesn't love free knick-knacks along with their booze?
4. Booker's Bourbon Bardstown Batch
Booker's Bourbon is a brand named for master distiller Booker Noe, a sixth-generation bourbon maker. His own offspring are now running things at the Jim Beam-owned distillery that bears his name, making for at least 7 generations in the bourbon business. Kentucky-based Booker's specializes in small batch bourbons, a concept that they were the first to introduce back in the '90s.
In 2021, Booker's Bourbon released 4 different batches, the third of which was dubbed the "Bardstown Batch." In case you're wondering, yes, there are still bottles available -– as of the time of writing, we found it offered by Vintage Grape for $129.99, which is somewhat inflated from the original $90 price tag, but isn't too bad for being a few months post-release. When the Bardstown Batch first came out back in October, Paste Magazine reviewed it and found it "wonderfully rustic" and full of character, something different from Beam's more typical offerings and yet in keeping with that brand's consistent levels of quality. As for the flavor profile, they detected brown sugar, cinnamon, espresso, fruit compote, hazelnuts, oak, and tannins, and pointed out that this batch's high (125) proof was also quite noticeable. Basically, this is a bourbon that starts out sweet, comes on strong, then finishes on the dry side.
5. Booker's Bourbon Noe Strangers Batch
The fourth and final batch of 2021 out of Booker's Bourbon bears the name "Noe Strangers" as a testament to Noe Booker's super-sociable nature. This was a man who, as his family tells it, once invited 300 bikers over to his house for lunch. (What his wife thought of it, they do not say, but we're hoping for a 2022 batch named "Mrs. Booker Was a Saint.")
So is this the kind of bourbon you'd buy for your 300 closest friends? Probably not, at least if you paid $500+ for a bottle, as you'd have to at Pendleton Wine and Liquors. Should one of your friends offer to pour you a shot, though, they're a true friend indeed, and you shouldn't hesitate to accept. While Whiskey Apostle says that the Booker's small batches are generally pretty solid, they rated this one as a standout. Fittingly for its December release, this whiskey was slightly reminiscent of peanut brittle, along with notes of baking spices, caramel, chocolate brownies, cinnamon, honey, oak, pepper, and vanilla. Sounds like a tasty -– if pricey –- holiday treat.
6. Elijah Craig Small Batch
If you want a high-quality bourbon at a brown paper bag price, well, dream on. Costco's Kirkland bourbon may come from George Dickel, but it's not one of their better blends. If you can pony up about $30 a bottle, though, then Elijah Craig Small Batch is the bourbon for you. Despite the name, it's not one of those hard to come by limited releases — in fact, you can even find it on the shelves of grocery stores like Pick'n'Save. That being said, though, Elijah Craig Small Batch is still a decent sipping bourbon rather than one that cries out to be masked with cocktail mixers.
Vinepair calls Elijah Craig Small Batch "a quality but affordable weekday sipper," while Liquor.com considers it to be a gateway drug for bourbon newbies wanting to expand their horizons. Should you go exploring, some of the flavors you might encounter in a glass of this bourbon include apples, bananas, butter cookies (Trefoils, perhaps?), caramel, and vanilla. Elijah Craig Small Batch is not too complex, nor, at 94 proof, is it terribly boozy for a bourbon. What it is, however, is a little bit sweet, a little bit spicy, and thoroughly enjoyable.
7. Frey Ranch
Frey Ranch is -– get this — a bourbon distillery that not only isn't located in Kentucky, but is nowhere near that part of the country. Instead, the Freys do their ranching in Nevada. The bourbon made by Frey Ranch comes from grains grown on the ranch. In fact, the grain is harvested, malted, distilled, aged, and bottled onsite, making the final product something The Whiskey Jug dubs "farm-to-glass." The bourbon mash is about two-thirds corn, while the rest of the home-grown grains they use are about equally split between rye, wheat, and barley.
So does Frey Ranch have a taste to match its pedigree? Its fans agree that it does, finding it to be quite a smooth sipper as well as something that also works well in bourbon-based drinks. Among the flavors you'll find in a glass of Frey Ranch are biscuits, bananas, cinnamon, cocoa, hay (appropriate for a farm), nutmeg, polenta (must be all that fresh corn), toffee, and vanilla.
8. Larceny Barrel Proof C921
Larceny Barrel Proof comes out several times per year, typically in winter, spring, and fall. While the 2022 batch from Bardstown, Kentucky's Heaven Hill Distillery does not appear to be out yet, the C921, which was the September 2021 release, is something well worth seeking out. What's more, its quality gives us high hopes for this year's batches.
While Larceny's barrel proof bourbons vary in proof, the C921 was on the high end at 122.6. It is a blend of bourbons aged from 6 to 8 years and contains a blend of corn, wheat, and barley. Breaking Bourbon, while not overly impressed with Larceny's 2021 winter and spring barrel proof bourbons, was quite taken with the C921 and determined it be the best this brand has offered to date. They found it to be extremely flavorful, noting hints of black cherry, browned butter, charred oak, cream soda, maple syrup, molasses, oak, plum, raspberry, and vanilla. While the original retail price for this bourbon was around $50 a bottle, bottles are now on the scarce side and their prices are correspondingly higher. If you can't find it, or it's now beyond the reach of your budget, don't despair — the first of the Larceny Barrel Proof batches for 2022 should be coming out fairly soon.
9. Knob Creek Small Batch 9-Year
Knob Creek is a Kentucky distillery owned by Jim Beam that specializes in just 2 things: bourbon and rye whiskey. Their small batch 9-year bourbon is, as First Pour Cocktails points out, somewhat of a rarity these days, as very few bourbons still retain that age statement. They describe Knob Creek as a very well-balanced bourbon, blending both spicy and sweet notes and tasting of caramel, cinnamon, cloves, oak, tobacco, and vanilla.
Knob Creek's Small Batch 9-year bourbon falls under the "budget" category as it can still be found for around $30 a bottle, and in some cases even less than that. Despite Knob Creek's bargain-basement price, Liquor Wine Time (currently selling it for just $26.99) points out that this bourbon has won several gold medals at international spirits competitions. While Knob Creek Small Batch 9-Year makes for a great cocktail mixer, something that won't overwhelm your Manhattan or mint julep, it makes for a perfectly respectable everyday sipper, as well.
10. Heaven's Door Master Blender's Edition
If you're a fan of limited-release top shelf bourbons as well as millenium-spanning folk-rock icons, then have we got a whiskey for you: Heaven's Door Master Blender's Edition! Okay, so there's something just a teensy bit creepy about naming a booze brand after a Bob Dylan song with a title that's a euphemism for dying (via YouTube). Dylan does own the distillery, though, and presumably drinks the whiskey as well, and he's still knock-knock-knockin' right along in his 80th year. By all accounts, the man is quite the whiskey aficionado, so he's not going to attach his name to any old plonk. While not all celebrity-branded booze lives up to the hype, Heaven's Door Master Blender's Edition seems to be well worth the price. You can still pick up a bottle for around $100, which is not bad at all considering its striking Dylan-designed artwork.
Heaven's Door Master Blender's Edition is a 100-proof 10-year bourbon that has been finished off in a sherry cask. The Whiskey Wash says this bourbon won 2 gold medals at last year's World Spirits Competition in San Francisco, and they did not disagree with the judges. They found this whiskey to be, while not overly complex, sweet and very enjoyable. While most of its flavors are on the sugary side –- caramel, oatmeal raisin cookies, and white chocolate –- there's also a hint of tobacco that helps to balance things out.
11. New Riff Kentucky Straight Bourbon
While New Riff Distilling calls Kentucky home, they are also within hailing distance of Ohio, as they are situated just across the river from Cincinnati. In fact, the distillery originally offered a brand called O.K.I., with the initials standing for Ohio, Kentucky, and Indiana (this last state being where they sourced the spirits that went into their blend). That brand has been discontinued now, though, as they do all their own distilling in-house, and one of their signature spirits is the bottled in bond New Riff Kentucky Straight Bourbon. This spirit is 100 proof, 30% rye, and made without the use of chill filtration.
Breaking Bourbon feels that New Riff is onto a good thing with their Kentucky Straight Bourbon. While it is high in rye, they find it to be sweet and easy to drink, flavorful without being overwhelming. Tasting notes include baking spice, caramel, ginger candy, leather, marshmallow, oak, and vanilla. Yet another point in New Riff's favor is that the Kentucky Straight Bourbon is widely available and comes in at a modest $45, comparing quite favorably to other bourbons at this price point.
12. Stellum Black Bourbon
While Stellum Spirits launched just last year as an offshoot of Barrell Craft Spirits, they've already been making waves in the spirits world. It seems that their original releases, all mid-priced barrel proof bottles, were extremely well-received, so a few months later Stellum decided to go big by releasing a premium brand. According to the company website, Stellum Black is made from the distillery's reserve barrels, and is meant to present a flavor profile both robust and complex.
Whiskey Raiders feels that Stellum has hit this one right on the maple-scented nose. They tasted this bourbon and found Stellum Black to be reminiscent of butterscotch, corn syrup, nougat, peanut brittle, pecans, pound cake, tobacco, and toffee. It's clearly superior to earlier Stellum releases, as befits the increased cost — at $99 bottle, Stellum Black has a price tag double that of Stellum's cheaper offerings. It may also be a better bourbon than many of Barrell's offerings, as well. In fact, Whiskey Raiders mentioned more than once that Stellum Black has a similar taste and feel to a 15-year-old bottle of Knob Creek, something Wine Searcher says could run you over $140 a bottle.
13. Wyoming Whiskey Single Barrel
They make whiskey in Wyoming? Who knew? While the Mead family, which runs Wyoming Whiskey, haven't been in the booze business for all that long, they are evidently doing it right. The proof — 96 proof, to be precise — lies in each bottle of their Wyoming Whiskey Single Barrel Bourbon. This bourbon, which is made from the top 1% of what the distillery produces, was first released in 2020. By November of that year, it was all sold out. Wyoming Whiskey released a second bottling of this popular bourbon in October 2021, and although some retailers may still have bottles from this batch in stock, that's not likely to be the case for too much longer.
So what makes Wyoming Whiskey Single Barrel such a standout bourbon? The Lane Report says that it's all down to terroir, terroir, terroir. What other bourbon, after all, is made from grain grown in Wyoming? The Cowboy State's extreme temperature swings, they say, also contribute to this bourbon's unique character. Among its flavors they found butter, chocolate, cinnamon, dates, figs, oranges, pastry, and raisins. Overall, this bourbon is complex, yet smooth, soft, and eminently sippable, something sure to appeal to bourbon neophytes and aficionados alike.
14. Elijah Craig Barrel Proof Batch A122
Three times each year, Elijah Craig drops a limited-release barrel-proof bourbon, meaning that the bourbon gets bottled straight out of the barrel instead of being diluted with water to reach a specific ABV. These barrel-proof bourbons tend to be on the strong side, and Elijah Craig's A122, the year's first batch, comes in at 120.8 proof. High, but not too high, at least not compared to previous releases that Robb Report says have ranged up to 140 proof. That could also be the verdict on the price, as well -– while the bottle was meant to be listed at around $60, limited amounts soon drive prices up, and this proves to be the case here. Fine Cask is, as this goes to press (or the digital equivalent thereof), selling for $99.99, but as bourbon price inflation goes that's really quite reasonable.
So what kind of bang are you going to get for your Benjamin? Robb Report gives the A122 a rating of 91, which falls into their "great" category. They detect notes of black currant, cherry, chocolate, oak, peaches, and vanilla, none of which are overwhelmed by the overproofing. If you want a bourbon that's strong yet sippable, this one is a best bet.
15. Four Roses Single Barrel
Four Roses is a bourbon with a long and complicated history. They began as an independent brand back in the 19th century, possibly as early as the Civil War, and by the 1930s they were America's best-selling bourbon brand. They were bought out by Seagram in the 1940s, but for some reason, their new owners chose to limit the Four Roses label to the European and Japanese markets. Ironically, it took a 2002 purchase by Japanese distiller Kirin to return Four Roses to Kentucky.
While Four Roses produces several types of bourbon, including small batch and limited edition labels, we're partial to their single barrel. Liquor.com praises it as being not only one of the best single barrel bourbons on the market today, but -– get this -– one of the cheapest, as well! They tout an MSRP of $45 for a bottle, but we found it for just $37.99 at the Greenfield, Wisconsin Total Wine. For this minimal investment, you'll get a smooth, strong (100 proof), sweet sipper that tastes of caramel, cherry candy, chocolate, cinnamon, orange peel, pepper, and toffee.
16. Henry McKenna Single Barrel
Henry McKenna Single Barrel is another Heaven Hill Distillery product, one that takes its name from an Irish immigrant who brought his family's whiskey distilling techniques to the New World. This is one of those increasingly rare bourbons that still announces its age on the label, and at 10 years is among the longest-aged of today's bottled-in-bond bourbons –- or whiskeys of any type, for that matter. In addition to holding this distinction, it's scooped up a bunch of awards as well, including being named "Best Single Barrel Bourbon Up to 10 Years" at the 2021 San Francisco World Spirits Competition.
Henry McKenna Single Barrel is a fairly standard 100 proof, and its well-balanced but not overly complex flavor hints at caramel, herbs, honey, oak, spice, and vanilla. Drizly users rate it 4.7 stars, with just a few complaints that primarily revolve around its price point. While Drizly is currently selling this bourbon for $69.99 as of May 2022, if you shop around you might find a better bargain. Lighthouse Wine & Spirits, for example, is selling it for only $54.99, although shipping might set you back a bit if you're not within driving distance of Beverly, Massachusetts.
17. Maker's Mark Wood Finishing Series
Every year bourbon connoisseurs eagerly await the limited wood stave barrel release from perennially popular distiller Maker's Mark, and 2022 is no exception. While we'd love to announce the BRT-01, which is set to release in spring 2022, it seems it has yet to hit store shelves. What's more, it's likely to sell out pretty quickly once it does as the anticipation's been building for a few months now. Still available, however, and at a price point that won't require a second mortgage, is 2021's Wood Finishing Series FAE-01. While prices can and do vary widely by retailer and region, Google Shopping currently lists this bourbon as low as $55.99 with a number of sellers offering prices below $80 or even $70. Not bad at all for a limited release, although of course the supply, and thus the prices, may well have changed by the time you read this.
Maker's Mark themselves have touted the FAE-01 as tasting exactly like the smell of the barrel warehouse where it was aged. If that description doesn't do it for you, though, they also speak of fig, raisin, and tobacco flavors in addition to the strong wood notes. Vinepair's reviewer also detects the scents of earth, potpourri, and spice, and awards this "intoxicating[ly] complex" bourbon a 97 rating.
18. Old Forester 1910 Extra Old
With a name like Old Forester 1910 Extra Old, it seems the distillers are really trying to emphasize the age of this bourbon. So how old is it, anyway? Not 112 years, that's for sure. While this bourbon, like so many others, does not reveal its actual age (we can relate to that), Drinkhacker does explain that the "extra old" part of the name refers to the fact that it's aged 18 months longer than the original 1910 Old Fine Whisky. The 1910 part itself commemorates a particularly memorable warehouse fire whose results, at least the positive ones, they attempt to replicate by aging these bourbons in charred barrels. Turns out that's a very good thing, indeed.
This 93-proof whiskey doesn't taste overwhelmingly of burnt wood, however, but rather, has a flavor pallet that includes baking spice, chocolate, coffee, figs, pepper, tea, and salted caramel. Drinkhacker describes it as "quirky," but if you're looking for a bourbon that's a bit out of the ordinary, they say it's lovely stuff if you let it sit in the glass for a bit before drinking.
While it retails for around $50, its limited availability has driven up the price substantially.
19. Russell's Reserve Single Barrel
Russell's Reserve takes its name from Bourbon legend Jimmy Russell, a man who worked as a master distiller for Wild Turkey for over 60 years. His son Eddie worked right alongside his dad for 30 years before launching the Russel's Reserve line. Their Single Barrel is bottled at 110 proof, and while the bottles vary a little from one barrel to the next, as is typical of any single barrel bourbon, they all tend toward the sweet side with toffee and vanilla notes balanced out by a little oak and spice.
Russell's Reserve Single Barrel, with its 4.7 rating, is a Drizly staff pick. Customers on the whole are quite enthusiastic, praising it with such accolades as "A really outstanding bourbon," "Best bourbon I have had so far," and "One of the better pours I've had! " One satisfied sipper even goes so far as to call it "Smooth as the silk diapers on a baby's but[t]."
As of May 2022, it retails for $62.73.
20. New Southern Revival Jimmy Red Corn
New Southern Revival's Jimmy Red Corn is made with one of the most unique ingredients you're going to find in any bourbon: a nearly extinct strain of corn that was originally grown by a single South Carolina moonshiner. High Wire Distilling Co. partnered with a professor at Clemson University to grow a few acres of this rare corn, then they put their heritage crop to good use by doing what they do best: distilling it. The corn itself is something they describe as having a sweet and nutty flavor as well as a very high oil content that makes the resulting bourbon exceptionally creamy. According to the tasting notes supplied by Casker's, the whiskey also tastes of caramel, cherry, cinnamon, tobacco, and vanilla.
While Jimmy Red Corn certainly isn't cheap -– Casker's price for it is $118.99 as of April 2022 -– those who've tried it have nothing but praise for it. One reviewer calls it "one of the best bottles for the price I've had in a long time," while another urges "You gotta have this one on your shelf."
21. Widow Jane 10 Year Old
With a name like Widow Jane, you'd expect a cool backstory there somewhere –- is the eponymous widow any relation to Veuve Clicquot, by any chance? It would seem not. Instead, the distillery may take its name from the Widow Jane cement mine in upstate New York, and even Atlas Obscura couldn't dig up the history behind the mine's name. Nor, it seems, does the distiller's claim hold up that their bourbon is made using waters that flow through this mine –- just as well, really, since who'd want cement-flavored spirits?
Widow Jane 10 Year Old is the Brooklyn distillery's signature small-batch bourbon, an award-winning 91-proof whiskey that tastes of almond, cherry, maple, oak, orange, and spice (but no hint of concrete). Drizly currently sells it for a Brooklyn-reasonable $76.99, and despite the price tag it still has a 5-star user rating. Buyers have called it "Incredibly robust [with a] full body," "Utterly delicious," and an "Excellent choice," with one even awarding the ultimate accolade: "Yummy."
22. Wigle Pennsylvania Wapsie Valley Bourbon
Wigle Pennsylvania Wapsie Valley Bourbon is another bourbon that comes from a place not often associated with this spirit: it's distilled in Pittsburgh. As distiller Wigle tells it, though, Pittsburgh is actually the birthplace of American whiskey, and they boast of the region's long history of rye making. Wigle naturally offers a few ryes in addition to their bourbons (they've got more than just the one), and they also have a few oddball offerings like a pickle-flavored whiskey. They venture into non-whiskey territory, as well, with a range of rums, gins, liqueurs, and even absinthe.
So what makes Wapsie Valley Bourbon worth seeking out? Whiskey Wash praises it as "truly distinctive" as well as "highly enjoyable." They say its flavor profile is too complex to easily pick apart, but they detect notes of baking spices, butter, cocoa, and tobacco. (Wigle themselves describe the flavors as brown sugar, butterscotch, and leather, go figure.) The price for this bourbon is listed as a reasonable $58 a bottle, but the only real issue is that at present, you can only purchase it from one of Wigle's Pittsburgh locations or have it shipped to an address in Pennsylvania or the District of Columbia.
23. Woodinville Straight Bourbon
Sometimes you want just a straight-up bourbon, and Woodinville Straight Bourbon is all that and more. It's a small-batch craft bourbon that's not overproof at just 45% ABV and has a fairly modest price tag, as well – Astor Wines & Spirits has it on sale for $42.96 at time of writing. What's more, it's aged for a moderate five years. While these specs may make Woodinville Straight Bourbon sound pretty middle of the road, Breaking Bourbon rates it as a cut above the bourbons being produced by most other craft distillers.
Woodinville Straight Bourbon, they say has a flavor profile that leans toward the simpler side, as is often the case with a relatively low-proof bourbon. Its sweet hints of brown sugar, caramel, and vanilla, though, are grounded by earthier notes of leather, oak, and tobacco. This nicely-balanced blend makes for an easy drinking whiskey that's likely to appeal to both bourbon newbies and aficionados looking for an affordable everyday sipper.