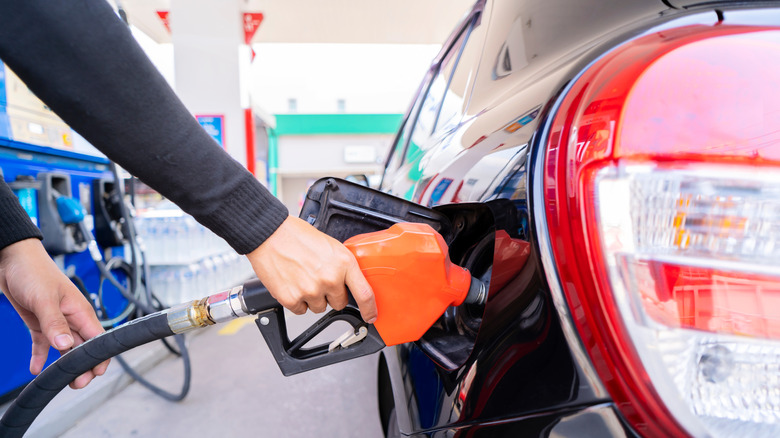 If you're looking to fill up your tank and your tummy, your friendly neighborhood gas station might seem like a convenient, if not totally appetizing option. However, there's a lot more to these roadside pit stops than stacks of Slim Jims and curiously hard Snickers bars. Of course, it's perfectly possible to find good gas station grub in the convenience aisles. Still, there are also unassuming gas stations all over the country that are kicking things up six or seven notches with gourmet-worthy food that makes them a destination all in and of themselves.
From down-home cooking and freshly-made local faves to straight-up five-star dining, there are plenty of surprises waiting just beyond the pump. If you've never thought you could eat a good, hearty meal while filling your tank and checking your tires, you're in for a real treat. These top gas station foods defy conventional wisdom in absolutely delicious ways.
Alabama: Blue Pacific At Hoover Food Mart's Pad Thai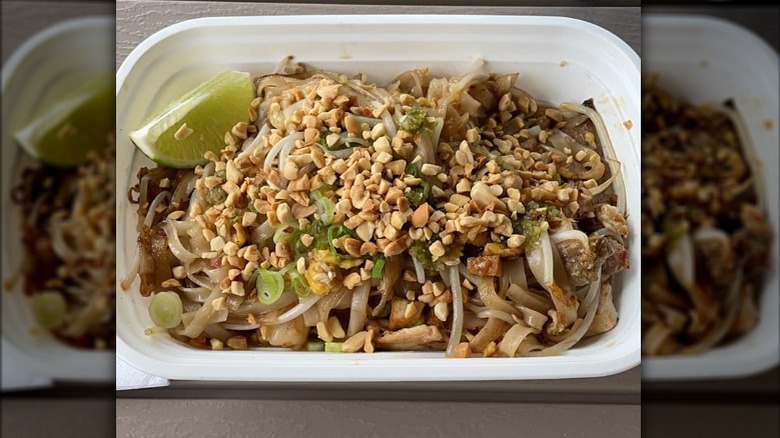 Take a detour to Birmingham, Alabama, and discover Blue Pacific at Hoover Food Mart for some of the best Thai food you'll savor outside of Bangkok. Its dishes are authentic, fresh, and jam-packed with plenty of veggies and premium meat. This isn't your usual pre-packaged gas station food, either. The dishes at Blue Pacific are made to order, and they can customize any of them to accommodate any vegetarians riding shotgun with you.
Blue Pacific's Pad Thai is a signature must-try item, full of authentic noodles, crisp bean sprouts, decadent peanuty sauce, and bright lime. A sprinkle of peanuts ties it all together. Get your Pad Thai veggie-heavy or with beef or chicken. With generous portions, richly flavorful sauces, and top-notch ingredients put together in inspired ways, Blue Pacific rivals any four or five-star sit-down Thai restaurant in the state.
Alaska: Chevron Alaska Denali Express's Blueberry Muffin
The lucky residents of Anchorage, Alaska, get to enjoy their cup of morning joe alongside some of the best pastries and muffins in the state. Welcome to the Chevron Alaska Denali Express, a full-service gas station in the heart of beautiful Alaska, where the coffee is piping hot and goes perfectly with fresh blueberry muffins. Its blueberry muffins are generous, fluffy, and packed with giant Alaskan blueberries that strike a great note between tart and sweet. If you're used to dinky, overly-sweet, processed gas station muffins, you're in for a true treat. These blueberry wonders are the real deal.
Although breakfast is the time to visit Chevron Alaska Denali Express, they also do a decent lunch service with huge teriyaki bowls and rice and vegetable bowls. It also offer giant sandwiches and an array of snacks and trinkets, plus freshly brewed coffee all day long.
Arizona: Brooklyn New York Pizza & Wings Pepperoni Pizza
If you want to blow any New Yorker's mind, tell them that some of the best New York-style pie comes from Arizona and that you can only find it at a humble Mesa gas station. Brooklyn New York Pizza & Wings is the ultimate hidden gem. It's an unassuming little pizzeria tucked inside of a Mesa fill-up station, but its thin-crust pizza is anything but run-of-the-mill. So if your impression of gas station pizza is doughy, underdone squares of bland pie, you need to head down to the Grand Canyon State for a slice at Brooklyn New York Pizza & Wings.
Although it serves up fantastic versions of classics like cheese and pepperoni, you can also find specialty pies on the menu or customize your pizza with dozens of different toppings. You can even toss on some pineapple if you would like. We won't tell.
Arkansas: Pig Trail Bypass Country Cafe's Hooshburger
Arkansas' Pig Trail Bypass Country Cafe off Highway 16 is a down-home gas station restaurant where you can snack on classics like crisp fries, huge burgers, and comforting patty melts oozing with cheese and meat. It's a family-owned joint with a welcoming atmosphere and plenty of charm, and although you can gas up outside, you might have the urge to sit and stay awhile — especially after you taste the Hooshburger.
The Hooshburger at Pig Trail Bypass Country Cafe is a big ol' burger with special seasoning, tons of perfectly prepared onions, a thick slice of cheese, all the veggie fixings, and mayonnaise. Even if you prefer your burger sans mayo or pickles, try the Hooshburger as is. You won't regret it. Every ingredient works together in a cheesy, meaty, tart, and tasty symphony, making this gas station burger one of the top in the country.
California: The Bombay Frankie Company's Beef Keema Frankie
Although foodies know and love The Golden State for its fresh local cuisine, incredible fusion dishes (via LA Mag), and mouthwatering seafood, there's a good chance that only a few of them have been bold or fortunate enough to run across LA's best Indian food (via Food and Wine). The Bombay Frankie Company, with multiple locations mostly in Chevron stations, serves up a signature dish that's akin to a naan bread burrito full of meat, hummus, potatoes, vegetables, and homemade chutney.
Meet the "Frankie," one of California's best-kept secrets. Although you can personalize your Frankie to fit your taste, its standard Beef Keema Frankie is off the charts. This dish is a true flavor celebration, packed with thin layers of perfectly seasoned beef, vegetables, raita, vegetables, and potatoes. Best of all, it's portable and quick. If you're craving more Indian food goodness, try their paneer or authentic chicken tikka.
Colorado: Sally's Kitchen's Double Pan Fried Noodles
Sally's Kitchen in Collins, Colorado, has excellent fried noodles and rice, served with veggies, pork, chicken, shrimp, or beef. So bypass the pre-packaged ramen next time you're in The Centennial State and treat yourself to the real deal. As with most of the picks on our list, Sally's Kitchen looks pretty unassuming from the outside, but once you check out its massive, authentic menu, you'll know that you hit on something exceptional. Plus, at around $10 a pop, the price is right.
According to its Facebook page, the double pan fried noodles aren't on the menu but you can, and should, ask for them specifically. Double-frying caramelizes the sauce and adds tons of additional texture and taste. Pair your noodles with veggies and the protein of your choice, and you're in gas station heaven. You can also have a complete meal with egg rolls and hot and sour soup.
Connecticut: Patty's Pantry's Chicken Noodle Soup
Patty's Pantry is right next to a gas station in Southbury, Connecticut, and it's worth passing up those sleeves of peanuts and pre-packaged Swiss Rolls to savor a home-cooked meal that will energize you for the next leg of your journey. Locals and tourists know Patty's Pantry for its fried chicken and fries, but the soup is one of the best things on offer at this quaint mom-and-pop shop.
Its soup menu is constantly changing, but it's all fresh and homemade. Its chicken noodle soup is nostalgia in a bowl, with a hearty portion of thin, perfectly cooked noodles, rich broth, big carrot wheels, and huge chunks of chicken. Patty's Pantry is a great example of how the best foods are often the simplest. If you really want to try the fried chicken, get it as a side and enjoy the best of both worlds. Just don't blame us if you go into a comfort-food coma.
Delaware: Milton Quick Stop's Fried Chicken
Although Patty's Pantry is an excellent place to get your fried chicken fix in Connecticut, Delaware, has its own gas station fried chicken king. Visit Milton Quick Stop in Milton, Delaware, for some of the crispiest, juiciest pieces of fried chicken in the whole state. This gas station tends to get pretty packed with people fueling up their cars and themselves, so don't be surprised if you have to wait a bit for your meal. However, once you sink your teeth into the crispy, seasoned crust, you'll get why Milton Quick Stop is a local haunt and something of a legend.
One thing that Milton Quick Stop does well is consistency. You'll get the same tasty breading, rich meat, and delicious meal every time. Although their fried chicken is worth crossing state lines for, they do a very good fish sandwich, too, just in case you want to change it up.
Florida: El Carajo's Croquettes
It's no surprise that hungry diners can savor some of the best Latin flavors in the continental United States in Miami (via Hemispheres). Still, you might never have dreamed that you'd find bold, flavorful Spanish food in an unassuming Mobil station. Miami, Florida, always full of surprises, has a big one next to the rows of convenience food and souvenirs. El Carajo not only serves incredible tapas, but you can get top-notch wine there, too, for all the back seat drivers.
El Carajo is family-owned and operated, and they know how to create an epic bistro experience in any environment. Although its paella, fritters, and sardines are exceptional, you must try the croquettes. Full of meat and spice, then gently breaded and deep-fried, these croquettes are ideal mouthfuls, especially when you pair them with a creamy dipping sauce. Plus, they're the perfect light snack for travelers on the go.
Georgia: Marietta Donuts' Glazed Donut
Marietta Donuts in Marietta, Georgia, is a phenomenal little bakery tucked into a local gas station that serves hot, fresh donuts to go with your morning coffee. Although the locals flock there in the wee early hours, you can get your flaky, light, sugary fix anytime. The donuts at Marietta Donuts are always fresh, and they come in tons of different classic flavors like old-fashioned and apple fritter. However, one donut that hits the sweet spot right is the glazed.
The glazed donuts have fantastic texture and flavor. Topped with a light brushing of crunchy glaze over soft, doughy, perfectly baked donut, they're a great example of form and function — and downright delicious, too. Some glazed donuts can taste a little bit soggy or heavy, but Marietta Donuts does them right, so you get a good ratio of sweet glaze to cakey donut in every single bite. You might want to pick up a dozen or three for the road.
Hawaii: Minit Stop's Skewered Chicken
Visit the tropical reaches of the most southern American state for incredible skewered and roasted chicken that always tastes fresh and made to order. In Maui, Hawaii, Minit Stop is a great place to stop for unconventional gas station treats like massive potato wedges, pork, and chicken adobo. The best thing on its extensive menu has got to be the chicken skewers, huge chunks of juicy, fresh chicken meat slow-roasted in spice over a hot flame.
In addition to being delicious, these skewers will give you all of the energy you need to drive across the island or hit up any number of different water sports. They're a great light meal that won't weigh you down, no matter what the weather is doing. Also, they're perfect for sharing. So if your experience with gas station meats is limited to Slim Jims, snap out of it and sink your teeth into one of these skewers.
Idaho: Rustic Pig BBQ's Meatloaf
What pops into your head when you think of the perfect comfort food? If you're like many people, that answer is "meatloaf." Although there are precious few places outside of your grandma's kitchen that serve the best portion of oniony, garlicky, saucy meatloaf, there is one where you'd least expect it. Idaho's Rustic Pig BBQ in Fruitland is a piece of homey comfort smack dab in a gas station and mini-mart. Although you can't go wrong with anything on its authentic BBQ on the menu, the one item you'll want to try is the flavorful, slow-cooked meatloaf.
You'll get a nicely sized portion, plus plenty of sauce to dip each bite into. If you have room, try the macaroni and cheese with a side of its signature BBQ sauce or a refreshing scoop of coleslaw. Trust us: Idaho's Rustic Pig BBQ serves precisely the type of soothing food that you need after a long drive, and you can fill the tank up while you're there, too.
Illinois: Huck's Convenience Store's King Cake Donuts
The people of Illinois certainly don't have a lack of options when it comes to breakfast and pastries, thanks to Huck's Convenience Store. With several locations all across the state, hungry travelers and locals can top off their tanks and sink their teeth into some premium donuts. At Huck's, the donuts are fresh, topped with tantalizing glazes and creams, and ready to be devoured. Of course, there are savory items on the menu, too, like sandwiches, pizza, and sides, but the donuts are what keep people coming back.
Although it would be tough to have a bad bite at this Illinois chain, its king cake donuts are something special. They're delightful to look at and even nicer to eat, with an airy donut base, generous frosting, and a light sprinkle of festive colors. So grab one with a cup of coffee and prepare for your own private Mardi Gras.
Indiana: Silver Express' Gyro
At Silver Express in Indianapolis, Indiana, you can get the best of all worlds with gas-station-level prices and tasty cuisine. Silver Express specializes in Mediterranean food, and its flavors are off the charts. Although its massive salads and gooey squares of authentic baklava are well worth trying, savvy travelers and locals know that the gyros are really where it's at. Its gyros are right around $5 apiece and come packed with slowly cooked, well-seasoned meat, tons of vegetables, and sauce wrapped up in a soft pita.
Its meat gyros are delicious, but vegetarians aren't left out at Silver Express. Instead of gyro meat, you can customize your order and stack up on extra veggies. Plus, the service is excellent, friendly and fast. A trip to Silver Express is precisely what you need if you've been on the road for a while and need to refuel your car and body quickly.
Iowa: The World's Largest Truckstop's Pancakes
While most of the top picks on our list revolve around dinner foods, it's worth mentioning that you can grab some excellent breakfast grub at gas stations if you know where to look. Take Iowa's World Largest Truck Stop in Walcott, for example. This trucker paradise has everything you need for long-haul journeys on the highway, including a chiropractor and a laundromat. It also serves great food to hungry truckers and laypeople who are lucky enough to pass on by, like giant stacks of pancakes the circumference of your head, topped with a golf ball-sized pat of butter.
These pancakes will definitely do the trick if you love a big, hearty breakfast. They're the perfect pick-me-up, bursting with buttery flavor and oozing with syrup. Plus, since the World's Largest Truck Stop sells breakfast all day, you can get your enormous pancake fix in the morning, noon, or night.
Kansas: Joe's Kansas City Barbecue's Macaroni and Cheese
In Kansas City, Kansas, you don't have to go too far off the highway to get some gorgeous gas station grub that also happens to be some of the best barbecues in the state. Joe's Kansas City Barbecue is a delicious find, full of classic dishes like flavorful ribs and rich meaty brisket. Although you should certainly sample all of the tasty meats that this restaurant offers, the best thing to order is one of their side dishes — macaroni and cheese.
The macaroni and cheese at Joe's Kansas City Barbecue is pillowy, light and full of cheesy flavor. It's not too heavy, but you certainly get all of the taste that you crave in every single bite. If you're feeling feisty, why not pair it with a signature barbecue sauce for a little extra zing and flavor? This macaroni and cheese makes the list because it won't weigh you down on the road, but you'll feel full, satisfied, and like you got the perfect cheese fix.
Kentucky: Casey's Breakfast Burrito
Although Casey's breakfast pizza is one of the most underrated gas station foods, we have to give it the nod for another early morning fave: its massive breakfast burritos. These burritos hit the mark for plenty of reasons. They're huge, full of protein, portable, and affordable. So if you're lucky enough to be traveling through Kentucky and craving something that is both unique and familiar at the same time, there's a Casey's near you.
Although Casey's serves traditional gas station fare, it does it in a fresh way. It makes all its dishes from scratch and uses fresh eggs, good cheese, and crisp potatoes. The result is a breakfast bonanza in a light flour wrap. As with many of our top picks, you can customize your Casey's breakfast burrito to meet your needs. Throw in some meat, or add veggies for a nutrient boost. You're the boss, applesauce!
Louisiana: Billeaud's Meat & Grocery's Smothered Beef Steak
Fill up your gas station at Broussard, Louisiana's Shell station, then swing on in for a smothered beef steak meal that tastes exactly as good as (or even better than) mom used to make. Billeaud's Meat & Grocery is the ultimate definition of a hidden gem, a gas station adjacent eatery that serves authentic Louisiana cuisine in a comfortable, cheery setting. If you're looking for pork cracklings or boudin, Billeaud's Meat & Grocery certainly has you covered, but its smothered beef steak is truly next level.
First off, let's talk about the portion size. You get huge pieces of steak, lightly battered and cooked, then served with a rich brown gravy that permeates every single bite. Round off the meal with a hot roll and a homemade side, and you'll have sampled some of the best Cajun comfort food that the state has to offer.
Maine: Melby's Market and Eatery's Sausage Philly Sub
Waterford, Maine's Melby's Market and Eatery is an old-fashioned joint that's very popular with the locals. If you're traveling through and have to fill up your tank, you might be lucky enough to stumble across Melby's Market and Eatery yourself. If you do, make sure that you stop in for one of its legendary smothered sausage Philly subs. Since this restaurant does comfort food right, it's hard to find something that you won't like on the menu, but its Philly sub is a cut above.
This sandwich is already off to a great start with crispy, perfectly-baked bread and a generous topping of fresh sausage and peppers. Add in tons of oozy cheese and a significant portion of French fries, and you have a meal to remember. One thing is for sure: you certainly won't believe it's gas station food.
Maryland: Royal Farms' Fried Chicken and Honey Mustard Sauce
Fried chicken is one of those foods that's pretty much universally loved, but unfortunately, gas stations don't seem to do it justice. Fortunately for people traveling through Maryland, there's one restaurant that's changing all that. Pick up some fried chicken from Royal Farms, and you're bound to be amazed. Its fried chicken is just about as good as anything that you'd get at a sit-down restaurant, and it's just steps away from the pump.
Its fried chicken with honey mustard sauce is an inspired combination. Juicy strips of tender white meat chicken taste incredible when you pair them with the slightly tangy, mildly sweet, creamy honey mustard. If you want something more substantial, opt for one of its freshly baked rolls or thickly sliced potato wedges to go with your meal. Royal Farms is reimagining gas station fried chicken in glorious ways, and we are entirely here for it.
Massachusetts: Slice Pizza and More's Grilled Sausage Sandwich
Wakefield, Massachusett's Slice, Pizza, and More! is a gas station pizzeria that turns its nose up at bland convenience store slices and offers visitors something totally new. Instead of letting its pizza languish on shelves or under heat lamps, Slice, Pizza, and More! makes all of its pies fresh to order. You'll get hand-tossed dough, plenty of tasty toppings, and a richly-flavored pizza sauce that makes each bite a little piece of nirvana.
Although its pizzas are undeniably awesome, it's worth looking beyond the pie menu to cash in on some extra hidden deliciousness. The grilled sausage sandwich with peppers and onions is phenomenal, with a bright burst of pepper in every bite. The meat is seasoned expertly, the bun is fresh, and it's not too heavy for those long road trips. Instead, all flavors meld together in a great mix of meaty goodness and fresh vegetables.
Michigan: Mr. Kabob's Chicken Shawarma Bowl
Weary Michigan travelers don't have to go far to get their hands on some exceptional Mediterranean food. Mr. Kabob, with locations all across the state, has them covered. As with many of the greats on our list, Mr. Kabob accomplishes the extraordinary by putting a healthy, fresh, flavorful twist on gas station food. Although you can find roller dogs in every corner of the country, you must travel to Michigan to get delicious kebabs slow-cooked and seasoned expertly.
Some of Mr. Kabob's best and brightest dishes include falafel, babaganoush, and chicken kafta, but the real winner in our book is their chicken shawarma bowl. It starts with a hefty bed of lettuce and diced vegetables, plus cubes of feta cheese. Then, Mr. Kabob adds beautifully cooked chicken shawarma and light dressing to the mix. So, you get all of the flavors of classic shawarma with a nutritious stack of yummy veggies.
Minnesota: Farmer's Grandson Eatery's Spicy Chicken Sandwich
Travel through Eagan, Minnesota, and you'll come across a surprising gas station find. Farmer's Grandson is a quick-serve, high-quality restaurant that can crank out wholesome meals in a matter of minutes. You'll have your sandwich before you've even finished gassing up at the pump. Farmer's Grandson prides itself in using great, local ingredients and perfecting classic dishes by putting new spins on them. Literally anything you eat will be tasty, but their spicy chicken sandwich is a true must-savor treat.
It starts with an all-white meat chicken breast, lightly battered and fried, so you get that great combination of juicy meat and crispy outside. Then, Farmer's Grandson tops it with homemade pickles, creamy, spicy chipotle ranch sauce, and just a hint of spicy pepper. It's got plenty of familiar flavor with just a touch of the unexpected, and it's the perfect bite for lunch or a light dinner.
Mississippi: United Deli and Grocery's John's Special
In Columbus, Mississippi, United Deli and Grocery serves delicious pub grub and sandwiches to hungry passers-through. Although United Deli and Grocery uses top-notch, fresh ingredients, it can still get you your grub in about the time that it takes to select a bag of chips. Plus, this Magnolia State staple features portable food that you can eat in or take with you on the road. Its fries are phenomenal, crinkle-cut and crisp, but their sammies are really where it's at.
United Deli and Grocery serves giant, loaded sandwiches that are easily enough for two people, although you can enjoy them all on your own. One of its top-sellers is a deceptively simple dish that hits all the right flavor points. Known as John's Special, it's an overstuffed sandwich full of two types of cheese, ham, roast beef, turkey, thickly-sliced pickles, veggies, mayonnaise, and mustard.
Missouri: Area 71's Taco Salad
If you wind up in Table Rock, Missouri, it's worth checking out an unremarkable-looking little truck stop called Area 71 for amazing salads, great burgers, and outstanding service. Area 71 is a traveler haven, notable for its hearty meals, desserts, and snacks. If you're looking for something that's on the healthy side but still packs a meaty punch and has plenty of carbs to fuel you on your way, we humbly suggest the taco salad.
Area 71's taco salad starts with a colossal tortilla bowl full of expertly seasoned ground meat, diced veggies, and plenty of greens. It also covers it in tons of cheddar cheese and adds a dollop of sour cream for good measure. So every bite is full of seasoned beef, crispy tortilla, spicy vegetables, and a lot of cheese. It's the perfect highway fuel for long drives, and if you're still hungry afterwards, you can grab a frozen custard for the road.
Montana: Huck's Grill's Milkshakes
Saint Regis Montana's Huck's Grill is one of Big Sky Country's top treasures. While plenty of the players on our list are known for their savory contributions to elevated gas station fare, Huck's Grill goes in a different direction. Although you can certainly get your fill of fresh salads and sandwiches at Huck's Grill, the real winners are the milkshakes. Its shakes are things of beauty, creamy concoctions bursting with tons of flavor in both traditionally sweet and fruit flavors.
One of their top sellers is the huckleberry shake, and there's a good reason why the locals love it. Huck's Grill's huckleberry shake is a smooth, slightly tart, sweet medley of fruit and cream. These shakes are so thick that you can reasonably eat them with a spoon. With beautiful bright hues and chocolate and fruit-forward flavors, don't miss a trip to Huck's Grill.
Nebraska: Sapp Bros' Apple Barrel Omelet
Visit Columbus or Omaha, Nebraska, and you'll probably run across a Sapp Bros gas station. If you do, and if you have a craving for breakfast, head in for one of its Apple Barrel omelets. Although Sapp Bros exists outside of Columbus and Omaha, those two cities are the only ones that feature Apple Barrel, a premium dining option for hungry travelers. You can take a load off and sit down for a hot and hearty meal that you won't believe came from a gas station.
Its omelets are giant and fluffy, and you can get them with various cheeses, meats, and vegetables. Paired with a side of super crispy hash browns, they make the perfect pre-road trip breakfast that's far better than that bag of mini muffins you would otherwise pick up. Plus, the service at Sapp Bros is excellent, and they always have plenty of hot, fresh coffee on hand.
Nevada: Pinkbox Donuts' Maple Bacon Doughcro
If you have a sweet tooth, Nevada's Pinkbox Donuts can satisfy it. With a few locations throughout the state, this innovative gas station bakery serves traditional donuts, obscure varieties, and a fantastic concoction called the doughcro that would make Willy Wonka proud. Its doughcros are unique hybrids of donuts and croissants — giant, fluffy, decadent desserts that mix the best of both worlds. One of its most famous and easily most delicious doughcros is the maple bacon doughcro, with tons of tasty icing, a thick buttery dough, and maple flavoring infused throughout.
This doughcro is studded with real bacon pieces, so you'll get a smoky and sweet sensation in every bite. Plus, the thing is massive. If you're not super hungry and feeling generous, you can even split it and still be satisfied. Of course, you can get fresh coffee at Pinkbox, too, to go with your massive hedonistic doughcro.
New Hampshire: Meredith Station's Donuts
Meredith, New Hampshire's Meredith Station is a great place to stop for breakfast when you're navigating the mountains of the tiny New England state. Meredith Station is an all-service gas station where you can pick up souvenirs, coffee, and freshly-made, traditional donuts. Although you won't necessarily find eccentric varieties of donuts (or hybrids) at Meredith Station, you will get solidly good, perfectly glazed, familiar donuts at a great price.
All of the donuts are great, but the peanut bars and chocolate glazed are fan favorites. Also, since they don't have a ton of different toppings, you can bring them with you in the car without worrying about getting filling everywhere. Meredith Station has other excellent baked goods, including various types of croissants and muffins. Still, its traditional, tasty, hot, and fresh donuts are the reason why many New Hampshire residents make a pit stop.
New Jersey: Wawa's Classic Subs
What Sheetz is to Pennsylvania, Wawa is to New Jersey. Wawa is one of the best places to rest and fill up your tank because you can find tons of great food and drink options there that you don't get at regular gas stations. One of the key reasons why people love Wawa is that it makes fresh, delicious subs that are portable, tasty, and pretty healthy. Wawa's classic subs have a few things going for them. The flavors are all familiar and predictable, but the ingredients are super fresh, and there are plenty of different toppings to choose from.
You can order from its regular classic sub or cold hoagie menu or create your own. Although Wawa might not be making serious waves like some of the other gourmands on our list, it's hard to argue that it doesn't serve some of the best, consistently good gas station food in the country.
New Mexico: Allsups' Beef and Bean Burrito
While New Mexico's Allsup's beef and bean burritos might look like the traditional fare that you find in gas station freezers all over the country, don't let appearances fool you. Instead, this southwestern chain redefines classic gas station food, fusing convenience and taste. Although its burritos are full of rich, tasty, slow-cooked beans and premium meat, you can still grab them and go. Plus, they're wrapped up in a crisp, flavorful tortilla for an authentic taste and great crunch.
Allsup's beef and bean burritos have something of a following in New Mexico, where college kids and frequent travelers regularly buy and scarf them by the dozens. Still, you can generally get your hands on a hot and tasty burrito while you're traveling through. So if you don't see them on the shelves, just ask. Although Allsup's offers plenty of different varieties, the flavor profile of the beef and bean is most on point.
New York: Stewarts' Sherbert Cooler
Thanks to its myriad flavors and rich, creamy consistency, Stewart's ice cream is a New York fave. Incredibly, you can find Stewarts in gas stations all across the state and pick up a scoop or two or a milkshake to enjoy on the road. But if you're looking for a special summertime treat, reach for a sherbet cooler. These bright beverages are lighter than shakes, with bright fruit flavor and a dash of heavy cream.
Sherbet coolers are the perfect go-between for people who want to satisfy their sweet tooth without feeling too full afterwards. They won't give you an intense sugar rush, but you'll get a nice little buzz that will fuel you as you drive across the Empire State. They come in plenty of bright summery colors, making them Insta-worthy and drinkable. No matter where you are in New York, there's definitely a Stewarts by a pump near you.
North Carolina: Caffe Rel's Mahi Jardiniere
North Carolina's Caffe Rel proves that haute cuisine and filling up your tank with premium can go together. This Franklin find serves five-star cuisine in an unlikely environment, a humble gas station (via Mountain Xpress). Although the locals know about it, travelers who stumble upon Caffe Rel realize that they've just had a happy accident and are in for a real treat. You can find anything and everything on the menu, from creamy chicken livers to decadent bowls of macaroni and cheese. There's also a crawfish pasta that's simply to die for.
One of its top (and most delicious) dishes is the Mahi Jardiniere, an exceptional piece of premium fish cooked gently with plenty of aromatics and spices. Pair it with a light, flavorful salad of premium tomatoes and spring vegetables. You have something that would fit in perfectly at any fine dining establishment — except it's available in a gas station. Bon Appetit!
North Dakota: Landers Shell & Northside Market's Zucchini Sandwich Cookies
North Dakota's Landers Shell & Northside Market in Bismarck might look like your typical fill joint from the outside, but take one step through the doors and you'll understand why it's one of the top places to get genuine gas station cuisine in the country. This humble restaurant specializes in authentic home-cooked cuisine made from local ingredients. Its menu changes often, but there's bound to be something to tempt your tastebuds, from huge sandwiches to homemade bowls of incredible soup.
One of its more underrated but intensely delicious offerings are zucchini sandwich cookies. First, Landers Shell & Northside Market elevates the simple squash by adding plenty of tasty sweet spices and playing up its brightness. Then, vanilla cream is sandwiched between two fluffy zucchini cookies for a wonderful treat that you're not likely to get anywhere else on the planet.
Ohio: Mobil Cafe's Pastrami Sandwich
Go to Olmstead Falls, Ohio, for pastrami sandwiches that are bursting at the seams with huge piles of meat and thick smears of mustard. Mobil Cafe in Olmstead Fall's Sunoco station is the spot for ginormous sandwiches that will keep you full as you're driving the entire length of the state. These sandwiches are seriously hefty, and if you're a meat-lover, you're going to want to sink your teeth into the pastrami because it's cured to perfection, thinly sliced, and packed between two slices of fresh bread.
There are other sandwiches on the menu, but the pastrami stands out for its simplicity and the generous portion you get. Also, it's portable, road-worthy, and super simple to scarf down in a matter of minutes. So if you're sick of lifeless sandwiches that are little more than bread and a single sad piece of cheese, get to Ohio for the real deal.
Oklahoma: Quik Trip's Soft Pretzel
Oklahoma's chain of Quik Trips are busting the myth that you can only get stale bread and soggy pizza at gas stations, one delicious soft pretzel at a time. Quik Trips are high-end gas stations known for sparkling interiors (via Clark) and super friendly staff. So although you can find typical gas station fare at your local Quik Trip, you can also savor some piping hot, uber-fresh, giant pretzels complete with a side of yummy dipping sauce.
The pretzels are crunchy on the outside, fresh and doughy inside, and have a light sprinkle of sea salt all over their nooks and crannies. Although they won't hit the spot for a full meal, they're a great snack that's a far better option than stale chips. If you want something more substantial, check out one of its pizzas, or get a freshly baked sandwich with all of the delicious fixins.
Oregon: Shell Stop and Go Mini Mart's Craft Beer
West Coast Oregon is famous for its stunning nature, laid-back culture, great food, and craft beer scene. While you might only be able to pick up a sixer of Bud or Corona in most gas stations, their Shell Stop and Go Mini Marts offer a more gourmet experience. Thirsty visitors can get hand-poured growlers of some of Oregon's finest craft suds right at the gas station. One of the most remarkable aspects is that you never know what's on tap, and many Shell Stop and Go Mini Marts feature boutique breweries whose wares you can't sample anywhere else.
This is all thanks to the Growler Guys, a chain of hyper-local beer distributors whose growler-on-the-go brainchild caught on all across the state. So if you're looking for a refreshing pint to sip at your destination, Oregon has got you completely covered. Cheers!
Pennsylvania: Sheetz's Dark Chocolate Chip Milkshake
If you've ever traveled through Pennsylvania, there's a good chance that you've spotted the welcoming glow of a Sheetz in the distance. These premium gas stations are full-service experiences (via Retail Wire), serving great food and providing weary travelers with a break from the road. One of its underrated and delicious offerings comes in liquid form: the decadent dark chocolate chip milkshake.
The milkshakes at Sheetz rival anything that you might find in a premium ice cream parlor. They're thick enough to eat with a spoon, topped with a heavenly swirl of whipped cream, and packed with all sorts of goodies. What makes its dark chocolate chip milkshake unique is that it's not overly sweet, despite the layers of flavor. Instead, each sip is nuanced and tasty, studded with chocolate chips and bursting with deep, rich chocolate flavor. So if you need a quick pick-me-up, swing by your local Sheetz for this classic shake.
Rhode Island: Pickpockets' Grilled Chicken Salad
Smithfield, Rhode Island's Pickpockets, is a gas station chain that gives hungry travelers a break from traditional fare. Instead, it serves tasty Mediterranean classics with fresh sauces, crisp veggies, and tons of flavorful meat. Although you can go the total meat and cheese route with its shaved steak, you can also opt for something a little bit more classic that won't leave you bloated on the road. The chicken falafel is excellent, but you can't go wrong with its grilled chicken salad.
This salad is packed with tasty lettuce leaves, plenty of Greek vegetables, and huge, perfectly marinated chunks of chicken that provide a protein punch and plenty of fuel for the long highway. Rhode Island might be a smaller state, but it's big on great gas station offerings like Pickpockets. Plus, you can find them dotted all over the whole state, so you don't have to drive far to get a good meal.
South Carolina: Roy's Grille's Rib Tips and Onions
In Lexington, South Carolina, there's one spot to go for rib tips and onions, and you definitely do not need a reservation. Roy's Grille is right inside the local Exxon, and it serves traditional, homemade southern food and marinated meats that rival virtually any other steakhouse in the state. Its pimento cheese and fresh slaw are certainly winners, but for those looking for a meaty meal that will fuel them for hours to come, it's gotta be the rib tips and onions.
The rib tips themselves are slowly cooked and served with a sumptuous, tangy sauce that pairs perfectly with a gentle heap of fried onions. Eaten together, the texture of these two items is unparalleled. It's five-star dining in a casual environment, and it transcends anything that you would typically find inside a gas station. Although the portions at Roy's Grille are generous enough to share, you might want this one for yourself.
South Dakota: Cowboy Corner's Steak and Potatoes
For an old-fashioned steak dinner in South Dakota, you don't need to put on your Sunday best and head out to a traditional steakhouse. Instead, visit Cowboy Corner for some of the best gas station eats near Badlands National Park. Cowboy Corner is an unassuming joint that serves excellent food at reasonable prices. The people are also really friendly, and can give you solid advice on where to go in the park and insider tips.
Cowboy Corner offers honest food, like baked potato and sour cream, hearty, fresh rolls, soups, huge sandwiches, and considerable portions of perfectly cooked steak. It doesn't skimp on the portions, and you'll undoubtedly leave satisfied. Cowboy Corner is one of those places that most people would expect to find off the beaten path, so it's certainly a great gas station find and a fantastic alternative to a bag of Lay's and a bottle of Diet Coke.
Tennessee: Laredo Taco's Beef Tacos
Although Laredo Taco is a Texas-based eatery, Tennesseans know its restaurants from the road, specifically from Exxon Tiger Marts. Not only is it possible to get an authentic taste of Tex-Mex in Tennessee, but you can also do it while rotating your tires and giving your eyes a rest from the highway. Laredo Taco has many things going for it, but two of the top ones are price and taste. It's easy to fill up your tummy for well under $10, and you won't have to skimp on sides or sauces.
Laredo Taco also serves authentic Tex-Mex cuisine, bursting with heat, spice, and plenty of bold flavors. Its classic beef tacos are superb, with plenty of sliced beef and vegetables nestled inside warm flour tortillas. Add in some salsa, guac, or sour cream, and you'll have a meal that rivals anything that you'd get in a Texas taco house.
Texas: Rudy's Country Store and Bar-B-Q's Brisket
The Lonestar State is definitely the place to go for big, beautiful meats, but you don't need to visit a five-star restaurant to savor some phenomenal beef. Instead, just get on over to Rudy's Country Store and Bar-B-Q for fork-tender slices of brisket. Rudy's Country Store and Bar-B-Q has several locations all across the great state of Texas, and are known for serving up some of the state's best comfort food in a friendly, casual environment.
Its brisket is exceptional, smoky, and well spiced. Rudy's cuts it in thick slices for a generous portion that won't have you starving in a few hours. In fact, you might even be able to make it from Dallas to Houston fueled on just one portion of its premium meat. There are plenty of side dishes on offer at Rudy's Country Store and Bar-B-Q, but a bowl of creamed corn compliments the brisket perfectly.
Utah: Kevin's Fried Chicken's Fried Chicken Strips
Kevin's Fried Chicken in Murray, Utah, is a local classic tucked away in an inconspicuous and unassuming Texaco gas station. If you're used to soggy, under-seasoned chicken strips on the road, do yourself a favor and try their strips on for size. Run by husband and wife team Donna and Kevin Nguyen, Kevin's Fried Chicken takes pride in making its fowl phenomenal.
It starts off with excellent meat, never processed and always fresh. With generous portions of natural white and dark meat as the base, the food at this gas station find is always a cut above. Next is the breading, full of flavorful spices with just the right amount of crispiness. The other reason why Kevin's Fried Chicken always tastes so fresh is that it changes its oil several times during the day. As a result, you don't get any lingering flavors, just juicy chicken, savory breading, and dipping sauce.
Vermont: Cambridge Village Market's Roast Beef Sandwich
Anyone who knows anything about Vermont understands that there's no shortage of tasty treats in the tiny state, so maybe it shouldn't come as much of a surprise that the eats at Cambridge Village Market in Cambridge, Vermont, are epic. Cambridge Village Market is the quaint little spot where you fill up your tank and tempt your tastebuds with all sorts of fresh, customized deli favorites like broccoli cheddar soup, stew, and chicken salad sandwiches. Its garlic provolone rolls are a great pick-me-up, too, but perhaps the biggest jewel in the crown are its roast beef sandwiches.
Tender slices of roast beef stack up against creamy avocado and thickly sliced sharp cheddar cheese. Every bite is bursting with fresh, cheesy, and meaty goodness. It's the ideal gas station bite and a great introduction to all of the foodie wonders that Vermont has to offer.
Virginia: Moore Country Store's Hot Dogs
When you think of gas station hot dogs, do you picture those sad, over-cooked roller dogs that have been sitting out since the Carter Administration? Fortunately, hot dog lovers can get their tanks filled and their fast-food fix in Lynchburg, Virginia. At Moore Country Store, the hot dogs take center stage, with heaps of fresh toppings and soft buns. These weenies are anything but sad. Instead, you can get them with chili, coleslaw, mustard, and onion for a downhome Virginian treat that is spicy and meaty.
If you're craving more comfort food, check out Moore Country Store's macaroni and cheese or any of their homemade soups and stews. Its macaroni and cheese is mild but gooey and full of flavor. In fact, all of its dishes are delicious, fresh, and never languishing on the rack for 20 hours. There's no way that you'll leave in any state other than satisfied and full.
Washington: Jake's Pickup Grab and Go's Chocolate Chip Cookies
Washington state's Bainbridge Island has one of the country's top gas station cuisine finds. Jake's Pickup Grab and Go in the Bainbridge Island Chevron station is a humble little diner serving big portions of classic dishes like pulled pork sandwiches, slaw, and sides. You can also find innovative hybrids of favorite dishes like "scone nuts," a mixture of scones and donuts that's big, bready, and beautiful.
However, if you're looking for that perfect gas station snack that can transport you back to childhood, forgo the savory foods and novelty items and reach for Jake's Pickup Grab and Go's chocolate chip cookies. These freshly made cookies are slightly crunchy on the outside and rich and gooey on the inside. They're full of tons of chocolate chips, so each bite is the right ratio of cookie to chocolate, and they're the perfect little pick-me-up for Seattle's notoriously rainy weather.
West Virginia: Corner Gas & Grille's Butterscotch Mudslide Pie
Leave it to West Virginia to serve some of the best pie in the continental United States. Corner Gas & Grille in Mt. Hope, West Virginia, is your homestyle refuge from the road, complete with a friendly staff, homemade food, and great ambiance. Although you can get savory faves like cornbread, burgers, and hearty sandwiches, the actual draw of Corner Gas & Grille lies in its sweet side. Its butterscotch mudslide pie takes everything you love about a cream-based, decadent pie and puts a new flavor spin on it.
This pie is a masterpiece of taste with a thick layer of butterscotch, flaky crust, and oodles of light whipped cream. Top it off with a few butterscotch chips, and you have deep layers of flavor and texture. This pie will definitely fill you up, and it pairs perfectly with a steaming cup of coffee and some great conversation.
Wisconsin: Chilango Express' Enchiladas
Inside Bros Petro Mart in West Allis, Wisconsin, Chilango Express is the destination for superb Mexican food on the go. So whether you're grabbing a snack while filling up your tank or settling in for a fiery, flavorful meal, you won't regret making a pit stop at Chilango Express. This gas station gem hits all of the right marks. Its portions are massive, packed with authentic ingredients, and drizzled with multi-faceted sauces that genuinely taste homemade.
Try its enchiladas, dripping with tons of sauce and served with fresh salad, a generous scoop of rice, avocado, and plenty of shredded cheese. From the fresh tortilla to the tart bite of tomato, you'd be hard-pressed to find better Mexican food anywhere on the road. Plus, the place serves huge cups of coffee, so you can get your food fix and the caffeine jolt that you need to hit the road at optimum.
Wyoming: Taqueria Mexicana Mi Tierra's Chimichanga
For hearty, huge chimichangas with a bright salad and a big side of sauce, head to Circle C gas station in Cheyenne, Wyoming. There you'll find Taqueria Mexicana Mi Tierra, a Tex-Mex eatery that puts all of those microwavable burritos and chimichangas to shame. One of the first things that you'll notice is that the portions are enormous, with plenty of fresh veggies, seasoned meat, and cheese. Taqueria Mexicana Mi Tierra has fast service, too, so you'll be sinking your teeth into a meaty, cheesy, loaded chimichanga within no time.
Although the chimichangas offer the most bang for your buck, there are plenty of other dishes on offer too. Try the tasty street-style fish tacos or fully-loaded breakfast burritos with eggs and cheese. If you have space after your meal, the homemade crunchy and chewy churros crowned with a light sweet sauce are everything.