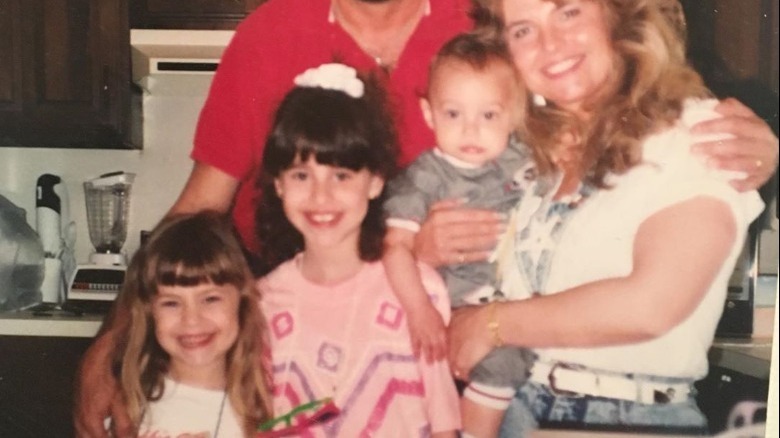 It's hard to imagine a time when Dwayne "The Rock" Johnson wasn't a household name. The wrestler-turned-actor has become one of the biggest celebs out there, taking home bigger checks than pretty much all of his counterparts, according to Fox News. And his career doesn't look to be slowing down anytime soon, as he continues to cinch roles in some of the biggest blockbusters.
While just about everyone knows who Johnson is, his longtime partner (and wife as of August 2019) Lauren Hashian is not as well-known as her mega-famous husband, as she tends to keep a lower profile. But that doesn't mean she's not just as interesting, as she has a story that's all her own, as well as unique talents and perspectives on life.
And while the couple have been together for quite some time, according to an article in Entertainment Tonight, Hashian's origin story begins in 1984, long before she met Johnson, when she was just a little girl growing up in Massachusetts. Want to know more? Read on to witness the stunning transformation of Lauren Hashian.
Lauren Hashian was born into a musical family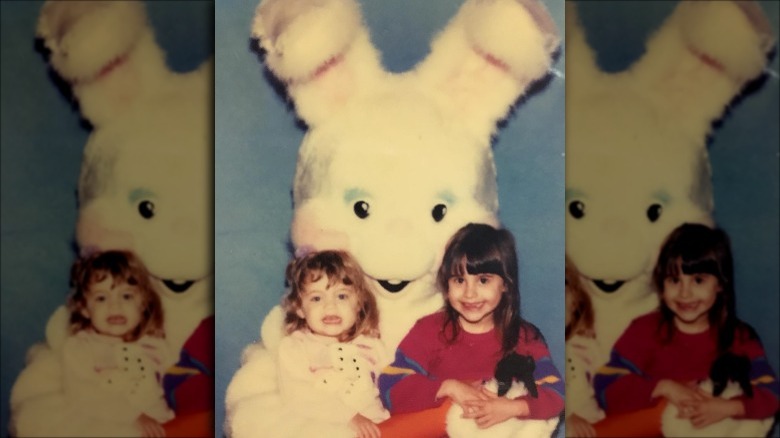 If you're a fan of the band Boston, Lauren Hashian's name will sound familiar to you. That's because her father, Sib Hashian, was the drummer for the rock and roll band, which had quite a few hits, including "More Than a Feeling" and "Amanda." They were kind of a big deal back in the 1970s!
Despite the success of Boston, Hashian's father didn't encourage his daughters to go into the music industry, according to an interview in Coveteur. But that didn't stop all of the Hashian siblings from becoming musicians. "My brother is an incredible jazz pianist and my piano coach, my sister's an amazing songwriter and also my best friend and writing partner," Hashian shared in an interview with Vydia. Clearly it must have been in their DNA!
In addition to being born into a musical family, Hashian admits that she was a pretty weird little girl. "I was also a really odd kid and pretended to be animals in public places when I was a small child," she continued. Hey, that's totally normal when you're young!
She has fond memories of family vacations as a girl
Trips to Cape Cod are a rite of passage for many kids who grow up in Massachusetts, given that the island is a popular tourist destination, and it's just around the corner from the mainland. Such was the case for Lauren Hashian, who remembers those 1980s and 1990s trips with her family quite fondly. "When I was a kid, we went to Cape Cod for our family trips together and we have the best childhood memories from those days. Mini golf & the ice cream truck," she wrote in a post on her Instagram page. That honestly does sound pretty idyllic.
Hashian and Johnson enjoy getting there when they can for some quiet family time, something she hopes her children will enjoy. "Jazzy will hopefully get to make many family trip memories with the horsies on the farm now," she continued. "Hobbs really seems to love it there too." What's not to like on an island farm in the spring for a dog?
Lauren Hashian started singing non-stop in middle school
It was only a matter of time growing up in her musical household that Lauren Hashian would start discovering her own musical talents. Thanks to her older sister Aja, that came in the form of a popular pastime. "I started singing consistently when I was a kid in middle school," she recalled in an interview with Vydia. "My sister had this '80s karaoke machine that was just a speaker, a tape deck, and a long mic plugged into it, so I stole it from her room and took it to my room." File under: things only '80s kids will understand!
Hashian was committed, too, as she would take her favorite R&B albums and belt them out from cover to cover. "I loved that thing so much! I would pop in the best tape we had and sing along from beginning to end," she continued. "The two earliest ones I remember were SWV and Bobby Brown." If there was evidence that she was destined to use her pipes later in life, there you have it.
Lauren Hashian studied at Emerson College in Boston
When it came time for Lauren Hashian to select a college to attend in 2002, she decided to go with Emerson College in Boston. That's not surprising, not just because of its location, but because of its reputation as a good school for creative minds like Hashian.
During her tenure at Emerson, Hashian was able to win an EVVY award (the school's version of the Emmy or Grammy Awards) for her innovative spirit along with her cohorts. "We formed this little collective and started turning our dorm rooms into recording studios," she explained an interview in Coveteur. "Myself and this kid who called himself 'Reality' recorded a song — I sang and he rapped — and we ended up winning the award that year." Nicely done!
Interestingly enough, Hashian wasn't a music major, likely due to her father's influence, but looking back she says that this was the best part of her college experience. "It wasn't my major or degree but meeting young like-minded musician friends and creating music together was the best thing I got out of Emerson College," she added.
She competed on R U the Girl in 2005
Anyone who claims to be as into '90s hip hop as Lauren Hashian does will cite TLC as one of the most influential groups of the era. So when the chance came to audition for the vacant spot in TLC in 2005, vacated all too early by the late Left Eye in 2002, it should come as no surprise that Hashian threw her hat into the arena. That's just not an opportunity to be missed!
As it turned out, however, the audition wasn't for a permanent spot, according to an interview TLC gave to Rolling Stone magazine — just the chance to perform a single with T-Boz and Chilli. "We're not replacing Left Eye," Chilli clarified. "I'm sure it looks that way, but I think once people watch the show, they will see that it's not about a replacement." Frankly, Left Eye just isn't replaceable anyway.
Still, although she didn't win, Hashian was selected to appear on "R U the Girl?," as you can see in this segment. Ultimately, it was O'so Krispie who won the honor, who performed the single "I Bet" as a trio with T-Boz and Chilli.
Dwayne Johnson and Lauren Hashian first met in 2006
One year after Hashian appeared on "R U the Girl?," Lauren Hashian's destiny would forever be altered. That's right: 2006 was the year she met Dwayne Johnson for the very first time. According to People magazine, the pair met in Boston while Johnson was filming "The Game Plan" with Kyra Sedgwick. Obviously sparks must have flown, as the pair began dating the next year in 2007, and have been together ever since.
What you might not know is that Johnson was married at the time, and had a daughter with his first wife. But something about Hashian must have lit a fire in him, as he fell head over heels for her. "I was so fortunate to have fallen in love once," he gushed in an interview with People magazine. "To fall in love again? That's a hard thing to do twice in the position I'm in. I'm one lucky son of a b***h." Who knew The Rock could be such a softie?
Lauren Hashian is a professional musician
Although Lauren Hashian has been musically-inclined for her entire life, she officially became a professional musician in 2012 when she uploaded her single "You Are Mine" to SoundCloud. And as Hashian tells it, she's evolved since her days at Emerson. "Fast forward to now, these days — just through so many more years of experience and trying to get better — the level of professionalism and knowledge has definitely increased," she revealed in an interview with Vydia. "I've learned how to engineer and partially produce the music in order to be more self-sufficient in the studio so that's changed the process in a positive way." She added that her songs are also much more personal than they were then, as well as deeper.
Several other singles have followed in the years since, as well some accompanying music videos. In all of them, Hashian seeks to push her creative envelope. "A goal is to express feelings through writing in ways they haven't been expressed before," she continued. "And to push the envelope melodically. Always try to evolve with how sound is evolving." That's how you do it!
Becoming a mother reshaped her entire life
On December 11, 2015, Lauren Hashian announced to the world that she was expecting her first child in a post on her Instagram page. Clearly she was pretty far along in her pregnancy, as on December 20, 2015, Dwayne "The Rock" Johnson announced that Hashian had given birth on his Instagram page. Congrats, you two!
Not surprisingly, giving birth and becoming a mother both had an extremely profound impact on Hashian. "Birth … will literally reshape your perspective," she proclaimed in an interview with Vydia. "As cliche as it sounds, after you have a child you understand more than ever what's truly important in life. So many insignificant or superficial old fears started to disappear for me."
Additionally, Hashian was specifically sensitive to her role as a mother to her daughter. "When you have a daughter you realize right away you're their main example as a woman, as a human being, a mother, a friend, a wife, a dreamer, everything," she continued. "It inspires you to be the best version of yourself and to give 110% of yourself, in not just motherhood, but in all areas of your life." Preach, mama!
Losing her father was hard for her
Just as giving birth changed Lauren Hashian's perspective on life, so too did the passing of one of her parents in 2017. "My dad's sudden passing five months ago was unexpected and a shock," she confessed in an interview with Vydia. "The fact that in the snap of your fingers your whole life can change forever. You then understand the fragility of life, and if you hesitate to fulfill things now you may not get a chance to do them later." Indeed, losing someone close to you can have that kind of impact. We're sorry for your loss, Lauren.
As hard as it's been to lose her father, Hashian acknowledges that she and her family have grown in the wake of his passing. "His death was a rebirth for my whole family, a new normal," she continued. "Out of it grew a stronger desire to be healthy, live with purpose, and love each other even more powerfully." That's a really beautiful takeaway from such a painful experience.
Hashian had baby No. 2 in 2018
Although 2017 was a difficult year for Lauren Hashian because of her father's passing, it wasn't all sad news for the Hashian-Johnson family. In fact, on December 11, 2017, Dwayne Johnson took to Instagram to share some exceedingly good news. "[Hashian] and I are boundlessly grateful for this blessing as this spring we'll welcome our second baby," he wrote in the caption. "Plus, Jazzy is excited to boss around and protect her lil' sis." Johnson added that he was super happy to learn that they were expecting another daughter, and said that he's blessed to be surrounded by so many women. Love that!
Four months later, Hashian shared an intimate photo of the birth of their baby Tia on Instagram, on April 27, 2018. "It's so incredible to finally meet you our sweet little Baby Tia," she gushed in the caption. "You are the most peaceful peanut, our little angel & wow, are we lucky … completely in love." What a beautiful family.
Lauren Hashian and Dwayne Johnson have one big blended family
When Lauren Hashian and Dwayne Johnson first met in 2006, Johnson was still married married to Dany Garcia, who was also his business partner. But if you think the divorce created a bunch of drama and acrimony, you'd be wrong, as the separation was amicable. In fact, Garcia, who helped build Johnson's career, stayed on as his manager. "Some people go through separation and there's no conversation, and it's a dark time, and one person goes off, but that was never us," she shared in an interview with Marie Claire. "We went on this journey together. We were going to change the manner of the relationship together." It's heartening to know that a divorce doesn't have to be a toxic experience.
Additionally, since Johnson and Garcia have a daughter, Simone, they often spend Thanksgiving together, according to People magazine. At the table is also Hashian and her two daughters, Garcia's partner, and other family members. Chances are that Johnson will serenade everyone with his ukulele, which he is known for playing. If this is not the very definition of wholesome, we don't know what is!
She is extremely down to earth
Given how famous her husband is, and how much money he makes, Lauren Hashian could be as extra as she wanted to be. But the reality is that Hashian is relatively down to earth, and doesn't pretend that things are glam for her all the time. "I know things can look glamorous from the outside but real talk, any time I wore makeup this year, I POSTED a pic," she wrote in a 2019 post on her Instagram page. "That's not much! This is just to say I think we are all more alike than we think — and this is just the reality of life and trying to raise 2 babies and find balance." That's especially refreshing, especially coming from the wife of Hollywood royalty.
It's not as if Hashian just leaves her children with nannies all the time, either — she's with them as much as possible. "I do feel like I have to be the one constant and the one foundation in the girls' life, so every single day I'm with them," she explained in an interview with Coveteur. Way to be present, Lauren!
Lauren Hashian and Dwayne Johnson finally tied the knot
On August 18, 2019, Lauren Hashian and Dwayne Johnson finally tied the knot after over a decade of partnership, according to a post on Johnson's Instagram page. The couple said "I do" in Hawaii next to the ocean, which is only fitting given Johnson's heritage. Congratulations on your nuptials, you two!
Of course, both of them looked gorgeous for the long-awaited big day. Hashian wore a lace gown designed by Mira Zwillinger with a plunging neckline and an open back, which retails for a cool $12,540, according to People magazine. Johnson wore a white Ralph Lauren dress shirt that was unbuttoned halfway, with white pants and traditional Hawaiian leis over his shoulders. And of course, the bouquet that Hashian carried matched the leis, with beautiful white blooms and bright green leaves. Their rings were designed by Anita Ko, and they exchanged them while gazing out over the ocean.
Talk about wedding goals! What a perfect day it must have been.
They had planned to get married sooner
Dwayne Johnson and Lauren Hashian were in no hurry to get married, as is evidenced by how long they waited to exchange vows. And for a long time, Johnson had to dispel rumors that they got married, perhaps because he called Hashian his wife on the reg. "I just refer to her as my wife all the time," he revealed in an interview with Entertainment Tonight. "So a lot of people are like, 'Oh, did you get married?' I'm like, 'No. Easy. Don't rush big daddy.'" Well now he really can call Hashian his wife without having to explain, as it's officially official.
In a bit of a twist, Hashian and Johnson had originally planned to get married in the spring of 2018. However, something happened that made them delay the date even more. "But then we got pregnant," Johnson recalled in an interview with Rolling Stone. "And Mama don't wanna take wedding pictures with a big belly — Mama wanna look good." Well, it was worth the wait, because Hashian looked amazing. What a cute story!
The pandemic made her family stronger
While being cooped up in quarantine during the COVID-19 pandemic wreaked havoc on many relationships, some couples found their bonds strengthened by the ordeal. Lauren Hashian and Dwayne Johnson found themselves in the latter camp. In an April 2020 Instagram Q&A (via Men's Health), Johnson revealed that the experience "had a very positive effect on my relationship and my marriage, and certainly my relationship with my daughters," bringing them all closer together.
While it wasn't always easy, Johnson told Oprah Winfrey in an Instagram Live the following month (via Hollywood Life) that communication was critical to helping them power through. "What we've realized too is that it's important now more than ever to communicate with each other. If there's something you need, say it," he said.
It's no wonder that Hashian gushed about her husband during quarantine, penning a touching Father's Day tribute to him in June 2020. "You're our dedicated, fearless leader with an unwavering heart of pure GOLD, and we wake up and go to sleep every single day with the purest love and gratitude in our hearts!" she wrote on Instagram.
She teamed up with her husband for the Olympics
Lauren Hashian and her famous husband may not have been on Team USA at the 2020 Summer Olympics (held in 2021 after being postponed due to the COVID-19 pandemic), but they did make a good team at the Games. The two collaborated on an Olympic commercial for ZOA Energy. Dwayne Johnson starred in the promo, while Hashian co-wrote the song "Find Your Glory" for it.
"It feels incredible to have the Olympics finally HERE and to be able to SING and co-write with my fam to commemorate this moment in time!" she wrote in the caption of an Instagram upload of the commercial, which features Olympic athletes and ordinary citizens as they train, work, and go about their lives. Hashian wrote that it was "a dream to team up with" Johnson, praising him for featuring not only Olympians in the commercial but also "honoring and recognizing EVERYone in their own lives hustling and 'grinding it out' day after day."
As Hashian explained to E! News, Johnson wanted the song — which is set to the tune of Beethoven's "Ode to Joy" — to "be inspirational with depth and gravity to connect with every kind of person," and she certainly followed through!
She released her first EP
Lauren Hashian followed up her Olympic commercial with more new music in 2021 — this time in the form of an EP. Well, at least the first half of one. She released "Love … and Other Things (Side A)" in December of that year, and also opened up about why she waited until the age of 37 to put out an album. She explained that, for a long time, she was simply too scared to perform. "You see these artists like Olivia Rodrigo or Billie Eilish, who are so young, but they have the guts to put themselves out there, to share their songs," she told Billboard. "It's incredible. And I think for me, looking back, I was never that kid."
In an interview with The Boston Globe, Hashian admitted that she also wanted to protect her privacy as her music "is pretty personal." That being said, though, Hashian explained that her album is "less about me and [my husband], it's more about the poetry of it all and human connection." Per Billboard, the EP features three tracks, including "What You Want (DeJa Vu)," that, per Hashian, "discuss romantic love in different forms." The second half of the EP is slated for a spring 2022 release.
She's living her dream
Putting out an EP wasn't just a professional goal, but also a personal one. Lauren Hashian told The Boston Globe that she's now living her best life — specifically, the life she wanted as a kid growing up in the '90s. She explained that, back then, she "always felt really uncool" but found inspiration in R&B singers like Aaliyah and Brandy. "I thought they were beautiful," she said, detailing how she'd "sing in front of the mirror" trying to be like her idols.
Now that she's a recording artist herself, her dreams have come to fruition. "I think everything that I'll do for the rest of my life will be my middle school dream come true," she said. "Those things that you loved when you were a kid, they don't ever go away."
It might have taken her a while to get here, but Hashian has enjoyed the journey. After all, as she put it in an Instagram post, "It's never too late to step out of your comfort zone in the name of your passion."