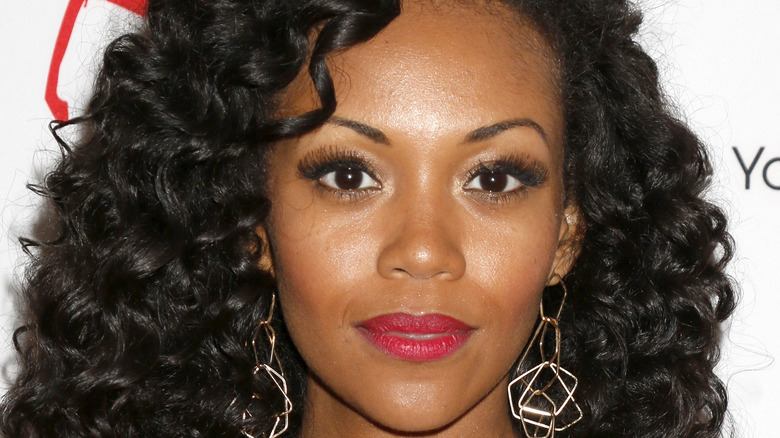 Hilary Curtis was a force to be reckoned with during the time she made her mark on "The Young and the Restless" from 2013 to 2018. During those five years, she loved married a man only to get divorced and wed his son, while never failing to entertain or amuse. Never a true-blue good girl, the audience always knew she had a heart and when she died in Devon Hamilton's (Bryton James) arms after a horrific car crash, fans were crushed (via Soaps In-Depth). However, actress Mishael Morgan said it had been time for her to move on.
The actress may have left the soap in 2018, but she was back by 2019, first during a three-episode stint (via IMDb) as Hilary's ghost and later as her twin sister, Amanda Sinclair. But what made Morgan leave and what convinced her to return?
"When I came back as a ghost, there was no conversation about extending that. Later, [Executive Producer] Tony [Morina] said he wanted to have [me] back," Morgan told TV Insider in 2020. "He valued me as an employee and talent on the show. He articulated that to me. There were a few different reasons I left. I'd been playing Hilary for five years. Y&R gave me an opportunity to play somebody different."
Who was Hilary Curtis?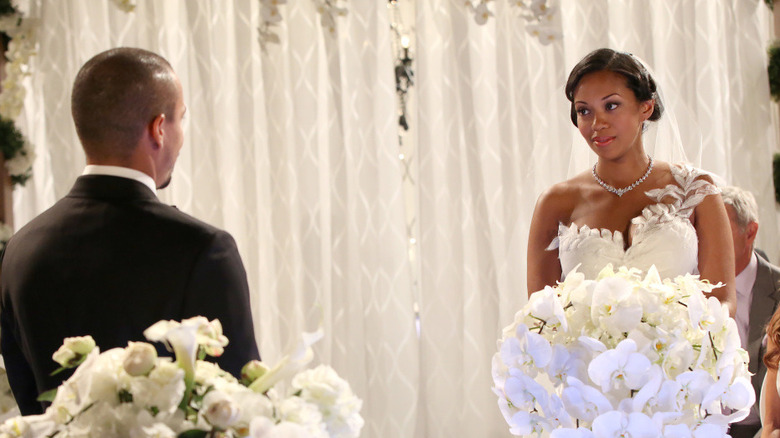 Hilary Curtis first arrived in town looking to seek revenge for her mother's death, believing Neil Winters (Kristoff St. John) was responsible. It turned out that Neil had spent a drunken evening with her mother, Rose, the night she died, but Hilary had to accept that Neil did not cause her death. Neil apologized if he may have played any part in the event of that night and asked Hilary to stop posting damaging things about his family on the GC Buzz gossip website (via Soaps.com).
Neil and Hilary eventually fell in love and married, but Hilary also fell for Neil's grown adopted son, Devon Hamilton, and when Neil eventually learned they were in love, he was enraged, causing problems for them until after he divorced Hilary and she married Devon. However, Devon soon learned that Hilary was still a manipulator after she faked amnesia for a while and divorced her, but that wasn't the end of Hilary and Devon (via Soaps In Depth).
How did Hilary die on The Young and the Restless?
Despite failed romances with others, it turned out Hilary Curtis and Devon Hamilton truly did love one another. In fact, when Hilary decided she wanted to have a baby whether she was married or not, Devon became her sperm donor in both the fertility clinic sense and then in the more traditional sense. When Hilary became pregnant, they were thrilled, but Devon's sister, Lily Winters (Christel Khalil), was not.
She still felt Hilary was too much trouble for her father and brother and told her just that one day while she was driving. A furious Lily took her eyes off the road for a split second and a tragic crash occurred (via Soaps In Depth). While Lily came out of the accident unscathed, Hilary lost the baby and Dr. Nate Hastings (then played by Brooks Darnell) told Devon that Hilary would soon lose her life, so he married her again in a deathbed ceremony and there wasn't a dry eye in the house (via Soap Hub). Devon then mourned Hilary as if she had been a saint for nearly two years until she seemingly showed up at his front door.
Who is Amanda Sinclair?
One day, when Devon Hamilton had already moved on with Elena Dawson and she was living with him, he opened the front door to his swank penthouse and Hilary was standing right there. Of course, it was not Hilary but a woman who introduced herself as Amanda Sinclair. Played by Mishael Morgan, Amanda was the spitting image of Hilary but didn't even know who Hilary was. Instead, she was a lawyer working for a mysterious client who claimed the fortune Katherine Chancellor left for her grandson, Devon, was actually meant for someone else (via Soaps In Depth).
After Amanda learned she had been scammed and Devon's billions were returned to their rightful owner, Devon and Amanda grew close and realized the reason she looked like Hilary was because she was Hilary's identical twin (via TV Insider). After hiring a private investigator, they learned Rose wasn't even Hilary and Amanda's mother and that's where a whole other mystery began.
How Amanda and Hilary got separated
When Amanda Sinclair first learned she had a twin named Hilary Curtis but that she never got a chance to meet her, actress Mishael Morgan said she felt her character's pain.
"It's pretty strange and crazy," Morgan told TV Insider. "Being the person who played Hilary and plays Amanda, I feel Amanda's loss even though I'm the one who played Hilary. There's a feeling of loss and that Amanda can't get any closure. Hilary's gone. Amanda is stuck in this place of 'Oh, I had a sister, but I don't have a sister.'"
After a long story digging for the truth, Amanda learned her birth mother was a woman named Naya Benedict (Ptosha Storey), who had come from a wealthy family and got pregnant while in college. Her father forced her to give away her twins and Hilary went to a family member named Rose while Amanda ended up in the foster system (via Soaps In Depth).
What is Amanda doing now?
It turns out that Amanda Sinclair has the same taste in men as her late twin sister, Hilary Curtis, and Devon Hamilton just needs a woman who looks like Hilary. When Elena Dawson couldn't accept Devon's friendship with Amanda, she slept with Nate Hastings (now played by Sean Dominic) and that ended their relationship. But Devon was not alone for long as he ended up falling for Amanda and now the two live together.
Amanda has also forged a relationship with her mother and her half-sister, Imani Benedict (Leigh-Ann Rose) after discovering it was Naya's father who killed Amanda and Hilary's biological father, a man who always wanted to find his daughters and raise them (via Soaps In Depth). As of this writing, Amanda doesn't have much of a storyline except being a support to Devon after she helped him gain rights to baby Dominic, the baby he fathered as a sperm donor with Abby Newman (via Soaps In Depth).