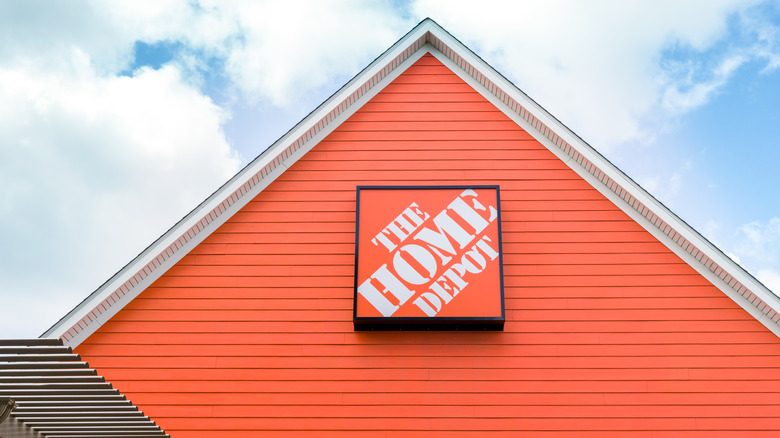 They're everywhere. The bright orange signs, the jingle you realize has been playing on repeat in the back of your mind, and the bright orange shopping carts inviting you to stock up on project necessities. Home Depot is an indelible corporate staple in America, and for good reason. Many homeowners and laborers rely on the chain, and being in practically every town makes it easy to stop in for what's needed.
Unfortunately, there are also claims that Home Depot can be spotty with its customer service, especially when deliveries or installations are involved. While the giant box store has a slew of great products that cater to the homeowner or project-oriented consumer, a quick search at other retailers will often get you better deals. Make no mistake, Home Depot is amazing for having a ton of options at generally low prices, but for a lot of items you would automatically pop in for, it is prudent to keep some issues in mind.
Major appliances can bring you major headaches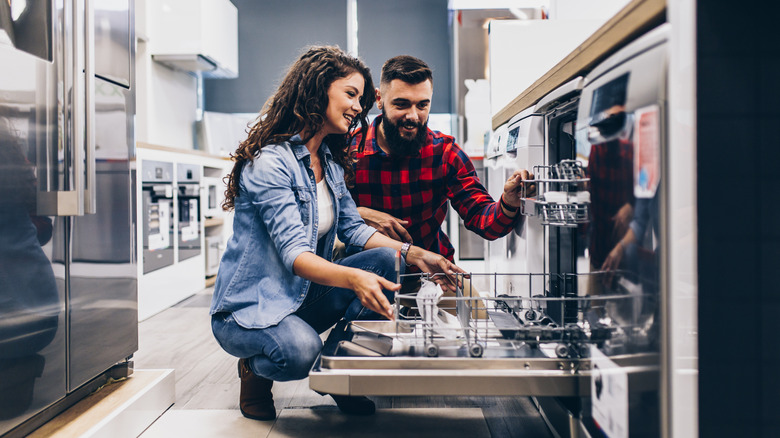 Home Depot has a generous 30 to 90 day return policy for most items in the store, but you have to scroll way down the page to learn that you only have 48 hours to discover any issues with your major appliances. According to Home Depot's return policy, before a customer takes an appliance such as a fridge, dishwasher, or stove home, it's their responsibility to look it over. This includes both appliances bought in the store and those being delivered. If there are any issues, they should refuse the delivery or purchase. If you do accept it and find a ding or malfunction once at home, you have 48 hours of receiving the product(s) to call the brand.
This leaves a lot of confused and frustrated buyers who didn't read the fine print on their purchases. People may have received a defective product, had incorrect measurements, or had any number of issues that may not even be discoverable until after the 48 hours are up. After contacting Home Depot customer service, hundreds upon hundreds of consumers have reported customer service representatives who would not replace or refund the items. Check out consumer protection agencies like ConsumerAffairs with firsthand accounts.
Skip getting your countertops here
Another example of Home Depot's outsourcing policy in terms of larger items includes countertops, specifically granite and quartz. According to New View Marble & Granite, Home Depot hires fabricators and installers that you have no say in choosing, and the jobs typically go to the lowest bidder. This can sometimes result in a surly compromise of shoddy work and rushed installations.
If you ask questions of Home Depot employees, you are likely talking to sales staff who are trained to sell you, not educate you. They have so many products in stock that competency in any one type can be lacking. When it comes to countertops, it's important to get the lowdown on the best kind of material to suit your kitchen use, climate, and existing cabinetry. Buy directly from the fabricator for better quality, service, and expertise than you can get from the box stores. This also lets you do your homework first and lock in better prices. Be sure to read reviews!
Find your kitchen cabinets elsewhere
Designing a kitchen requires experience and know-how relating to the products, materials, and construction. Sales knowledge is limited to the product and wholesaler, but planning and installing kitchens requires far more expertise. With Home Depot, kitchen designers do not see or measure your kitchen. Instead, you are relying on your own measurements, construction knowledge, and ability to foresee any issues.
According to professional kitchen designers like Main Line Kitchen Design and Kitchen Cabinet Kings, the basic construction of Home Depot cabinets include particleboard backings (with plywood as the highest tier), limited soft-close options, basic hardware, and no dovetail joints. Particleboard chips extremely easily, and even a new drill bit can cause unsightly holes. Also, most of the faces and drawers are covered with laminate instead of solid wood, which tends to peel over time. This type of assembly and material makes Home Depot cabinets temporary at best. For the price, cabinets can be found elsewhere with far higher quality. This is a classic case of you-get-what-you-pay-for, and when it comes to kitchens, remodeling twice can add up to be much costlier in the long run.
Be wary of certain hardwood flooring
If you are looking for hardwood flooring to adorn your floors, specifically non-native woods, beware of ordering from Home Depot. The Pest Informer's home service expert, David Floyd, told Best Life softwoods and exotic trees are more susceptible to termite damage. Your chances of receiving unsound planks are higher when ordering from big box stores, due to the quality control process (or rather, lack thereof).
As with many of the products Home Depot sells as a go-between for the consumer and wholesalers, the lowest bidder often gets the green light, and quality can be compromised for the sake of expediency. Because of this, you could be stuck with rot or even active infestations. Retailers that specialize in wood flooring tend to be a lot more attentive in checking for signs of pests, and you're more likely to get a much higher quality product for your money.
The bathroom vanities might not last long
When it comes to Home Depot's cabinetry, quality is on the backburner with bathroom vanities and shelves. According to Jeff O'Stroff, a DIY and home repair expert on YouTube, the sink tops are typically durable and attractive, but the cabinet builds are low quality and made using subpar construction methods. The laminate coverings on the faces soak up humidity and tend to blister, and we all know some kids (and adults!) that can't help but peel it off when that happens.
Often particleboard is used for the drawers and backings, which is terrible for humid environments (namely bathrooms) as it is constantly crumbling and could easily mold. Also, drawers are attached with tiny brads, plastic brackets, and staples instead of more firmly fastened with dovetails, so the doors are often misaligned. Bottom line: If you are looking for quality or a reasonable price, shop around before committing to the "easy answer" of home centers like Home Depot.
Find your small appliances elsewhere
With so many brick-and-mortar and online stores specializing in small appliances, Home Depot is pretty low on the list in terms of wide selections and competitive prices. You won't usually see them on the shelves, but occasionally they will slip in an aisle cap with convenient "deals" to encourage impulse purchasing. While there is no argument that the home improvement store does wonderfully well specializing in building materials, tools, electronics, and so much more, you'll still find your best deal elsewhere.
According to Insider, your better option is at a retailer like Bed Bath & Beyond or online at department stores for a broader range of brands when it comes to smaller appliances. A quick Google shopping search will net you thousands of comparable and preferential results. Warehouses will net you lower prices overall. Stick to the chains specializing in these items for the best selection and prices.
Go to a specialty store for doors, windows, and trim
Carpenters tend to shy away from Home Depot for doors, windows, and trim due to the variable customer service, CBS News reports. If your measurements are off and you need to make a change or replacement, odds are you will not be speaking with the same person you worked with originally. This can create delays and return issues. Instead, lumberyards and stores specializing in windows and doors will have experts on hand who have the skill and commitment level necessary to guide you through the entire process. Having someone you can call directly that isn't a general assistant covering many departments saves time, money, and a royal pain in your hindquarters.
You are better off going to a specialty store with qualified experts who can ensure the best product for your space and budget. There is a special kind of magic when you can speak with someone who can answer every question confidently and make you aware of any issues before they arise.
You might get frustrated shopping for hardware
Suppose you've found yourself with a broken shower nozzle or faucet, and you need a particular bolt or washer to replace it. In that case, chances are that you've found yourself in the hardware aisle at Home Depot staring at the rows of various washers with a question mark written all over your face. How often has a staff member been at hand, ready to help you find the right one? Do you often have to flag someone down or spend eons digging through bins to find what you need? This, unfortunately, is a super common experience at Home Depot, and unfortunately, the advice given can often be incorrect.
There's a very good reason why many local mom-and-pop stores haven't gone out of business after the boom of major box stores, and it all boils down to proficiency and excellent customer service, as per CBS News. You'll likely pay 10 to 15% more at the local hardware store, but it would be fair to say you will quickly find an expert that can zoom you straight to what you are looking for, and they tend to stock what homeowners need. Expertise is the name of the game in the case of basic hardware items. With a staff member that knows the job and the products — rather than a basic general knowledge of a huge chain store — you are more likely to find exactly what you're looking for.
It might not be the best place for home decor
Home Depot has limited offerings for household decor items like wall hangings, picture frames, rugs, and furniture. Like in most big box stores, you will find mass-produced items low in quality but not necessarily low in prices. If you are trying to spruce up a wall with something attractive and engaging, Insider recommends sites like Wayfair or Hayneedle for specific artistic finds. There are also great steals at stores like T.J.Maxx, Marshalls, and HomeGoods.
It is also important to add that mass-produced art plays a distant second fiddle to the creative endeavors of local artists and craftspeople who sell their own designs at fairs, farmers markets, or online websites like Etsy. Supporting your local (and not so local!) artists helps sustain communities, express our values, and bring about cultural awareness (not to mention that sense of satisfaction seeing a dang fine piece of work in your home). If you have your heart set on a piece you saw at the Home Depot, it's reasonable to bet you can find it elsewhere for cheaper. If you're looking to add aesthetic appeal to your home, you are likely to find far better options almost anywhere else.
You can find healthier plants at nurseries
Home Depot has a generous one-year return policy for trees, shrubs, and perennials, but this perk does not include other plants. If you are a gardening newbie, beware of these plants' health. According to Best Life, they are often shipped from varying climates and may be very stressed even though they look good in the store. All plants are treated the same in terms of care. Because of this, overwatering, root rot, and exposure to pests are common complaints.
There is a wonderful, borderline magical difference when you walk into a garden store that dedicates its entire business to caring for and maintaining vegetation of all kinds. If you want to know what kind of ivy is best for a traveling lifestyle, if you're worried your corner doesn't get enough sunlight for that beautiful potted tree, or if you are the type that forgets to water for months on end, there's an expert that can find you the perfect plant.
The best time to buy plants from Home Depot is within the first couple of days of the floral department's opening around spring. If you find yourself seeking flora and fauna off-season, give local plant stores a try. With plants specifically for your climate, they employ experts who can help find the best greenery for your area and home.
Look for better deals for household cleaners
Brand name household cleaners in Home Depot could come with a markup when compared to Target or Walmart prices, reports Money.com. "You'll pay 5% to 10% more for name-brand cleaning products at a big-box hardware store," budgeting expert Andrea Woroch told Realtor. "Walmart and Target offer better deals on the same brands, plus even cheaper generic alternatives. You can even find no-name cleaning brands at the dollar store for rock-bottom prices." It's tempting to stock up if you happen to be at Home Depot for other items, but this inclination could cost you quite a bit over time. Brand names are not always better. It is far more cost-effective to go generic for these items, especially considering that the ingredients involved are virtually identical to the pricier brand names you are aware of.
Home Depot's options are also limited in terms of selection and environmentally friendly options. For your own DIY cleaning fix, check out common hacks that involve natural ingredients such as vinegar and baking soda to save time, money, and overall health.
Buy your everyday items in bulk
Home Depot does not specialize in bulk deals for common household items. Instead, they put them on display more as convenience items, and you'll surely be paying convenience prices. Things like tape, plungers, hampers, cutlery, pans, flashlights, and phone chargers will all have an overpriced tag compared to other stores that focus on these items.
Batteries, for example, have a pretty obvious markup, according to Marketwatch. While Costco sold a 40-battery, 2-pack of AA Duracells for $14.99 (less than 38 cents per battery), Home Depot sold a 10-pack for $7.98 (almost 80 cents per battery). Do a tiny bit of legwork with a quick Google shopping search to find the best deals on everyday items. You'll find that online retailers like Amazon and Walmart will have more options on everyday products for significantly less. Convenience is easy, but saving takes a few extra steps!
Grilling accessories might be marked up
It's officially grilling season! (Aren't all seasons, really?) While popping into the Home Depot, it can be tempting to grab a set of spatulas or tongs to go with that great deal on the gas grill. But as with the other items that are better priced at specialty or bulk stores, you won't find great prices on grilling accessories at Home Depot, either. In another price comparison done by Marketwatch, a 20-piece stainless steel tool set was priced at $35.22 from Home Depot and just $24.95 from Amazon. Online shopping seems to be your best bet with items like these, as reviews are readily available and pricing is much more competitive.
As with all products, do some due diligence before you make off-the-cuff impulse purchases. The Home Depot is great for many items, but grilling accessories and many other things are simply just filler and there at a convenience markup.
Anything that requires delivery
I speak from personal experience when I say that Home Depot can really drop the ball on deliveries. They don't keep many appliances in stock, so they hire out to delivery services that offer the lowest price. After waiting about a week, I got a call from the delivery service saying that my dishwasher was slated to arrive on Thursday when I had scheduled it for Friday. Nobody would be home on Thursday, so I called Home Depot, who told me to call said delivery service. They said there was nothing they could do, someone wrote down the wrong day, and they refused to deliver on Friday, saying we could reschedule out two weeks. After literally seven calls to Home Depot customer service, getting hung up on each time (I still don't know if this was technical difficulties, faulty equipment, or spite), we decided to drive to the delivery service warehouse and pick it up ourselves.
I'm not the only one who has had a nightmarish experience. Consumer Affairs, Trust Pilot, and the Better Business Bureau are brimming with resoundingly bad reviews regarding Home Depot's customer service. From dropped deliveries to ignored claims, the delivery service from Home Depot has left a lot of people in a fury. It's worth scrolling through some of these reviews to see what people are dealing with.