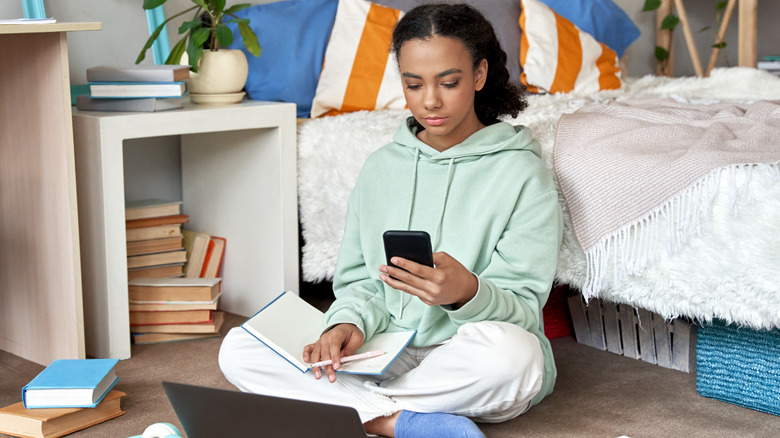 While parents may dread the teen years, this period doesn't have to be the nightmare they assume it may be. Teenagers are growing physically and emotionally at a rapid pace, and their tastes change continuously. Teenagers take pride in how their bedroom is designed because it provides solitude when times get tough. Not only is their bedroom a place for sleep, but it's also a place to study, hang out with friends, and decompress.
While there is debate from medical professionals that being alone can be a sign of depression, alone time can be healthy for a teenager's mental state of being. Teenagers nowadays deal with so much more going on in their lives and the state of the world itself, it's no wonder they seek solitude to get away from the stress of it all. According to Grown & Flown, this alone can be therapeutic, allowing teens to recharge emotionally, spiritually, and creatively.
Collaborating as a family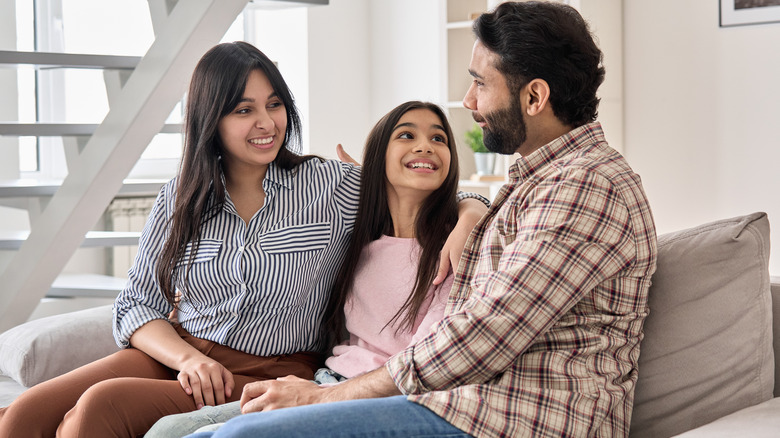 For parents who need advice on how to work effectively with their teenagers, one way is to collaborate. According to The Denver Post, it may help to negotiate to come up with a strategy that works for everyone, so both parents and teenagers can be happy. What matters most is creating a bedroom that meets a teenager's most basic needs and one they could potentially grow with for the future.
Negotiation is key when deciphering preferences. While a teenager may want a completely black room, a parent may think the color is too dark and want to settle with brown or purple wallpaper instead. This could be talked about in a healthy way to come to a compromise. While teenage girls may be more specific on how they want to design their new bedrooms, teenage boys may just throw out single-phrased words on what they want as a design. As stated before, coming to a middle agreement works in these kinds of cases.
Ways to declutter a messy room
Teenagers can be messy creatures by habit. With a set of guidelines and help from their parents, organizing a bedroom doesn't have to be a battle. One way to cut back on clutter is to go through things in the teenager's room to throw away, donate, or keep. Items like ripped or stained clothes or no-longer needed homework assignments can be thrown away. Old toys from their childhood or clothes that are still in decent shape, but don't fit, can be donated. The remaining items should be organized in a proper way.
Look no further than dressers and wardrobes to store clothes. As a quirky touch, teens can buy some storage lockers for their items. Small safes can store money and other personalized items. Small mementos like photographs and concert tickets can be tacked up onto cork boards or bulletin boards. There is a plethora of laundry baskets and hampers to use for dirty laundry that can be found at local homeware retail stores. According to SFGate, it's also vital to come up with rules for keeping the environment healthy. For example, keeping old food and beverages in their room can lead to not only unwanted bugs, but also mold and bacteria.
Long-lasting furniture
According to WiseGeek, choosing teenagers' furniture should come down to what the teen wants and needs, as well cost and durability. Instead of shopping for expensive furniture, checking out local furniture boutiques or going to secondhand resale shops could be more affordable. Both of these are great options for those shopping on a budget. As far as durability is concerned, wood furniture is long-lasting and sturdy. Though it may need to be polished and maintained, it typically won't lose its shape or break like cheaper furniture sometimes can.
It's hard to pinpoint what exactly a teenager may want in their bedroom as far as furniture and design goes, but there's no harm in asking. Teenagers know what is trendy and what they need in their bedrooms. Buying a bed that's big enough and comfortable, having some dressers, and creating a space to study and a space for entertainment are aspects to consider before remodeling and remaking a room.
Finding the right desk
Since teenagers are beginning or already enrolled in high school, they're receiving an abundance of homework and school projects that need to be worked on. Due to this, they need a desk that's suitable for their academic and personal needs. Not only is a desk the perfect spot to do homework, but can also provide a handy workspace for whatever kinds of hobbies the teenager enjoys. Those who like gaming, crafting, or painting will need a wider tabletop.
According to Pottery Barn Teen, a desk is the most important item to consider for a teen's room, right after the bed. Finding the right desk for their needs is vital, as well as finding one that fits properly in a bedroom. The desk should provide ample tabletop and leg room space. The top of the desk should be able to hold a computer, laptop, or tablet, along with any other supplies they might need. Since teenagers are still growing, it's also important to make sure that there's adequate leg space under a desk and that it's high enough for them to comfortably do their work.
Trendy organizational products
When it comes to decluttering and cleaning their bedrooms, teenagers need items that can store all the various items they need for their day-to-day activities. Organize Zen with Megan notes that products such as storage baskets, caddies, and door-mounted organizers can all come in super handy for keeping teens organized. One product that works wonders are rustic wall organizers, which help cut down on paper clutter while making use of vertical space. These wall organizers can store paper products, magazines, and books. They usually come in a set, so more than one is available in a pack.
Since teenagers love their technology, a charging station can provide proper charging space. With these charging stations, more than one device can be charged at a time. They're perfect for charging cell phones and small electronic tablets. Need to grab a glass of water or a book before going to sleep for the night? A good item to have near a bed would be a rolling organizer cart, which can act as a nightstand while also providing plenty of convenient storage. These carts are easy to move around a room, which makes them even more versatile.
Creating a social space
Being social with friends and peers is a crucial part to a teenager's mental and emotional development. Once children hit their teen years, they like to have their own privacy to talk and hang out as well as do the things they like. Charlotte Parent notes that a former playroom can be turned into a teen hangout, suitable for studying, entertaining, or gaming.
An entertainment center could have a variety of things including a flat screen television, video game consoles, and a space to have a compact disc player or record player. To enhance comfort, a collection of colorful bean bags or soft sofas could be plausible. A workstation with a desk and a flexible desk chair within a quiet space to plug in a laptop may work for those who do school remotely or have many homework assignments. For teenagers who value peacefulness, a nook with books on a shelf could create the perfect reading loft area.
Fresh paint, fresh start
While brightly-colored walls in different shades of the rainbow may appeal to young children, teenagers may have a more refined palette. Light colors can create a subdued feeling without seeming too bombastic, and provide a calming vibe without being over the top. Teenagers may want their bedroom walls to be painted in bold, bright colors that fit their interests and personalities (or they may want to go dark and dramatic!) You could also paint the bedroom walls a neutral tone of gray or brown with pops of other colors to strike more of a balance.
Though it may come as a surprise, black can also be a popular color for teenagers who want to paint their room. It may seem too dark for parents' tastes, but black could be used as an anchor for brighter colors within the room. To compromise, one wall could be painted black while the remaining walls could be painted more cheery-looking colors, advises HGTV.
Establishing a theme
Teenagers want to be stylish, yet creative, and form their own sense of identity. According to Kempton Express Thembisan, the bohemian chic look never goes out of style. Teenagers who prefer this kind of design may enjoy decorating their room with tie-dyed curtains and beads hanging from the front of their door. For their walls, pasting up black light posters of trippy smiley faces or yin-yang patterns may provide an authentic look that harkens back to an earlier generation.
Along with the bohemian chic aesthetic, simple styles can be popular as well. Going green with plants and painted pictures of plants can add to nature-based bedroom designs. Choosing some of the easiest houseplants to grow is a good first steps for teens who haven't cared for plants before. In addition, parents can offer guidance about taking care of them by watering and keeping them near direct sunlight. Choosing a white or neutral-colored bed set ties the room together. A green look is clean and simple. It can be a style that's dependable for years down the road.
Tying bedroom themes to hobbies
It's wonderful to establish a space to make room for hobbies in teenagers' rooms. According to Dual Credit at Home, the idea that teenagers should be expected to work and study all the time without having any free time to relax is a harmful mindset. While parents do want their teenagers to get good grades and graduate from high school, finishing school is a steady process that takes time, and having other interests makes a person more well-rounded and interesting.
There are ways to get involved with taking up hobbies. First of all, it should be something the teenager likes. Doing sports, playing instruments, and taking photographs are interesting hobbies. For the teenager who loves sports, installing a mini basketball net on the back of a bedroom door may be a way to practice shots with a foam ball. When it comes to playing instruments, having hooks drilled into the walls to hang up guitars is a way to enable space, but places the guitars in a way that prevents them from getting damaged. Teenagers interested in art could buy some paints and brushes to work on canvases to create their own pieces and unleash their inner Pablo Picasso.
Everything old is new again
Collecting all things retro or nostalgic is something teenagers are interested in these days. Teenagers may want a few retro or vintage items in their bedroom to spice up their chosen design. Due to the popularity of certain shows that are set in the past, the Polaroid camera has come back into fashion. According to USA Today, Polaroid cameras are cross-generational. Teenagers love being with their friends and enjoy capturing the moment on camera.
Another retro or vintage item that teenagers love is secondhand clothing. Vintage shops and consignment stores receive donations from customers and there's usually something new that comes in that was well loved in its past. Since teenagers don't have high-paying jobs, vintage clothing is cheaper so it's a better fit for their budget. It's also environmentally-friendly. Teenagers can stock up on a few clothing items to wear and store in their room when not in use. Like the older generations before them, teenagers favor a time where life was slower and could be lived more quietly (via Dig This Design).
Decorating with lights
When it comes to lighting in a bedroom, it's important to buy a lamp or have other good lighting options, especially for studying and doing homework. One look that keeps popping up in teenagers' rooms are LED lights, via Digs Digs. It's become fashionable to have a string of LED lights decorated across the bedroom walls or over a piece of furniture. For teenagers who desire something new in their bedrooms, it's a cool look with a simple touch. Instead of basic white strings of LED lights, there are colorful strings of LED lights that add a funkier touch to a basic bedroom.
Having candles around a room is another way to add a unique, but soft touch of light to a teenager's bedroom. On the market, there are plenty of candles that come in different shapes and scents. Proper safety precautions need to be practiced. Never leave candles unattended and be sure to completely snuff them out when not in use.
How to manage trophies and other awards
Most teenagers have awards they have won throughout the years for academics, hobbies, and sports. As far as organizing awards and trophies is concerned, displaying them in shadow boxes or glass cabinets is a reliable way to store them without having to dig through a box. Display Cabinets Direct advises creating a sense of order by placing taller trophies in the back with shorter trophies up front.
Full Circle with Jess advises that an attractive display can also be clutter-free. Removing the straps on medals to keep the medallion itself and keeping the engraved part of a trophy instead of the full trophy are ways to cut back on the bulk and visual busy-ness of a display cabinet. Medallions can also be inserted into plastic laminated sheets and placed in a binder or scrapbook. The same can be done with engraved trophy pieces as well.
Technology in the bedroom
Parents struggle with teenagers about how much time they should be spending on their cell phones and tablets. While parents like being connected to their teenagers to know where they are by cell phone, it's unhealthy for anyone to be overly-attached and constantly on their screens. Technology can be a distraction if not monitored, and could cause adverse health effects. OSF Health Care notes that teenagers need seven to nine hours of sleep per night, and should only spend two hours a day with screen time. Having no screens in the bedroom may be a plausible option if their grades are slipping or screen time is taking up a huge chunk of their lives.
For teenagers who have computers or laptops in their bedroom, a floating desk with storage space may be needed to keep things organized. The desk should be tidy and dusted every now and again so as not to become too cluttered. An entertainment console may work for teenagers who have televisions and DVD players in their bedrooms (via Hedge Apple).
Collage fun
Collages never go out of style. Teenagers can create their own collages in their bedrooms as a form of self-expression and artistic vision, according to Displate Magazine. Collages can be any kind of art. When it comes to producing collages, there are inexpensive ways of retrieving pictures such as finding clippings from magazines, gathering photos of friends, and buying postcards.
Professional productions of art can also be used for collages. You can use regular tape or removable putty to adhere pictures to the wall, while still ensuring that they're easy to remove when your teen's tastes change. Removable putty also prevents the walls from getting damaged without the hassle of accidentally peeling paint or removing wallpaper. The flexibility of collages can also allow your teen's creativity to shine through. They can arrange the photos and artwork into shapes, which become like works of art of their own (via Trendir).