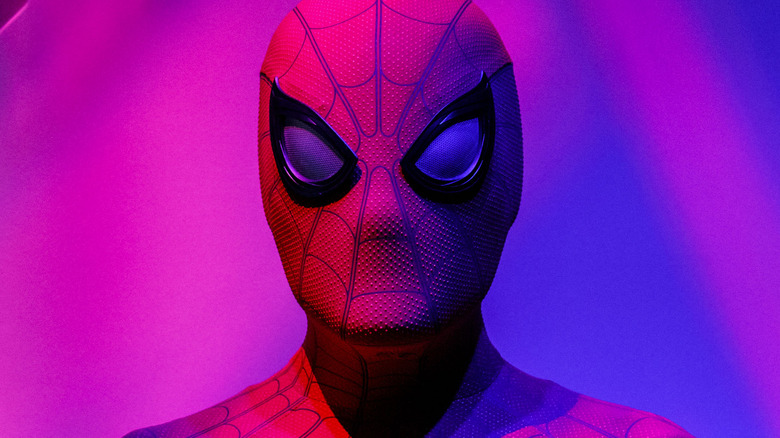 After a year where theme parks had to close throughout the pandemic, California Adventure in Anaheim has big plans to welcome visitors back. While the land has been home to the "Guardians of the Galaxy – Mission: BREAKOUT!" ride for several years now, ever since it replaced "The Twilight Zone Tower of Terror," the rest of the Avengers will get in on the fun. Disney's set to unveil the new Avengers Campus section of the theme park on June 4, 2021, which brings the Marvel Cinematic Universe right in front of you.
Things over in Anaheim were bound to be crazy in June, seeing as how a lot of people haven't been able to visit the Happiest Place on Earth and its next-door neighbor all year. Californians have been able to visit the parks since April 30, under limited capacity guidelines, of course. However, the doors open for even non-California residents starting on June 15, and suffice to say, plenty of people will want to book their family vacations to finally see Spider-Man, Captain Marvel, and the rest of the MCU crew up close and personal.
So what exactly can you expect walking into this new land? The lines are bound to be crazy, so it's best to go in with a game plan. Here's everything you need to know about Avengers Campus at Disney California Adventure.
A fully immersive experience from the moment you step inside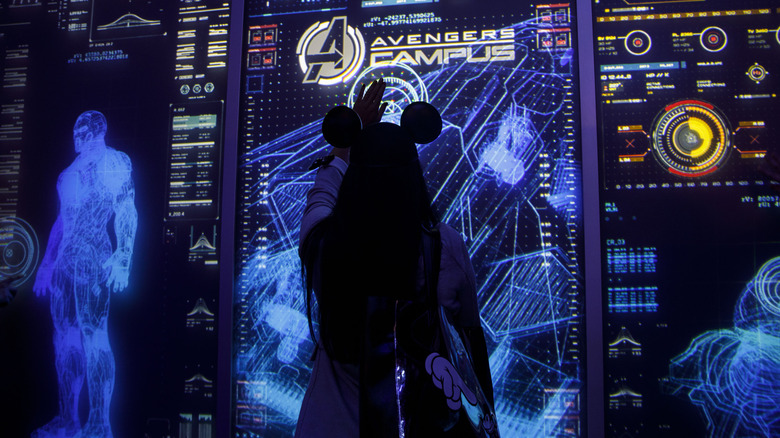 Disney doesn't build average theme parks, so it should come as no surprise to hear that the company did more than create a few new rollercoasters and slap Iron Man's face on them. There's an entire story built within Avengers Campus, and knowing it will enhance your experience.
The essential background is that the Avengers want to recruit park guests to their cause. To accomplish this, they bring everyone to school, known effectively as C.A.M.P.U.S. (Centralized Assembly Mobilized to Prepare, Unite, and Safeguard). While there, you'll find the likes of Doctor Strange and Captain Marvel to teach you everything there is to know about being a hero, and there are a few pleasant surprises among the masked characters.
Reports indicate Iron Man and Black Widow will be around to say hi to guests. At first, you may feel taken aback seeing them, considering those characters perished in "Avengers: Endgame." Naturally, Disney has thought of an answer for everything. According to a statement given to an Insider reporter, "We know now that there's a vast multiverse with an infinite number of timelines and dimensions; we live in one where the Super Heroes have assembled from across time and space to meet with us at Avengers Campus." There you have it. Tony Stark's presence is all thanks to the multiverse that'll inevitably play a significant role in Phase 4 of the MCU.
The main attraction is WEB Slingers
Avengers Campus has a lot to take in, but we'd surmise most everyone wants to check out the newest ride at the theme park — "WEB Slingers: A Spider-Man Adventure." The ride incorporates state-of-the-art technology as you strap in alongside Peter Parker. In the lead-up to the ride, you'll see a video of your friendly neighborhood Spider-Man, played by none other than Tom Holland himself, who accidentally lets loose a bunch of malfunctioning Spider-Bots.
Don't expect this to be a passive ride, either. Insider reports how you receive 3D glasses before boarding, and to eliminate the rampaging bots, you reach out your arm, much like Spidey. With a gesture recognition system, it looks like webs shoot out of your hands. You rack up points with each bot you destroy, similar to the premise of "Toy Story Midway Mania!" on the other side of the park. Of course, if you want to improve your high score, Avengers Campus sells upgrades, like web power bands, that will enhance your accuracy (via Disneyland).
The best part is that this ride is suitable for superheroes of all ages. There aren't any height restrictions, so any kids you have will be able to save the day with Peter Parker.
You should check out the Spider-Man live show
Spider-Man has a prominent presence in this section of the park, and once you step out of the ride, you may very well get the chance to witness a live show featuring the web-slinger. A video online gives you an idea of what to expect, but in case you don't want to see it until you can actually be at Avengers Campus, it essentially consists of an actor in a Spidey suit doing a bunch of flips and acrobatics. When you think you've seen it all, an animatronic stunt jumper launches into the air. It's a true sight to behold and offers a glimpse at what the future of theme park attractions could entail.
The web-slinger references don't end there, and if you look around Avengers Campus, you'll inevitably come across plenty of other Easter eggs. One of the coolest around is a graffiti-style mural depicting a couple of Spider-Bots. Look closely enough, and you'll find the artist's signature — "Miles." It's just another hint that Miles Morales is somewhere out there in the MCU, and it's only a matter of time until he takes center stage.
Spider-Man isn't the only one with a show
Even when you decide to sit down for a little bit, you never know what you might see during your time at Avengers Campus. Reportedly, other shows take place throughout the day, including stunt work from actors portraying the Dora Milaje (via The Los Angeles Times). General Okoye leads several other of her warriors out in front of the Campus in what Insider describes as "the longest and most interactive live entertainment segments" you'll find in either of the Anaheim parks.
You can also head over to the Ancient Sanctum, which serves as the primary home of Doctor Strange (via Disneyland). If you're lucky, then you might get the chance to see the Sorcerer Supreme perform some of his mystical arts, all while learning about the enchanting Orb of Cagliostro.
Other heroes walk around the park at various times, and they'll pose and take a picture with you. Some of the ones confirmed to make regular appearances include Black Panther, Ant-Man, The Wasp, Thor, Iron Man, and Captain Marvel. Don't be surprised if a few villains, like Loki, also swing by to cause mischief.
There's plenty to eat throughout Avengers Campus
Throughout your superhero escapades, you'll probably get hungry, and fortunately, there are plenty of Marvel-inspired eateries located throughout this part of California Adventure (via Polygon). The primary restaurant — Pym's Test Kitchen — takes influence from the shrinking and growing technologies from the "Ant-Man" films. As such, the food either comes super-sized or miniaturized. You can get a large Quantum Pretzel or a chicken sandwich with a large section of fried chicken that comes between two little buns. There's even a Caesar salad that comes with one colossal crouton in the middle.
If you feel like getting tipsy during your stay, then head over to The Tasting Lab. The building serves various specialty cocktails, including The Molecular Meltdown, which consists of a marshmallow stout blended with vanilla ice cream and served with marshmallows on top. Of course, there are also non-alcoholic beverages, such as a fun soda called Pingo Doce, featured in 2008's "The Incredible Hulk."
Shawarma Palace receives a stand for anyone wanting to reenact the post-credits scene from "The Avengers," where the superheroes all went out for shawarma after defeating Loki. There's also Terran Treats featuring all sorts of colorful desserts to indulge your sweet tooth. There you'll find the Cosmic Cream Orb, which is a cream-filled donut dyed purple. It's safe to say that before you go to Avengers Campus, you ought to be hungry because there's a ton of food to try.
Don't be taken aback by blue splotches on the ground
As you walk around Avengers Campus and the "Guardians of the Galaxy – Mission: BREAKOUT!" ride, you may notice something strange on the ground. Surrounding this area are blue/purple splotches. There's no need to get a janitor's attention as the addition is very much intentional. You can even step on them as they're not sticky, despite what their appearance may suggest.
A blog post from Disney ties the matter into the in-universe story of Avengers Campus: "A late addition to the Campus, Taneleer Tivan, a.k.a. the Collector, placed his Fortress [the Guardians of the Galaxy ride] against its edges. This placement warped the ground immediately surrounding the alien stronghold causing a cosmic disruption to ooze from the ground below. Hues of blues, purples and yellows glow in the daylight" (via The San Francisco Chronicle).
However, the matter references something that predates even the MCU. Jack Kirby often drew clusters of dots around characters exhibiting immense cosmic power in what would become "Kirby Krackle" (via Jack Kirby Museum). It's nice to see the park including references to the comic books and especially to someone as influential to the MCU as Kirby.
Look closely enough, and you'll even stumble upon a Hidden Mickey among the splotches.
Don't forget to exit through the gift shop
To commemorate your visit to Avengers Campus, you may want to pick up a souvenir, and there are plenty of gift shops for you to check out. All the wannabe Web-Heads out there will want to head over to WEB Suppliers, which has a ton of gear available for you to become Spider-Man at home (via Disneyland). You can purchase your very own Spider-Bot to play with, and rest assured, these won't malfunction like the ones on "WEB Slingers: A Spider-Man Adventure." You can also purchase WEB-themed backpacks, spider light goggles, and do-it-yourself kits to make personal spider webs.
Anyone wanting more familiar trinkets will want to head over to The Collector's Warehouse. It comes filled with clothing, action figures, and comic books. People who frequently visit Disneyland will want to collect all of the new Avengers Campus pins on display. The MCU will only grow more extensive over the years with the release of "The Eternals" and "Shang-Chi and the Legend of the Ten Rings" introducing new heroes for California Adventure to bring into the fun.
Avengers Campus opens June 4, and non-California residents can visit starting June 15. However, before you go, take note that you need to sign up for a virtual queue reservation to have a shot at riding "WEB Slingers: A Spider-Man Adventure" for the foreseeable future.