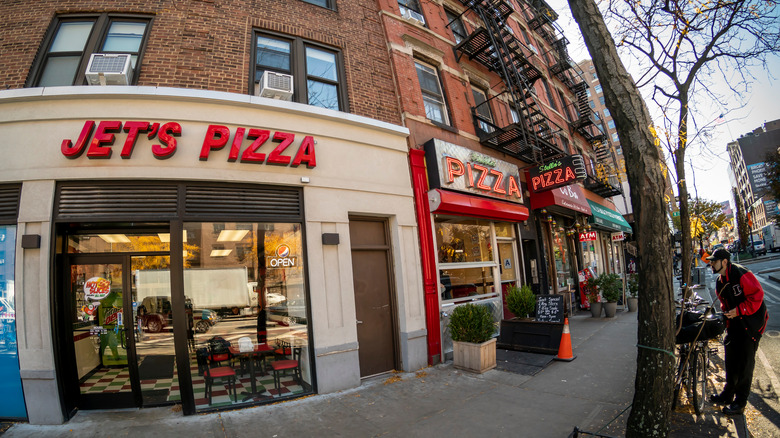 The story of Jet's Pizza is as fascinating as the taste it packs in a single slice — especially if you ordered a loaded Jet 10, which as the name suggests, includes 10 toppings. It is the story of two brothers who stay committed to a shared dream, of opera-listening cows, and of the provenance of Detroit style deep dish pizza itself. When Jet's Pizza started in the late '70s, it was following the footsteps of other pizza chains that came before it from the Detroit area, like Buddy's Rendezvous and Shield's, reports Thrillist. As history goes, Detroit is where the Sicilian deep dish pizza was born — a focaccia-looking pizza that began to be made in unused pans from factories that mushroomed in the Motor City back in the day, as per the report.
It took 10 years for Jet's to start a second store; and another 30 odd years to grow that number to over 380 stores, per TastyTrade. But expansion was never their first priority, as co-founder John Jetts told the outlet; they didn't mind being smaller yet stronger, and making sure every franchisee that carried their brand name also got the crunchy crust to perfection. While some things, like their home-made ranch dressing, and their pizza sauce recipe, haven't changed a bit, the chain innovated to include a range of flavored crusts including one with poppy seeds, at one point. Here's the lesser known truth of Detroit's Jet's Pizza.
Jet's Pizza was started on a whim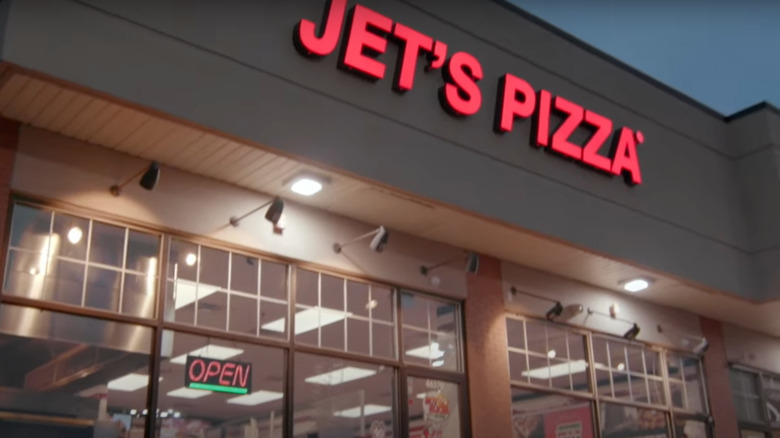 A spontaneous decision, for some of us, is a midnight order of a large pizza. But for Eugene Jetts, it was kick-starting a whole business around pizza. We doubt if Jetts, who co-founded Jet's Pizza with his brother John Jetts, had time to sit down and do an elaborate estimate of his capital assets, or analyze risks, before buying what would be his first pizza store in Sterling Heights, Michigan; for, Eugene's decision was a pretty impulsive one (the kind one doesn't regret later). Eugene, apparently, was on his way to sign the papers for a new home that he had liked, as he told WXYZ-TV Detroit, when a storefront space caught his eye. Per The Detroit News, with the $20,000 he'd saved up and some financial help from his parents, the 23-year-old bought it with the dream of selling pizza to Michiganians. "My parents thought I was crazy," said Eugene.
We wouldn't blame them. After all, their son had poured his savings into an idea that was made in a blink of an eye. But Eugene and John, who had freshly graduated from high school then, built the business from the ground up and proved their folks wrong.
Before they opened their pizza shop, the brothers did have some relevant experience: As John told TastyTrade, he worked in his cousin's pizza shop when he was a kid, and Eugene worked in management at a grocery store.
It was not always called Jet's Pizza
According to their website, Jet's Pizza was called Jetts (the co-founders' family name) Party Shoppe and Pizzeria, between 1978 and 1985. The name tweak was based on the advice from their lawyers, as co-founder John Jetts told TastyTrade. As company branding expert Phillip Davis explained in Forbes, incorporating your last name into your company name doesn't always generate the desired response. "A good business name creates intrigue and stirs interest," Davis wrote. "Surnames don't accomplish this; they are essentially inert placeholders." What's more, he pointed out that it can also make it hard to sell the business or bring on additional partners.
And so, the Jetts brothers cut the "t" and the "Party Shoppe" from their original name, and changed "Pizzeria" to "Pizza."
When Jet's began, though they had to compete against the matured pizza giants Little Caesars (started in 1959) and Domino's (founded in 1960), the brothers knew that they had a good product. "We just had to work the streets, get it into the consumers' hands to get the word of mouth to go," John recalled to TastyTrade. As Eugene told Crain's Detroit Business, in about three years, the store had long lines of people waiting to buy their pizza.
Jet's Pizza isn't round
Unlike the more common round-shaped pies, Jet's makes its pizzas rectangle shaped (no droopy triangle tips with this one). As noted in Food and Wine, square pizzas are easier to make (no hand tossing), and it's how pizzas were made originally in Italy. But most importantly, they satisfy both crust (take the corner pieces) and non-crust (snag the center piece) lovers alike. Jet's Pizza also seems to have accounted for a scenario where every person wants the taste of a crunchy crust. All hail the eight-corner pizza, which co-founder Eugene Jetts called the chain's "best menu innovation." He told Crain's Detroit Business, "I watched this family fight for the corners of a pizza, and that got me thinking: How can we create a pizza made up of nothing but corners?" That led to the pizza with eight corners, which went on to become a top seller at the chain.
Seems like the chain put a lot of thought into the making of their crust, which is pillowy and crunchy with caramelized cheese on top. They come flavored with garlic, poppy seed, and cajun among other options. And besides the rectangular crust, they make round hand-tossed ones too; not to forget the Instagram-friendly heart-shaped pies in February. You can choose from thin crust, New-York Style, Cauliflower crust, and gluten-free options. Whatever you pick, know that you can load it up with as many as 10 toppings.
Their cheese is sourced from cows that listen to opera
Turns out, music and milk have a deeper connection than we thought. Per Stuff, Murray Holt, a member of DairyNZ, stated at a 2017 dairy seminar that relaxed cows give more milk compared to the stressed ones due to a difference in adrenaline. Studies have shown that classical music does have an effect on the cow's mood, and in turn, the milk she produces, per the BBC. Naturally, Jet's Pizza wanted their cheese only from those cows that are familiar with the likes of Giuseppe Verdi and Mozart.
Jet's Pizza co-founder Eugene Jetts told WXYZ-TV Detroit that all the cheese (they use 8.5 million pounds a year) in their restaurants was sourced from cows that not only listen to the soothing sounds of opera music, but sleep atop bed mattresses. Eugene said that the company keeps an eye on the entire process of how its cheese is made, and apparently that includes watching the cows moo to "La Traviata."
Jet's Pizza was in the thick of a few scandals
Let's talk about cleanliness and the food service industry. We have heard of cockroaches, molds, and even gunk-laden dishes. These irk us, no doubt. But a bizarre revelation came in the form of a Snapchat video that an employee from a Jet's Pizza in Michigan, posted in 2020. In the clip, a store manager is shown shaving her legs in the restaurant's kitchen sink. The employee who posted it said that she didn't think it would amount to anything, but once out in the open for hundreds of millions of daily active users, of course, it amounted to something. The individual who participated in the video was fired, according to WXYZ Detroit. The employee who posted the aforementioned video also alleged she was sexually harassed by a coworker, and the company said they axed the person she named.
That was not the only scandal that Jet's Pizza has faced. As ABC13 reported at the time, Jet's had to apologize in 2018 after an employee used disrespectful remarks towards a group of customers. And in 2020, the company had to apologize again for the behavior of another staff member, per WTMJ-TV Milwaukee. The employee had written the words "All lives Matter" in front of the store, as a response to "Black Lives Matter." In a statement obtained by WTMJ, Jet's Pizza said, "We understand that the words on the sign represent ignorance and a lack of respect for the Black lives, everywhere, matter."
After four decades, they made a big change
A large Jet's Pizza was enough to host your child's lacrosse team: 10 slices for 10 players. But in early 2022, the company decided to cut the same large pizza into two slices less. Now you get eight slightly larger slices for the same cost (works best if your youngster is into ice hockey). Turns out, the decision was the first of its kind in the chain's history. But why? Well, as John Jetts said in a press release, "With this change, our crews will be making about 25 million fewer cuts per year, which is a big help as the restaurant industry continues to face a nationwide labor shortage." Evidently, two slices of pie makes enough of a difference.
One Jet's employee wrote on Reddit that the labor angle is "weird," noting that it's apparently just easier to divvy up a 'za into eighths instead of tenths. "Cutting into 8 will be a lot simpler since it's just one (vertical) cut down the center and one on each side, plus the horizontal cut down the middle," they explained.
Their pizza sauce is a family recipe
Jet Fuel has a whole different meaning at this pizza chain. In the Jet's vocabulary, it is not gas for an aircraft, but something that is generously laid on top of the pizza dough is freshly made every morning at the store. As per the chain's Facebook page, the sauce is one that Mama Jetts, mother of co-founders Eugene Jetts and John Jetts, had conceptualized. In fact, as Eugene told WXYZ Detroit, all the recipes that they started with came from their mom. The chain has been using the same sauce since its inception, and the recipe is a secret even to the employees who work for the chain. As one former Jet's staff member wrote on Reddit, there was no way they could know what was in it, as all they used were cans of pre-blends (the Jet Fuel) and premixed seasoning to make the sauce.
As reported in WXYZ-Detroit, the Jet Fuel was made from tomatoes (of course), a little with water, and some spice. "Our sauce is a traditional, authentic Italian recipe, so it is not too sweet, not too spicy, but just perfect," Sean McEvoy, a franchisee of Jet's in Ohio, told Mimi Vanderhaven. As per the report, the sauce is left to marinate for a whole 24 hours before it's used.
You can order Jet Pizza via text
For some of us, pizza has been a true friend, helping us cope the worst, and celebrate the best. Now, it's possible to order one like you would text a bestie. A text to your local Jet's is all it takes to get a pizza delivered; no need for app downloads and multiple scroll throughs. The chain explained in a press release, "The system then facilitates payment … processes the order, sends the order information into the store, and responds with confirmation and order timing."
In the aforementioned press release Chief Information Officer, Aaron Nilson, stated, "I think it's fair to say that text-to-order is the easiest ordering method in all of food ordering, not just pizza. It's the future." It's probably true, given all you have to do is type "Re-pizza" to order the very same type of pizza you got last week. This ease could be a reason why over 2 million people have pinged Jet's for a pizza (that's $54 million in sales) in the last two years. "We pulled off a technological and marketing feat that brands 10 and 20 times our size has yet to accomplish, and we have a 2-year head start," Nilsson told QSR Magazine. The text-ordering is made possible through OrdrAI platform, which Nilson said would help fight issues of labor crunch and inflation.
Text-to-order seems like the future, with chains such as KFC, Pizza Hut and Taco Bell, also adopting the idea, per Food and Wine.
It's the official pizza of an NHL team
The Zach Pack, a limited-time pie option at Jet's Pizza, did not have anything to do with Columbus Blue Jackets' defenseman Zach Werenski's abs; it was a special pizza by Jet's with Werenski's favorite toppings. And given that Werenski's Jersey has number 8 on it, The Zach Pack obviously had to be an eight-corner pizza. But why did Jet's create a pie in honor of Zach? Well, to start off, Jet's has been the Official Pizza Provider (yes, leagues have that advantage) for ice hockey team the Columbus Blue Jackets since 2020. Since Werenski hails from a town near Sterling Heights, the birthplace of Jet's Pizza, it probably made sense to promote a pizza in the star player's honor.
The limited-time promotion came as part of the five-year partnership between the pizza chain and the Blue Jackets. The chain used the opportunity to help raise funds for charity through the sales of The Zach Pack. The chain has also previously partnered with Special Olympics of Chicago/Special Children's Charities, a non-profit organization, to raise funds for athletes with intellectual disabilities, as per QSR Magazine.
Jet's Pizza fired a new hire on Twitter
Taking to social media to speak ill of a company that just hired you should be in the top 10 "not to do" list for anyone who wants to keep the job they just got. Alas, a certain new hire at Jet's Pizza evidently didn't get that memo. The candidate, who went by the name Cella on Twitter, wrote a thumbs-down heavy tweet about her utter disinterest in starting a job at Jet's Pizza, according to Gawker. Unfortunately for her, it looked like the shop boss was on Twitter and came to know what Celia had told the little blue birdie (we are talking about Larry T Bird, of course). "I just fired you! Good luck with your no money, no job life!" the boss wrote.
Fellow Twitterati lent Celia their support, but evidently, she took it in stride. In a since-deleted post (via Gawker), she wrote, "everyone says it sucks working there lmao that's why I'm not mad." Even so, there's nothing quite like having access to pizza all day.