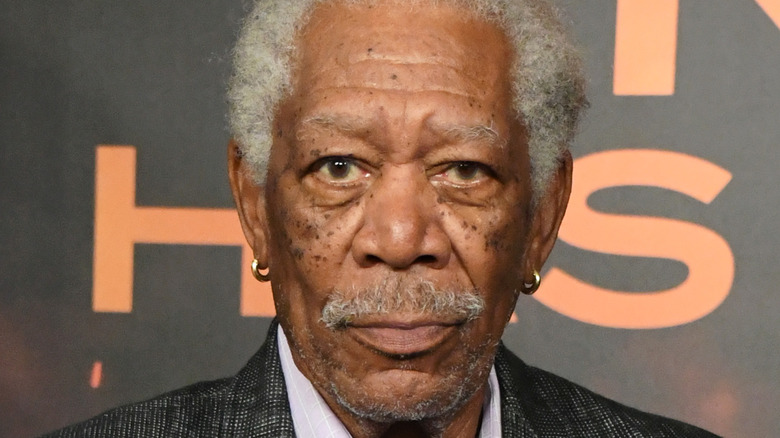 Few actors exude the gravitas, the emotional depth, and the grandfatherly charisma of Morgan Freeman. It certainly didn't happen overnight, but the acclaimed actor has more than earned his reputation as one of the most respected and beloved talents in film and television.
In spite of his fame, there's still a lot you may not know about the actor. Freeman's acting career spans over half a century, but it took decades of work in the entertainment industry for him to gain any measure of notoriety. Years before that happened, he was a fixture on children's television. And once he did win a degree of fame on the big screen, he nearly gave a hard pass to some of the roles he's most remembered for.
Whether you know him best as the eloquent convict and narrator of "The Shawshank Redemption," the weary detective of "Se7en," or any of his other memorable roles, we're willing to bet you have a few things to learn about one of Hollywood's most treasured talents. Keep reading for the untold truth of Morgan Freeman.
Morgan Freeman delayed his acting career to join the Air Force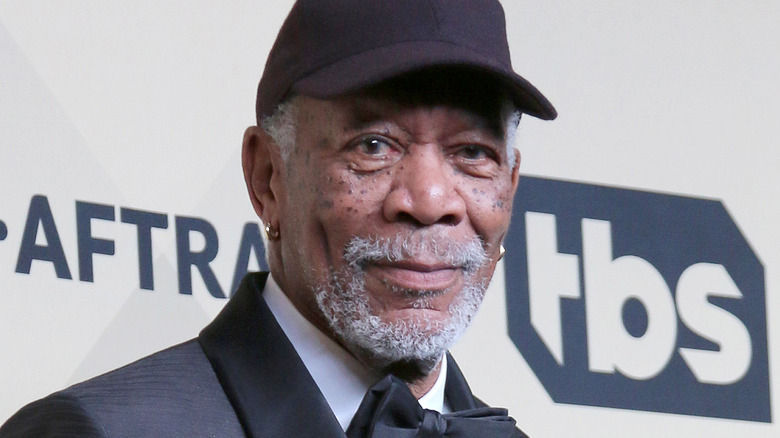 After a handful of tiny roles in films and TV shows in the early '70s and a stint on "The Electric Company," Morgan Freeman didn't really break out as an actor until the late 1980s, with a couple of Oscar-nominated performances in "Street Smart" and "Driving Miss Daisy." Freeman was well into his fifties by the time he achieved household name status, but that doesn't mean he didn't have a lifelong love of acting.
Raised by his grandparents in Mississippi, Freeman landed roles in many school plays and even won a statewide acting competition at the age of 14. He pursued theater with such skill and intensity that by the time he was ready to graduate high school, he landed a drama scholarship to Jackson State University. Astoundingly, Freeman passed on the quick entry to the next level of acting.
Ironically, Freeman's love for movies almost sent him on an entirely different career path. According to Military.com, Freeman's enthusiasm for cinematic depictions of mid-air military combat inspired him to enlist in the U.S. Air Force in 1955. After four years, he left the service upon realizing life as a fighter pilot wasn't going to be as cool and exciting as Hollywood had led him to expect.
In the '70s, Morgan Freeman helped keep the power on
It may be tough to imagine, but the same guy who partnered up with Clint Eastwood to assassinate two cowboys in "Unforgiven" was serenading children with songs a couple of decades earlier to help teach them lessons about reading and nutrition. Between 1971 and 1977, Freeman appeared daily on "The Electric Company." The show was something of a companion program to "Sesame Street," and it was meant for children too old for the more well-known program. Of the characters Freeman played, the most well-remembered is Easy Reader, a hipster who would get intensely excited at the prospect of reading anything, from a storefront sign to the ingredients on a soda bottle. He also played Mel Mounds the DJ and Vincent the Vegetable Vampire.
Speaking to Rich Eisen in 2017, Freeman said he was initially "terrified" to get involved with "The Electric Company" because he worried that getting too heavily identified with children's television would exclude other opportunities. Freeman told Eisen, "If that show had kept going, I might still be there."
Thankfully, Freeman had nothing to worry about. Apparently, he wasn't being quite as identified with daytime television as he thought. In 2018 on "Jimmy Kimmel Live!," Freeman related a story about going to an autograph signing at a shopping mall in Philadelphia during his "Electric Company" days. After at least an hour and a half of signing autographs and getting "writer's cramp," the event ended, and Freeman told Kimmel "all those little bits of paper that [he] was signing" had been left on the floor.
He was a 'late bloomer'
If you ask people the movie they most associate Morgan Freeman with, you're likely to hear about "Se7en," "Driving Miss Daisy," or "The Shawshank Redemption," but ironically, the part Freeman regularly calls his breakthrough role is perhaps the one he's least remembered for, at least outside critics' circles. It took over 20 years, but the actor finally earned fame and his first Oscar nomination for best supporting actor with 1987's crime drama "Street Smart."
In "Street Smart," Freeman plays the pimp Fast Black who's locked in a battle of wits with Jonathan Fisher (Christopher Reeve), a magazine reporter who's been writing fictional stories about prostitution and selling them off as the real thing to save his flagging career. At the time of the film's release, The New Yorker's Pauline Kael was ahead of the curve, starting her review of "Street Smart" with the question, "Is Morgan Freeman America's greatest living actor?"
While it took Freeman until the age of 50 to "make it," he doesn't seem to feel at all bitter about the journey, pointing out in a 2011 interview, "It didn't have to happen at all." While doing press for "Dolphin Tale 2," Freeman called his role in "Street Smart" his favorite of all his parts. "[Fast Black] was about as far away from me as I can get, in terms of acting," Freeman said. "It was more alien to who I really am."
Morgan Freeman is also a director
In a 1996 talk with Interview magazine, Morgan Freeman said it was in part his work on 1992's "Unforgiven" — during which, Freeman says, he'd learned his "best lesson in directing from Clint Eastwood" — that drove him to make his directorial debut with the critically hailed "Bopha!" the following year.
Set in South Africa during the time of apartheid, "Bopha!" stars Danny Glover as Micah, a tough but fair policeman who's hoping his son, Zweli (Maynard Eziashi), will follow in his footsteps. While Micah believes his place on the police force is to the benefit of black South Africans, as the film progresses, he sees the way his white colleagues work, and he begins to question his beliefs. Things come to a head after his son makes contact with the activist Pule Ramba (Malick Bowens) who's arrested for speaking out in public against apartheid. Roger Ebert gave the film a thumbs up, hailing Glover's performance as "the portrait of a proud man who discovers his pride was entrusted to the wrong things."
While critics liked "Bopha!," the box office was less impressed, which may have something to do with why Freeman's only directing work since has been a few episodes of the political drama "Madam Secretary." It could also be because Freeman's experience on "Bopha!" was marred by interfering studio executives. Freeman told Interview that the only thing about directing "Bopha!" that wasn't rewarding was dealing with studio executives "making decisions thousands of miles away."
An unforgettable voice
One of the most iconic aspects of Morgan Freeman's career has less to do with anything you've seen him in and more to do with what you've heard him in. As Graham Norton put it when Freeman appeared on his talk show, it was Freeman's memorable narration of 1994's "The Shawshank Redemption" that made him "Mr. Narration."
After "The Shawshank Redemption," Freeman's voice was in high demand, and 2005 proved a particularly busy year for Freeman in the sound booth. That year he narrated the PBS docu-series "Slavery and the Making of America," the documentary film "March of the Penguins," and Steven Spielberg's "War of the Worlds." He went on to narrate films like 2011's "Conan the Barbarian" and 2018's "Alpha." His voice has been used on the Waze navigation app, and it replaced Walter Cronkite's voice in the introduction for "CBS Evening News" in 2010.
When Jimmy Kimmel asked Freeman about the secret to his voice in 2016, the actor said he didn't have any kind of special technique, simply citing his voice and diction lessons in college. But he was a little bit more open six years earlier while doing press for "Dolphin Tale." Freeman said that if you want your voice to sound more impressive, you've got to "yawn a lot." Pressed a bit further, Freeman explained, "It relaxes your vocal chords, and once they're relaxed, the tone drops. The lower your voice is, the better you sound."
Morgan Freeman made a long journey to play Mandela
In 2009, Morgan Freeman starred in "Invictus" as Nelson Mandela, the anti-apartheid revolutionary who was released from prison after nearly three decades in 1990 and became the president of South Africa four years later. "Invictus" was a critical success, and Freeman earned an Oscar nomination for best actor, while co-star Matt Damon was nominated for best supporting actor.
Making "Invictus" was a journey Freeman started almost 15 years earlier. During a press conference for his 1995 autobiography "Long Walk to Freedom," Nelson Mandela said Morgan Freeman was his choice for lead actor for any potential adaptations. In 2009, Freeman told The Grio that was the moment he "warmly accepted" that he would eventually play Mandela. Freeman met with Mandela not long after and asked to have access to the South African president in order to give the role "as authentic a portrayal as possible," and Mandela agreed.
But getting a script wasn't easy. Freeman said he and his production partner Lori McCreary tried to adapt "Long Walk to Freedom," but that "it was impossible to present the complete story into the time frame of a feature film." The breakthrough came with John Carlin's 2006 book proposal for what would become "Playing the Enemy: Nelson Mandela and the Game that Made a Nation." The story about the South African rugby team the Springboks at the 1995 Rugby World Cup was, in Freeman's words, "the film to give the world insight into who Mandela is and how he operates."
He has some guests who could sting
In 2014, Morgan Freeman took on a new, unexpected vocation. On "The Tonight Show Starring Jimmy Fallon," the actor confirmed that two weeks previous — having just had insects delivered from Arkadelphia, Arkansas — he'd officially become a beekeeper. He shocked Fallon when he told the host he didn't need to wear any kind of protective gear while handling the bees. Fallon joked with Freeman this was a "rookie mistake," but the actor assured the host that he simply needed to "resonate" and that the people who do wear the protective outfits do it "because they can't resonate."
For Freeman, beekeeping is more than a hobby. The actor is in part responding to the alarming disappearance of bees around the globe. "There's a concerted effort to bring bees back onto the planet," Freeman has said. "We do not realize that they are the foundation, I think, of the growth of the planet, the vegetation." We're not sure what it is Freeman is resonating nor do we know if he's remained sting-free, but as of 2019, he's gone big with the bees. That year he converted his entire 124-acre Mississippi ranch into a bee sanctuary.
Morgan Freeman is very interested in big questions
Twice now — first in the 2003 comedy "Bruce Almighty" and then the 2007 sequel "Evan Almighty" — Morgan Freeman has literally played God. So, it shouldn't be too much of a surprise that in his later years, Freeman has become very interested in some of the bigger questions about what the late author Douglas Adams would call life, the universe, and everything.
His fascination with those questions has led him to some interesting work. Questions about what and who might be found beyond our solar system helped lead him to the science docu-series "Through the Wormhole." In 2012, he told The Wrap that a lot of those questions came from a very particular kind of literature. "I used to read a lot of science fiction," Freeman said, "particularly that of Isaac Asimov and Robert A. Heinlein and some other very interesting people, and they came up with thoughts about what's possible on Earth." Among other things, "Through the Wormhole" asks interesting and sometimes horrifying questions like whether or not there are races superior to our own in the universe and, if so, whether or not they might see us as food.
Later, Freeman hosted National Geographic's "The Story of God with Morgan Freeman," exploring the faiths and beliefs of different cultures. While that experience exposed Freeman to new ideas about God, his thoughts on the subject didn't change. Speaking with The Wrap, Freeman expressed his belief that God is a human invention.
He almost said no to Shawshank
In 1994, Morgan Freeman starred in "The Shawshank Redemption" as Red, the best friend of the wrongly imprisoned Andy Dufresne (Tim Robbins) and one of Shawshank Penitentiary's most well-known smugglers. In spite of the film bombing commercially, it's gone on to become a regular feature on any list of the most inspirational films or movies that'll make you cry.
Amazingly, Freeman almost turned the role down. The film is based on "Rita Hayworth and the Shawshank Redemption" from Stephen King's 1982 collection "Different Seasons." In 2014, Freeman told Yahoo! Entertainment that he was sent the book after being offered the role. "And I read the first page, and Red was this Irishman," Freeman explained. "So I closed the book. I never read another line. I was like, 'I can't play an Irishman!'" Thankfully, Freeman ultimately didn't let that stop him, and we got to see him in one of his best roles. A bit of a wink was put in the script acknowledging the ethnicity change. When Dufresne asks Freeman's character why everyone calls him Red, he answers, "Maybe it's because I'm Irish."
Years after "The Shawshank Redemption," one of Freeman's biggest problems with the movie is the title. On "Late Night with Seth Meyers," Freeman said he campaigned to use the novella's full title, arguing "Rita Hayworth" would sell more tickets than "Shawshank." On "The Graham Norton Show," Freeman said it was difficult for word of mouth to help the movie at the time of its release, because no one could remember the title.
Morgan Freeman and Clint Eastwood are kindred creative spirits
Morgan Freeman and Clint Eastwood famously starred as aging gunslingers going on one last job in the practically flawless film "Unforgiven." Eastwood directed this 1992 Western, and ever since, the pair have expressed nothing but confidence and kinship toward one another. In 2004, Freeman starred in another Eastwood-directed feature — the heart-breaking sports drama "Million Dollar Baby" — and got his first Oscar win for his efforts. And when it came time for Freeman to realize his goal of playing Nelson Mandela in a movie with 2009's "Invictus," his choice for director was clear. He told The Seattle Times that when producer Lori McCleary asked him what director he wanted, Freeman answered, "I can only think of two. Clint Eastwood, and then there's Clint Eastwood," adding that, "He's the best director I know."
Freeman praised Eastwood's directing style in a number of interviews, usually pointing to his hands-off style in dealing with actors. He told The Seattle Times "[Eastwood] can stand back and let them do their thing, then take all the credit." Asked whether or not he was still interested in acting, Eastwood said he was content to stay behind the camera. It gave Freeman yet another opportunity to lay on the praise. "I'm perfectly willing and happy to have him direct from here out," Freeman said, adding, "I think he's hellbent on becoming another [Akira] Kurosawa, if he isn't already. I think he already is."
Morgan Freeman severely injured his hand
According to an Access Hollywood report (via NBC Washington), Morgan Freeman and friend Demaris Meyer were driving to the actor's home in Charleston, Mississippi, when they got into a frightening and destructive car accident in 2008. The vehicle flipped, and Freeman was hospitalized, requiring surgery to treat shoulder damage, a broken elbow, and a broken arm. Freeman quickly recovered but continued to suffer chronic nerve damage in his arm. "The hand is still paralyzed," he said in early 2009.
"It hasn't gotten better. I can't move it," Freeman told People in 2010. The Daily Mail reported that over the next near-decade, Freeman endured fibromyalgia-related pain, and was frequently spotted in public wearing a single glove — a compression garment that aids in circulation and pain management and prevents swelling — on his paralyzed hand. To account for the increased pain and loss of regular use of the hand, Freeman, according to Metro, has learned to ride horseback, fly a plane, and golf one-handed.
Morgan Freeman was accused of harassment and went after CNN
During the "Me Too" movement that rocked Hollywood in 2017 and 2018, in which inappropriate and criminal behaviors of powerful men were rooted out and made public, two women accused Morgan Freeman of unprofessional behavior of a physical nature. According to CNN, a production assistant who worked on Freeman's movie "Going in Style" in 2015 alleged that the actor touched and rubbed her and commented on her body and attire almost daily, and repeatedly tried to lift her skirt. The latter behavior stopped only when co-star Alan Arkin told Freeman to quit it. CNN also reported that a member of the production staff of the 2012 film "Now You See Me" alleged sexual harassment of herself and a female assistant.
According to ABC 7 New York, Freeman responded to the allegations with a 10-page letter issued by his lawyer demanding a retraction and apology from CNN, calling the news outlet's reporting a "product of malicious intent, falsehoods, slight-of-hand [sic], an absence of editorial control, and journalistic malpractice." Later on, Freeman apologized, according to Variety, to "anyone who felt uncomfortable or disrespected." A year and a half after Freeman feuded with CNN, the cable network hired him to narrate a video for parent company WarnerMedia's investor presentation, a move that one CNN staffer called "disgusting."
Morgan Freeman doesn't want to play God all the time
Known for his distinctive, soothing, authoritative voice, Morgan Freeman has landed a lot of voiceover and narration work. Serving as the de facto, all-knowing, metaphorical voice of God in "The Shawshank Redemption" and "March of the Penguins" led to Freeman playing the personification of the Christian idea of God in the blockbuster comedies "Bruce Almighty" and "Evan Almighty." One film in which Freeman didn't play God was Seth Rogen and Evan Goldberg's star-studded apocalyptic comedy "This is the End." Rogen and Goldberg wrote a part just for Freeman, but he turned it down. "We wanted him to play God," Rogen told Yahoo! Entertainment. "Apparently he takes his character as God very seriously."
The 2000 historical golf drama "The Legend of Bagger Vance" is another big movie that was designed to include Freeman at one point. Initially, director Robert Redford planned to star in the film himself, alongside Freeman. Then he changed his mind and decided to cast younger actors (Matt Damon and Will Smith) instead, according to EW.