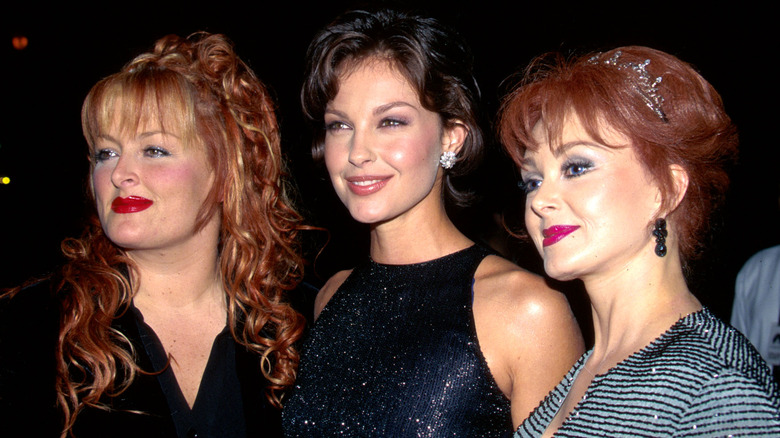 We may receive a commission on purchases made from links.
There are some names in pop culture that everyone seems to know, and Judd is one of them. The Judd family became a country music dynasty thanks to the mother-daughter singing duo led by Naomi and her daughter, Wynonna. The group sang such hits like "Love Can Build A Bridge" and "Why Not Me," and still has an impact on music today, with over 1.2 million monthly listeners on Spotify.
Naomi's second daughter and Wynonna's sister, Ashley Judd, became famous in her own right for her acting career, starring in films like "Double Jeopardy." Ashley has remained in the public eye since beginning her career, and has been a proponent of women's rights in light of her own experiences.
The Judd women lived a life most people only dream of, but it was not without heartache. All of them were subject to scrutiny and abuse, and suffered their own personal afflictions throughout their careers. Wynonna herself faced numerous setbacks and hardships in her life, even if she was part of creative royalty. But just what has she had to overcome? These are the tragic details about Wynonna Judd.
Wynonna Judd's biological father abandoned her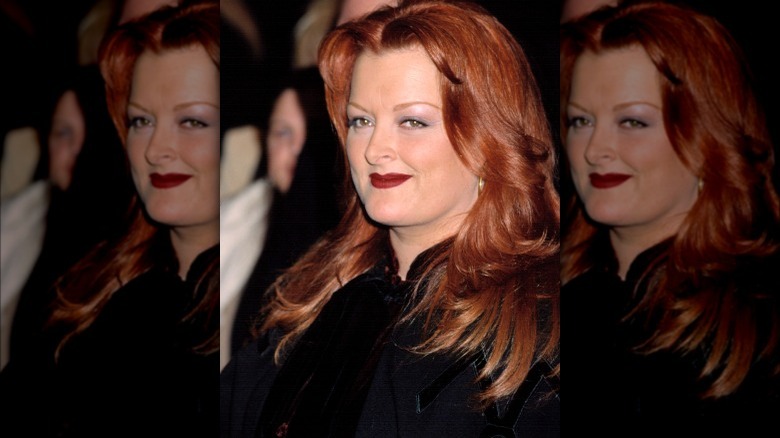 Wynonna Judd faced tragedy from almost the beginning of her life. At 18 years old, her mother, Naomi Judd, became pregnant by her boyfriend, Charles Jordan. The child was, of course, Wynonna, and unfortunately, her father left her mother to raise their baby on her own, according to Wynonna's biography.
Soon after, Naomi found another man, Michael Ciminella, and had a second child with him, her daughter Ashley Judd. Wynonna grew up believing that Ciminella was also her father. However, Naomi and Ciminella's relationship did not last, and four years after marrying, the two divorced. This left Naomi a single mother yet again, and she worked as a nurse to support and raise her daughters. The two girls then lived in instability and poverty for much of their childhood, as told by ABC News.
Things eventually turned around for the mother and daughters when Naomi and Wynonna began their singing careers as The Judds.
Her pregnancy led to criticism
Wynonna Judd began her career very early in life, making for a non-traditional adolescence and one that included criticism from the masses. In 1994, Judd and her partner, Arch Kelley III, announced she was pregnant. This news was quite unsettling to many of her fans, who were upset she was going to be an unwed mother. As a result, she faced intense public scrutiny.
"It doesn't really fit into the story the way everybody wanted it to. People wanted to see me get married first to a dream boy, then live happily ever after, then the child can come. That's the way it is in the movies. And I had dreamed it that way … But it didn't happen that way for me. And that's the only regret I have," Judd told The Baltimore Sun.
The country star didn't let criticism stand in her way, though, and she gave birth to her child while still single. A couple of years later, before the birth of their second child, Judd and Kelley married.
The Judds were forced to break up
The Judds were unbelievably successful in the 1980s. Their time together on stage led to five Grammy Awards, a star on the Hollywood Walk of Fame, and an induction into the Country Music Hall of Fame, among other accolades. The mother-daughter duo are still seen as trailblazers in the genre, and were the most popular country music duo in history until Brooks & Dunn took the title.
In 1991, though, Wynonna Judd was forced to either retire from music or go solo, as her singing partner — her mother Naomi Judd — was diagnosed with hepatitis C, a liver infection that can be fatal. Naomi's diagnosis was quite serious, and doctors warned her that she had just a few years to live. After announcing their career's end, she and Wynonna performed a farewell concert.
"I was so poisoned by my own body," Naomi told Dr. Oz. "I was flipped out because I was gonna lose my career. Wynonna and I had contracts for a year of concerts. I felt like I was the CEO of a big corporation. If I didn't sing, then people didn't eat. … It was hideous." Naomi survived her diagnosis and lived another 30 years, but Wynonna continued performing solo.
Wynonna Judd was arrested for drunk driving
In 2003, tragedy struck in Wynonna Judd's life again, but this time at her own hands. The star was arrested in Nashville, TN for drunk driving, and the act had major repercussions. Judd's license was suspended for a year, and she was mandated by the courts to serve 200 hours of community service, per WIS News. The star had been battling other demons at the same time, as she shared just before the incident. While being interviewed by Oprah Winfrey, the country crooner revealed that she had been struggling with her weight.
"Why am I here? Next year I celebrate 20 years of being on the road. I've dedicated my life to country music, I home school my children, I worked three years on my record, I support, you know, 40 to 50 families, I have for 18 years, and I never stopped. And I'm in trouble because I lost myself. I'm the woman who forgot to put herself on the list. And I'm real tired … I don't have it together. I'm losing my way here," Judd told Winfrey.
Eventually the country star was successful in her weight loss fight, and — after a major transformation — became a spokesperson for Alli, a weight-loss pill. "I hope people will be inspired by the fact that I've overcome a lot, I'm still here and it's a miracle," she told People.
She went through multiple divorces
Wynonna Judd's marital life has been as fractured as her upbringing. The renowned country singer has been married thrice, her first marriage to the father of her two children, Arch Kelley III. Unfortunately, though, it didn't last long, and after two years and two kids, Judd and Kelley split.
Judd found love again soon after her first divorce, though, and she married her second husband, D. R. Roach, five years after her relationship with Kelley ended. But this second marriage was doomed as well, and ended after just a few years, when Roach was arrested for aggravated sexual battery of a child. "I am obviously devastated. Our family will pull together, begin the healing process and hopefully — by the Grace of God — become stronger. We will move forward with our faith, family and our friends to find resolution to this difficult situation," Judd wrote on her website, as reported by CBS News.
Judd then fell in love for a third time with Cactus Moser, a drummer for the band Highway 101. The two wed in 2012, and Judd said of their nuptials, "I felt a joy that hasn't been there before." Judd and Moser are still together as of this writing, after nearly 10 years of marriage.
If you or someone you know may be the victim of child abuse, please contact the Childhelp National Child Abuse Hotline at 1-800-4-A-Child (1-800-422-4453) or contact their live chat services.
She struggled with money
It seems odd at first to think that someone who makes millions of dollars every year would struggle with money, but such was the case for Wynonna Judd. The famed singer detailed her struggles to "Good Morning America," as reported by ABC News, noting that she went from living in poverty to living as a millionaire, and had to learn how to properly manage her money.
"I had an Elvis complex. I had to buy Harleys and cars. I bought my Mom a bus," she said of her spending habits, adding, "They drew my farm and they did every year, 2003, 2004, 2005 and they said, 'If you continue on the path you are, spending at the rate you are,' and they would clip off the land. And by the time we got to 2010 or something, I had no more land left."
Judd took money management seriously when she realized she had a problem, and she checked herself into Onsite, a rehabilitation center that provides inpatient rehabilitation therapy for a variety of reasons, such as money management, per ABC News. The therapy took, and Judd shared, "I still have a long way to go … I may not be exactly where I want to be, but I'm sure as heck not where I was."
She has a complicated family life
Becoming a country western superstar as a teenager who toured the country with her mother while simultaneously leaving her kid sister behind already categorized Wynonna Judd's family life as unique, but that was just the beginning. Her familial experience was further complicated when she learned, at age 30, that the person she thought was her biological father was, in fact, her step-father. As noted earlier, Judd's father left her and her mother when she was just a baby, and her mother soon married the man who Judd thought was her biological dad.
"I had to decide whether I was better or bitter," Judd told Andy Cohen of learning the news, adding that she used music to cope. "That's what country music is, we're stories about real life. … I want to breathe life into the fans. I want to breathe life into people by singing from my toenails, that aching part of life and that joy part of life. And it's intertwined."
At age 56, Judd delved deeper into her biological family connections, meeting another half-sibling. "I met my brother yesterday," she told Cohen. "I have a brother I've never met and I called him. He lives in Kentucky and his name is Michael and I called him on his birthday … I have the recording, Andy, of me saying, 'Hi, this is your sister.' And I've never said that before. And I'm going to put it in the middle of a song somewhere."
Wynonna Judd was abused
In the #MeToo era, it's common for celebrities to speak out about the abuse they've endured, but prior to that, it was rather unheard of.
Ashley Judd was one of those rare celebrities who spoke out about the abuse she faced, detailing it in her memoir, as told by ABC News. The star was sexually abused by a family member when she was a child, and felt neglected by her mother as she hopped from school to school while her mother and sister were out on tour.
Barbara Walters asked Wynonna Judd if she had been abused, too, and although she was not as detailed as her sister, she did confirm that she has also suffered. "This is such a personal thing, but I think we're willing to step out on faith and hope that it helps someone else to tell someone because there is a lot of shame and secrecy, and it shows that everyone in our family that this is affecting us [and] to watch out for the next generation," Wynonna said, as reported by the New York Daily News.
If you or anyone you know has been a victim of sexual assault, help is available. Visit the Rape, Abuse & Incest National Network website or contact RAINN's National Helpline at 1-800-656-HOPE (4673).
Her mother died by suicide
In 2022, Wynona Judd suffered yet another tragedy when she learned that her mother and former co-performer Naomi Judd had died. Wynonna and her sister Ashley Judd released a statement on Instagram, writing, in part, "We lost our beautiful mother to the disease of mental illness. We are shattered. We are navigating profound grief and know that as we loved her, she was loved by her public." Days later, a report from People stated that Naomi died by suicide, though the family has yet to confirm this news, as of this writing.
Naomi had dealt with mental health issues for much of her life, and detailed her bouts with depression in multiple interviews, as well as in her memoir, "River of Time: My Descent into Depression and How I Emerged with Hope." "I literally couldn't leave the house for weeks. I was completely immobilized and every single second was like a day. It's so beyond making sense but I thought, 'Surely my family will know that I was in so much pain,' and I thought they would have wanted me to end that pain."
The day after her death, the Judd sisters honored their mother at the Country Music Hall of Fame induction ceremony, where Naomi and Wynonna became members of the exclusive group. Wynonna said at the ceremony, "My heart's broken, and I feel so blessed. It's a very strange dynamic, to be this broken and this blessed."
If you or anyone you know is having suicidal thoughts, please call the National Suicide Prevention Lifeline​ at​ 1-800-273-TALK (8255)​.