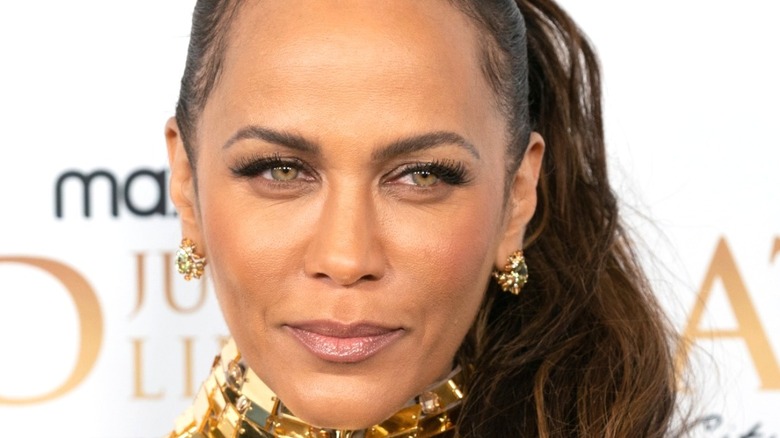 NBC's "Chicago P.D." has run for 187 episodes over the course of a decade. Throughout its nine seasons, audiences have seen the characters navigate the victories and the defeats of upholding the law in the Windy City. One character attempting to add her own flavor to the series is deputy superintendent Samantha Miller.
Miller brings a hot-button debate to the show in the form of police reform. In true Hollywood style, the series does its best to imitate real life, with the older white alpha male, Hank Voight (Jason Beghe), resisting the change. Miller is a strong, independent Black woman who persists in pushing for change, eventually forming a delicate trust with Voight. The actress who portrays the character had this to say (via Shadow and Act) about her endeavor.
"There's a lot of issues in the country and a lot of ways to come at them creatively through the show," she explained. "There's the white, male-dominated scenario and adding in this Black female character who's the highest-ranking officer that you can become. The next person above me is the Mayor. You'll see how difficult affecting change really is, not just administratively but also emotionally."
But who is the strong and beautiful actress who brings Deputy Superintendent Samantha Miller to life? Here is where you have most likely seen her before.
Nicole Ari Parker played adult film star Becky Barnett in Boogie Nights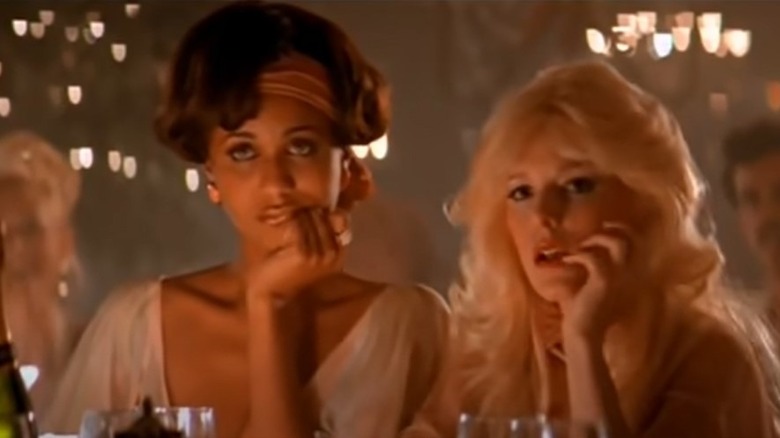 1997 was a year that catapulted the careers of more than one performer in Paul Thomas Anderson's magnum opus, "Boogie Nights." While it served to shoot the director along with actors Mark Wahlberg and John C. Reilly to the mainstream, it also featured many other big names that would be mainstays in Hollywood for years to come. Burt Reynolds, William H. Macy, Heather Graham, Julianne Moore, Don Cheadle, and the late Phillip Seymour Hoffman also appeared in this one-of-a-kind journey into the life of adult filmmaking.
Nicole Ari Parker appeared as adult film star Becky Barnett. She is good friends with Buck Swope (Cheadle) and advises him to ditch his country-and-western-inspired look for a more disco-centric image. Parker knew what she was getting into with the film, even though it was very early on in her career. When asked in an interview with Celebrity Page TV if she knew it would be a big deal, she answered plainly.
"Oh, I knew; I could feel it. I mean, the vision, the scope, the shots, the authenticity, the detail. Everyone's clothes, they were authentic 70s vintage clothing. It was one of those jobs where you're like, 'this is gonna be epic,'" she said.
She played Carol Boone in Remember the Titans
The turn of the century brought one of the essential sports movies of all time and one of the pinnacle movies on race relations for a generation, 2000's "Remember the Titans." The film, which is based on a true story, follows Coach Herman Boone (Denzel Washington) as he takes over the high school football team, the T.C. Williams Titans, which is led by real-life players Gerry Bertier (Ryan Hurst) and Julius Campbell (Wood Harris).
Nicole Ari Parker portrayed Carol Boone, wife to the famed football coach who integrated the team on its quest to win a state championship. Hers wasn't a huge part of the movie, as she primarily supported him by taking care of the kids. When asked in an interview with ESPN about how she felt about working alongside Denzel Washington, she responded with excitement. "It's like you jump up and down; you call your parents."
Men's Journal put "Remember the Titans" as the second-best football movie of all time, after "Rudy." This was a massive bump in her career for a largely unknown actress.
She played Aunt Teri in the Soul Food series
While Nicole Ari Parker was kicking her career off in "Boogie Nights" in 1997, she appeared in another movie that would change the course of her life. "Soul Food" is a drama about a large Black family that visits the good and bad of familial relationships and committed to sitting down to Sunday dinner every week with their matriarch. The film starred Vanessa Williams and Vivica A. Fox, with appearances from Mekhi Phifer, Michael Beach, and Nia Long.
Parker later landed the role of Aunt Teri (played by Williams on the big screen), an uptight and successful attorney, in a Showtime series spinoff. It continued the family's story after the movie's events and delved much deeper into the stories told by the original writer, George Tillman Jr. Parker revealed what it meant to her to play Aunt Teri in an interview with the Los Angeles Times. "That movie really changed the landscape for Black entertainment," she said. "It showed the full spectrum of what's inside a large family, good and bad, Black or white. There was no sugarcoating of what's inside a big family, but at the same time, it gave the gravitas, the love, and the beauty of a family that is trying to thrive."
At a time when Black-led shows were primarily sitcoms that focused on laughs, "Soul Food" ushered in a new focus on more profound stories chronicling the African American voice.
She played Giselle on Empire
Fox's hit TV series, "Empire," follows the Lyons, a family of hip-hop royalty trying to hold on to and grow their label to the largest and most successful in the business. With characters inspired by real-life performers and executives (Terrence Howard's Lucious Lyon is said to be inspired by Jay-Z), the series gives an authentic look into the hip-hop business and its operation.
Nicole Ari Parker appears in Season 4 as Giselle Barker. Wife and eventual widow of Eddie Barker (Forest Whitaker), she seeks to continue her late husband's legacy after he betrayed the Lyons to take over the Empire Records label. Once she takes over, she faces a multitude of hardships and betrayals. Parker sat down with Bossip and explained she believed her character is a mirror of real-life women in the workplace.
"I think she is a direct reflection of what goes on," she said. "Let's just say, in the medical profession, if you're in the hospital, the nurses know more about what's going on and how to care for you than the doctors do in a lot of instances." Parker added that women in the workplace can do well at their jobs when they have something to prove. "In some ways, that's great because when we win, we're unstoppable," the actress continued. "You know, we're unshakable. But unfortunately, it's exhausting. I see it in every industry. I'm glad that Empire is tackling some of those things. They're sneaking it in inside of the fun and the drama."
She plays Lisa Todd Wexley on And Just Like That…
Parker's newest project is one where she continues a trend for her career. While she trailblazed Black voices and drama in her run on "Soul Food" and served as the wife of the first African American coach for T.C. Williams High School in "Remember the Titans," Parker does it again when appearing as Lisa Todd Wexley in HBO Max's continuation of "Sex in the City," "And Just Like That…"
Wexley is a Park Avenue power woman and documentarian with a flair for fashion, much like the character she replaces, Samantha Jones (Kim Cattrall). In an interview with Allure, she discussed her approach to her role. "I really wanted to be comfortable in this character," she explained. "They didn't just create a Black character and then make her rich — they gave her a husband, kids, a life, and a job title. She has thoughts and opinions; her house looks a certain way. Then, [they took into consideration] that Lisa Todd Wexley couldn't be the only Black character on the show. There are other job titles, tax brackets, interests, and agendas for all kinds of women." Parker concluded her point by stressing how multi-dimensional her role was on the series.
Even though Parker may have mainly flown under the radar when put up against other Hollywood names, it is clear she has made a constant impact on the industry, especially for Black voices, over the last thirty years.