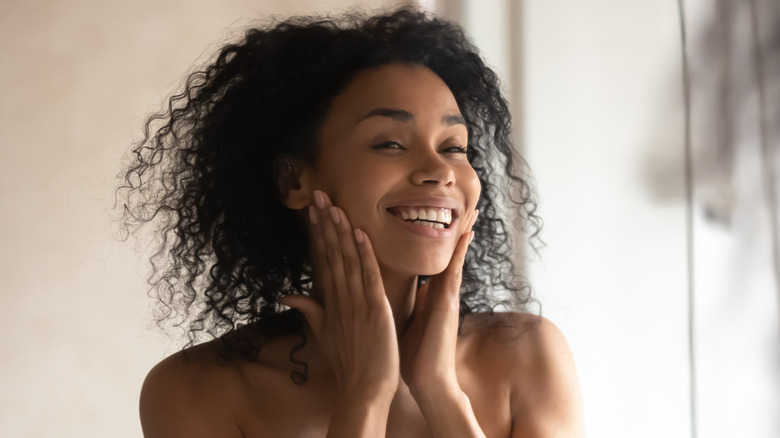 We may receive a commission on purchases made from links.
Watching a pore strip lift the spiky gunk off your face is arguably one of the most gratifying things you can do — you're immediately a little more satisfied with yourself than you were before. Pores get clogged when your skin has enlarged pores to a lack of elasticity or produces excessive sebum, which a pore strip removes (via Medical News Today). However, satisfaction aside, pore strips don't really work as a long-term solution for clogged pores. "Strips will not stop black or whiteheads from happening or shrink pores," an associate professor of dermatology Adam Friedman told Allure. "They are simply a temporary cosmetic fix."
Not to fret, there are other products you can use to address the root of the problem. They may not give you a clear view of the buildup but they will work to minimize, unclog, and reduce the visibility of your pores. We've compiled a list of the best ones out there, so read on to learn how we curated these products, and then find one for yourself!
How we selected products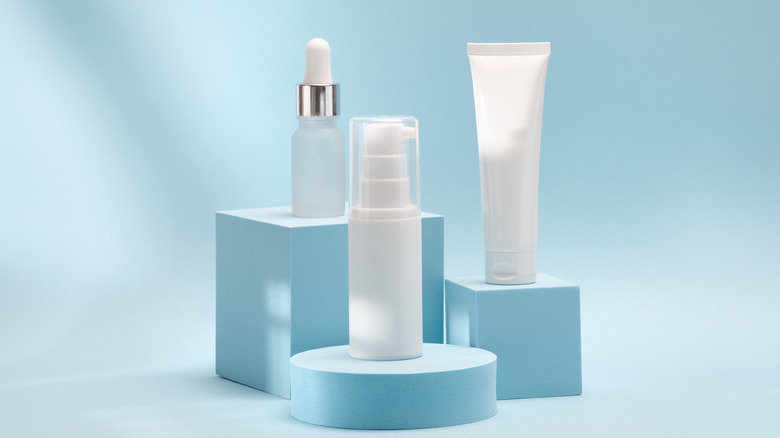 In case you didn't already know, according to dermatologist Cybele Fishman, "pore size is genetic" (via Mind Body Green). So, you might be more or less prone to enlarged pores due to nature. But the good news is that you can nurture your pores back in your control, and we've picked skincare products that will help you do just that. Our curated list includes pore-minimizing products from every step of your skincare routine, including cleansers, toners, exfoliators, and serums.
We've done our research and paid attention to the kind of ingredients and exfoliants each product has while giving you multiple price range options. We've also taken reviews into account, and all of the following products have impressed numerous customers with their pore-banishing ability. Some have also won beauty awards, and others come recommended by celebrities. Get ready to find the next best thing for your pores aside from an Instagram filter.
Best overall product for minimizing pores
As you "pore" over Paula's Choice's website, you'll find that almost every other product specializes in minimizing and unclogging pores. Skincare addicts swear by the brand, with most of their clout-worthy products featuring chemical exfoliants that are known for their pore-erasing properties.
One of the brand's best-selling products is the Skin Perfecting 2% BHA Liquid Exfoliant, a potent mix of salicylic acid and soothing green tea. BHA, a type of hydroxy acid, is proven to decrease inflammation, unclog pores, and even out skin tone. Salicylic acid is a type of BHA, and dermatologist Daniel Yanes says that "It's an excellent exfoliant, and it helps to sort of clear out pores and get rid of the top layer of the skin" (via Insider). Dr. Yanes also told the publication that the green tea in the formula protects the skin from free radicals and sun damage, making it a balanced toner to add to your routine.
On Amazon, over 59,000 reviewers have given the product an average of 4.6 out of 5 stars, with many posting their before and after photos as proof. One reviewer called it a "MIRACLE IN A BOTTLE" and said, "I've been trying to turn my skin around for YEARS!! this was the product that did it. If I could give it 100 stars I would. It has seriously changed my life!!!"
Get the Paula's Choice Skin Perfecting 2% BHA Liquid Exfoliant from Amazon for $30.40.
Best budget product
If you're not ready to commit to a pricey solution, Insta Natural's 7% Glycolic Acid AHA Toner makes sure you don't have to. "Glycolic acid has quite a small molecule size, so it will penetrate into the skin quickly, which is why it can often feel quite tingly and active on the skin," facialist Katharine Mackenzie Paterson told Harper's Bazaar. This means that you'll probably see results sooner but you'll also need to let your skin adapt to it.
Fortunately, Insta Natural's formula infuses vitamin C and witch hazel to soothe your skin from the harsh turnover it'll experience with exfoliation. The brand claims that it's gentle enough to use for nightly exfoliation. "This toner is the best I've tried this far. The pores on my nose became visually smaller, my skin tighter and more tone[sic]," one reviewer on Amazon said.
Get the Insta Natural 7% Glycolic Acid AHA Toner from Amazon for $13.47.
Best drugstore product
It's yet to be scientifically proven, but if you have glowing skin, you've probably used La Roche Posay products. The cult-favorite brand is in the business of creating high-performing products and repeat customers at any drugstore. Its Effaclar Anti-Aging Pore Minimizer Serum has a following of its own for its powerful formula. The serum has a blend of glycolic acid and lipo-hydroxy acid, a derivative of salicylic acid, to increase cell turnover and exfoliate the skin while targeting fine lines and enlarged pores. It's also infused with hyaluronic acid, a humectant that keeps your skin hydrated.
The product's popularity in drugstores translates to great reviews online, as well. "I have oily skin and large pores. This product has changed my skin. I had tried several other products in the past but this one has by far exceeded my expectations. I have bought two so far and will order the third soon," one loyal customer said.
Join the cult and get the La Roche Posay Effaclar Anti-Aging Pore Minimizer Serum from Amazon for $44.99.
Best splurge-worthy product
By investing in a SK-II product, you'd be joining the ranks of Hailey Bieber, Kate Bosworth, and Cate Blanchett (via Elle). Celebrities are constantly lining up as ambassadors for this Japanese skincare brand, which derives its formulas from a trademarked fermented ingredient rich in amino acids and vitamins.
Its Facial Treatment Clear Lotion toner also features this ingredient — in addition to AHAs — to lightly exfoliate and renew your skin after cleansing. Both work to even out your skin's texture while keeping it hydrated. A reviewer on Sephora couldn't recommend it enough, saying, "This clear lotion made a huge difference in my overall complexion. I felt like every time I used it, my pores appeared to shrink and it helped with the uneven skin tone I've always struggled with…It's a must have!" Another said, "I started using this as a sample, and now purchased the full size cause I can't see not having this in my skincare routine. My skin is clearer and the times I forget to use it, I notice a difference."
Get the SK-II Facial Treatment Clear Lotion from Sephora for $76.
Best exfoliator
We've established that chemical exfoliation is one of the best ways to tackle clogged pores; if you're looking for one that is gentle enough to add to your daily routine, you may want to consider Glossier's Solution. It has a little bit of everything: glycolic acid, salicylic acid, and lactic acid — all ingredients that improve skin texture. It also brings the hydrating and exfoliating properties of gluconolactone, another gentler exfoliant, to the mix. With all that exfoliation, Glossier also included aloe vera, glycerin, and niacinamide in its solution.
Almost 3,000 reviewers flocked to the website, with some calling it a "holy grail" product and another likening it to "a magic solution [that] does exactly what it says." One reviewer also shared their experience with the product, saying, "I've been having cystic acne which I thought was hormonal. I started using this product on my enlarged pores and have noticed drastic results within 2-3 weeks. My pores are smaller and my skin is smoother."
Get the ever-popular Glossier Solution from Glossier for $24.
Best cleanser
It seems like nobody's met an Inkey List product they didn't like; the brand makes simple, effective, affordable skincare that's been featured in numerous best-of lists. Its Salicylic Acid cleanser is a great addition to your skincare routine if you're looking to ease into the process of pore minimizing. As a lightly foaming cleanser that's formulated with zinc, the product aids in oil control and gentle exfoliation that washes off dirt and makeup.
One reviewer on Amazon called it the "perfect face wash" and said, "This face wash works super great for acne prone skin! It isn't too harsh or drying. Washes well without striping [sic] your skin. I love this and will be buying it again!" Another longtime user said, "I'm an adult and I've had acne for so long! Not anymore! This stuff cleared it up and I've been using it for over a year now! Love how gentle it is!"
See for yourself and get the Inkey List Salicylic Acid Cleanser from Amazon for $17.72.
Best toner
While trying to minimize pores, one important step to take is prepping your skin for serums and moisturizers after cleansing. Toners can help balance your skin's PH level while picking up dirt and makeup your cleanser may have missed (via SkinStation). The Perricone MD Intensive Pore Minimizing Toner is great for those with enlarged pores as it leaves your skin with an even matte finish while gently exfoliating and cleansing excess oil.
Byrdie writer Ashley Rebecca reviewed the toner, saying, "My pores did look slightly smaller after each use, and my skin was matte which aided in helping pores not be so visible." Reviewers on Amazon concurred, with one reviewer saying, "This is a miracle and I have to have it [for] the rest of my life. shocking … change within seconds of putting it on and gives me so much more confidence. as you get older, your pores expand and this is a miracle product."
Add the Perricone MD Intensive Pore Minimizing Toner from Amazon for $44.25.
Best retinol product
Every other glowing face on a red carpet has seen Shani Darden; the celebrity esthetician has worked with celebrities like Jessica Alba, Laura Harrier, and Rosie Huntington-Whitely, to name a few. One of Darden's most popular products is the Retinol Reform serum, a cocktail of non-irritating retinol and AHA that works very hard at eliminating the look of fine lines, large pores, and wrinkles. The formula's won an Allure Best of Beauty award for its effectiveness and retinol-beginner friendliness. Retinol, a type of vitamin A derivative, helps with exfoliating and cell turnover (via Medical News Today). So, you reap the benefits of both retinol and AHAs when using this serum. Darden's also included an antioxidant in the mix — apple extract, which contains vitamins A and C as well as malic acid, per Healthline.
On Sephora, more than 58,000 people have favorited the serum, and reviewers have nothing but good things to say. One asked if it was the "fountain of youth" while another said "It's been two weeks since I started using this serum nightly and I can see amazing results! My skin looks radiant, less textured and pores minimized!"
Get the Shani Darden Retinol Reform serum from Sephora for $88.
Best serum
On the weekends, take an extra shot for your skin in the form of Skinfood's Peach Sake Pore Serum. As dermatologist Jason Emer told Allure, "Sake is a type of rice wine that, through fermentation, produces kojic acid," which improves skin texture while brightening it. Sake formulated for skincare also helps with tightening of pores and acts as an anti-inflammatory ingredient to reduce the appearance of redness as well (via 100 Percent Pure).
Skinfood's Peach Sake Pore serum boosts this effect by including peach extract in its formula, which is a powerful antioxidant. One reviewer on the brand's website said, "I am obsessed with this pore serum. It immediately gives my skin a powder-like softness. No stickiness, no oily appearance, nothing! Love the peach extract. It provides my skin with vitamin A and gives the serum a lovely (yet mild) fragrance. I will definitely be buying another bottle when I run out!" Another wrote, "I love this serum, make my skin look soft as a peach." Who doesn't want that?
Get the Skinfood Peach Sake Pore Serum at Skinfood for $16.
Best moisturizer
If you include exfoliators in your skincare routine, your skin's moisture barrier will need an extra dose of hydration. But if you're looking to simplify your routine and cut down on steps, Dr. Dennis Gross created a product that does both. The brand's Alpha Beta Daily Moisturizer includes glycolic, lactic, and malic acids to exfoliate your skin, target fine lines and signs of aging, and improve its texture. However, it also has squalane and ceramides to replenish your skin on the daily. Both squalane and ceramides are excellent fatty moisturizers that mimic your skin's natural oils and retaining hydration (via WebMD).
A reviewer on Sephora who's been using the product for a few weeks said, "I'm in love with this Moisturizer! It is so comforting! It really soothes my dry skin. It goes on easily, not heavy or greasy at all. It also smells wonderful. It is so gentle on my skin I put it on twice a day." Another said, "I am in love with this moisturizer! Omg! My skin feel so hydrated and soft after using it! Is like magic! Love all the ingredients specifically the aha and bha because help with my texture!"
Get the Dr. Dennis Gross Alpha Beta Daily Moisturizer from Sephora for $68.
Best primer
Makeup artists often look filter-free and texture-less when they put on makeup, and a lot of the time, that has to do with the lighting, their skill, and their primer. Primers help prep your skin for products like concealers and foundation, and you should pick a primer based on your skin type and concern. The Covergirl TruBlend Base Business Pore Minimizing primer is made for reducing the appearance of pores before you put on your makeup. Its oil-free formula creates a matte finish canvas for foundation while blurring pores and texture.
The product is marked as "Amazon's Choice" and it's certainly popular with customers as it has 4.4 stars out of 5. One reviewer said, "I wear this over a light moisturizer and under foundation. I spritz in setting spray when I'm done, and my skin looks poreless all day long." Another offered customers a hot tip: "The trick is to let it all dry, so wait about 3-5 minutes before applying makeup. Oily/combo skin girls, thank me later."
Finish your pore-minimizing routine with the Covergirl TruBlend Base Business Pore Minimizing primer, which you can get from Amazon for $8.