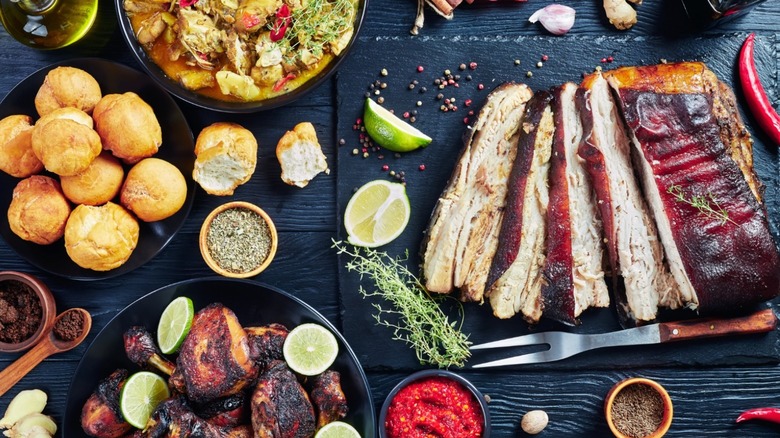 The label "Caribbean" can conjure up thoughts of many different food items. But one thing's for sure — there will never be a shortage of flavor. If you're spice averse, then you're purely out of luck, because Caribbean food packs flavor and spices with a special affinity for peppers and heat.
The Caribbean region consists of the more than 7,000 islands and 13 states within the Caribbean sea, as well as the nearby coastal regions (via World Atlas). The first people to live in the Caribbean islands were the Arawak, Carib, and Taino natives, according to NTL International. Their native cuisines have been influenced by various cultures such as African, Chinese, French, Indian, and many more, leading to a proliferation of rice and bean dishes as well as stewed meats and vegetables that have developed with the unique flavors of each island or state. There's Jamaican's jerk seasoning, the shredded beef stew called ropa vieja in Cuba, and many more signature, mouth-watering dishes in between.
While there aren't as many Caribbean restaurant chains in the U.S. as there are, say, burger chains, there are quite a few and they seem to be growing in number. The Food Institute rated Caribbean cuisine as a trend to watch in 2022. And while there's nothing trendy or novel about this cuisine to those who have loved it for many years, there's an exciting possibility to see Caribbean food continue to attract new fans. With this in mind, we've rounded up the top Caribbean chains and ranked them from worst to best. Keep reading to find your next favorite Caribbean food spot!
Jimmy Buffet Margaritaville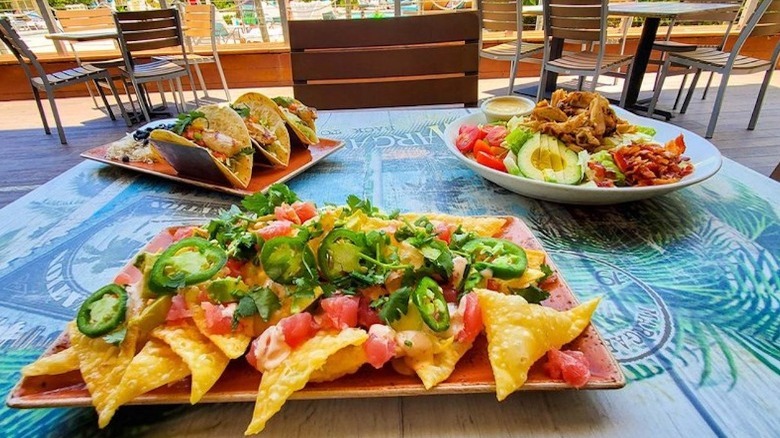 Little did Jimmy Buffet know that his 1977 hit Margaritaville would become a wildly popular chain of tropical-inspired restaurants, as well as themed resorts (via Southern Living). Margaritaville has 32 restaurants around the world, including in locations throughout the United States as well as throughout the Caribbean like in Ocho Rios, Jamaica, and Grand Cayman, Cayman Islands. While the range of Margaritaville-themed activities is impressive, the food at the restaurants is much less so according to many customers who have sampled the fare.
One Yelp reviewer said of the Vegas location that, "To order a cheeseburger in paradise with a cold uncooked piece of cheese thrown on the burger was the biggest waste of my money ever. I kind of wish we had just gone to In n Out burger next door …The food is underwhelming to say the least. I had a better burger at the airport bar! Save your money for this overpriced and unimpressive food."
In New York City's Times Square, there is a Margaritaville Resort that consists of an eatery named Land Shark Bar & Grill, as well as hotel rooms and a pool. Unfortunately, the food is also uneventful here. Eater described the fish tacos as "mediocre" and said, "They were grilled and dry and slightly mealy, served with plain rice and black beans that tasted like they had just been dumped out of the can."
Pollo Tropical
Pollo Tropical was founded in Miami in 1988, according to their website. They are considered a healthy alternative to the mega fast food brands that serve up fries and burgers. Their menu consists of enticing options like fire grilled citrus marinated chicken as well as roast pork. You can also combine your pick of toppings to create a bowl of your choice in one of their TropiChop bowls. And with salads, soups, sandwiches, and wraps, there seems to be something for everyone on the menu.
Unfortunately, consumers don't appear to be enthusiastic about the fare — many of the locations have an average star rating of just two to three out of five stars on Yelp. One Yelp reviewer said, "Quality of the food has gone down … the rice is no longer good it's very flavorless and lacks salt. The chicken quesadilla salad isn't the same as it used to be, missing a lot of toppings and over flavored with Sazon Goya. Beans were hard and chicken in salad wasn't grilled but guisado." A Facebook reviewer was also unhappy with the quality of their meal and said, "Visited location on 1/4/22 ordered a family meal. Got home only to find the chicken dry burnt and overcooked. Had to toss the chicken and settle for the beans and rice. Will NEVER patronize Pollo Tropical again. In any location. Too many bad experiences with quality of food and poor customer service."
There are over 141 locations, so you may have better luck depending on which location you go to, but if you want well-cooked tropical-inspired chicken, you might want to keep looking.
Bahama Breeze Island Grille
The concept of 40-location chain Bahama Breeze is exciting — a chain restaurant that serves up bright tropical dishes like beef empanadas, tostones with chicken, and jerk wings. These dishes should be packed with flavor, but at Bahama Breeze they can sometimes be lackluster according to consumer reviews. One Yelp reviewer said, "Stay away from the beef empanadas. They are like meat stew stuffed into an empanada crust. The Yuca Cheese Fritters are edible as long as you dip them in the cilantro dip. Don't you season the food prior to preparing it? This is just a bad and sad adaptation for Caribbean food."
A Yelp review of yet another Bahama Breeze location describes the food equally as dismal and said, "We tried the Yuca cheese sticks. I had to send them back … The breading was good, but the cheese inside was rancid. Then we … ordered the jerk chicken with plantains, but here the chicken was dry and the plantains sopping … I got the lobster and shrimp linguine. That's hard to screw up, but they did. The sauce had little flavoring. The lobster was very obviously cheap frozen bits."
That all said, the chain appears to get points for ambiance, with one Yelp reviewer commenting, "I wish I took a picture of the outside deck that we were sitting on, because it looks like you are sitting at a beach bar on some tropical island!"
Golden Krust
In 1989, Golden Krust was founded as a way for Lowell Hawthorne and his siblings to pay homage to their parents' Jamaican home cooking, according to the Golden Krust website. The Bronx-based bakery would become popular and eventually grow into a restaurant franchise with more than 120 different locations.
Golden Krust promises to serve up Jamaican staples like braised oxtail over rice and peas, escovitch fish, curried goat, and of course, patties. It sounds promising, but often times the meals can fall flat, especially if you're used to Jamaican home cooking. After commenting on the texture of her meal, one Yelp reviewer said, "I literally have never been this disappointed in a food choice in my life. $20 down the drain, and I'm not even mad about the money, I'm mad that I was really looking forward to eating it."
If you're up for just a beef patty, you may have slightly more luck, but as Eater warned, "Don't expect a life-changing pastry (the crust is tougher than many of the other patties served in this Brooklyn neighborhood), but you can count on flavorful fillings." Golden Krust might be a good introduction to those who aren't very familiar with Jamaican food, but for those who are looking for the real deal, you may be better off finding a different venue.
Sophie's
Sophie's, a chain with 8 locations in various parts of New York City, is the Cuban answer to mundane lunches — though the restaurant actually has a Peruvian co-founder, according to the Sophie's website. Manuela Matos sold Peruvian bites from a cart to save up for her first restaurant, and she and her relatives and co-founders eventually partnered with Cuban chef Eduardo Morgado to nail down the Cuban aesthetic. Business has been booming for Sophie's ever since. But does the quality and taste of the food match up with the charming back story?
With menu items such as pernil, shrimp in garlic sauce, oxtail stew and, of course, a Cuban sandwich, Sophie's delivers classic dishes that are based in solid flavor. It seems some locations' execution holds them back from having flawless dishes, however. One Yelp reviewer had high expectations that were swiftly let down, "The rice had some water in it. The beans were watery and absolutely no flavor or salt! Bland!! I'm Cuban so I have eaten lots of rice and beans in my life. These were the lamest ones I have ever had!" A review from The New York Times was slightly more positive, but not glowing: "The beef-stuffed potato croquettes called papas rellenas have a textbook golden crust. But richer, more compelling versions can be found."
Cuba Libre
As a chain restaurant with several locations around the country, Cuba Libre is guaranteed to give different experiences in eachcity. There are Cuba Libres in Philadelphia, Washington, D.C., Atlantic City, Orlando and Ft. Lauderdale, with each location branded as more of a rum bar and music venue than a restaurant. But there is food and it is a big draw for the chain. They offer Cuban options like roasted half chicken, shrimp enchilados, and arroz con pollo. Some food is even available as bar food during happy hour.
Cuba Libre is different from all of the other Caribbean restaurants on this list because it's a destination, an experience and a full bar. The food is mostly positive but they have encountered some issues with seasoning, with one Yelp reviewer remarking, "My husband ordered the pollo asado. He is Cuban himself, so he is extremely picky and honestly not even a foodie at all. But he wasn't a fan of the chicken. He thought it was way too salty."
One blogger Scott Joseph Orlando liked the food but couldn't get past the bustline environment, saying, "The only thing that could have made the meal more pleasant would have been to enjoy it on the less overwrought patio. The cavernous interior with its echoey noise and cafeteria feel, is probably best left to the nightclub crowd."
Caribbean Hut
Caribbean Hut has been providing North Carolina residents with authentic Jamaican food for 15 years, according to their website. Based on customer reviews, though, the experience can be a little hit-or-miss. To one Yelp customer, the flavors didn't deliver: "The food here is … okay. I'm from Florida and I've had pretty great Jamaican food and this just didn't impress me. The chicken was tender but it wasn't as flavorful as it looked. The rice was actually good but the cabbage wasn't. I had the chance to taste some of my friend's Jerk Shrimp and I wish I would've went with that because it was delicious."
It's not all bad news though. The portion size is often enough for leftovers, and the jerk chicken gets rave reviews. One Restaurantji reviewer didn't let the seasoning deter them. They said, "The service was fast and friendly, the portions were plentiful and they have a huge selection of store made drinks. I had curried chicken as well as the oxtails. The only downside was the seasoning seemed a little light. I will definitely eat here in the future."
Donna's
Donna's is a 14-location chain of Jamaican restaurants throughout Florida (via the Donna's website). Their menu is made up of all the Jamaican classics like jerk chicken, curry goat, curry chicken, brown stew chicken, and ackee and saltfish. The food sounds like a delicious array of Jamaican dishes, but the experience seems to be a bit hit or miss. One Yelp reviewer was not thrilled with the quality of her meal and said, "I am very disappointed, I bought a stew chicken and the chicken is dry and tough. I paid $14 for that! It has been reheated so many times that you can't even chew it! I'm really upset. I had to throw it to the garbage."
That said, most customer reactions skew positively, or at least neutral. A Check Please Fl reviewer said, "Everything was good and what you'd expect from a Jamaican cafeteria style restaurant. The ambiance was unassuming. The service price and quality of the food was good. The portions were huge. Cafeteria style implies that most of the food is premade fyi. Standard Jamaican fare."
If there's a long line, one Yelp customer even suggests waiting it out because it's worth it. The good thing about the multiple locations is that if you have bad luck at one, you can always try another.
Tina's
Tina's as it turns out, is actually an offshoot of NYC favorite Sophie's, according to Midtown Lunch. It seems there were some differences of opinion at the management level about how to run the business, so the Tina's team branched off to try to do Cuban food their own way. Their menu is packed with Cuban fare like empanadas, arroz con pollo, ropa vieja, pork chops, and a Cubano sandwich and described by Mr. Hipster as "rib-busting, spicy and piled high good."
Based on Mr. Hipster's description of the location, it's a rather no-frills spot meant to serve up food quickly, so you'd be better off grabbing some food to go or figuring out a delivery option. The food is also a bit no-frills, with a number of Yelp reviewers commenting that the flavors are a bit mild. One said: "I got the salmon, rice and beans with tostones. It was ok. The salmon needed something … I poured my green sauce over it to give it some sort of flavor. For the price, it should have been a lot better. Not disappointed but not too pleased." That said, consumers seem to agree that Tina's is quick, consistent, and reasonably priced — and although you may to add some salt or green sauce to your dish, it's also tasty.
Dutch Pot
Dutch Pot is a low-key Jamaican restaurant that gets its name from the cookware that is a staple of Jamaican cuisine. The restaurant has been serving Florida since its inception in 1998, according to their website, with a catering arm for special events. They have a menu full of Jamaican dishes such as oxtails, escovitch fish, and brown stew chicken, as well as various porridges and soups.
Dutch Pot has 9 locations that are still run by the original owners, and with the growth and popularity they must be doing something right to keep customers coming back. According to consumer reviews there is always a line, so be prepared to wait because you won't regret it. One Yelp reviewer said: "First time visiting the Dutch Pot and was pleasantly surprised … high quality ingredients, relatively fast service, and scaled locations throughout the city. The oxtail and rice and peas were excellent. Tasted basically homemade, and prices were reasonable ~$15 for a medium sized portion (which was huge)."
Jamaican Flavors
Starting a business in New York City isn't for the faint of heart. And what if it's a thriving business that grows into multiple locations? Well that's even more impressive. Jamaican Flavors has 6 locations throughout NYC, but only two of their locations offer a full menu. The other four locations sell just patties, which is a pretty confident move. Jamaican patties, which are actually related to the Cornish Pasty, can be filled with any number of ingredients, according to Island Delight.
The patties at Jamaican Flavor — which include fillings like beef, chicken, jerk chicken, vegetables, and curry chicken — are delicious, according to consumer reviews. One Yelp Reviewer ranks their patties highly, saying: "The best patties that I have ever had in my life! They are always hot and fresh. The dough is always just flaky enough. It's amazing. My favorite is the jerk chicken patty. It is so flavorful. It is definitely one of the best things I've ever eaten." And one local customer is able to vouch on Google that the patties are consistently top notch: "I live in the neighborhood and always come in for their beef patties with coco bread. Always so crunchy, soft & yummy."
Flames
Flames is a seven-location chain in Massachusets and Rhode Island. But interestingly, each of the locations has a slightly different concept. Each is based around Jamaican cuisine, but Flame I is Jamaican breakfast, lunch, and dinner staples; Flame II is more of a lounge; and Flame III is more diner-like with a focus on breakfast food, according to the chain's website.
Overall, the chain has served a bunch of satisfied customers, with one Yelp reviewer saying, "I've been here a handful of times but every time I come it's literally better than the last. I just came in recently a few weeks ago and I ended up getting ox tails I got a medium plate but there was a girl there I never got her name but I ended up getting a lot more than I expected for the price. The food is delicious. The ox tail falls right off the bone. The rice and peas with gravy added melts in your mouth." Another reviewer on Trip Advisor was transported back to the island after eating at Flames, saying, "Having travelled in the Caribbean including Jamaica I can honestly say this place is the real deal."
Back a Yard
Back a Yard is a Bay-area Caribbean restaurant chain that has left a trail of happy customers in its path, due to both their stellar service and delicious Caribbean dishes. Their website explains that their downtown San Jose location has closed, but fear not — it will be replaced with a new one in the coming months, and there are still four other locations at which you can grab Back a Yard's tasty Caribbean cuisine.
They nabbed the top spot because they do many dishes exceptionally well, and they also do it with a smile and while serving large portions. One Yelp reviewer said, "I got the curry goat and the beef oxtail special which came with rice and beans and plantains. The oxtail was my favorite. It was so tender and flavorful." The Infatuation raved about Back a Yard as well, calling the jerk chicken meal "near perfect." Whether you're into succulent oxtail, rich curry goat, or even a jerk tofu, a visit to any of Back a Yard's locations will leave you a happy customer.