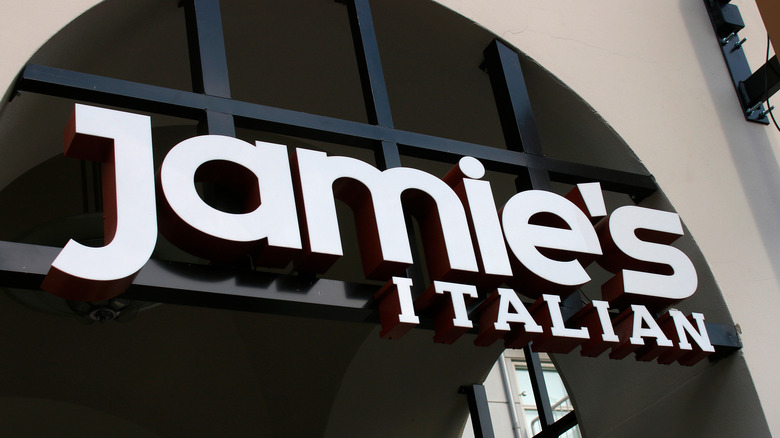 Owning a restaurant might seem like a fun, dare we say glamorous job. But make no mistake — it's no easy business. According to a study by Ohio State University, more than 60% of independently operated restaurants will fail within the first three years. And if you think celebrity chefs are immune to such outcomes, think again. The truth is that despite their famous names and impressive resumes, many celebrity chefs have seen their own restaurants come and go.
The reasons why these restaurants failed vary significantly. In some cases, it was a matter of the chef banking on their celebrity status to keep diners coming through the doors while important details slip through the cracks. Maybe most surprisingly, however, in many cases it was flat-out inconsistent food quality that ultimately doomed these eateries. Regardless of the cause, there's a growing list of shuttered establishments formerly helmed by famous chefs. From a few Food Network stars' failed New York City restaurants to a handful of "Top Chef" alums' culinary flameouts, here are some of the most notable celebrity chef restaurants that have failed.
Gordon Ramsay's Fat Cow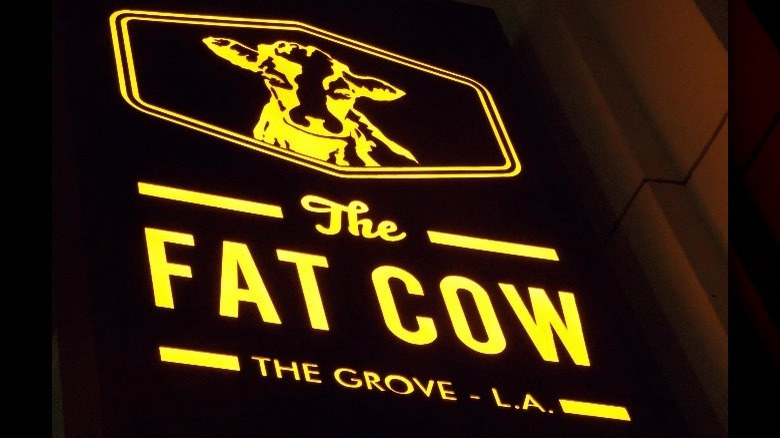 Gordon Ramsay isn't just one of the most famous chefs in the world, he's also one of the most successful restauranteurs. This British television personality is the owner of a long list of eateries both in the U.K. and the U.S. One notable omission in that catalog is the Fat Cow, which Ramsay opened in 2012 in Los Angeles' Grove shopping center (CBS News).
The restaurant was a casual, family-friendly destination serving classic comfort dishes like lobster mac and cheese and shepherd's pie. Ultimately, it wasn't the menu that doomed the SoCal eatery, but an onslaught of legal troubles. Less than a year after opening the Fat Cow, TMZ reported Ramsay was sued by the restaurant's contractor for an unpaid bill of more than $45,000. Just a few months later, a group of Fat Cow employees filed a class-action lawsuit against the chef, alleging the restaurant failed to pay workers minimum wage and overtime, and did not provide meal breaks (via Radar Online).
The final nail in the coffin came when another restaurant claimed to own the rights to the Fat Cow name. According to Eater, this second Fat Cow threatened legal action if Ramsay didn't change the name or close up shop. Ramsay finally pulled the plug in March 2014. Unfortunately for him, that was not the end of his Fat Cow-related legal troubles. In the months after closing, he was sued by both the restaurant's landlord and his former business partner (via IBT).
Cat Cora's Fatbird
Cat Cora went down in the record books as the first female Iron Chef (via Fortune). Her New York City restaurant Fatbird, however, proved to be far less historic. According to Eater New York, the location opened in June of 2017 and was out of business before the end of the calendar year.
During its unremarkable seven-month run, Fatbird was hit with several harsh reviews, including a two-star rating from Time Out and a damning critique from Eater. The most glaring issue, according to the publications, was the lackluster food and drinks. In a nod to Cora's Mississippi roots, the restaurant offered a Southern-influenced menu. Yet even with a bona fide Southerner helming the kitchen, the items hitting the patrons' tables were, by and large, lackluster interpretations of classic regional dishes.
Then, in October, Cora sued her business partner Charissa Davidovici for $400,000. According to the New York Post, Cora had been promised the money after agreeing to allow the restaurant to use her name, image, and likeness. The suit cites the restaurant's failure, claiming, "Cora has received the brunt of the blame for the restaurant's lackluster performance which has caused irreparable injury to Cora's brand." Just two months later, Fatbird was a thing of the past.
Anne Burrell's Phil and Anne's Good Time Lounge
In 2017, television chef and Food Network personality Anne Burrell opened her first restaurant in Brooklyn's trendy Cobble Hill neighborhood (via Eater New York). The establishment, which Burrell co-owned with bar owner Phil Casaceli, lasted less than a year. It was this partnership that seemed to be at the root of the Good Time Lounge's demise. Although the pair started off as friends, conflict quickly arose once they started working together. According to Eater, the partners disagreed on just about everything, from the restaurant's hours to the type of music played inside. Casaceli claimed that Burrell believed her celebrity status would be enough to keep attracting customers and keep the business humming along. "She would go outside and say, 'This will bring people in,'" Casaceli told Eater. "Not our demographic. They don't care about it."
Those patrons that did make it inside were greeted with a menu suffering from a full-blown identity crisis. Although described as "Mediterranean cuisine with Italian influences," the list of offerings included everything from tater tots and pigs in the blanket to Korean-style short ribs and Cheetos-crusted fried pickles. All these problems proved too much to keep the restaurant open as it shuttered in April 2018. The New York Post reported at the time that some sources claimed the restaurant had still been busy, another point Casaceli contends. "I think she's just trying to save face," he said. "If it's consistently busy, why close it?"
Masaharu Morimoto's Tribeca Canvas
There are plenty of celebrity chefs who are more famous for appearing on television than they are for their prowess in the kitchen. Masaharu Morimoto is not one of those chefs. Sure, he's best known for as one of the original Iron Chefs, but he has an even more distinguished career off-camera. Morimoto's restaurants have won James Beard Awards and appeared on San Pellegrino's "Top 100 Restaurants in the World" list, his debut cookbook was honored by the International Association of Culinary Professionals, and he has successfully released lines of sake, miso soup, and instant ramen. Most notably, the Japan native was part of the team responsible for developing the original Nobu restaurant, which has since turned into a global brand.
So, when news came down in 2012 that Morimoto was opening a new restaurant, Tribeca Canvas, people had reason to be excited (via Grub Street). Oh, how wrong they would be. It's almost hard to believe just how derided this restaurant was. Eater called it the worst reviewed New York restaurant since Guy's American Kitchen & Bar (more on that gem later). Indeed, Tribeca Canvas received scathing critiques from the likes of the New York Post, Time Out New York, and the Village Voice (via Business Insider). Apparently, the food critics were none too impressed with the corn dogs and spring roll-wrapped brownie sundaes. In the end, Tribeca Canvas lasted less than a year before the lights were turned off.
Tyler Florence's Rotisserie & Wine
Already established in the San Francisco food world with one successful restaurant, Food Network mainstay Tyler Florence tried doubling his luck with a second local eatery (via Sonoma Magazine). Things did not go as planned. Rotisserie & Wine's 18-month run was eventful for all the wrong reasons. Just months after opening its doors, the restaurant's head chef Jeremy Fox headed out those same doors. Eater San Francisco reported that there were rumors Florence and Fox suffered from creative and collaborative differences. Later that year, the restaurant lost its general manager Corey Lane (via Grub Street). Just two months after his departure, Rotisserie & Wine failed its routine health inspection. According to the Napa Valley Register, the restaurant's violations included holding foods in dangerous temperature ranges and making ice cream without having the proper permit.
In December of 2011, Rotisserie & Wine announced it would be closed for the winter in order to undergo renovations. But by the time winter had thawed away, Florence changed his tune and chose to close the restaurant for good, SF Gate reported. "We just want to consolidate and focus our efforts on our other two restaurants, Wayfare Tavern and El Paseo," Florence told the outlet. While El Paseo is no more (via the San Francisco Chronicle), Wayfare Tavern is still going strong, as is Florence's newest restaurant, Miller & Lux. Maybe Rotisserie & Wine's demise was for the best.
Carla Hall's Southern Kitchen
If ever there was a case that a chef's celebrity status alone cannot keep a restaurant afloat, it's Carla Hall. By the time she opened her eponymously named Southern Kitchen in 2016, the beloved Hall was as recognizable as any television chef thanks to her appearance on "Top Chef" and her gig co-hosting the Emmy-winning daytime show, "The Chew" (via Eater). That personal popularity, however, didn't make for a popular restaurant.
The troubles for Southern Kitchen began long before the restaurant opened its doors. In order to finance the operation, Hall and her partners crowdsourced $250,000 in funding on Kickstarter. This didn't go over well with many fans, who questioned why someone of Hall's status would need to solicit funds from the public. Even those that did contribute money began to change their tune when it took another two years for the restaurant to open. "So, we had all these people basically asking us, 'What's up? Are you stealing our money?'" Hall said while speaking at Nation's Restaurant News' MUFSO conference. "The people don't know that it takes time [to open a restaurant]."
It was all downhill from there. Hall admitted that Southern Kitchen suffered from location, staffing, management, and branding problems. "We made delicious hot chicken," she said. "But we got other things, really important things wrong, and in the end the quality of the product didn't matter." The lights at Southern Kitchen went dark in August 2017, 15 months after the restaurant debuted.
Guy Fieri's Guy's American Kitchen & Bar
It's only fitting that a larger-than-life personality like Guy Fieri would choose a larger-than-life setting like Times Square to set up shop. And that's precisely what the spiky-haired Food Network host did when he opened Guy's American Kitchen & Bar in the heart of Manhattan in 2012 (via CNN).
In hindsight, Fieri would have been better off picking a more off-the-beaten-path location. The spotlight did not treat him or his restaurant kindly. There are no words to accurately describe just how much critics hated this restaurant. The Washington Post called it the "most mocked restaurant in America." The New York Post went a step further, proclaiming Guy's to be the "most ridiculed eatery in New York City history." The New York Observer said the restaurant should be "indicted for crimes against humanity." These all pall in comparison to Guy's infamous New York Times review that food critic Pete Wells penned in a series of questions. These included, "How did nachos, one of the hardest dishes in the American canon to mess up, turn out so deeply unlovable?" And, "Any idea why [the watermelon margarita] tastes like some combination of radiator fluid and formaldehyde?"
To be fair, Guy's American Kitchen & Bar lasted about five years before shutting down. And the celebrity chef hasn't let one failure slow him down. The "Diners, Drive-Ins, and Dives" host owns a plethora of restaurants around the country, including 10 Kitchen & Bar locations in the U.S.
Giada De Laurentiis' GDL Italian
Even with a schedule that includes hosting television shows, penning cookbooks, and developing a lifestyle brand, Giada De Laurentiis has still found time to open restaurants. Unfortunately, she has one fewer eatery to her name than she used to.
With two Las Vegas restaurants already under her belt, De Laurentiis brought her talents to the East Coast in 2018 when she opened GDL Italian at Baltimore's Horseshoe Casino (via Delaware Online). By all accounts, things seemed to be going well until March 2020 when, like the rest of the industry, De Laurentiis was forced to shut down all three of her restaurants due to the COVID-19 pandemic. "As of tonight, GDL Foods will be closing our restaurant doors (Giada, Pronto by Giada & GDL Italian) for the foreseeable future to protect the health and well being of our guests and staff," she wrote in a Facebook post.
According to subsequent Facebook posts, Pronto and Giada reopened in June and October, respectively. GDL Italian, however, was a different story. The exact circumstances and timeline of its closing are murky at best. In September 2020, the restaurant announced on Facebook that it would indeed be reopening on a limited, Friday through Sunday schedule. That appears to have never happened. Just two weeks after the announcement, SouthBMore.com reported that GDL Italian was closed for good.
Not one to be kept down, De Laurentiis will have two restaurants in the new Caesars Republic Scottsdale, which is expected to open in 2024.
Jonathan Waxman's Waxman's and JBird
Waxman's was supposed to be an illustrious West Coast return for Jonathan Waxman. The celebrated chef was going back to the Bay Area, where he grew up before establishing himself as one of New York City's most prominent culinary talents (via Eater San Francisco). Waxman opened his eponymous restaurant in 2016 in the famed Ghirardelli Square with hopes of helping to revitalize the popular San Francisco destination that had fallen out of favor with visitors and locals alike.
In the end, Waxman's delivered neither for chef nor city. Roughly 15 months after opening, Waxman's underwent renovations. To help recoup lost revenue while the restaurant was closed for construction, the celebrity chef opened a fast-casual chicken joint next door called JBird. Located in the café portion of Waxman's, JBird focused mainly on the famed chef's signature roast chicken dish. It wasn't enough. Both Waxman's and JBird quietly faded to black in September of 2017.
The trouble didn't end there for the television chef, who has appeared on shows like "Top Chef," "Top Chef Masters," and "MasterChef." According to the San Francisco Chronicle, Waxman and his San Francisco restaurants owed $116,000 in unpaid bills at the time of their closings. This included more than $70,000 in rent and roughly $45,000 for cleaning services.
Jamie Oliver's restaurant empire
Jamie Oliver admitted in 2015 that roughly 40% of his business projects had failed, according to the BBC, but that he'd learned important lessons from those setbacks. Apparently, he did not learn enough because things would soon get much worse.
In Early 2017, Oliver announced he would be closing six of his Jamie's Italian chain restaurants due to the economic fallout from Brexit (via the Guardian). That didn't stop him, however, from opening the second location of his Barbecoa steak eatery just a few months later. It should have.
The financial troubles burdening Oliver and his restaurants only got worse over the next year. According to the BBC, the British chef closed 12 more Jamie's Italian outposts in January of 2018. Then came the real gut-punch. The very next month, both of Oliver's flagship Barbecoa closed when they were put into administration (a process similar to filing bankruptcy). Oliver was able to purchase the original location back right away. According to Eater London, he had hopes of doing the same with Picadilly, which had only been opened about a year, but that never came to fruition. In the end, it didn't matter because Oliver would wind up losing all of his restaurants. In May 2019, Oliver's entire restaurant group, including Jamie's Italian chain, Barbecoa, and Fifteen, went into administration (via the BBC). In total, 22 of the 25 eateries to his name closed down.
Graham Elliot's Grahamwich
When Graham Elliot opened his high-end Chicago sandwich shop Grahamwich in late 2010, people were understandably excited (via the Huffington Post). After all, Graham had quickly established himself as one of the best chefs in the city thanks to his work at his eponymous Chicago restaurant, which had earned two Michelin stars. He had also recently appeared on both "Top Chef Masters" and "MasterChef."
"Everyone speaks 'sandwich' — one part tasty filling; two parts bready goodness," Elliot said at the time of Grahamwich's opening. "While it might not change your life, it will certainly brighten your day." That was certainly not the case for a Time Out Chicago food critic, however, who ended her eviscerating, one-star review of Grahamwich by proclaiming, "Elliot's fame gave him the ability to phone in his food with very little consequence. It's pretty insulting to his fans that he went ahead and did just that." Time Out was not alone, as the Chicago Reader was equally unimpressed. Both publications thought the restaurant's sandwiches were underwhelming and overpriced.
According to Chicagoist, there were plans for Grahamwich to expand into food trucks and multiple locations. Not only did that not happen, the restaurant ceased all operations in the summer of 2013, less than three years into existence.
Scott Conant's Faustina
Scott Conant has an impressive culinary resume, the highlights of which include winning a James Beard Award, being named a Best New Chef by Food & Wine magazine, publishing several noteworthy cookbooks, and, of course, serving as a long-time judge on Food Network's uber-popular competition show "Chopped." Conant's track record as a restauranteur, however, has not been nearly as pretty. In fact, it's downright ugly.
To be fair, Conant does have some wins when it comes to opening restaurants. His first eatery, L'Impero, received critical acclaim and won the aforementioned James Beard Award. Conant was also responsible for turning Scarpetta into a national brand. But there's more bad than good. In the nine-month period from August 2018 to May 2019, Conant closed three of his restaurants: Fusco in New York City, The Ponte in Los Angeles, and Masso Osteria in Las Vegas (via Eater). None lasted more than two years.
Those runs seem long compared to the short life of Conant's Faustina restaurant. The New York City eatery, located in the Cooper Square Hotel, was open less than a year when it shuttered in December 2010, according to the New York Times. Conant departed when the hotel's new owners wanted a restaurant with a different concept. Faustina's brief lifespan provided just enough time to receive a handful of harsh reviews, according to Eater New York. This included a one-star rating from the Times, which lauded the food but hated the restaurant's "institutional setting."
Jose Garces' Amada New York City
Few chefs have experienced a professional rollercoaster the like of Jose Garces. The celebrated chef opened his first restaurant, Amada, in 2005. In the proceeding years he won a James Beard Award, published a successful cookbook, and earned the prestigious title of Iron Chef (via Food Network). "Since opening Amada, my life and career have taken off in directions I could never have anticipated, and it has been an amazing ride," he said.
In 2016, Garces expanded the Amada brand with an outpost in New York City (via Eater). It turns out, however, that opening the restaurant was less about bringing his tapas-focused menu to a new city and more about recouping losses. Garces admitted to Philadelphia Magazine that opening Amada New York was in large part, an attempt to make up lost revenue after Atlantic City's Revel hotel, which housed four of his restaurants, closed down. "We knew we needed ways to make up that shortfall," he said. "So when we got a call about bringing a 'Jose Garces concept' to New York, we went for it." Further financial and legal troubles followed, with one investor going as far as labeling the Garces' restaurant group a Ponzi scheme in a lawsuit against the celebrity chef.
Ultimately, Amada NYC shuttered in March of 2018, just shy of two years after opening its doors. Only two months later, according to Eater, Garces filed for bankruptcy and sold his restaurant group.
Fabio Viviani's Firenze Osteria
Fabio Viviani was voted Fan Favorite on season five "Top Chef" (via Bravo). Unfortunately, that same level of adoration did not transfer over to his Los Angeles restaurant, Firenze Osteria.
Initial signs pointed to the new venture being a success. Firenze Osteria opened its doors in the fall of 2009, according to Eater LA, less than a year after Viviani's season of "Top Chef" premiered (via IMDb). Likely buoyed by the exposure, the restaurant was a hit, LA Weekly reported. However, while the publicity brought customers, it did not bring praise. Firenze Osteria infamously received a zero-star review from the Los Angeles Times, which called the eatery a "tourist trap," serving "generic dishes … Italian Food for Dummies."
In an interview with Pop Sugar, Viviani claimed the review only helped his business. "The bad review at the LA Times was one of the greatest things to happen to me," he told the outlet. "I received over 2,500 emails from the community, saying how much they love the restaurant. Actually, we had a busier month, so I hope she comes back and she writes another bad review." In his defense, Firenze Osteria did stay open for several years. But the restaurant ultimately shuttered in the summer of 2014. Don't feel too bad for Viviani. According to his website, he has a whopping 30 restaurants to his name. But Firenze Osteria will always be the one that got away.