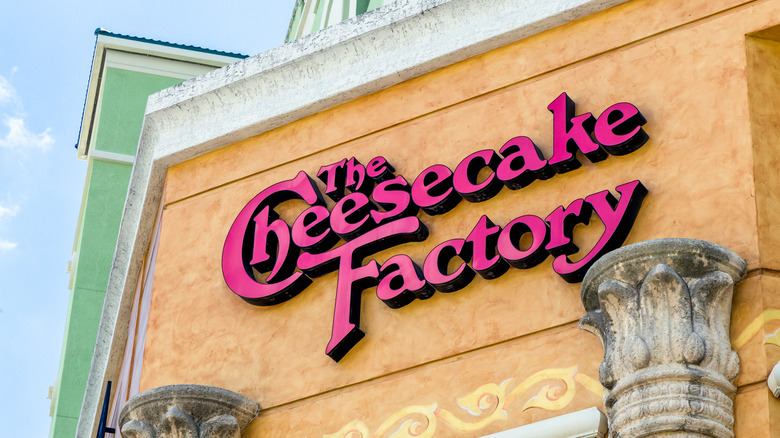 Unlike your average chain restaurant, The Cheesecake Factory does everything in excess. Their menu features more than 200 items spanning across cuisines that are often hiding jaw-dropping calorie counts (via Business Insider). The slightly upscale restaurant chain offers dozens of flavors of cheesecake and rarely doles out a dish that's not served in a massive portion. While it might not be the healthiest option in the sea of chain restaurants, it's definitely a place that thrives on making things extra. So, even if you stop by your local Cheesecake Factory for a weeknight dinner, the over-the-top menu, the décor, and the portion sizes will make it feel like a special celebration.
Sprinkled into The Cheesecake Factory's never-ending menu are a few universally-beloved items. Fried Macaroni & Cheese, Avocado Eggrolls, and Thai Lettuce Wraps are popular picks for diners (and for at-home chefs attempting to recreate some of the chain's menu items, such as its famous cheesecake). However, there are a few items hiding in the 10+ page-menu that are worth skipping entirely, according to folks on the internet.
We decided to round up a few Cheesecake Factory menu items that have received some of the worst reviews from customers. We are all very particular when it comes to the food we enjoy, but it's worth knowing about some items that aren't smash hits before spending money on a massive plate of food you may not end up eating.
Chocolate Hazelnut Crunch Cheesecake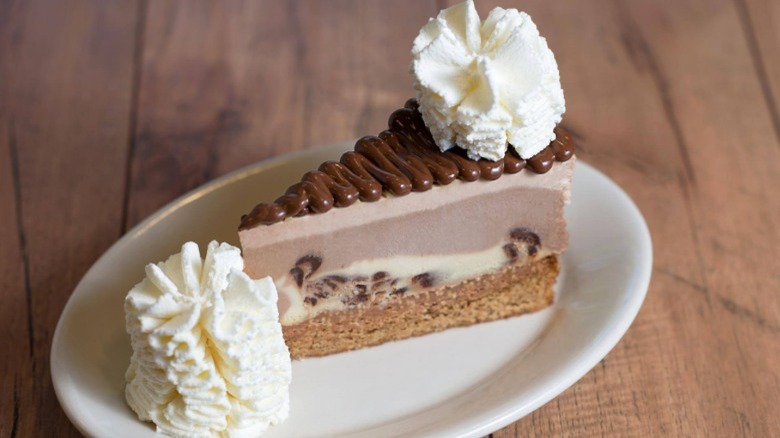 One employee of The Cheesecake Factory decided to broadcast their expansive flavor knowledge by ranking every cheesecake on the menu. It's no easy feat, but there were a few standout moments. The YouTuber Benny! is not a fan of the hazelnut-flavored cheesecake, even though it might sound like a delicious Nutella-flavored dessert. "There is a reason why this cheesecake got taken off of our menu," the YouTuber said of the particular item.
According to the online menu, the Chocolate Hazelnut Crunch is no longer available. So, it sounds like, out of the never-ending options, the hazelnut pie could not compete with other popular flavors on the menu. It does seem like a flavor the restaurant chain could return to by revamping the recipe, as Nutella and dessert are usually a match made in heaven. But, for now, it's probably best the flavor take an extended break from the menu.
Factory Burger
The Cheesecake Factory attempts to set apart its burger menu by referring to it as a selection of "Glamburgers." However, the original Factory Burger is not a favorite among some customers. It's your typical burger with lettuce, tomato, onions, and pickles, so there are definitely other options with more flavorful toppings. It's also lacking cheese, making it a straight-up classic hamburger.
One Zomato user particularly had a dining experience where the already average-tasting burger was missing a little tender loving care. "The bread on my Factory Burger was so overly toasted it was nearly inedible and my burger patty was quite overcooked," the user wrote. "It could be in part that this menu item is just not very good even at its best." It might be better to stick to a burger with bacon or other unique toppings to add a little something extra to this plain Jane sandwich.
Southern Fried Chicken Sliders
Throughout the years, The Cheesecake Factory has featured a few dishes with crispy chicken, such as Korean Fried Chicken and Crispy Chicken Costoletta. The Southern Fried Chicken Sliders is a popular appetizer for groups to share, but some people say the fried chicken falls flat. Not every restaurant can be successful when it comes to the restaurant chicken sandwich wars.
One Zomato user described the overall dining experience at The Cheesecake Factory as not bad, but not good. Particularly, the fried chicken was a "bad" highlight of the meal. "We were satisfied but they can be better," the person wrote. With so many menu items, the restaurant can't make every single cuisine perfectly. So, maybe it's just not the spot to expect perfectly fried chicken. Or, maybe lower your expectations a bit if you decide to order this appetizer for the table if you're so inclined to test it out for yourself.
Fish & Chips
Fish & chips is a typical bar food, especially if you're dining somewhere close to a body of water. It's a simple plate of fried fish, French fries, and tartar sauce. However, the internet isn't all that in love with The Cheesecake Factory's take on the British classic. One Reddit user, u/PissedPieGuy, called the dish a "joke" with "zero flavor." "Sure it was battered and fried. But the batter had no discernible flavor. Not even salt," the user wrote. If there's one thing you expect when eating this fried platter, it's that your mouth will water from the amount of salt, so that's a definite no-no.
One Trip Advisor review warns diners to not even bother ordering the dish for themselves. "The fish in the fish n' chips had 90% batter and 10% fish – my husband sent it back," the user wrote. As a note, The Cheesecake Factory has plenty of seafood-centric menu items, such as herb-crusted salmon and Jamaican black pepper shrimp, with much better reviews than the fish & chips.
Factory Burrito Grande
The Factory Burrito Grande at The Cheesecake Factory is an intimidating dish to look at. It's massive, filled with a ton of nondescript fillings and drowned in a bright red sauce. But, as pointed out by The Burrito Blog, the burrito is technically more of an enchilada. Some reviews from Trip Advisor say that, while the burrito is massive, sometimes the fillings aren't distributed equally, which brings down the quality of the dish. One user wrote that the $16 dollar burrito had "big clumps of white rice gummed together," so it wasn't worth it.
Based on the reviews and the high price, it sounds like the Factory Burrito Grande isn't the best way to spend $20 at The Cheesecake Factory. For the price of one burrito plus tip, you could probably feed an entire family at a fast food taco spot. It sounds like it might even be more satisfying, flavor-wise, as well.
Toasted Marshmallow S'mores Galore cheesecake
The consensus that The Cheesecake Factory's Toasted Marshmallow S'mores Galore cheesecake is a miss was determined by a survey of Mashed readers. A U.S.-based survey found that 23% of 645 participants did not love the dessert. It's loaded with graham crackers, toasted marshmallow fluff, and Hershey's chocolate, but it might just be a bit too much for some people to cap off an already filling meal.
S'mores is a dessert in and of itself, so it might be overwhelming to combine it with cheesecake. Plus, the texture is pretty one-note, aside from the graham cracker crumbles. The marshmallow fluff, whipped cream, and cheesecake filling all have a similar feel in your mouth, so it's not the most balanced dish, especially as it's rich with sugar. However, if you're a die-hard fan of the campfire treat, you might just have to ignore the mixed reviews and try it for yourself.
Buffalo Blasts
If you've never dined in at The Cheesecake Factory, it can be daunting to know how to tackle the massive menu. One novice took to Quora to ask for some advice regarding the restaurant. Fortunately, a Cheesecake Factory die-hard fan provided some insight on menu items to avoid entirely, even though they might be tempting. While the user claimed there are "very few things" they dislike about the restaurant, they did point out a few items in particular that aren't the best.
According to the self-proclaimed expert, the Buffalo Blasts are worth avoiding. "They're fried, greasy and so filling that you probably won't feel like eating the rest of your meal," the reviewer wrote. That's good advice — The Cheesecake Factory is one of those restaurants where it's too easy to fill up on appetizers and free bread. That, combined with their massive portions, is a recipe for disappointment. As the dish sounds like a strange mash-up of buffalo chicken dip, wings, and fried wontons, there are definitely more flavor-packed appetizers on the menu.
Sweet Corn Tamale Cakes
According to a review from Uproxx, the Sweet Corn Tamale Cakes are a must-skip at The Cheesecake Factory, despite their uniqueness and visual appeal. The review points out that they are not so bad that you'll want to spit out your first bite, but they are overly sweet to be served as an appetizer. The little corn cakes lack a true savory aspect, like meat or beans, that would balance out the flavor. Additionally, the review notes that the sweetness combined with avocado and tomato is just unsettling, as it feels like a mashup gone wrong.
The Sweet Corn Tamale Cakes definitely has curb appeal, but don't be fooled by its colorful appearance. This is another Cheesecake Factory appetizer that's large enough to be an entrée, so it might be a mistake to pick this one lackluster item to chow down on instead of other tastier options. It's also not a crowd-pleaser, so it's not the best pick for something to share at the table.
Flying Gorilla
The most buzz-worthy cocktail on The Cheesecake Factory's menu is the Flying Gorilla. However, it might classify more as a boozy dessert than a cocktail you'd want to kick off a meal with. According to a current iteration of the menu, the drink doesn't appear to be available for purchase, but that might be for a reason. The drink was essentially an adult milkshake that no one really needs in their life. It featured flavors of chocolate and banana, aided by a few liqueurs. It was controversial for its high calorie count nearing 1,000 in a single drink.
According to a review from Ask Men, the drink didn't have "even enough booze inside to help you reach a nice buzz." It's likely the Flying Gorilla would give you a sugar high more than anything, thanks to its 60 grams of added sugar. Plus, it's probably not the best option to sip on to complement an oversized meal from The Cheesecake Factory.
Cheeseburger Spring Rolls
The Cheesecake Factory is known for a lot of things, including its unique variety of spring rolls and egg rolls. Some are a smash hit — like the avocado or Tex Mex eggrolls that pack a lot of flavor complemented by punchy dipping sauces. However, the cheeseburger-filled option is a bit of a miss. In fact, a former employee told Business Insider that the sliders are worth skipping altogether.
Overall, the fried pockets filled with beef, cheese, and onions are "not as flavorful as the other meals on the menu," the worker explained. Yelp reviews also describe the dish as "just okay," considering it's very easy for the wrappers to become greasy and lose their crispiness, which is one of the major appeals of a spring roll. Sometimes, innovation breeds great ideas, like the aforementioned egg rolls. But this one take just feels unnatural to taste classic American cheeseburger flavors packed inside of an egg roll.
Reese's Peanut Butter Chocolate Cake Cheesecake
The Cheesecake Factory has plenty of flavor combinations on its dessert menu, and the options for peanut butter lovers are particularly represented. But YouTuber Benny!, who worked at the restaurant chain, says the Reese's Peanut Butter Chocolate Cake Cheesecake is the weakest of the bunch. It's decadent and rich, which is part of its downfall, as it's really hard to stomach more than a few bites.
Insider reviewed the cheesecake and wrote that the peanut butter and fudge makes the slice too heavy and difficult for one person in which to indulge. Adam's Peanut Butter Cup Fudge Ripple seems to be the more popular pick for peanut butter lovers, so this is a word to the wise. But, if you find yourself eating every shape of Reese's candy you can throughout the year, it still might be worth trying at the end of your Cheesecake Factory meal.
Most of The Cheesecake Factory's takes on Mexican food
The Cheesecake Factory really hasn't met a regional cuisine it won't try to recreate. American diner classics, Italian staples, and Asian-inspired plates are all prominent within the pages of the book-like menu. However, according to Uproxx, the chain isn't the best option when it comes to Mexican food. In fact, most of the options within the review suggest that most diners pass on the Mexican-inspired options entirely, as they are all not so great. "The Cheesecake Factory doesn't know how to make Mexican Food," the Uproxx writer proclaims.
The reviewer's take on "mole" sauce is weak, noting that the flavors just don't match up. If you're looking for amazing burritos and beans, hitting up a spot specializing in just Mexican food might be the better option here. It doesn't mean that any Mexican-inspired dish at the popular restaurant chain is inedible, but it just might not live up to the expectations of a hungry Cheesecake Factory patron.
Shrimp and Chicken Gumbo
The Cheesecake Factory menu really does cover an impressive number of regional cuisines. But that doesn't mean all are executed perfectly, as previously mentioned with its Mexican options. In fact, some Trip Advisor reviews warn fellow diners to beware of the chain's take on a New Orleans classic gumbo-inspired stew.
According to a reviewer, the Shrimp and Chicken Gumbo is very "tomato based" and "does not taste at all like real gumbo." The dish comes with shrimp, chicken, andouille sausage, tomatoes, peppers, onions, and garlic, with a cream-style Cajun broth, so it's not lacking in flavor. But it's a bit of a weak take on a beloved and historic dish, so experts on Cajun cuisine will likely be disappointed with this take. The dish might be more successful if The Cheesecake Factory renamed the item not as a type of gumbo as a way to lower diners' expectations just a bit.
Chicken Fettuccini Alfredo
Alfredo sauce is definitely something that is a hit or a miss for a lot of people. It seems simple to make a cheese-based sauce in which to drown pasta, but the dish can easily fall victim to being one-note and lacking distinct flavors. Each element has to be executed well to make the dish stand out, and, according to one Yelp reviewer, The Cheesecake Factory's take on fettuccini Alfredo is less than satisfying.
The reviewer wrote that their chicken Alfredo order was a total "thumbs down." They claimed the pasta stuck together and seemed as though it was reheated after cooking. While the writer didn't totally hate the flavor, they made it clear that this pasta dish is not something they plan to order from the chain again, as it's not worth its price tag. Luckily, there are 200+ other items to choose from to avoid such crushing disappointment.