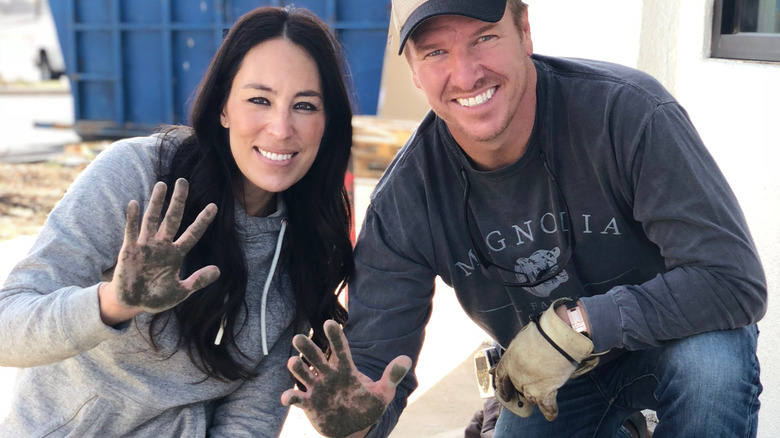 Thanks to Chip and Joanna Gaines and their hit HGTV show Fixer Upper, we've embraced open concept living with open arms and spent way too much time dreaming about where to put French doors in our homes. Seriously, how did we decorate before these two came on the scene? When the beloved series ended in April 2018, we were thankfully able to drown our sorrows in the Fixer Upper spinoff, Behind the Design. In November 2018, Joanna also gifted the world with her incredibly dreamy design book Homebody: A Guide to Creating Spaces You Never Want to Leave. In it, we also got a taste of Chip and Jo-Jo's beautiful farmhouse.
Joanna revealed in a press release from her publisher (via Today): "My home is my safe place, it is my exhale, it is my shelter from the storm." After seeing her home, it's not hard to understand why. Here's a sneak peek into the Gaines' beyond incredible family home.
An "intentional" exterior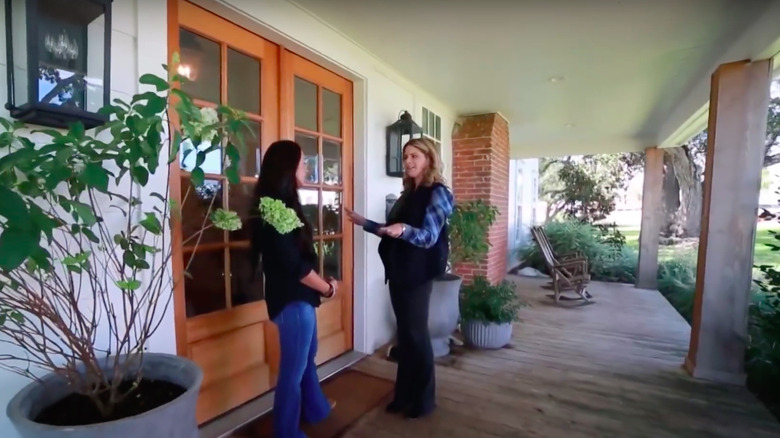 If you were a regular watcher of Fixer Upper, you saw a few snippets of Chip and Joanna Gaines' home here and there. You already know it's beautiful, but just how did Joanna design it? The shiplap queen granted Today a tour of the couple's farmhouse in 2018.
When speaking with Jenna Bush Hager, Joanna revealed her secrets behind creating a simple, inviting front porch. The design guru believes a house should be welcoming — and that begins at the front door. "I think little things like potted plants, sconces, front door mat — little things that just when you walk in just feel intentional," she explained.
If you're looking to create a similarly cozy space, Joanna's got your back. In an interview with Architectural Digest, she revealed her tips for improving curb appeal. "Freshening up the landscape, adding new shutters, and wrapping dated columns with redwood or cedar wood," she advised. "These are all things you can tackle over the weekend and without killing your budget."
You won't find a grand foyer in Chip and Joanna Gaines' farmhouse
With five children, you could assume Chip and Joanna Gaines have a giant foyer filled to the brim with kids' coats and backpacks, but that's not the case. Upon entering the family's home for a segment on Today, Henna Bush Hager remarked that the foyer isn't "a huge space." But that's no problem for JoJo. In fact, she thinks families could easily make do without one.
"Some people don't have, like, this carved-out entry space," she told Today, "and so, even if that means a table, it doesn't have to be this grand foyer. It's just the idea that 'Hey, I can set my keys down.' It's just like that nice, warm welcome." The Gaines' entryway may be small but it packs a big punch. It also includes pieces that are both aesthetic and functional: a small chair, an armoire, a narrow table, a simple mirror, a bench, and a wall rack. Not bad for a small space, right?
The "heart" of Chip and Joanna Gaines' home
Joanna Gaines once called her farmhouse kitchen "the heart of the home" when speaking to HGTV. However, the heart of the family's home has since been transplanted. In 2018, she revealed to Today that it's actually her living room that's started to steal the show. Much like the home's small entryway, Joanna explained, "I didn't have a ton of space to work with, but there's something about that I love. You've got your couch, a couple little stools, but the pieces in here are really special." Joanna also threw in a splash of color with a green — yes, green — piano.
Mounted to the wall behind the sofa is an oversized antique clock. Joanna dubbed it one of her "favorite pieces." The clock, which is missing its hands, is also symbolic to the mother of five. She explained, saying, "Any time I'm home with the kids, time kind of stands still and I feel like just always remembering what a gift time is."
Since Chip and Joanna Gaines' lives have changed since Fixer Upper's premiere, it must be nice to take a break from the fame and just enjoy life with their family in their gorgeous home.
This is Joanna Gaines' favorite room
The living room may be the heart of the Gaines family's home, but there's actually a much different room in the house that has Joanna Gaines smitten. Believe it or not, the laundry room is her absolute fave. With young kiddos, the room surely gets a lot of use. But Joanna doesn't just use the area to wash and dry clothing. "This is where I read, this is where I write. This is kind of my space," the designer told Today.
In the room sits a washer and dryer, yes, but also a round table with a tray, a few books, and a candle. This is as peaceful as laundry rooms get. Joanna's reasoning, she explained, is that if you have to complete a chore anyway, "why not do it in a room that you love?" Plus, she added, it smells fresh. There's no arguing with that logic.
A simple office
In 2014, fans of the interior designer were able to get a glimpse into Joanna Gaines' workspace on Instagram and her website, Magnolia.com. On Joanna's feed, she shared a picture of her simple wooden desk and white slipcovered chair. "Formal sitting room turned office," she captioned the photo, in part. As was evident in the episodes of Fixer Upper, Joanna is all about creating inviting spaces. It's no wonder she opted against having a stuffy sitting room and instead created an inviting and cozy — yet useful — office space.
The space is light and bright, as evidenced by pictures on her site. Above the sofa, a large quote filled the wall. It fittingly read: "By wisdom a house is built, through knowledge its rooms are filled with rare and beautiful treasures." However, in 2018, a much different "beautiful treasure" began to fill this space. Can you guess what, or rather who, it was?
Baby Crew's eclectic nursery
"Our older kids … have always shared rooms, but with the eight-year age gap, it didn't seem practical to add a baby to their space," Joanna Gaines revealed in Magnolia Journal (via Today). "While we didn't have any spare rooms at the farm, this challenge seemed like an opportunity to get creative with the square footage we had." You guessed it — the office became Crew's nursery.
Joanna kept it real when sharing a photo of her newborn son's nursery. Over 700,000 people liked Joanna's picture of her newborn's dresser with its half-opened drawer and floor littered with soap, wipes, diapers, and copious amounts of soiled bedding and clothing. Still, fans looked past the mess and complimented the plush, fringed rug, artwork, and wall color. The reinvented room is undeniably incredible.
"I love when nurseries can be pretty neutral and soft," Joanna dished to Today. "I love antiques, I love a little bit of the modern elements and so that's all kind of tied in there."
Chip and Joanna Gaines' sons' bedroom is kids' room goals
You may remember the fun project Chip and Joanna Gaines tackled on "Yours, Mine, Ours and a Home on the River" in Season 2 of Fixer Upper. The duo transformed the house's original garage into a "bunk room" complete with two sets of bunk beds. "The walls were painted gray and Joanna installed custom bunk beds using industrial piping," a post on Magnolia.com explained.
The Gaines family now also has a similar setup in their home. In a picture Joanna shared to Instagram, the boys' room features four beds — two upper, two lower — against shiplap walls painted white. Above the bed hangs a quote that reads, "These are the days." Not only does the photo show off the epic kids' room, but Drake can be seen cuddling and reading to baby Crew in his bunk. Can't. Handle. The. Cuteness. As Joanna noted in her Instagram caption, "Yes indeed… these are the days."
Chip and Joanna Gaines created a "whimsical" bedroom for their daughters
As the Gaines kids have gotten older, Chip and Joanna Gaines have worked on keeping their bedrooms up to date and appropriate for their ages. A 2013 Instagram photo of Ella and Emmie Kay's bedroom shows a cozy space with lots of natural lighting, a gorgeous doll-sized farmhouse between their beds, and a couple of other miniature homes in the background.
As the girls have gotten older, Chip and Joanna have updated the space. In 2019, Joanna wrote on Magnolia.com that she "brought in bolder, more refined furniture," such as a canopy bed flanked by hanging nightstands. Joanna said she wanted to make sure that the updates "reflect[ed] their growing personalities." While the miniature houses were removed, Joanna made sure to keep the room's "whimsical element" by leaving its chandelier intact. She also added in "vintage arched doors," but kept the walls gray, as the color is "a foundation that's easy to build on" for any future updates.
Chip and Joanna Gaines' kitchen has an epic island
Through episodes of Fixer Upper, fans were able to see some key elements of Chip and Joanna Gaines' kitchen: white subway tile, concrete countertops, and floating wooden shelves. While you've likely noticed the beautiful island, Joanna revealed to HGTV Magazine (via Today) that the piece is actually an antique. "I probably stalked that thing for two years," she revealed. She found the large cabinet in an antique store in the family's town of Waco, Texas. When putting it in their kitchen, the couple decided to paint it white, matching the rest of the kitchen, and fit it with an oversized countertop.
In an interview with HGTV, Joanna explained her love of the space, saying, "No matter how much is going on, I don't feel overwhelmed because the palette is very clean and fresh." She added, "I love the farmhouse sink, and I love looking out the window at the animals and cows while I work."
Chip and Joanna Gaines' open concept dining room
The Gaines' home is about as open concept as it gets. From the foyer, one can easily view the living room, dining room, and kitchen. Of course, this is the inviting look Joanna Gaines was going for and was often an element she introduced to her clients on the couple's show Fixer Upper. Former contestant from Season 2, Rachel Whyte revealed to Country Living that it was actually difficult reacting to each room individually while on camera since "most of Joanna's designs are open concept."
In pictures shared to Magnolia.com, Chip and Joanna's minimalist dining room transitions perfectly into the kitchen with the white wooden table, metal-legged furniture, and rustic stainless steel sign that reads "Dining Room." Having an open concept dining room also allowed for Chip and Joanna to purchase a whopping 13-foot Christmas tree. The furniture can easily be rearranged and relocated when more, or less, space is needed.
Chip and Joanna Gaines slumber in a spacious bedroom
As you'd expect, Chip and Joanna Gaines sleep in a gorgeous and spacious bedroom. There's plenty of square footage for a large bed and even a Christmas tree during the holidays. Joanna revealed on Magnolia.com that they built the bedroom as an addition to their farmhouse, so it's tailor-made for the couple. There are a few windows in the room, giving it lots of natural light. The master bedroom also features a fireplace, which is the only working fireplace in the whole house and what Joanna calls the "clear focal point" of the room.
Joanna explained that the master bedroom isn't just a place for her and her husband to sleep, but also a "backdrop for many spontaneous family gatherings," especially in cold weather when everyone likes to crowd around the fireplace. The room may be big, but it's still cozy and a place where the Gaines kids can hang out with their parents.
Chip and Joanna Gaines turned their once-messy attic into a craft room
Back in 2018, Chip Gaines teased wife Joanna about the messy attic in their home. For a while, the attic was used as a storage space, filled with the usual holiday decorations, odds and ends, and some materials for future decorating projects. "I don't even know who she is," Chip joked on Fixer Upper (via People), explaining that while most of the house was organized, the attic definitely was not.
The once-cluttered space has since been converted into a gorgeous craft room, as Joanna revealed in a post over at Magnolia.com. This not only added to the home's livable square footage, but also gave the attic a purpose and the family "a hideaway from the rest of the house" where everyone can work on projects and create things. Joanna Gaines made sure to add in lots of "storage space in the form of closed cabinetry and functional wall decor" to prevent the space from getting so disorganized again.
The she-shed that dreams are made of
There are she-sheds and then there's Joanna Gaines' she-shed. The exterior of the garden house features a cobblestone walkway that leads to a pair of stunning antique wooden doors. The inside of the little cottage is equally marvelous.
"Everything needed to be solid — only using the kind of materials that could handle dirt, pots and sharp tools on a regular basis," Joanna revealed on her site. Although that meant incorporating sturdy zinc countertops and a concrete sink, the designer's garden house doesn't look cold or stark. Thanks to lots of greenery, tons of terra cotta planters, and white oak cabinetry, the space is inviting. In the center of the glamorous potting shed sits a very large wooden table that Joanna uses for working and entertaining.
The couple even grows vegetables for their restaurant beside her garden house. "For us, this farm represents home — the kind of lasting place that gets passed from generation to generation," wrote Joanna, "and adding in this garden adds one more chapter to the story."
Chip and Joanna Gaines have a gorgeous greenhouse
While it's not technically part of their house, Chip and Joanna Gaines have a stunning greenhouse on their property. Like the rest of their home, the greenhouse is a structure that Chip and Joanna renovated themselves. In a 2015 Instagram post, Joanna showed a picture of the century-old building that was in the middle of being reconstructed. So, how did the couple get their hands on the 100-year-old English greenhouse?
As noted on the HGTV website, Joanna rescued the building when she learned that a client was planning on tearing it down. Instead of destroying the antique structure, she brought it home and fixed it up. Now, the serene space is a beautiful work of art. Outside the greenhouse are jasmine vines that climb up the walls of the building. On the inside, it's also brimming with plants. Among the things Joanna and her daughters plant in there are roses, fresh herbs, and miniature orange, lemon, and lime trees.
Chip and Joanna Gaines have a serene in-ground pool
We know that Chip and Joanna Gaines live on a beautiful plot of land, although we don't get many glimpses of their outdoor recreation area. As noted by Success, "the idyllic Gaines farm includes a small garden, pool, outdoor eating area, fireplace, chicken coop, barn and stables." The article gives a glimpse of Chip by that fireplace, a gorgeous brick structure that looks perfect for cool nights. "Idyllic" is an understatement.
An Instagram photo from Joanna shows that the fireplace is actually poolside — what could be more serene? The stunning pool area is by a small cluster of trees which are strung with lights, giving the swimming pool an almost ethereal glow at night. The pool is the ultimate relaxation spot and the perfect place for the family to congregate on a summer day or evening; we're more than a little bit jealous. Chip and Joanna Gaines are worth a pretty penny, and we bet a decent amount of their earnings went toward that beautiful pool area.