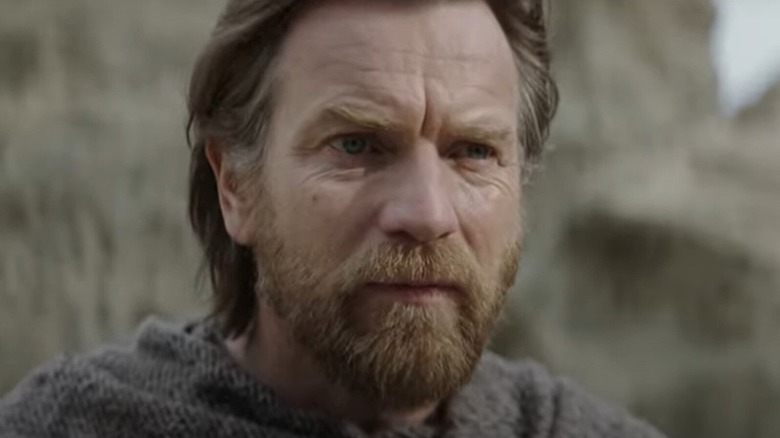 Obi-Wan Kenobi hasn't appeared in a live-action "Star Wars" project for almost two decades, and many fans of the galaxy far, far away have longed for him to return to the screen for one last hurrah. While the prequel trilogy remains a polarizing topic among "Star Wars" fans, most of them agree that Ewan McGregor's portrayal of the aforementioned Jedi in his younger days was more than up to scratch — and many wish that he could have showcased his skills in movies that were befitting of his performance. Unfortunately, history cannot be rewritten, but at least McGregor will get to reprise the role courtesy of the upcoming "Obi-Wan Kenobi" miniseries on Disney+.
To celebrate May the 4th, Disney has released a second trailer for the loved Jedi's brand-new adventure, and it's bound to generate excitement among the franchise's base. The latest teaser is loaded with Easter eggs and small details, some of which aren't easy to spot at first glance. But fear not, "Star Wars" fans," as Looper has scoured the footage to uncover all the things worth talking about.
Kumail Nanjiani's mysterious character appears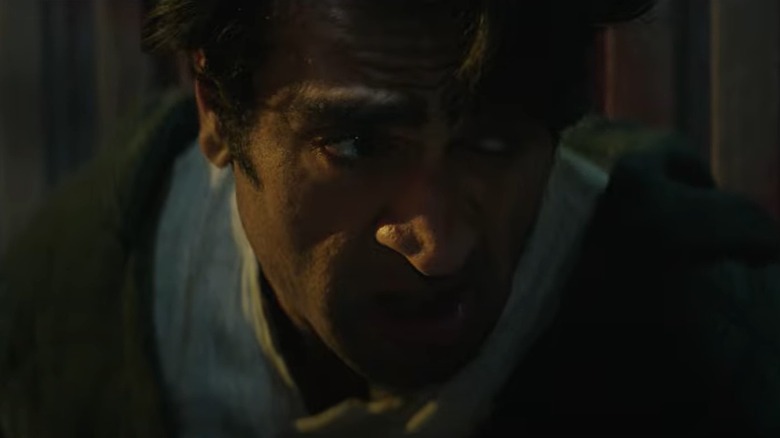 When you're following the missing chapters to one of the galaxy's most legendary Jedi Knights, it made sense to pull out an equally impressive cast to stand alongside or against him. Plenty of intriguing names has been revealed to be making an appearance. Still, the new trailer marks the first glimpse of comedy actor — and Kingo himself, the breakout "Eternals" star – Kumail Nanjiani. And if his wardrobe is anything to go by, the Force might be with him too.
Shown looking somewhat panic-stricken in between Obi-Wan Kenobi firing off a blaster at various dangerous threats (more on that later), Nanjiani can be seen hunkered down, seemingly in hiding. Interestingly, his character (who has yet to be named) is wearing threads similar to the now eradicated Jedi. Might Nanjiani's character be one of the few, like Obi-Wan Kenobi, that escaped the fallout from Order 66? If so, being the last remnant of the ancient order is no laughing matter. This series could mark the actor taking on a more serious and less quippy role than his fans are used to — and it may spell doom for his character's fate, given the risks of being a Jedi in this scary post-"Revenge of the Sith," pre-"A New Hope" world.
The missing Inquisitor
The highly anticipated reunion between Obi-Wan and Darth Vadar (Hayden Christensen) is not the only obstacle the Jedi Knight will have to face in the new series. Fans of "Star Wars: Rebels" will recognize the Inquisitors' return to the "Star Wars" narrative, as highlighted here. Many Inquisitors had once been Jedi themselves, but after Order 66, they joined the Empire, and used their force sensitivity to hunt down the remaining Jedi.
Though Inquisitors are featured heavily in the "Obi-Wan Kenobi" trailer, there is one character who is missing. Seventh Sister (voiced by Sarah Michelle Gellar) was a main antagonist in the animated series, but she is nowhere to be seen in the new trailer. With the inclusion of both the High Inquisitor (Rupert Friend) and Fifth Brother (Sung Kang) who appeared in "Rebels," this omission may seem odd. Many fans on Reddit have commented on their hope to see an appearance of the character. However, there is some logic to her absence.
When Ezra (Taylor Gray) first encounters her in "Rebels," Seventh Sister has a specific mission. Many of the Inquisitors are trying to kidnap force sensitive children but Seventh Sister is also on the hunt for Anakin's former padawan, Ahsoka Tano (Ashley Eckstein). This could explain Seventh Sister's absence in the events of "Obi-Wan Kenobi." With Ahsoka's connection to Darth Vadar, Seventh Sister may be sent on a separate mission from the rest of the Inquisitors who are specifically tasked with hunting down Obi-Wan. Her absence here, as well, may indicate that she'll instead be appearing in the Ahsoka Tano Disney+ series, which will bring back Rosario Dawson in the titular role.
Inquisitor Reva's stylish lightsaber
While Kylo Ren's fiery lightsaber design in the sequel trilogy is definitely one for the books, "Star Wars" die-hards know that there's no characters who play with lightsaber construction more creatively than the Inquisitors. These villains strike lower in the Empire's hierarchy than Sith Lords Vader and Palpatine, of course — but they've been shown to put their lightsabers to better use. The Grand Inquisitor's lightsaber has a circular motor of some sort surrounding its handle, allowing the lightsaber to rotate like a helicopter's blades and propel the villain through the air, a perfect tool for hunting Jedi on the run. It seems that Inquisitor Reva's (Moses Ingram) lightsaber may serve a similar function — as shots of her using her weapon in the trailer show a similar half-circle handle guard of some kind extending from one end of the lightsaber's handle.
Whether it also helps the brand-new Inquisitor character fly through the air or serve another functional purpose is yet to be seen, but given the way Ingram and the series' executive producers have hyped up the character in recent months, expect it to be used to help make Reva a uniquely terrifying villain. "Obi-Wan Kenobi" series writer and executive producer Joby Harold recently told Entertainment Weekly that Reva's addition to the franchise will be a touchstone point in the history of Star Wars bad guys, which is saying something considering the iconic foes that fans of the galaxy far, far away has seen in the past.
Ingram, for her part, described the character as athletic and driven toward completing her mission: it doesn't appear unreasonable to think Reva may be the one to truly give Kenobi a tough time throughout the series.
Meet your new favorite adorable droid
Another new "Star Wars" project, another cute droid to merchandise, another toy to add to your collection.
This brand-new small droid has an interesting red-and-white design with flaps on its back end that almost appear to move like ears. The droid only appears in one shot in the trailer, right between a close-up of Kumail Nanjiani's still-unnamed character looking quite afraid and Reva in hot pursuit (presumably of Obi-Wan Kenobi). Between the red color scheme and black gloved hand that it appears in, it seems safe to assume this droid belongs to one of the Inquisitors, if not Reva herself. Throughout nine "Star Wars" films, multiple Disney+ live-action series, and any number of animated shows Lucasfilms has produced over the years, we've seen droids do everything from repairing pod racers to piloting ships to scouting out enemies — surely this one will serve a unique purpose toward the galaxy-wide search for Kenobi.
If the new droid looks slightly familiar, it may be due to the fact that it somewhat resembles the very top of a BB unit without the ball underneath that it rolls under — the noises it makes certainly don't fall too far from how BB-8 sounds throughout the three most recent "Star Wars" movies. Those take place decades after the new "Obi-Wan Kenobi" series, though: perhaps this droid design is a precursor to the lovable rolling ball that accompanies Poe Dameron (Oscar Isaac) throughout the galaxy in the sequel trilogy … which would make sense, considering where this Disney+ series falls in the timeline, and would help "Obi-Wan Kenobi" connect all three Star Wars trilogies in one go.
Why hasn't Obi-Wan busted out his lightsaber?
Between this trailer and the first hair-raising teaser we got a few weeks back, one thing that both previews are missing is something no Jedi should be without, and that's a lightsaber — Obi-Wan's, to be exact. While Anakin Skywalker's former master looks to be getting into plenty of trouble in the new trailer, he's keeping most threats at bay thanks to having a trusty blaster at his side. This begs the question — what in the nerf herder is going on?
Given that Kenobi is undoubtedly trying to stay out of sight of the Empire, it's definitely true that firing up his laser sword might not be the smartest move. On the other hand, is there a chance that there's more to it than that? The last time we saw Kenobi sheath his weapon, he'd left Anakin screaming in agony on the shores of Mustafar, and watched the collapse of everything he'd spent his life fighting for. Did the infamous duel — where both sides lost, in their own tragic ways — have a lasting effect on the old Jedi Knight, making him reluctant to draw arms again? Could the teased reunion between master and former apprentice (now with extra breathing apparatus) cause old friends to draw swords once again? It might just happen if our hero is (ahem) forced to do so.