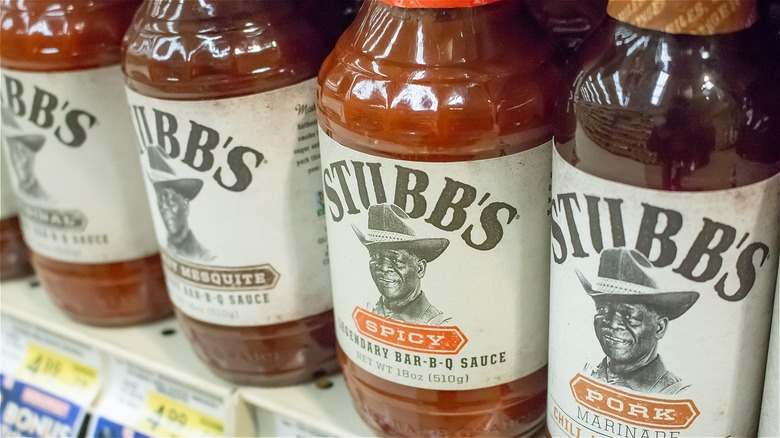 We may receive a commission on purchases made from links.
Summer is quickly approaching, which signifies one important thing for all meat lovers — barbecue season. The next time you're in a supermarket, chances are you're heading to the barbecue sauce section in hopes of finding the one to rule them all by adding flavor and an extra kick to your meat. Luckily, there is a wide array to choose from. Some like the organic, mild, and sweet sauces, while others will opt for smoky and tangy barbecue sauces. There are also other flavors, such as the classic, balanced blends that don't overpower the flavor of the meat.
One brand that offers a bit of all the aforementioned varieties is Stubb's, a barbecue sauce company named after C.B. Stubblefield, affectionately called Stubb, who founded a small restaurant called Stubb's Bar-B-Que in 1968. It was here that he first served his famous sauce, but it wasn't until he later moved to Austin, Texas that he started to bottle the condiment "in old jam jars and Jack Daniel's bottles with the labels scraped off, corking them with a jalapeno" (via Southern Living).
In 1992, Stubb's Original and Spicy sauces began appearing in grocery stores, and now, can easily be found throughout the U.S., as the company was bought by McCormick in 2015 for an astounding $100 million (per The Baltimore Sun). With a variety of flavors to choose from, here's our list of Stubb's flavors ranked from worst to best to help you choose a barbecue sauce for all your grilling needs.
10. Stubb's Dr Pepper Bar-B-Q Sauce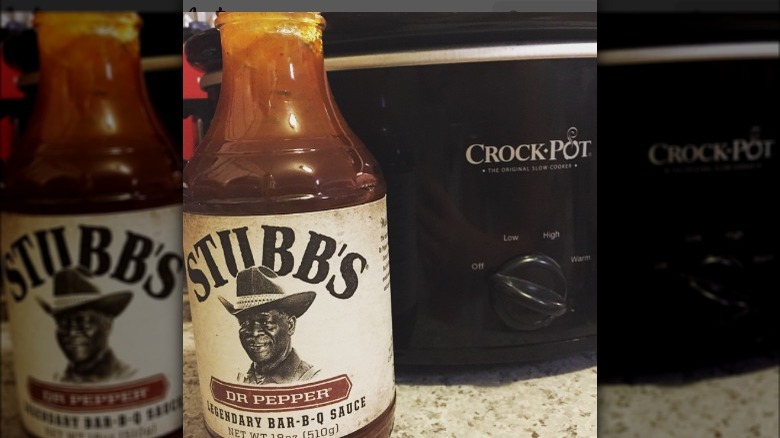 The legendary flavor of the classic Dr Pepper soda is mixed with the unique flavors of Stubb's Bar-B-Q sauce in order to create this flavor profile, with the hope of bringing the best of both worlds together in one bottle. The official distributor's site, McCormick, recommends brushing it on pork, chicken, steaks, wings, ribs, or vegetables. The Dr Pepper barbecue sauce is made with tomato puree, apple cider vinegar, brown sugar, molasses, onions, and spices such as black pepper. The condiment is also naturally flavored with hickory smoke, which should give the meat those much-wanted smoky notes.
With the promise of Dr Pepper's classic flavor in this barbecue sauce, we were surprised to find out that many reviews on Amazon note that it doesn't remotely taste like Dr Pepper and that it's "unsettlingly sweet" and slightly vinegary regarding the flavor. Reviews on Influenster concede that this one is just okay, but very sweet with an "unusual aftertaste." Other people find that the condiment is too thick for their taste, and they really couldn't taste Dr Pepper flavor in the sauce. With reviews like these, we have to rank this one the lowest on the list.
9. Stubb's Original Bar-B-Q Sauce
The original is always the best, right? Well, perhaps not always. This classic barbecue sauce might not be the best brand according to 48% of people, but a smaller percentage do consider it a favorite.
Stubb's Original Bar-B-Q sauce has a tomato and vinegar base, with aromas reminiscent of sweet molasses and chipotle. There's also a strong vinegary note that brings all the flavors together. Per The MeatWave, however, "there isn't much sweetness going on, instead you get the bite of vinegar followed by a wallop of heat, tasting mostly of sharp black pepper and smoky chipotle." The texture is described as very thin and "grainy and gritty," which might work well when cooking with it, but enjoying it as a dip might ruin the experience. Once cooked, the flavor of tomatoes becomes really pronounced, and there is not much caramelization on the meat to be excited about.
The folks at BBQ Sauce Reviews also didn't find many reasons to purchase the sauce, noting that it doesn't provide any heat, chunks, or smokiness. They also found it to be thin and stated that it doesn't stick to the meat as a good barbecue sauce should. Still, the sauce received a 3/5 score, with the redeeming qualities being that it doesn't contain gluten or artificial ingredients.
Stubb's Original Bar-B-Q sauce ranks in at number nine.
8. Stubb's Sweet Honey & Spice Legendary Bar-B-Q Sauce
Do you like your barbecued meat with a subtle hint of honey? Many people do, and it's a known fact that honey acts as a tenderizer and breaks down larger proteins on the exterior of the meat. It also gives the meat a slightly sweet flavor in the process (via BBQHost). Furthermore, honey is actually a good sugar substitute. Stubb's Sweet Honey & Spice Bar-B-Q Sauce was created in honor of the sauce's "50th anniversary with the help of Stubb's grandson, Rocky Stubblefield" (via McCormick's). That fact in itself makes this condiment a special one, but when push comes to shove, does its flavor deliver?
The sauce is made with honey and warming spices such as cinnamon, allspice, and black pepper, which does sound like a tasty combo and might make you crave some grilled pork. Over at Influenster, some reviewers like the taste of the condiment as well as the fact that it's kosher and doesn't contain high-fructose corn syrup. Amazon reviews came in mixed, with many loving the "sweet and spicy" of it, but some sharing that the taste is just plain bad.
Taste of Home reports that they've tested this one on pork chops, chicken, and burgers, and the results are not that great. The sauce came up short due to its "thin texture, lack of sweetness, and strong vinegar flavor."
We're ranking this one in at number eight.
7. Stubb's Sweet Heat Legendary Bar-B-Q Sauce
Sugar, spice, and everything nice? Well, somewhat. Stubb's Sweet Heat Bar-B-Q Sauce is more like brown sugar, spice, molasses, and aged chipotle chile sauce. The aromas are tangy and sweet and really not that hot, despite the "heat" in the name. However, The MeatWave claims that the strong earthy aromas let you know that there is some heat in store, but more so in the aftertaste. Giving the sauce a 4.5/5 star rating, The MeatWave review says this sauce was a happy surprise. When used with barbecued chicken, this marinade provides light caramelization without burning, while the flavor is sweet and tangy at first, with the heat coming later, first in mild waves, and becoming hotter "with each subsequent bite."
Alternately, the folks at Tasting Table found it to be too spicy and too similar to ketchup in flavor, but what really pushed them away from this sauce was the immense flavor of cumin and the lack of sweetness. Some Amazon reviewers are unhappy with the condiment as well, calling it "odd" and even "very nasty," but many other reviews are in favor of the sauce.
All in all, Stubb's Sweet Heat Bar-B-Q Sauce comes in at number seven.
6. Stubb's Hickory Bourbon Legendary Bar-B-Q Sauce
Is there something missing in your bottle of barbecue sauce? Do you want to enjoy that extra kick with slightly boozy notes on your steak during your next summer barbecue party? Stubb's Hickory Bourbon Bar-B-Q Sauce might be just what you're looking for. It promises a blend of Kentucky bourbon and smoky notes in a sauce that's based on tomatoes, molasses, bourbon, spices, and natural hickory smoke flavor. After all, that's how Stubb started — by filling empty bourbon bottles with his sauce and using hot peppers as stoppers (via HotSauce).
Over on Influenster, reviewers have noted that it's a "great sauce for chicken strips or ribs" with a flavor that's tangy, deep, and with hickory smoke undertones. Many people love it with pulled pork or in marinades for meat. Some reviews on Amazon agree that it "has an excellent balance of sweet and tart." Still, others found its slight aftertaste reminiscent of bananas not particularly pleasurable, while others said its flavor is "very weak and watery."
This smoky, sweet, and tangy sauce is definitely not the best, but it's also not the worst so we're ranking it in at number six.
5. Stubb's Sticky Sweet Bar-B-Q Sauce
So you're in the mood for some hearty barbecued pork ribs. This type of meat requires a shiny, thick, and sticky sauce, and it seems like Stubb's Sticky Sweet Bar-B-Q Sauce is the answer, and bonus — it's more nutritious than you thought. Made with tomato puree, brown sugar, sweet molasses, onions, paprika, and hickory smoke, this sauce promises "sticky sweetness that you're gonna love on anything you put on the grill," not just pork ribs (per McCormick).
The reviews on Influenster vary from those that found it not bad and slightly thin due to the vinegar (it won't cling to the meat easily) to those that love its spicy kick and delicious sweetness that caramelizes the external layer of barbecued meat. Some reviews on Amazon, however, note that it's too spicy, yet others praise its flavors, especially when used with pork ribs and pulled pork sandwiches. Due to the fact that this sauce is quite sweet, many cooks don't recommend using it on chicken and beef.
Although very good, it's not the absolute best that Stubb's has to offer, but the middle place in the ranking is still a sweet spot to be in.
4. Stubb's Spicy Bar-B-Q Sauce
There are days when regular barbecue sauce just won't do the trick and we'd like something spicy with an extra kick that will potentially leave us slightly sweaty and give us that much-needed jolt of energy. Stubb's Spicy Bar-B-Q Sauce, the hottest of Stubb's line of sauces, promises to deliver the heat. This condiment actually starts with Stubb's Original Sauce, while habaneros, cayenne, and black pepper are added for spiciness (per Hot Sauce). But does it also deserve to be in the list of spicy foods you need to try before you die?
The MeatWave reports that it has a basic aroma of tomatoes and vinegar, with a "faint smokiness, along with notes of garlic and onion." The texture is described as smooth, not too thin, and not too thick. Once consumed, the sauce has a mild burn, but only after some time, and the flavor can't really be described as hot, which makes it deserve a slightly above average rating. Some reviewers on Influenster find that the condiment has a "big kick to it," while others expected "more of a kick from the spice."
All things said, we've found this one to be somewhat better than average and we're ranking it in at number four.
3. Stubb's Simply Sweet Reduced Sugar Bar-B-Q Sauce
It's no secret that most barbecue sauces produced today contain hefty amounts of added sugar. It's added to barbecue sauce because it balances the acidity of other common ingredients such as tomatoes and vinegar, but it also adds a layer of flavor (via Our Everyday Life). The amount of sugar depends on the brand, but it's usually a lot. However, Stubb's Simply Sweet Reduced Sugar Bar-B-Q Sauce is "made with 65% less sugar than leading barbecue sauces, but it's got all the legendary Texas flavor." The sauce is based on tomatoes, vinegar, molasses, and black pepper and it's recommended to use it on pork, beef, and chicken (via McCormick).
But how does its low amount of sugar affect the flavor? Reviews on Amazon note that although the condiment has reduced sugar, the flavor is still there, and it's "awesome" and "tastes just as good" as regular barbecue sauces. People also love its reduced sugar flavor because they may be on a "low carb and low sugar diet," and it's especially praised as being good for the keto diet. Many reviewers claim that even though it has less sugar, you can't tell because the flavors are all there.
This one comes highly recommended and deserves a spot near the top, so we're ranking it in at number three.
2. Stubb's Smokey Mesquite Bar-B-Q Sauce
It's a nice summer day, and you're grilling in your backyard on your gas grill, and you're wishing you could add a smoky flavor to your meat. However, there are no wood chips around to give the meat that desired smokiness. Luckily, a bottle of Stubb's Smokey Mesquite Bar-B-Q Sauce can help by providing an extra smoky layer to your chicken, pork, or beef. The condiment is "made with brown sugar, molasses, and a natural mesquite smoke flavor" (via McCormick).
The reviewers over at Influenster just love this sauce — it's used on bacon burgers, chicken, tofu, bbq beans, and literally "on everything." The flavor is described as, "it doesn't taste fake like a lot of barbecue sauces" and also "very smooth." Most reviews on Amazon also note that it's their favorite marinade due to its tangy and smoky flavors. We've also found it to be one of the best, if not the best bottle that Stubb's has to offer, and it was a hard choice ranking it as second best.
1. Stubb's Smokey Brown Sugar Bar-B-Q Sauce
Now here's a flavor for those who love their barbecue sauces on the smokey and sweet side. Stubb's Smokey Brown Sugar Bar-B-Q sauce is made with "brown sugar, molasses and natural hickory smoke flavor that are perfectly blended with a hint of black pepper." It's recommended to brush this one on ribs, wings, chicken, steaks, and pork. If we're to believe McCormick, it even goes great with baked beans, giving the dish a dose of much-needed sweetness and smoke.
As many reviews on Amazon note, this Stubb's variety is made with high-quality ingredients that can be tasted in the sauce. It's described as characteristically sweet but also a bit tangy, with a robust and rich flavor. Some people particularly like this flavor with pork dishes, using it for a seriously delicious way to make ribs.
What's best, the condiment doesn't contain the notoriously unhealthy high-fructose corn syrup, so people don't have to worry about serving it to their families. Over at Walmart, reviewers noted that the sauce has "just the right balance of sweet and spicy." We've found this thick sauce to be the best of the bunch.