If you've ever driven for a stretch of time and turned on the radio just to see what's playing, odds are you've heard a song by country legend Faith Hill. After moving to Nashville, Tennessee, at the age of 19 (via Good Housekeeping) and hitting it big about a decade later with the songs "Breathe" and "This Kiss," Hill has been a mainstay on both country and mainstream music platforms ever since.
Born and raised in Star, Mississippi, Hill is the proud daughter of Ted and Edna Perry (per Good Housekeeping) and sister to two brothers (per CNN). Hill has always been open about certain parts of her life, such as learning she was adopted, connecting with her birth mother, and meeting the love of her life, Tim McGraw.
Since those early days of selling records and touring the world, Hill has gone on to raise three daughters, produce numerous hit albums, and enjoy a happy marriage to Tim McGraw for decades. Here's a dive into her life, loves, and career — a glimpse into what makes Faith Hill the wife, mother, singer, and woman she is.
Faith Hill grew up in Mississippi with her adoptive parents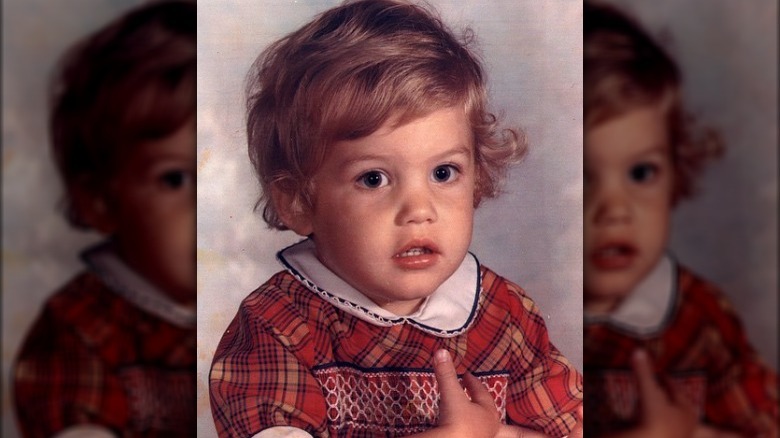 Faith Hill was born and raised in Mississippi in a small town (most appropriately) called Star. According to Hill, she had an incredible childhood. While speaking to Larry King on CNN, she described her childhood as "amazing" and "really stable" and has nothing but praise for her parents. After revealing that her father, Ted Perry, couldn't read at the time of her adoption, Hill explained to Good Housekeeping that he'd been asked to quit school when he was only in fourth grade to help his family. By the time he and his wife, Edna, adopted Hill, Perry worked at a factory in Jackson while his wife contributed to the family as a bank teller.
Hill learned early in her life that her parents had adopted her, but they weren't quite as honest with her about why her birth mother had chosen adoption. In 2007, Hill explained to Good Housekeeping, "I had been told that [my birth mother] had an affair with a married man, and he didn't want to leave his wife to marry her, so she gave me up for adoption. But it was completely untrue." However, it seems that her parents were well-intentioned, possibly wanting to spare their daughter from learning that her biological parents later married and had another baby whom they raised together.
She began singing as a young child
Considering she's one of country music's most famous and successful artists, it probably doesn't surprise you to learn that Faith Hill has been belting out songs since she was a young child. While speaking to The Washington Post in 1996, Hill explained that her dominant musical influences from childhood included powerhouse legend Aretha Franklin, saying, "For me, the big influence wasn't Linda Ronstadt; it was Aretha Franklin. I've always listened to Aretha."
Like Franklin, Hill first began singing at that bastion of so many southern homes: church. Hill recalls attending services at the Star Baptist Church in her hometown. "When I was 3 or 4 years old, I stood up on the pew and sang along," she told the newspaper. "It was just like that scene at the beginning of 'What's Love Got to Do With It' where the congregation is real subdued and Tina Turner is shouting with a lot of soul."
Over a decade later, Hill joined Jackson, Mississippi's Steele Family's tour of southern churches with both Black and white congregations, explaining to The Washington Post, "I always found myself gravitating toward the churches where the singers would fill themselves up with the spirit and just let it out."
Faith Hill moved to Nashville when she was 19
By the time she was 19 years old, Faith Hill was ready for change — or so she thought. In 1987, she packed up and moved to Nashville, Tennessee, where she quickly met Daniel Hill, the man she would go on to marry (per Good Housekeeping). Daniel helped Faith in a lot of ways, such as assisting her in finding work at a music company owned by the singer Gary Morris.
Faith later told Outsider that her move to Nashville was a case of making the right decision at the right time. She explained that the origin of her singing career sounds like something out of "a fairy tale." "I was singing around the office one day, and this songwriter was there and overheard me singing," she explained. From there, the songwriter asked Faith to record a demo, and soon she began working for songwriters around the city.
The singer married Daniel Hill in 1988
The relationship between Faith Hill and Daniel Hill began picking up steam around the same time her singing career did. Daniel later recalled to Good Housekeeping that the two spent a lot of time together for work, noting, "We were constantly going to artist showcases and songwriter nights together." Eventually, the pair married in 1988.
By all accounts, Faith was committed to her marriage. Former boss Gary Morris told Good Housekeeping, "Faith was a devoted wife to Daniel. It was one of those things where she said, 'I'm marrying one time,' and this was it and he was the guy."
Faith was only 20 years old at the time of their wedding, which took place about a year and a half after they met. Despite having the best intentions, Faith later told People she rushed things and wasn't really ready for marriage at the time. "I was young," she said. "I just jumped in the fire way too soon."
Faith Hill decided to find her birth mother in 1990
Despite her happy childhood, Faith Hill always felt like part of her was out there, just drifting along — and she wanted to find that missing piece. She explained to Good Housekeeping that the feeling was persistent, saying, "I was adopted into this incredible home, a loving, positive environment, yet I had this yearning, this kind of darkness that was also inside me."
After searching for three years, Faith finally met her birth mother in 1993. Daniel Hill later told People that the three years Faith spent looking for her birth mother took something out of the singer, but Faith seems to have no regrets. While recalling that first face-to-face meeting, Faith told Good Housekeeping, "The first time I met [my birth mother], I just stared at her. I'd never seen anyone that looked anything like me." She went on to explain that the experience filled something inside her she knew had been missing, especially once she realized how much she looks like her mother's mother as well.
Meeting her birth mother was such a watershed moment for Faith that it impacted nearly everything around her — including her marriage.
Meeting her birth mother had a negative impact on her marriage
In retrospect, Faith Hill understands that the search for her birth mother was part of a larger search for who she really was. While she's since praised her ex-husband, Daniel Hill, as being a wonderful person, once she found her birth mother, Faith realized she needed to move on from the relationship. She told Good Housekeeping, "I was going through so much. I was like a flower trying to bud. Marriage wasn't what I needed. It was a disguise."
Daniel doesn't old an ounce of negative will toward Faith for what happened next. He explained to People that it was clear Faith had gone through a huge transformation while searching for the woman who gave birth to her, and once she finished her quest, it was just as clear that she was becoming someone else that didn't fit with him anymore. "I was part of her old world, and she had to let that world go," he explained. "But there is no bitterness. I'm proud of her success."
The couple ended their relationship in 1991, a year before Faith signed a deal with Warner Bros. Music (per Good Housekeeping). Her star was on the rise, and, at this point, she was ready for it.
Faith Hill once auditioned to be Reba McEntire's backup singer
Around the same time she was divorcing her first husband, Faith Hill was actively trying to launch her music career. The early days of Hill's path to stardom included some setbacks, such as trying out to be a backup singer for fellow country legend Reba McEntire — and not getting the job.
When she looked back on the time period while speaking to CNN, Hill admitted the reason she didn't get the job. "I didn't get it because I wasn't good enough," she said. "I don't think fate had anything to do with that for me. I wasn't a great background singer and I didn't get the part." In a devastating twist of fate, the woman who did earn the role, Paula Kaye Evans, died in a plane crash that involved several other members of McEntire's crew and band (per People).
She got her big break at Nashville's Bluebird Café
Faith Hill isn't one to let setbacks hold her down for long. Hill explained to CNN that her breakthrough moment was right around the corner. While singing at Nashville's Bluebird Café alongside songwriter Gary Burr, Hill was spotted by Warner Bros. Music executive Martha Sharp, who wanted to know more about the blonde woman singing backup.
According to Hill, she was approached by Sharp after the set ended and immediately asked if she had a demo tape available for Sharp to take back to work. Though Hill didn't have one on hand, she told her she "can get you one really fast. So that's basically where it started," she told CNN.
As The Washington Post notes, Hill soon released her first album in 1993 and wound up on tour across the U.S. with the woman she once auditioned for: Reba McEntire.
Faith Hill met Tim McGraw in the mid-1990s
Country music fans around the world know the story of powerhouse couple Faith Hill and Tim McGraw — or, at least, they think they do. While it's hard now to imagine a world in which these two were ever not together, they weren't properly introduced until 1994 or 1995 — when Hill was actually engaged to her then-producer, Scott Hendricks. However, Hill told People that when she met McGraw, she knew what she had to do, no matter what anyone thought. "If someone is going to judge my character because I was engaged to somebody and then I left him for somebody else … I can't control that," she revealed. "But I wasn't about to let Tim slip through my hands."
Hill wasn't the only one engaged. McGraw had a longtime girlfriend he planned to marry until he met Hill, so they both had work to do before they could be in the clear to be together themselves. Hill told CNN that, after the two met at a Nashville radio show in 1994 or 1995, they felt "instant" chemistry. McGraw popped the question while they were on tour together, and the pair married on October 6, 1996, near McGraw's hometown in Louisiana (per Good Housekeeping).
The couple has three daughters together
As if touring the country, falling love, and being on the brink of super stardom wasn't enough, Faith Hill and Tim McGraw were also earning two more titles: mom and dad. Per Good Housekeeping, the pair welcomed their daughter, Gracie, in 1997, her sister, Maggie, in 1998, and their third daughter, Audrey, in 2001.
Audrey's birth was particularly dramatic, as Hill went in for what she thought was a routine checkup at seven months pregnant and soon learned that Audrey needed to be delivered immediately. Hill told Good Housekeeping, "The doctor said my [amniotic] fluid had just gone. My placenta had stopped working." McGraw raced to the hospital as Hill underwent an emergency C-section, and Audrey was born later that day, weighing a little under 4 pounds.
After spending weeks in the hospital, Audrey came home, and the Hill-McGraw family blossomed. Hill once said that she was given her children to see just how patient she could be as a mom, admitting she didn't always do her best. As she put it, "I try to go through this whole thing of letting a child be the person that she is, and then it's like, '[Okay], forget about that. You're wearing what I say you're gonna wear!'" (via Good Housekeeping).
1999's Breathe was Faith Hill's breakthrough album
Faith Hill was a mom of two kids under the age of 2 when she recorded and released the record that would push her career over the top into mainstream music. She later recalled to CNN that her first single, "Wild One," put her on the map and was quickly followed by a second single before the album dropped. Hill explained, "My first single did really, really well … and then 'This Kiss' was a huge, huge record across the board. And then my 'Breathe' album was definitely the album that changed my career for sure."
The record was Hill's fourth, and it wasn't necessarily well received by critics despite the overwhelmingly positive fan reception (per CMT). In a review of the album, Entertainment Weekly wrote that the record might just be too much for Hill's base of country music fans, noting, "If Hill expects any real longevity, she'd do well to pare down the flash and histrionics. Certainly her core audience is willing to forgive a country girl's misguided, big-city flirtation."
Producing such a successful record inspired Hill to continue to push harder for her next album, "Cry." She told CMT that, despite "Breathe" selling 8 million records, she wasn't feeling too much pressure to repeat the feat — she just wanted to make music that her fans around the world would love.
Faith Hill and Tim McGraw embarked on their Soul2Soul tour in 2000
Things really picked up steam for Faith Hill after the release of "Breathe," and she and husband Tim McGraw soon embarked on their first installment in the pair's Soul2Soul Tour. The pair packed up their kids and took them along for the ride, which the two enjoyed. Hill later told Glamour that balancing parenthood with performing each night was tough, admitting, "I was up until 2:00 or 3:00 A.M. every morning; then I wanted to wake up early to play with my kids. Finally I just said, 'I can't do this anymore.'"
Hill took a break from touring after the conclusion of the first round of Soul2Soul, but the two went back out on the road in 2006. This time, they had all three girls on the road, something Hill said was pretty fantastic. She explained to Glamour that she never minded if her kids burst into the room while she was preparing for a show and added that having the children on the road with them helped keep her grounded. "The minute you walk through the door and your kid runs into your arms, you're smacked in the face with a dose of reality: It's like, this is my real life," she explained.
The star has weathered her fair share of criticism
Despite achieving huge amounts of success all over the world, Faith Hill has also dealt with plenty of critics and naysayers. As CMT notes, there have been plenty of people — fans and industry professionals alike — who have seemed almost disappointed that Hill crossed over from country music to mainstream success. To that end, while accepting the Country Music Association's award for Female Vocalist of the Year in 2000, Hill addressed the complaints head-on.
During her acceptance speech, Hill noted, "Everyone has questioned where I'm at and what I'm doing, and I tell you something, I love this business and I love this industry and I love the people in this business and my heart is here." While speaking to CMT, Hill went on to add that the week of the awards show she experienced a new feeling about Nashville and country music: shame. After explaining that she's never tried to be anything other than a proud country artist, Hill said, "I have been attacked, personally, for the choices that I have made, and I was angry."
Despite those feelings, Hill admitted her speech wasn't the best place to make the statement. Even though she felt justified in what she said, "I've never used that moment to make a point, ever in my life," she explained. "But I think I had had enough" (per CMT).
Faith Hill and Tim McGraw currently co-star in 1883
These days, Faith Hill is embarking on something brand new with her husband of more than three decades: starring in a television show together. The pair spent four months filming the "Yellowstone" prequel "1883" in Montana and Texas and seemed to love every minute of it. This isn't the first time Hill has acted – People notes that she starred in "Stepford Wives" in 2004 and "Dixieland" in 2017 — but it is the first time she and her husband have worked together in this way.
Since the pair are a real-life married couple playing a married couple on the show, they knew they would have to be clear about the dynamics and what makes their characters different from their real selves. Hill explained that they made it work by establishing rules. She told People, "We have made it a point not to work on our scenes together until we're on set. It's important that we react to one another naturally as characters, not as husband and wife."
The show came at a perfect time, as the pair's children are now grown and have moved out of the family's home in Nashville. Hill told People that working with her husband on the show has been such a great experience. "I've never had so much fun in my life," she said. "I don't want to stop."