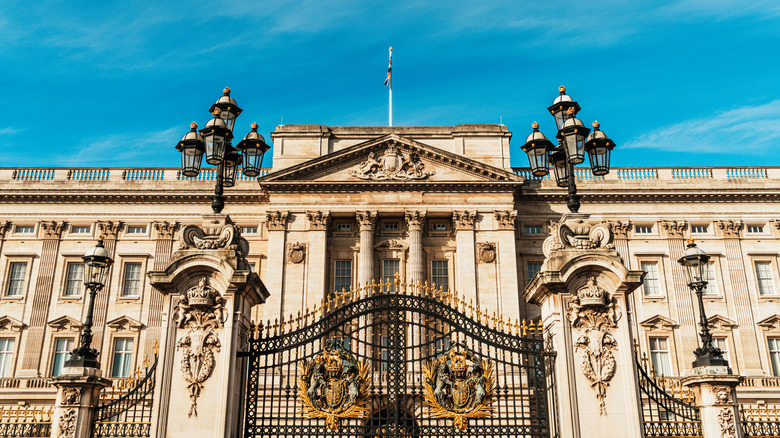 Being a British royal is a full-time job. The monarch doesn't get to stop being the monarch just because it's bedtime. As Queen Elizabeth II's mother was once said to have advised her when the queen was considering having a second glass of wine at lunch, "Don't forget, my dear, you have to reign all afternoon" (via Vanity Fair). Who knows when there could be a constitutional monarchy emergency or a balcony that absolutely must be waved from?
Since the royals never get that kind of time off, they need people around them at all hours as well. There is no point they don't need security, for example, and their assistants, dressers, and many others who keep their lives running smoothly might be needed at any time. This means a lot of their staff have room and board in some of the many castles and palaces the royal family uses included in their employment contract. A maid or butler, for example, can have their own room at Windsor Castle or Sandringham, so they can be quite literally close to home.
Buckingham Palace is no different in that plenty of staff live there, as do many royals, at least part-time. But when you're talking about living day-to-day in one of the most historic and recognizable buildings in the world, one in which the British queen is also living, what in the world does life look like? Here's what it's like living in Buckingham Palace.
You never have to leave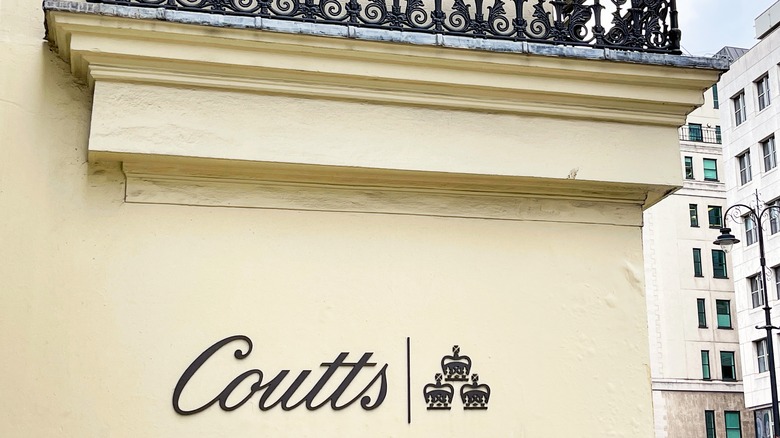 If you get a job as a live-in employee of the queen at Buckingham Palace, you could theoretically never leave. And not in the way that you could probably never leave your house now if you really tried, what with delivery-everything and working from home and telehealth doctor visits. In Buckingham Palace, you can eat and work and stay healthy, but with the added experience of seeing people in real life. Almost everything you will ever need is within the palace complex.
Details about what facilities are available to staff at Buckingham Palace have leaked out over the years. (In general, those who work there spill very few secrets, even after they leave royal employment.) According to a Channel 5 documentary on the royal palaces (via the Daily Mail), Buckingham Palace had a staff post office, however, the sole ATM in the building is owned by the uber-posh Coutts bank and is for the royals' use only. There's a pool, a movie theatre, and a doctor's office that can perform "emergency procedures," per the Daily Mail and Londonist. Hello! magazine adds there's a chapel and a staff cafeteria. There even used to be a staff bar, until it was closed in 2018 (more on that later).
That covers pretty much every major need one could have, from healthcare to entertainment to exercise to religion to food. Although considering those who live there are in the bustling heart of London, it's probably worth leaving from time to time and enjoying what the city has to offer.
Many royals keep apartments there
While many foreigners think of Buckingham Palace as the most famous location where the royal family lives, there are plenty of other options for them even in just the center of London. It's not required that anyone live at Buckingham Palace and, despite the fact it is basically its own little town, none of them choose it as their main home.
Queen Elizabeth moved permanently to Windsor Castle around 2020, but even before the pandemic and extreme old age made it more logical for her to stay there, she spent as much time as possible at Windsor. Prince Charles prefers his London home of St. James Palace so much that he plans on staying there after he becomes king, and has even talked about turning Buckingham Palace into a hotel or a museum, per Marie Claire. And many royals, including Prince William and Kate Middleton, have their London base at Kensington Palace.
But some royals have staked out their own corner of Buckingham Palace for temporary stays. According to Women & Home, other than Queen Elizabeth, other royals who keep apartments there include her youngest son Prince Edward and his wife Sophie (a.k.a. the Earl and Countess of Wessex), the queen's only daughter Princess Anne (a.k.a. the Princess Royal), and now-disgraced Prince Andrew (a.k.a. the Duke of York). A former Buckingham Palace maid claimed in the British tabloid The Sun that Andrew had 72 teddy bears on his bed at the palace in the 1990s – when he was very much an adult – and would get angry if they were out of order.
It's more like an office than a home
One of the reasons no royal has chosen to make Buckingham Palace their main home is that the place isn't really built to be a home: It's more like an office. That can seem ridiculous considering its size and the gorgeous photos of grand ballrooms and dining rooms, but at its core, Buckingham Palace is the nerve center that keeps the monarchy running, which means it has lots and lots and lots of offices. This means the staff that does live there full-time are essentially living in a very fancy version of one of the many office buildings in London.
Some of the more important employees who have offices there include the Private Secretary's Office and the Privy Purse and Treasurer's Office, according to the Royal Family's official website. But the total list of employees who work in-palace is long, as there are 92 offices in total.
Britain: The Official Magazine says that even the queen considers the palace her office. After all, it's where she lives (or used to, anyway, in her younger days) during the working week and does the day-to-day tasks she is constitutionally required to do. For example, her weekly meeting with the prime minister always takes place at Buckingham Palace. She also meets foreign dignitaries and ambassadors there and holds most state dinners in the palace. For the queen, Buckingham Palace means work, while Windsor Castle is what she considers her home.
The dogs are the real royalty
The Queen is iconic for many reasons, but one of the things associated with her just as much as the huge jeweled crowns, unchanging hairstyle, and tiny wave are her dogs. Some of the queen's corgis, which she has been raising and breeding since she was a child, have become celebrities in their own right. Two even made scene-stealing cameos in the video of the queen and Daniel-Craig-as-James-Bond that played during the 2012 London Olympics Opening Ceremony.
The Queen adores her dogs (or adored: most of them had passed on by the 2020s and she decided not to breed any more) and she usually had a small herd of them at any time. While they are undoubtedly adorable, and everyone loves having a dog to play with in the office, if you lived at Buckingham Palace you would find that the Corgis were really in charge of the place, and the issues they caused might lead to the enjoyment wearing thin.
The book "Not In Front Of The Corgis" (via Londonist) explains that "The Queen's Corgis are allowed unrestricted access to any part of any Royal residence; nowhere is off-limits … They also are not fully house-trained so a supply of soda water and blotting paper is kept at hand just in case of any 'little accidents.'" But staff themselves cannot have dogs live with them or bring their pooches to work. This was a change of policy in 2018 after hundreds of years of dogs being palace-approved, according to the Express.
It's falling apart … so there might be hammering
Many buildings in England are so old and so grand, it seems like they will stand forever. But while standing far away enough might mean Buckingham Palace projects an air of being a pristine, gilded, stunning example of royal architecture, in reality, it's coming apart at the seams.
Buckingham Palace isn't even that old by British history standards, with the oldest sections originally built in the early 1700s. But it's been in constant, intense use since then, and the fact royals and staff live there means it's hard to do important maintenance, since you can't just kick everyone out for a few years. As of 2018, according to Insider, the palace is undergoing a major $483 million renovation that will take a full decade, even as some staff still make it their home that whole time. And the above picture of Buckingham Palace covered in scaffolding is clearly not from the current renovation, so the live-in staff of 1913 had to make do with the sound of hammering too.
Currently, butlers and other staff have to make long treks and climb lots of stairs, since most of the really old elevators don't work. Part of the renovation involves replacing all of them. Old cables, pipes, and wiring that have been in the walls for six decades are getting replaced as well. There's mice, asbestos, and falling masonry, per The Daily Beast. But all that must make quite the racket for those living there.
It's probably hard to get any alone time
As Buckingham Palace is a combination office/home/museum/seat of government (since the monarch is head of state)/tourist attraction, the place is always full of people. Add in the construction crews working on the major renovations in the 2020s, and it's amazing there is ever a corner of a room where someone can take a moment to themselves and just breathe.
According to the Royal Family's official website, the palace has 188 staff bedrooms as well as 52 for royals and important guests, which means a ton of people knocking about if some big ceremony or event is happening. Then there are the 92 offices, which can be filled with hundreds of employees at any time, not just normal weekday work hours.
Over the summer, tourists can pay to wander around the State Rooms of Buckingham Palace, which they do, in droves. Even if you assume that staff will never have to see the visitors who come in off the street, even the specially invited guests number over 50,000 per year. They are invited to official events, casual lunches with the queen, or the series of massive garden parties she hosts every summer, among other things. However, Insider puts the total number of guests much higher at 100,000, the number of tourists at 15 million, and 300 other staff members someone living there could run into.
For the live-in staff, every day is different
While live-in staff at Buckingham Palace have job titles and specific tasks to perform, part of working there involves needing to be very, very flexible about what tasks fall under your purview. According to people who have lived and worked there, every single day on the job is different, and you will be asked to do things that have nothing to do with your job title. Keeping a huge palace – and the monarchy – running means taking on things no one could have thought about assigning someone beforehand.
One former employee told Silver Swan Recruitment, "It's a really multi-faceted job, one day you could be looking after military uniforms and the next day you could be wearing pink tights walking alongside the Queen's golden carriage…" Despite living there, it's not a 24/7 job, either: "you might end up just working 10 mins at 3 o'clock in the afternoon, but that was the nature of the job."
When hiring a housekeeper in 2016, the Royal Household was clear to state that "this is no standard housekeeping role," according to Forbes. At the time, the palace was also looking for some footmen, butlers, and someone to take care of all the antique vases. For those who live in, housing and food are technically free, although since the royals are notoriously stingy with salaries, those perks are very necessary to make taking the job worth it. There are 188 staff bedrooms at Buckingham Palace, which have been described as "modest."
You actually get to know the royals
While no royals make Buckingham Palace their main home, they still spend a lot of time at the place. Everyone from the Queen to minor royals most people have never heard of can pop in and out as they please. This means that staff, especially the ones who live there, can have regular, unexpected encounters with royalty. They can end up seeing so much of the royal family that they get to know them quite well, far more than a regular person could ever dream of if they worked literally anywhere else.
One former royal footman told Silver Swan Recruiting he was constantly amazed "how up close and personal you really are with the Royal Family. Within my first day I had already met the Queen, and to think that I was at home one day and the next I'm living in Buckingham Palace, face to face with the Queen, it blew my mind." Another former employee told the agency, "Occasionally, I spoke with the Queen, she is a completely open book, just as you see her. She is very kind and realizes everyone is nervous when meeting her, so always does her best to make you feel at ease."
However, yet another former butler told KIIS 1065's Kyle & Jackie O radio show in Australia (via the Daily Mail) that there is a rule staff cannot speak to the queen unless she speaks to them first.
The Buckingham Palace bar led to too much boozing
While Buckingham Palace has many things, enough that you could stay on the grounds almost forever if you wanted to, one thing it does not have is a staff bar. (This fact alone means the live-in staff definitely have to leave occasionally to have a pint down their local.) That is, the palace doesn't have one anymore, as of 2018. It used to have a bar, and it was very popular with the staff. Too popular. So popular it was shut down on the order of the queen because her staff was getting too tipsy.
Silver Swan Recruitment had an inside source who told them the reason was some staff started drinking in the morning; not a great idea, especially since one former employee says serving the monarch is "run on a military system." In a documentary on the royal palaces for Channel 5 (via Insider), the queen's former press secretary, Dickie Arbiter said they "had to get rid" of the bar because servants were showing up to work "worse for wear."
Fortunately, there are plenty of pubs and bars within minutes of Buckingham Palace, so the live-in staff don't have to miss out completely. Just as long as they show up to work sober, which, to be fair, is not exactly an extreme request. The queen is hardly abusing her monarch powers asking that the guy pouring her wine at lunch not have drunk so much wine himself that it ends up in her lap.
The food at Buckingham Palace
The favorite staff meal at Buckingham Palace according to former royal chef Darren McGrady? The weekly Friday fish and chips. He told the Independent, "All the staff, 300 staff at Buckingham Palace, all of the chefs would have fish and chips for lunch." But instead of ketchup or vinegar, at the palace, everyone put "salad cream" on their French fries.
While live-in staff have access to good food at Buckingham Palace through the free staff cafeteria, the meals the royals eat when they stay there are on another level. McGrady told Hello! magazine that each day the queen is given a red leather-bound book full of recipes and menu options, all written in French. (Fortunately, the queen is fluent.) But if the queen is craving something right then, these menus will be of no help, as McGrady says, "We prepared the menus three days ahead so we could get the food in. The chefs would pick the menus and she would put a line through the ones she didn't want." And if she ended up eating something she didn't like? "She had a little book on her desk and she would just put a note in there saying 'I don't want this again' or something like that," he said (via the Independent).
And while the queen also likes having bowls of nuts left around Buckingham Palace to snack on, it was learned during a major phone hacking trial (via the BBC) that she does not want staff helping themselves. Or at least not the police. A journalist got ahold of an internal palace memo where the police working as royal security were told to "keep their sticky fingers out" of the queen's bowls of nuts.
The interior design doesn't change
Buckingham Palace, like the monarchy, is more about what it represents than what it is. The building is the physical embodiment of the country's past, present, future, the existence of the United Kingdom – or at least England – forever unchanging (whether or not that is at all true). That means no one, not even the monarch, can come in and make huge cosmetic changes to the building. Imagine if the queen decided in her old age that she wanted to paint the palace bright pink. There would be riots.
According to the BBC, those grand rooms you see in pictures when the queen hosts a royal event haven't been redecorated since 1949. That's before the queen was even queen. And the only reason it needed work then was because the palace was bombed during WWII. As historian Ellen Leslie told the broadcaster, "Most people decorate their houses … every 10 years or so, but this isn't what the Royal Family are into when it comes to Buckingham Palace. They want it to keep looking the same."
Occasionally, there will be big changes, but ones that leave the design mostly the same. When Queen Victoria died after spending 40 years mourning her husband Prince Albert, making sure nothing connected with his memory was altered in any way, it's said that her son, the fashionable Edward VII, walked into Buckingham Palace and demanded his sisters "get this morgue cleaned up!" (via "To Marry an English Lord"). What he definitely did was start modernizing the place, adding better plumbing, telephones, and garages for his new cars.