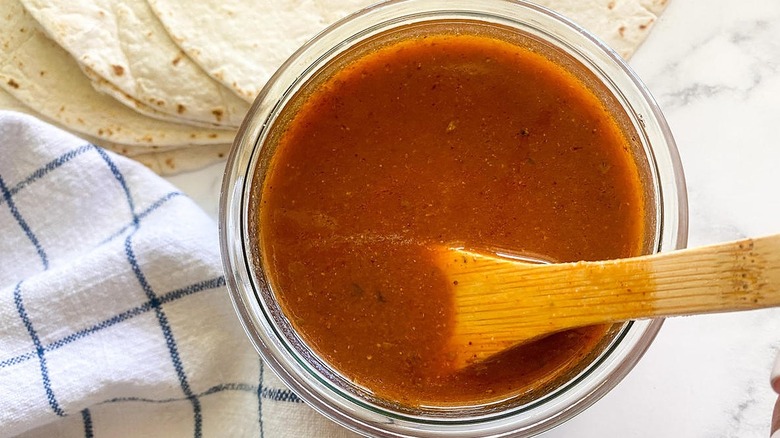 Condiments are things we typically think of as being ready made — ketchup, mustard, sriracha, who makes their own? Not too many people, we daresay, since it's so much easier, and pretty cheap, too, to just pick up the store-bought kind. Simple sauces, however, are a different story. For example, it's really quite easy to make a homemade marinara that tastes so much better than even the best store-bought marinara, and recipe developer Miriam Hahn assures us that enchilada sauce is another super-simple DIY product that's worth the minimal effort it takes.
As Hahn tells us, "One of my favorite things to do in the kitchen is make something home-made that is typically bought in a can." She calls her recipe "super quick and easy," particularly as it involves ingredients she always has in her pantry. As for the flavor, she calls it "rich with flavor with a little kick that is not overpowering," noting that it goes lighter on chili powder than other recipes while involving more garlic, onion powder, and oregano. Sure, this sauce is great for slathering on enchiladas, but no one is stopping you from using it on tacos, burritos, or really anything that your heart desires!
Gather the ingredients for easy enchilada sauce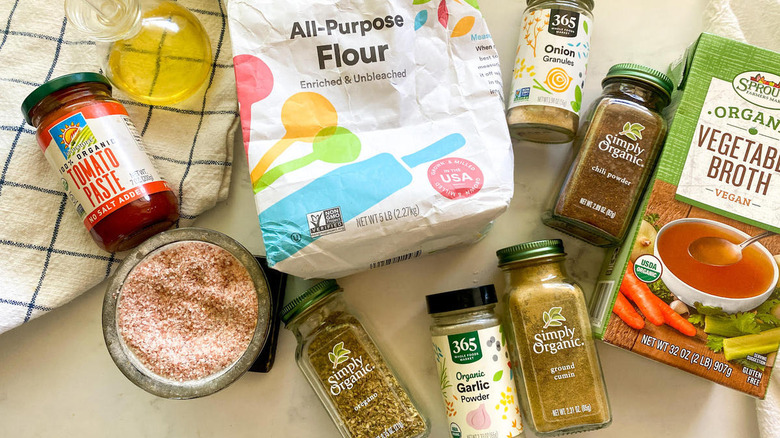 The base of this sauce is tomato paste thickened with flour, oil, and vegetable broth. To flavor the sauce, you'll be using a bunch of dried spices: chili powder, cumin, onion powder, garlic powder, and oregano, along with some salt.
As the ingredients list indicates (as well as Hahn's admission above), this sauce isn't going to be all that spicy. Hahn does say, though, that "you can definitely add more chili powder or even some cayenne pepper if it is too mild."
Combine the spice blend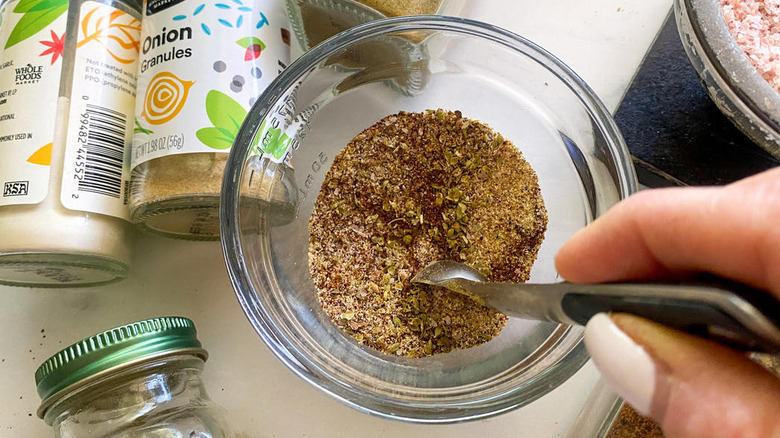 Hahn suggests that instead of measuring the spices into the sauce one by one, you instead combine them ahead of time so they'll be ready to go. That way, you can add them all at once when their time comes. So, in a small bowl, mix together the chili powder, onion powder, cumin, garlic powder, oregano, and salt.
Build the sauce on the stovetop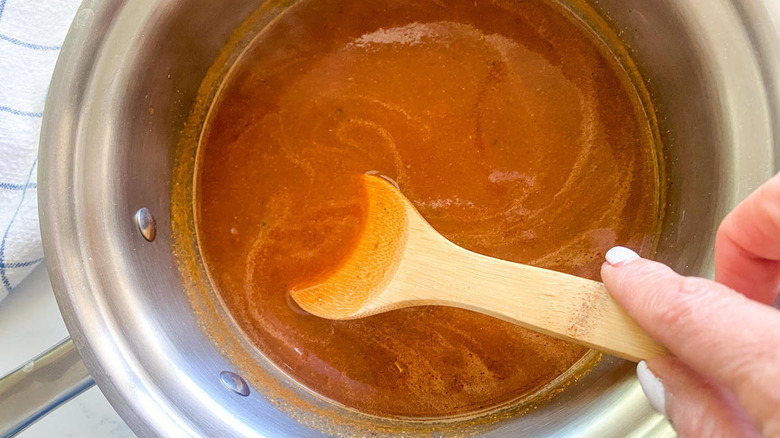 Over medium heat, add the oil to a medium-sized pot. Once the oil is hot, stir in the flour to make a roux. Hahn advises to keep stirring the mixture for a full minute. After the minute is up, you can finally add those spices, then stir in the broth. Hahn suggests you whisk that broth in and keep stirring to make sure your mixture isn't all clumpy. Once the broth is incorporated, stir in the tomato paste, too.
Turn down the heat, if necessary, so your broth is just simmering — don't bring it to a boil.After about 10 minutes of cooking, the flavors should be sufficiently combined and your sauce should be done.
Serve the sauce over enchiladas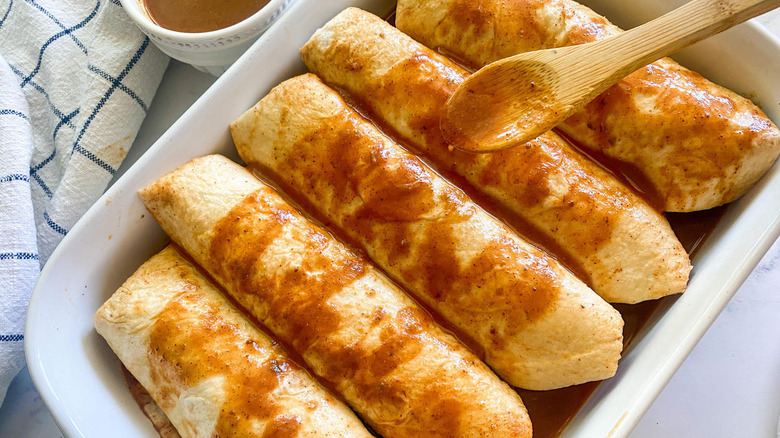 So what can you do with such a sauce, besides using it on enchiladas? Hahn tells us, "I use this sauce also on burritos, taquitos, flautas or even quesadillas…really any type of Mexican food that needs a little flair." Of course, you can't go wrong with serving enchilada sauce over enchiladas, and you'll find that this easy recipe packs plenty of flavor and just the right amount of heat.
2 tablespoons chili powder (or more to taste)
1 teaspoon cumin
1 teaspoon onion powder
½ teaspoon garlic powder
½ teaspoon oregano
½ teaspoon salt
2 tablespoons olive or avocado oil
2 tablespoons all-purpose flour
2 ¼ cups broth
¼ cup tomato paste
Combine the chili powder, cumin, onion powder, garlic powder, oregano, and salt in a small bowl.
Heat up the oil over medium-high heat. Whisk the flour into the oil, stirring for 1 minute. Stir the spices into the flour.
Whisk the broth into the flour, stirring until clump-free. Stir the tomato paste into the flour mixture.
Simmer the sauce for 10 minutes, then serve.