Move over, home renovation — cooking shows are officially It. While there are a few standouts on other networks, the majority of today's most popular cooking shows are on the Food Network. From competition shows like "Chopped" and "Cupcake Wars" to more relaxing, recipe-based options like "Giada at Home" and "Barefoot Contessa," the Food Network is the place to be. Just look at the numbers! According to Deadline, the Food Network ranked No. 14 on the list of most watched cable channels in 2016, raking in 106 million viewers.
What makes the Food Network and its laundry list of hits so popular? Perhaps it's all about the chefs. They are the ones that make all the wow-inspiring, drool-inducing, and craveable dishes, after all. And people love them for it, turning talented chefs into downright celebrities with sponsorships, product lines, and lots and lots of social media followers. But, sadly, there have been many times when the lights went out too soon on a beloved chef, breaking the hearts of foodies all around the world. Here are Food Network stars we've sadly lost.
Anthony Bourdain died by suicide in 2018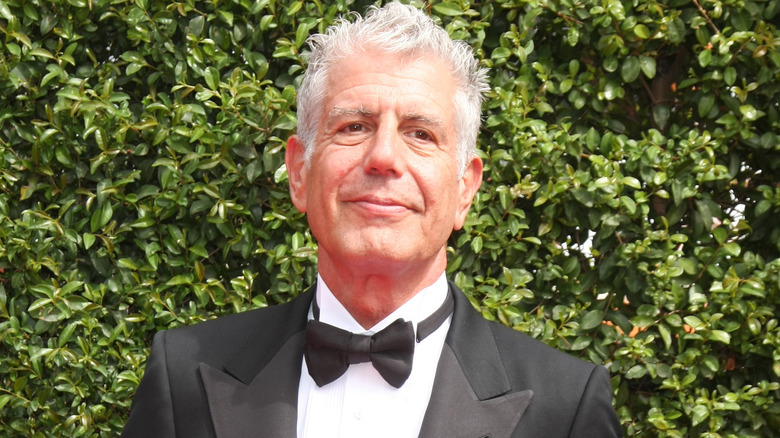 Arguably one of the best known celebrity chefs and Food Network stars, Anthony Bourdain was synonymous with exploration, adventure, and, of course, delicious food. His first food and travel show, "A Cook's Tour," ran on the Food Network for 35 episodes between 2002 and 2003, as per IMDb. However, the chef, food writer, and host went on to produce and star in an array of other hits like "The Layover," "The Taste," and "Anthony Bourdain: Parts Unknown."
Bourdain bewitched the world with his fascinating travels, the heartwarming connections he made with the people he met, and his wizard-like way of making viewers feel as if they're with him in whatever exotic locale, tasting the next flavorful dish. Sadly, as reported by CNN, Bourdain died by suicide in 2018. One of his close friends, Eric Ripert tweeted, "Anthony was … an exceptional human being, so inspiring [and] generous. One of the great storytellers who connected with so many."
If you or anyone you know is having suicidal thoughts, please call the National Suicide Prevention Lifeline​ at​ 1-800-273-TALK (8255)​.
Anthony Sedlack died at age 29
Most successful chefs can attest that a career in food means a lot of hard work — and celebrity chef Anthony Sedlack was no exception. According to the Vancouver Sun, long before he became a star of Food Network Canada, the dedicated cook was bussing tables at age 13 at a Canadian resort restaurant. After a promotion to the main kitchen, Sedlack won a job at the Michelin-star restaurant La Trompette in London. As per CBC, he was only 23 years old when he won the Food Network's "Superstar Chef Challenge" and then turned that win into a job hosting "The Main" on the Food Network. Sedlack even made guest appearances as a judge on "Family Cook-Off."
Just a few short years later in 2012, Sedlack was found dead in his Vancouver apartment. CBC also reported that, according to the British Columbia coroner's report, the chef's death was ruled a suicide because he had "excessive amounts of cocaine and oxycodone" in his system. He was only 29 years old.
If you or anyone you know is having suicidal thoughts, please call the National Suicide Prevention Lifeline​ at​ 1-800-273-TALK (8255)​.
Fatima Ali died from a rare form of cancer
According to IMDb, chef Fatima Ali first came onto the scene in 2012 when she appeared on Food Network's "Chopped," a competition show that challenges chefs to create delicious meals out of unexpected ingredients and then eliminates them one course at a time. Ali went on to appear on the show two more times as part of the "Chopped Champions" and "Chopped Champions: Pros" series. Ali really became a household name when she competed on the culinary classic "Top Chef" in 2018.
Unfortunately, shortly after "Top Chef" wrapped filming, the chef announced that she'd been diagnosed with Ewing's sarcoma, a rare form of bone cancer, and only had a year to live (via Today). "When we think we have all the time in the world to live, we forget to indulge in the experiences of living," Ali wrote of her diagnosis in an essay published in Healthyish. "When that choice is yanked away from us, that's when we scramble to feel." Today also reported that Ali died from Ewing's sarcoma at age 29 in 2019.
Ken Kostick died at age 57
Ken Kostick was one of the first Canadian celebrity chefs. According to CBC, his cooking and lifestyle show "Ken Kostick and Company" was one of the first programs to ever air on Food Network Canada. The TV personality got his start — and his fame — from co-hosting "What's For Dinner?" with Mary Jo Eustace. CBC also reported that "What's For Dinner?" began on Life Network in 1995 but, because of its incredible popularity, it moved over to CBC-TV and broadcast over 600 episodes all over the world. Kostick and Eustace went on to host other Canadian hits like "He Said, She Said with Ken & Mary Jo" and a Toronto-based morning radio show.
Sadly, Kostick's career came to an early end when he died in 2011 at the age of 57. As per the National Post, he had almost recovered from acute pancreatitis before his death. His business team released a statement, writing, "Ken lived a full and wonderful life, with many passions including, food, pets and people."
Cristie Codd was murdered in 2015
Cristie Codd, born Cristie Schoen, competed on Season 8 of the Food Network competition show "Food Network Star." According to an interview with Wannabe Chef, her goal was to make the world a better place through healthy food. "I'm an advocate of trying to motivate and educate and inspire people," she revealed in the chat. "Healthy does not mean boring and bland." Unfortunately Codd was the first one eliminated that season, but she wasn't deterred. "It's not over for me yet," she continued. "I have actually two shows that I'm going to start pitching. Two really awesome shows including one called 'Catch, Clean and Cook.'"
But, just a few short years later, Codd's dreams were cut short when she, her husband, and their unborn child were murdered. According to Inquisitr, a local handyman named Robert Jason Owens killed, dismembered, and burned the family and then tried to cover up his crimes by staging their home to look like a robbery. The publication also reported that Owens eventually confessed and was sentenced to 59 and a half years in prison.
Kerry Simon died at 66 from MSA
Kerry Simon might have been a household name because he won and then judged on Food Network's "Iron Chef America," as per Los Angeles Times. But, for those in the food world, Simon was famous for being the "rock n' roll chef," as he was dubbed by Rolling Stone. According to The Hollywood Reporter, Simon counted stars and rockers like Bill Murray and Cheap Trick as his friends, honed his skills in world-famous kitchens like Lutece and La Cote Basque, and helmed incredible restaurants including The Edwardian Room at the Plaza and Simon at Palms Place in Las Vegas.
But then Simon was diagnosed with Multiple System Atrophy (MSA), a rare neurological disorder. "My speech is slurred, my hands are numb, everything feels slowed down," Simon wrote of his disease in an essay published in Esquire. He went on to add that he started using a cane to help him walk — a super cool one topped with a silver skull — and eventually was forced to cook "through" one of his chefs, "telling him what to do." As per The Hollywood Reporter, Simon died from MSA in 2015 at the age of 66.
Floyd Cardoz died from COVID-19
Floyd Cardoz's congenial face regularly graced the Food Network on shows like "Chef du Jour" and "Fine Dining with Floyd Cardoz," as per the Food Network. Born and raised in India, the celebrity chef was also known for breaking down barriers, as The New York Times lauded him as the first Indian chef to helm a big-time New York City restaurant, Tabla, which he opened with Danny Meyer in 1998. According to Forbes India, Cardoz expanded his empire back into India in recent years, creating the company Hunger Inc and opening several successful restaurants like The Bombay Canteen and The Bombay Sweet Shop. "I still want to set the bar in terms of the food we do, the service we have, the kind of hospitality we offer, and importantly, how we treat people," Cardoz told Forbes India.
Sadly, Cardoz died from COVID-19 early in 2020, as reported by The New York Times. Chef Alex Guarnaschelli tweeted about Cardoz's death, writing, "A true gentleman in every sense and a great credit to the chef community. He will be sorely missed."
Clarissa Dickson Wright died at age 66 in 2014
No one would have ever thought that a show about two middle-aged women touring England in a motorcycle and sidecar, tasting food, and cracking jokes would have been a success, but "Two Fat Ladies" on Food Network was. Fans loved the quirky Jennifer Paterson, but they adored the oftentimes grumpy but always engaging Clarissa Dickson Wright. Wright, a celebrated chef and food historian according to The Guardian, became famous for her cheek. In fact, Express reported that whenever someone asked her if the title "Two Fat Ladies" upset her, she would shoot back, "I had problems with 'ladies' because it sounds like a public convenience. But which bit do you object to? Are you saying I'm thin?"
Sadly, as reported by The Guardian, Wright died in 2014 at the age of 66. "Clarissa was a marvelous cook and hugely knowledgeable about food and food history," "Two Fat Ladies" producer Patricia Llewellyn told the publication. "She was possessed of a formidable intelligence, and held strong opinions, a powerful combination that made her a commanding presence on television."
Jennifer Paterson died at age 71 in 1999
Jennifer Paterson was the other half of the hit food show "Two Fat Ladies." According to The New York Times, the travel, cooking, and lifestyle show began on BBC, but was picked up by the Food Network in 1997 so Americans could enjoy such delightful recipes like bacon-wrapped meatloaf from the smiling mouths of Paterson and her co-star, Clarissa Dickson Wright. Sadly, Paterson was diagnosed with lung cancer in 1999, even though the year prior she'd told a reporter that she felt great; she even joked that the secret to her health was "lots of meat, drink and cigarettes and not giving in to things."
The jovial TV personality did receive plenty of love during her illness. According to The New York Times, even Prince Charles himself sent Patterson tomato soup and ice cream to help her feel better. Her co-star was planning on sending her caviar, too. "She didn't see the point of flowers," Dickson Wright explained. "She'd rather have caviar." Sadly, Paterson died before she had the chance to eat it.
Judson Todd Allen died at 36
According to the Chicago Tribune, Judson Todd Allen liked to call himself the "architect of flavor." A Chicago native, the chef entered the public eye when he made it to the finals in Season 8 of "Food Network Star" on Food Network. However, Allen solidified his spot at the top by cooking for celebrities like Jamie Foxx and Steve Harvey as well as creating most of the menu at Taste 222 in Chicago. He was also dedicated to helping others in their journeys with food because, as he revealed in an interview with Illinois Alumni, he "was always the biggest kid in school."
Sadly, as per the Chicago Tribune, Allen died in May of 2018 of a heart attack at just 39 years old. "He was an absolute joy to be around every single day," friend and co-worker Liz Thompson said of Allen to the Tribune. "No matter what the situation … he brought the weather with him. If it was cloudy outside, he brought the sunshine. I can't tell you how much we are going to miss that."
Carl Ruiz died in 2019
According to Today, Carl Ruiz first entered the celebrity chef food scene when his New Jersey restaurant Marie's Italian Specialities appeared on Food Network's "Diners, Drive-ins and Dives." The chef went on to guest star in and judge on other Food Network competition shows like "Guy's Grocery Games" and "Guy's Ranch Kitchen." But, according to The New York Times, Ruiz's first love was Cuban food. His brother George Ruiz told the publication that Carl's inspiration always came from his mother and grandmother's traditional Cuban cooking.
Sadly, The New York Times also reported that Ruiz died in 2019 at the age of 44. Today later revealed that, according to the Maryland Department of Health, his cause of death was atherosclerotic cardiovascular disease. Ruiz's friend Troy Johnson wrote in remembrance of the chef on Twitter, saying, "He made people laugh who'd forgotten how to laugh. He set rooms on fire. He was the match and the kerosene."
Jessica Vogel died after complications from colitis
Jessica Vogel didn't make her TV debut on Food Network. According to USA Today, the chef's first television appearance was on Season 12 of Gordon Ramsay's intense cooking show "Hell's Kitchen." Though Vogel had lots of food experience from working at a bakery as well as a bistro and catering company, she only placed 12th out of 20 in the competition. However, her time on food television was not over, as the fiery blonde returned to TV screens when she competed in a special chocolate episode of "Cutthroat Kitchen" on Food Network.
But Vogel's food dreams would never come to fruition. As per NorthJersey.com, she was hospitalized in July of 2018 for colitis, an inflammatory bowel condition. Shortly thereafter, as her fiancé John Michael Keyser told the website, "her heart gave out" and she died. Vogel was only 34 years old. "We were planning to open a restaurant together," Keyser went on to reveal. "My heart is breaking."