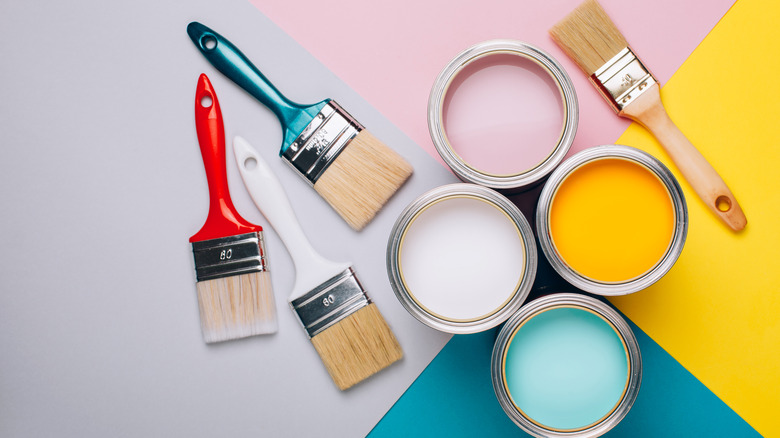 The day has come. You've been sitting staring at those bland, boring walls in your home for too long, and now it's time to repaint. Cue fanfare! Cue fireworks! Painting your home is an exciting moment for any interior design fanatic. As Lick's head color specialist Natasha Bradley to Livingetc, "Changing the color of your walls can completely refresh your home and can easily be done yourself instead of calling in a professional." With a fresh coat from a brush or roller, you can transform your surroundings affordably.
However, let's be honest here. How often do you think about paint except for when you need it? And how much do you know about paint? It can be all too easy to assume that one can fits all or that the most expensive brand is the best for you. Like everything else in modern life, there's a lot to consider when buying paint — and a lot of mistakes that you can make. For example, how much paint do you really need to buy? What is the best type for your living space? Before shopping for your next can of paint, check out this guide to the mistakes everyone makes when buying paint.
Buying paint without thinking about your furniture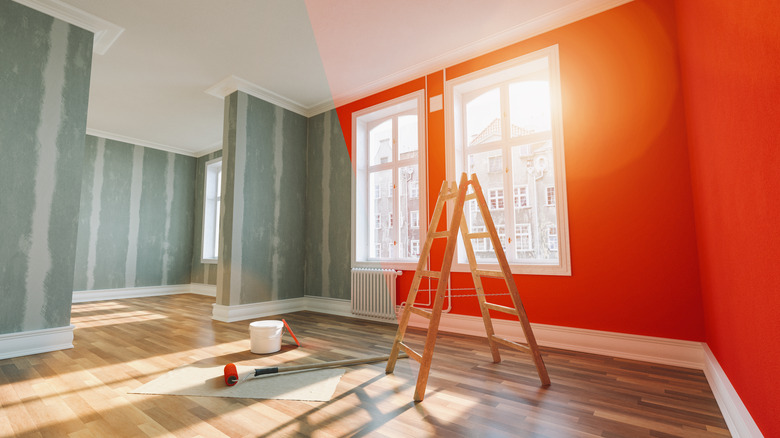 Unless you're starting from scratch, the room you're painting likely already has furniture. Before buying paint, be sure to think about your items. You don't want to have a new set of walls that completely clash with your furniture. We can guarantee that buying a new sofa to match your walls is more expensive and inconvenient than considering your furnishings and decor before cracking open a fresh paint can.
Approach your paint purchase with care and consideration. "We always recommend painting a small board or piece of foam core and evaluating the color in different parts of the room and throughout the day," suggests Benjamin Moore's director of color marketing and development Andrea Magno to Real Simple. "This will enable you to see how the color looks with consideration of the light (both natural and artificial) and other surroundings (such as artwork, furniture, etc.), ensuring that you'll love the color in all scenarios." If you've just moved in and your furniture isn't in place yet, it's worth moving some pieces into the room before testing swatches.
Not getting to know your paint types
Paint's paint, right? Not quite. Sometimes it feels like there are as many different paint brands, colors, and varieties as stars in the sky. A basic familiarity with a few aspects of paint can help you avoid ending up with walls you can't stand.
According to MasterClass, selecting a finish is the first step in choosing wall paint. Finish generally falls into five categories, ranging from matte to shiny. Flat or matte paint has the lowest shine levels, and while they excel in coverage, they lack durability. Eggshell finishes are slightly more durable, whereas a satin finish is in the middle. This popular choice is an easy-to-clean option. On the shinier end of the spectrum, you have semi-gloss finishes with good durability. High-gloss will deliver a dazzling shine and is the hardiest choice, but it can be tricky to apply. There's also enamel paint, which offers a solid and glossy finish. The finish you choose for your walls depends on a few factors. For example, how much light do your rooms receive? A higher-shine finish will bounce more light back into a space and is typically better for dark rooms. Higher-traffic areas, like kids' rooms, may benefit from tougher finishes.
Don't forget about the undertones
You've just bought a can of green paint. You apply it to your walls, and it looks pretty green. However, there's also a little blue, gray, and in certain lights, brown. The worst part is the color doesn't work in your room. What's going on? Well, friends, you may have forgotten to consider the undertones. According to Paintzen, modern paint manufacturers understand that complex, rich paint colors are more than the sum of their parts. Paints usually feature an overtone (the color you initially see) and an undertone (the subtle shades of color mixed in). Undertones can change the feeling of a room significantly, and if chosen right, they can elevate a space beyond compare.
Ideally, you should combine colors in a room with undertones in mind, specifically the heat of the tones. Using paint with cooler blue undertones in a room with fiery red shades might cause a clash. This step can generally be done by feeling it out, but many paint providers offer undertone guides for their paint. If not, try comparing the paint you're buying against a true version of that color. For example, when purchasing blue paint, place it against a primary blue to reveal its undertones.
Buying paint without using a swatch
Buying new paint can be a frustratingly long process, so it's natural to want to speed it up as much as possible. A cardinal rule many people break during the process is not using a swatch and trusting the color on the can. A swatch will better represent a paint's color by providing a small square that you can use to compare against others.
Remember, though, to properly assess the swatch. According to Better Homes & Gardens, you need to take it home before deciding. Be sure to get your Nancy Drew on. Hold your swatches up against the furniture, carpets, and curtains. Examine the room at different times of the day to assess how light affects the color. Repeat this step for multiple swatches. Remember, two shades may look similar under fluorescent store lighting. However, once you get them in a room, you can see their differences. Be warned that you may need to apply a sample amount to the wall to see how the paint will look.
Shying away from bold paint colors
We all know how exciting sprucing up our spaces can be. However, it can also be seriously intimidating. What if you get it wrong? What if that paint shade is just a bit too much? How much will it cost to rectify, and how will you pick up your shattered pride afterward?
For many, going bold with paint is a good thing. Being too tentative around paint colors is something that many people do, and the result is identical, muted rooms that fail to reflect your vibrant personality. "Color can create emotion, drama, and depth. Choosing colors is like selecting from a candy shop for the senses," says interior designer Sari Mina Ross to Mansion Global. Remember, you can use paint intelligently to create authentic moments in your space. "A great way to use a bold color without painting a whole room is to paint the doors and the trim. It brings the perfect amount of color without feeling overwhelming," recommends interior designer Victoria Bell to Mansion Global. Just make sure you're coordinating your shades. Your color should feel thoughtful and cohesive, not random or chaotic.
Buying without properly checking samples
So, you've done your due diligence. You've selected your favorite finish, checked the swatches, and even brought home a paint sample to test on your walls. So far, so good. Then, you dab a tiny amount of paint on the wall, look at it for five seconds, and paint the whole wall without a second thought. Then the light changes, and it looks terrible.
Unfortunately, way too many people do this. Checking your samples is the only way to know that the paint you're using works in all lighting conditions, and that it's the right shade for your space. Patience and careful consideration are key here. "Apply multiple colors and sit with them for a few days," advises Behr's color expert Erika Woelfel to Real Simple. "Test them in multiple different parts of your room with different lighting to help you to better visualize what the color will look like in your space at any time of day." Make sure to apply your sample colors apart from each other. If they are too close, it could prove distracting. Remember, you don't have to paint directly onto the wall. You can also test the paint on a large sheet of paper and see how it looks throughout the day.
Forgetting to think about the walls you're painting
Just as no two paints are the same, no two walls are alike. However, many people tend to splash paint on without considering the wall itself. Failing to do so can cause problems, especially when determining how much paint is needed to get the job done. "Porous walls are likely to require extra coats, as are walls undergoing dramatic color transformations," states Farrow & Ball to House Beautiful. If you suspect your wall might require extra coats, it's always good to buy more paint than you think you need.
Another consideration is whether your walls will need priming before applying paint. Although primer may not be necessary for all jobs, it can save you multiple additional coats if you are going for a drastic color shift or painting over a glossy, oil-based coat (via Allbright Painting). The same is true for brand new drywall, which will generally be super-porous. Several coats of primer can reduce its porosity and keep your coat count down.
Opting for the cheapest paint possible
The decorating process is expensive. Sometimes wildly so. We understand sticking to a budget when and where you can, especially if you will paint an entire house. With that said, choosing the cheapest option in the store is often a costly painting mistake. According to Nash Painting, low-price paint generally uses lower-quality pigmentation and a higher amount of solvents, which causes them to be thinner. They also contain lower-quality resins.
All of this combined means that you're getting less durable paint. Plus, it takes more coats, meaning you'll have to buy more to get the same effect as other paints. It may not look as good and have damaging effects on your health and the environment. Instead, splash out a little extra on a higher-quality option, like paint made by Farrow & Ball or Lick, who provide more eco-friendly options and dynamic color (via Country & Town House). They may be more expensive, but it's worth it for the final result.
Don't forget, there's more than just eggshell and high-gloss
We don't want to overcomplicate things, but it's important to have investigated all finish options when buying paint. Although flat, satin, eggshell, high-gloss, semi-gloss, and high-gloss might be the famous five, there are other choices to consider. According to House Beautiful, super-matte is an option that provides a flat finish and a rich, luxurious feel. However, what you gain in appearance, you lose in durability. They may not be the best choice for homes with kids or pets running around.
On the other end of the spectrum, super-gloss does what it says on the tin. This finish provides an almost mirror-like effect and can create a notable boost in light throughout a space. Remember, super-gloss isn't for the faint of heart and it might reveal flaws in your walls more than other paint types. "Before you make up your mind, take a personal inventory of your house and be realistic about the condition of your walls, thinking about how a sheen can either highlight or minimize imperfections," advises Behr Paints' Jessica Barr to House Beautiful.
Assuming that the more you spend, the better your end product will be
When decorating the home of your dreams, you don't want to skimp on quality. You also don't have to pay top-end prices for everything to get the best results. This tip is the case for paint, too. According to Dunbar Painting, the price does not necessarily reflect its quality. Although pricier paints may cost more because they have a better appearance or durability, many options will fit into more modest budgets and still work well.
You can also find budget-friendly options without solvents or VOCs, a common problem for lower-price paints. The Glidden Essentials line is a low-VOC choice with an extensive warranty and offers solid coverage for a great price (via The Spruce). Glidden Essentials also has a frankly jaw-dropping range of colors and finishes. As a bonus, it doesn't have that super-strong paint smell. You can find a store near you that stocks Glidden Essentials on their website.
Forgetting to consider VOC content
The abbreviation VOC appears a lot when we talk about paint, but what does it actually mean? VOCs (volatile organic compounds) are chemicals found in some household products. There are plenty of reasons why you should avoid buying paint with this ingredient. According to The Spruce, they are responsible for that chemical smell, and the gas they release can be toxic. Breathing in VOC fumes in large quantities can result in tissue irritation, breathing difficulties, and organ damage (via American Lung Association).
Therefore, finding a paint option that's low-VOC or non-VOC is a wise choice. These paints will generally have less odor, although it's still important to use proper ventilation when painting your spaces. Even non-VOC paint can contain harmful compounds. In general, the least-harmful options are non-toxic, and it's worth checking the label to make sure your preferred choice doesn't have any nasty chemicals added. If in doubt, ask a sales advisor in the paint store for help.
Trying to save money on tools
It's easy to assume that paint tools are the same whatever price you spend on them. After all, how complicated and fancy can a paintbrush be? Avoid blowing your entire budget on paint and leaving nothing for the project accessories. "One of the easiest things to remember about paint tools is that you get what you pay for. The biggest mistake I see homeowners make is that they buy cheap tools that don't give them good results," says Ace Hardware home expert Lou Manfredini to Real Simple. "Then they end up with a poor finished product."
So what do you need for a standout paint job? Naturally, a brush, preferably 2 ½ inches and angled, and a 9-inch roller are your first port of call. Save money in your budget for painter's tape, wall cleaner to prep your surfaces, a roller tray, brush cleaner, a roller extension pole, a good ladder, and some canvas cloths to cover your floors. What you don't need, on the other hand, are paint keys (you can use a screwdriver), paint tray liners, and covers for paint rollers. A plastic bag works fine. And don't waste your money on fillable painting tools, which are hard to clean and take more time than they're worth. "In the time it takes to refill it, you could already be painting," Manfredini said.
Not buying enough for the job
Ah, yes. We've all been there. You thought that a single pot of paint would be enough. Now, you're two walls down, the store's closed, and you're wasting your precious painting time. You can avoid this by buying enough paint for multiple coats and unforeseen circumstances. If you have thin paint, you may need to buy more than you think. It may take more coats to get sufficient coverage.
How do you know how much you need? "As a guide, it's key to bear in mind that most paints will cover about 10-12 m2 per liter," said director of Benjamin Moore UK Helen Shaw to House Beautiful. You'll have to measure your walls to get this right, but the good news is that you can do this by walking from wall to wall, with each step being roughly a meter for most adults. Repeat this process for the room's length and width and multiply each number by two to get the horizontal measurements. Then, it's time for the height. "Most rooms have a standard 2.5m high ceiling, so if you simply times the perimeter by 2.5 you will have the total m2," Shaw said. This painting tip will help you correctly estimate the amount of paint to buy for your next project.