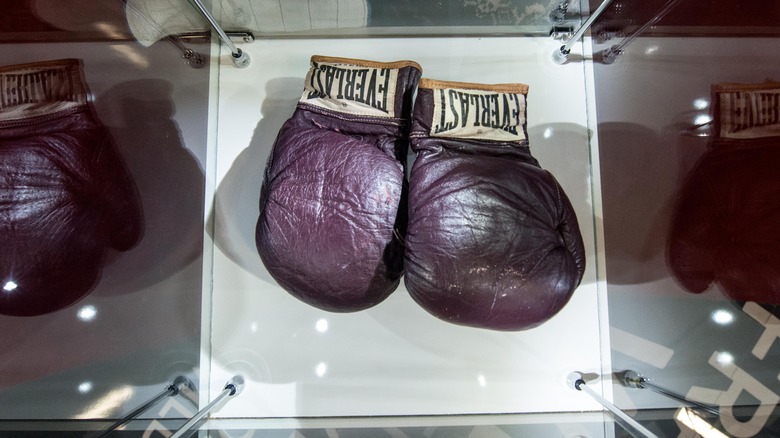 For the biggest sports fans, rooting for their favorite team or player is like a religion. This means when a related piece of sporting memorabilia comes up for sale, it's like getting the chance to own a priceless relic. And there are plenty of people out there who are happy to bid outrageous amounts to possess their Sporting Holy Grail.
Sometimes it might even just be sports-related memorabilia that sells for big bucks. For example, in 2017, a painting by Norman Rockwell of three baseball umpires contemplating a rain delay, which was used on the cover of The Saturday Evening Post in 1949, sold for $1.6 million, per Reuters.
While these sorts of items are also cool, and obviously some collectors think they are worth the money, all the items on this list are more directly related to sports and players and their playing careers, whether it's equipment they used, uniforms they wore, or at least a rare and coveted trading card. And if you're thinking, "How many items could possibly be worth more than a million dollars to even the richest sports fanatic?," strap in. Here are pieces of sports memorabilia that have sold for over $1 million.
Babe Ruth's 500th home run bat: $1 million (2019)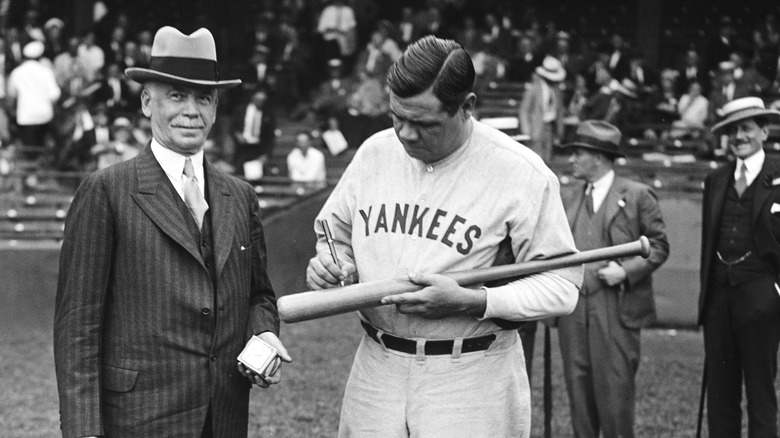 It's fitting that Babe Ruth is first on this list, since he's going to show up quite a lot. He's one of the most iconic names in sports, so everything he touched turns to auction gold decades later. But coming in at a relatively paltry $1 million is the bat he used in 1929 when he hit his 500th home run. Technically, it sold for $1,000,800 in 2019, to an anonymous bidder (per Reuters). Obviously, that last $800 was too much for some collectors.
Ruth kept his record-breaking bat for over a decade before he gave it to a friend as a gift, which really puts the birthday presents you got last year into perspective. Jim Rice was a golf and drinking buddy of Ruth; he stuck the bat in a corner and kind of ignored it. When he died, his son put it in a closet for the next 30 years.
While it might not have as impressive a milestone connected to it, in 2021, Christie's auctioned off another bat of Ruth's, this one with eight notches carved into it, indicating the eight home runs he hit with the bat. It bested the 500th home run bat with a sale price of $1,050,000, per ESPN.
Lou Gehrig's 1922 bat: $1.03 million (2020)
It took longer than the auction house wanted for Lou Gehrig's century-old bat to sell in 2020. According to ESPN, when Heritage Auctions in Dallas originally put it in a sale, the reserve price was $950,000. Even though that was a great deal considering it wouldn't have even qualified the bat for this list, no one bid that high. Within a couple months, though, someone decided to go straight to the auction house and ask to buy it without all that bidding malarky. They ended up spending $1,030,000.
While this bat doesn't have a record attached to it like Babe Ruth's 500th home run one did, it is still very significant. Gehrig loved everything about this exact bat, so much so he wanted to be sure he never used a different one. The auction house's Chris Ivy explained, "So he sent it back [to the factory] and said this is the bat I want you to use to create my future bats." Babe Ruth is pictured around 1925 looking at one of Lou Gehrig's bats based off the one sold.