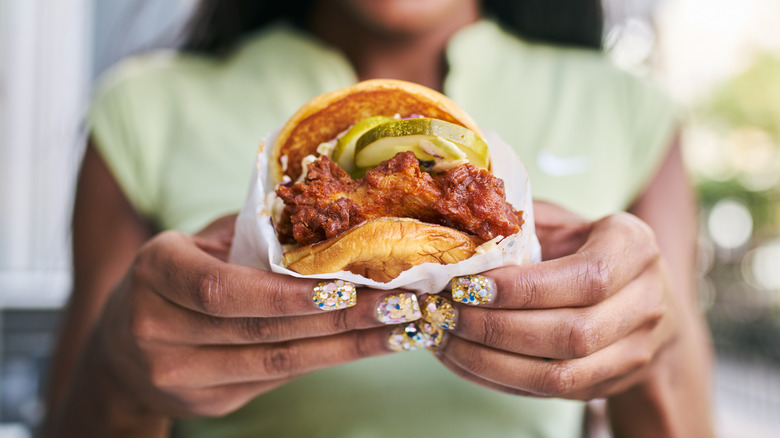 We may receive a commission on purchases made from links.
A rich cut of golden fried chicken comforted by two buttered and flaky buns filled with a variety of unique accouterments is the kind of food that whisks you back to childhood when life was easy and bills were something your mom and dad worried about. Something about fried chicken feels like home, and evoking that feeling is something that isn't always easy when it comes to food.
Fortunately, chicken sandwich enthusiasts can rejoice in the fact there are certainly no shortages when it comes to incredible handheld chicken delectables throughout the country waiting eagerly to offer you that feeling of home. But you never want to find yourself visiting a location that doesn't deliver the absolute best-tasting chicken dishes around. That's why we've compiled a vital list of spots that warrant your visit as soon as possible, so fire up Google Maps and start planning your chicken sandwich route right away. Those delicious handheld vessels of deliciousness aren't going to eat themselves.
Fried Chicken Sando and Pretty Bird – Salt Lake City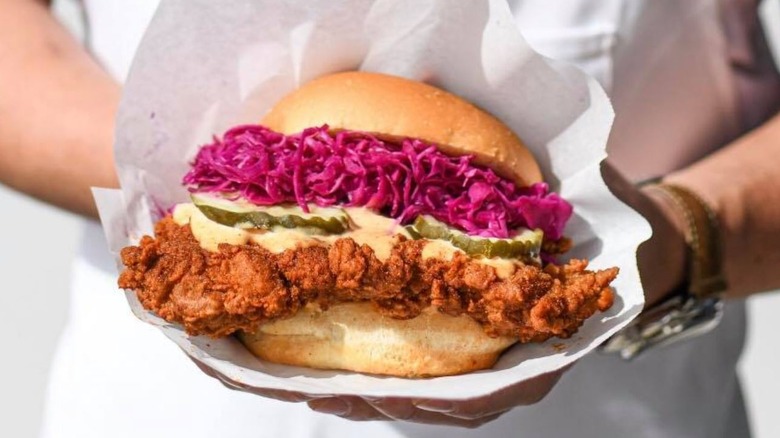 If you're gonna spend time traveling to a restaurant to try out their grub, it's nice to know they have a solid philosophy regarding how they operate, and Pretty Bird Chicken certainly has that. Their philosophy consists of four pillars: Quality, Commitment, Empathy, and Precision. Those are absolutely four words you want to be associated with the food you're about to eat. The chef behind the philosophy (and menu), is Viet Pham, a talented kitchen maestro who actually began his career in finance before pulling a hard right turn into the world of cooking. The guy even beat Bobby Flay twice on the Food Network show "Iron Chef," and that makes this Salt Lake City, Utah, locale a must-visit.
Now, when you step into a place that has the word "bird" in its name, you're obviously ordering a chicken dish. But, which one? The Fried Chicken Sando is the answer. Choose your level of spiciness first (mild, medium, hot, and "hot behind"), and pretty soon you'll receive a golden fried chicken breast topped with purple slaw and pickles for a great vinegary taste that cuts through the richness of the fried crust and a drizzle of Pretty Bird sauce (mayo, lemon zest, and chili powder). As one food reviewer named Mandy Murray put it, "The ingredients complement by expressing the notes of moist, juicy chicken, with just enough sweet, salty, and heated crunch. Pretty Bird swooned both my friend and me at first bite."
Hattie B's Hot Chicken Sandwich – Nashville
When you think of the chicken game in Nashville, Tennessee, three words come to mind: "Nashville Hot Chicken." It's a staple around those parts, and for good reason. Smothering a deep-fried chicken breast in a glossy coating of a cayenne-based spice blend and spicy oil is exactly what the doctor ordered. That's why when you visit Hattie B's, an iconic Nashville location that slings a mean hot chicken game, you have to order up the Hot Chicken Sandwich. There's just no other alternative when you're faced with such a well-known item.
Hattie B's knows how to kick the heat level up to full blast and get your taste buds yearning for a fire extinguisher afterwards. There are six different levels of heat, ranging from Southern (no heat whatsoever) to Shut the Cluck Up (have your doctor on speed dial). The Hot Chicken Sandwich comes with a perfectly fried chicken breast topped with coleslaw, pickles, and a condiment called Nashville Comeback Sauce (mayo, honey, and a dry-spice seasoning blend). The coleslaw does its job cooling your mouth off from the hot chicken, while the sauce adds a sweetness that complements the heat, as well. Hattie B's knows exactly what they're doing when it comes to hot chicken, so make this a stop on your next road trip.
The Foodies Choice Crisp at Crisp – Chicago
While you likely associate fried chicken with southern cooking here in the states, there's another area of the world that has absolutely slam-dunk fried chicken: Korea. Korean fried chicken always has a variety of unique and umami-packed sauces to choose from, which makes you a lifelong customer at whatever location you get them. And if you're hesitant about trying Korean fried chicken because you want to make sure you're getting some of the best stuff around for your first time, a place named Crisp in Chicago has you covered in all sorts of ways. Especially when it comes to their chicken sandwiches.
Crisp's menu has plenty of amazing items that seduce your appetite right away, but the specialty sandwiches section is what you need to focus on. Check out The Foodies Choice Crisp. It's a deep-fried chicken breast glazed with your choice of sauce (sweet, spicy, or buffalo) and topped with baby spinach, tomatoes, crumbled blue cheese, bacon, mayonnaise, and a condiment called Allison's Atomic Sauce. Yea, there's a whole bunch going on here, but every layer of flavor joins forces with each other to create a seismic flavor explosion that disrupts everything your mouth thought it knew about chicken sandwiches.
Thigh High Chicken Biscuits at Chef Art Smith's Homecomin' – Orlando
To many, a trip to Walt Disney World is a bucket-list adventure. Gathering your savings and splurging on a trip to (supposedly) the happiest place on Earth. Kids get to see their favorite movie characters come to life before their eyes, and there are rides suitable for visitors of all ages so parents don't feel left out of that action. But, most people don't really put too much thought into the food aspect of Disney when they arrive. The allure of the parks is rides and interacting with the various movie characters. However, if you want to hop aboard the good-eats train to Appetite Town, make sure you dine at Chef Art Smith's Homecomin'.
Located in Disney Springs, a large sprawling area full of retail outlets, restaurants, and entertainment venues, Chef Art Smith serves up some great cuisine to fill your stomach before the next round of spending way too much money on Disney-themed memorabilia. One of the tastiest items on the menu is the Thigh High Chicken Biscuits. You get three buttery flaky biscuits with fried chicken thighs drizzled in hot honey and topped with bread and butter pickles for a sweet flavor profile that works wonders with the hot honey. It's tasty enough to take your mind off the fact your wallet is growing thinner by the hour.
Popeye's Chicken Sandwich at Popeye's – Nationwide
Now, we know what you're probably thinking: "Popeye's Chicken Sandwich landed itself on a list of the best chicken sandwiches in the country?" And, you'd be correct to ask that. However, with all the intense hullabaloo this item caused in regards to the fast food "chicken sandwich wars," you have to do yourself a favor and try it. People literally went wild for this sandwich, lining up for hours on end just to snag one. One manager at an East Coast Popeye's said, "I had customers nearly fight some of my coworkers because they were told that we were not serving the sandwich because we had run out." Yea, it was that much of an ordeal.
Now, the sandwich is actually really darn good. Is it so good that it warranted customers trying to throw down fists with workers over its absence? Absolutely not. But compared to the chicken sandwiches that other fast food restaurants have delivered over the years, it's one of the best. The chicken breast is thick, juicy, and makes you feel like you definitely got your money's worth. There are only two other toppings it comes with: pickles and a spicy mayo sauce. It's the sauce that really takes the sandwich to the next level. A combination of mayo, hot sauce, paprika, and garlic powder offers a nice kick of rich heat. Popeye's ate its spinach and muscled up a chicken sandwich that's here to stay.
Espicy at Las Abuelas – Austin
"Las Abuelas," for all of you who need a Rosetta Stone reminder, translates to "the grandmothers" in English. The reason behind this Austin, Texas, food truck's name came from the head chef and owner's grandmothers. Rita, one abuela known for her delicious fried chicken, and Maria, the second who created amazing dishes combining Texas and Mexican cuisine, were the driving force behind this establishment. Thanks to Rita and Maria's inspiration, the menu here has some seriously unique offerings when it comes to chicken sandwiches.
If you're having a hard time wrapping your heads around which menu item to get (you probably will), settling on the Espicy is a sure-fire way to get the most bang for your buck. The fried chicken is topped with arbol-garlic oil, chipotle mayo for a nice kick of heat, pickled cabbage slaw for a cooling mouthfeel, and creamy jalapeno salsa. Every bite is rich and creamy thanks to the mayo and salsa, and the chicken itself is soaked with flavor. It's just more evidence that when it comes to cooking and grandmothers they just seem to knock it out of the park with every meal they make. Muchas gracias, Las Abuelas.
Mac 'n' Cheese Chicken Tender Waffle Sandwich at Mama Bird Southern Kitchen – Las Vegas
At Mama Bird Southern Kitchen, they "invite guests to reminisce of a time gone by where southern homes and backyards were always open to welcome in neighbors or folks just passing through. A home-cooked meal is always wholesome, hearty, and good." And this Las Vegas, Nevada, spot offers a delicious reprieve from all the gambling and entertainment the city has coursing through its streets. You don't want to spend all your money cranking that slot machine handle. Put a hold on the casinos once your hunger kicks in and spend some time with Mama Bird.
At Mama Bird, their goal is to fill you up properly so you have a belly teeming with food to burn off while you spin that roulette wheel for the next several hours. While many of their dishes will get the job done just fine, if you're really looking to dive into something rich, hearty, and handheld, you can't pass up the Mac n' Cheese Chicken Tender Waffle Sandwich. Just saying the name is a mouthful, so think about what the actual sandwich is like! It's a warm cornmeal waffle piled with chicken tenders, pickles, lettuce, tomato, comeback sauce, and the star of the show, gooey macaroni and cheese. It's a lot to handle, literally. But there's nothing like eating waffles, fried chicken, and macaroni and cheese all in one decadent bite.
Chicken Philly at Buxton Hall Barbecue – Asheville, North Carolina
When Chef Elliot Moss and restaurateur Meherwan Irani opened Buxton Hall in 2015, they wanted to bring pristine barbecue to the hungry customers of Asheville, North Carolina. Elliot grew up in Florence, South Carolina, and learned butchering and smoking techniques from his grandfather from an early age. A passion for great barbecue was rooted in him from early on, and he more than proved it when Buxton Hall was named one of "Hot Ten" Best New Restaurants in America by "Bon Appetit" magazine, and three years later it was featured on "Ugly Delicious," Chef David Chang's Netflix series. Needless to say, Chef Elliot and his business partner found success quickly, and anyone who dines here can understand why.
Let's take a look at the menu, shall we? As you'd expect, you can order up a heaping plate of the stick-to-your-ribs barbecue, and whatever you settle is a winner. But, try looking past all the tantalizing brisket and pork options and making your way to the Chicken Philly Sandwich. Now, you might catch a look of puzzlement from those at your table wondering why you'd opt for a chicken sandwich when smoked brisket is on the menu. There are six reasons: smoked pulled chicken, caramelized onions, cheddar whiz, banana peppers, steak sauce, and mayo. It's Chef Elliot's take on a Philly cheesesteak, but he uses astoundingly tender pulled chicken instead. Every bite runs down your chin, and you never want the experience to end.
Chicken 'Not So Waffle' at Boxcar Betty's – Charleston, South Carolina
According to their website, Boxcar Betty's "started with a picture of a fried chicken sandwich and developed into a desire to bring high-end fried chicken sandwiches to Charleston." That was quite the leap they took from a simple visual to making it a delicious reality, but their unyielding desire to serve up amazing chicken dishes made it all possible. Boxcar Betty's has locations in Charleston, South Carolina, Chicago, Illinois, and Charlotte, North Carolina, so pick one of these spots to pencil into your next road trip.
Once you finally arrive at one of Boxcar Betty's locations, you want to have one menu item in the forefront of your mind: the Chicken "Not So Waffle" sandwich. Now, it's easy to assume a waffle replaces the bun, but in fact, it's just a bun. However, that doesn't mean for one second you should feel even a tinge of disappointment. This sandwich has so much going on you don't even think about waffles once you take your first bite. Choose either fried or grilled chicken, and then the cut of meat is topped with bacon jam, maple syrup, tomatoes, and pimento cheese. It's savory, it's sweet, and it's gooey. The bacon jam is rich and salty, which makes the sweet syrup a fantastic addition, and the pimento cheese coats your mouth with a tangy hit of richness.
Old Bay All Day at Astro Doughnuts & Fried Chicken – Washington, D.C.
The genesis of Astro Doughnuts & Fried Chicken can be traced back to a hockey rink and two best friends who loved the sport. Childhood friends Elliot Spaisman and Jeff Halpern grew up wielding hockey sticks and scoring points in Montgomery Country, Maryland, and they'd often treat themselves to doughnuts after a hard day on the ice. The two were foodies for as long as they could remember, which led to their eventual climb into the culinary world with their interpretation of two classic comfort foods: doughnuts and fried chicken. Located in Washington, D.C., and downtown Los Angeles, this place gives a whole new meaning to "sweet and savory."
Having the option to get any of their sandwiches on doughnuts as opposed to biscuits or brioche buns means you have a lot to think about before you place an order. But, take a load off your mind and head right to the Old Bay All Day sandwich. This amazing creation takes a fried chicken breast and tops it with bacon, pickles, lettuce, tomato, and Sriracha mayo, then plops all of those amazing ingredients in between a savory doughnut seasoned with Old Bay spice. Take time to think about that. All the delicious spices in Old Bay coat a fluffy doughnut for a sweet and spicy vessel to transport the interior fixings directly into that eager mouth. This sandwich kicks your Astro in the best way possible.
Mother Clucker at Byrd and Barrel – St. Louis
When you see the name "Mother Clucker" staring at you from a menu, you feel like it's tempting you. It knows you're hungry, but are you prepared for a chicken sandwich with such a bada** name? Well, when you visit Byrd and Barrel in St. Louis, Missouri, you better arrive with your game face fastened on tight, because the Mother Clucker is beckoning to you and you better heed its call. This fast casual chicken spot serves up a bunch of great options if you're looking for sandwiches, but it's the Mother Clucker that looms over the rest.
The Mother Clucker is no stranger to an assortment of unique ingredients all piled onto one bun ready to sing out to your appetite and woo it with its celestial notes. It all starts with the golden fried chicken, and then the show takes twists and turns you never see coming. Add to the chicken caramelized onions for sweetness, then top that with cheese whiz and hot pepper jelly for a creamy, hot, and salty combination that gets your mouth standing at attention. But, the Mother Clucker has one more topping up its sleeve: Red Hot Riplets chips. The ribbed potato chips lend a crunch heard across the dining room, so everyone knows you weren't scared of taking on the sandwich. After you're finished, you'll be so cluckin' satisfied.
The Cordon Bleu at Denver Biscuit Co. – Denver
If you just read the name "Cordon Bleu" and thought, "Hey! That's not a chicken sandwich at all! What kind of gimmick are you trying to pull here?" just sit tight and keep reading. The Denver Biscuit Co. knew exactly what they were doing when they added this item to their menu. Instead of just having a basic chicken sandwich using one of their freshly made buttermilk biscuits, they decided to take two different dishes and combine them all under the roof of a flaky pastry, and man did they get their Cordon Bleu Chicken Sandwich so right.
If you're to envision what a fried chicken and cordon bleu biscuit looks like, there's a high probability the image in your mind is exactly what it looks like in reality. The fixing of a cordon bleu – ham and Swiss cheese – are piled onto a juicy piece of buttermilk fried chicken, and then the whole sandwich is drizzled in a rich coating of house-made honey butter for a salty and sweet one-two punch that elevates the savoriness of the ham and chicken to a dreamy level. One warning, however: You may never be able to enjoy an ordinary cordon bleu ever again.
Honey Sriracha Chicken Sandwich at Plan Check Kitchen and Bar – Los Angeles
If you're a foodie, living in a city like Los Angeles with its seemingly endless amounts of amazing options to choose from day-in and day-out is a dream. You never run out of new restaurants to try, as well as quickly accumulating a list of your go-to favorites. Fried chicken sandwiches may not register as standard cuisine to seek out, but Plan Check Kitchen and Bar serves up a selection of chicken sandwiches that will absolutely shove themselves to the front of your "favorite sandwiches of all time" list (the one you constantly have cycling through your head).
The sandwich you're going to want to focus on here is the Honey Sriracha Chicken Sandwich. It's a crispy chicken breast glazed with honey sriracha sauce, then topped with smoked bleu cheese crumbles and fried onions. The sharpness of the bleu cheese is mellowed by its smokiness, which makes it a perfect pairing with the hot and sweet glaze coating the chicken. Fried onions are awesome on just about anything, so they play a fantastic role in this sandwich's entire production.