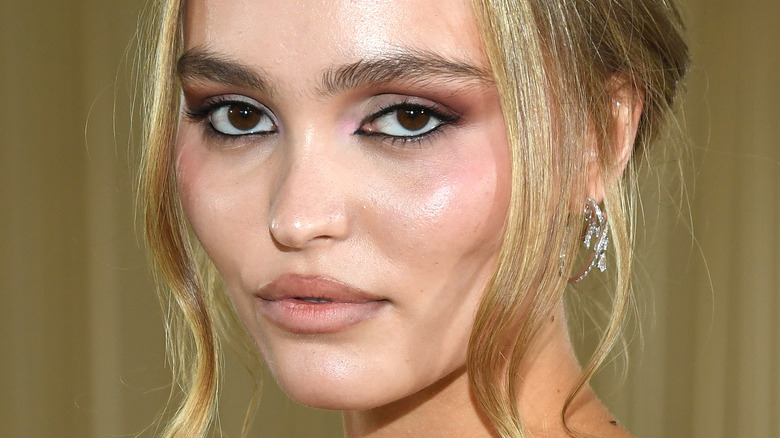 Johnny Depp and Amber Heard's stunning trial is turning just about every head. After a delay, the defamation suit filed by Depp against Heard in 2019 is officially in court, and it seems like just about everyone has an opinion about the case. There's a good chance that you've heard something about this trial. From TikToks to the nightly news, the duel between Depp and Heard is being talked about everywhere. While Depp's kids haven't made an official statement on the trial, that doesn't mean that they're not taking a clear stance.
In case you need a quick catch-up, Depp sued Heard for defamation back in 2019 after she wrote an article for The Washington Post where she wrote partly about becoming "a public figure representing domestic abuse." Depp and Heard were married from 2015 to 2017 and ended the marriage saying, in a joint statement, that their "relationship was intensely passionate and at times volatile, but always bound by love." It looks like it wasn't all bound by love after all. The two are now sitting on separate sides of the court battling it out with their legal teams.
While neither of Depp's children are physically there for the trial, they're making it clear which side they're on in the matter.
Lily-Rose Depp knows that 'no one's perfect'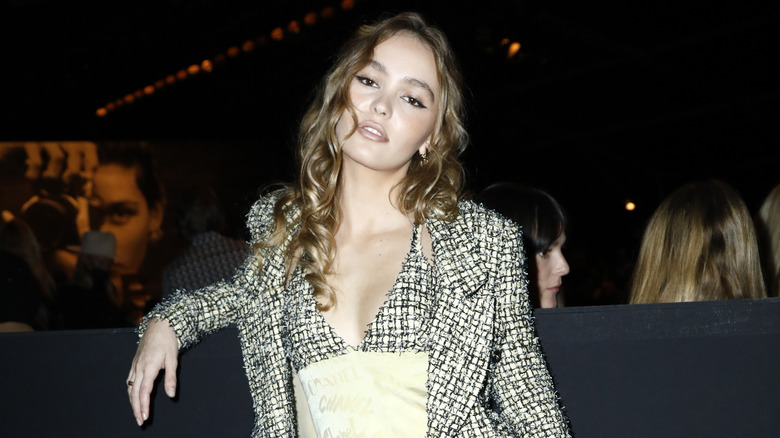 It's worth noting that Lily-Rose Depp — who's had a stunning transformation — hasn't come out with a direct statement regarding her father's trial. That being said, there is nothing confusing about which side she's on. Although the comments are vague, the support for her father is anything but. In the first interview since her dad's London trial, where Johnny Depp sued publication The Sun for defamation after calling him a "wife beater" in a headline, Lily-Rose had some wise words about reflecting and not being perfect.
"You can't be perfect all the time. Nobody's perfect. Period. I think that's just the fact of life," Lily-Rose told Entertainment Tonight. "But I think a big part of keeping a good head on your shoulders is just having a lot of self-awareness and never feeling like you take yourself too seriously to put your actions back into question." Like mentioned before, these words aren't an exact comment on the trial itself, but they sure do seem supportive of good 'old dad.
"I think it's always good to have a good self-reflection about the things you've done and always thinking about how you could be better," she added.
She thinks very highly of her dad
While she might not have spoken out on the trial specifically, Lily-Rose Depp did stand up for her dad directly. After abuse allegations first popped up in 2016, she took to Instagram to set the record straight once and for all. Literally. As in, like, she has not felt the need to mention anything else directly since the moment.
"My dad is the sweetest most loving person I know," Lily-Rose said of father Johnny Depp on Instagram, according to Variety. "He's been nothing but a wonderful father to my little brother and I, and everyone who knows him would say the same." The comment was accompanied by a photo of the actress as a toddler being held up by her dad.
It's safe to say that Lily-Rose is fully supportive of her father. Although she is not set to testify and likely won't be making a comment any time soon, her past statement is enough to know exactly where she stands.
Her dad thinks very highly of her as well
Johnny Depp thinks just as highly of his daughter as she does of him. In a 2015 interview, he told the Daily Mail, "Lily's really together, she's a sharp kid and one of the smartest human beings I have ever met." All of that love and admiration is backed up with his actions, as well. According to the publication, one of the reasons that Depp filed the defamation suit at all was for his children.
"The news of [Amber Heard's] accusations had sort of permeated the industry and then made its way through media and social media became quite a global, let's say, 'fact,' if you will," Depp said during his London testimony, according to StyleCaster. "Since I knew that there was no truth to it whatsoever, I felt it my responsibility to stand up, not only for myself in that instance, but stand up for my children."
As if that alone wasn't completely heart-warming, he added, "I wanted to clear my children of this horrid thing they were having to read about their father, which was untrue."
Lily-Rose Depp isn't ruling out working with her dad in the future
Lily-Rose Depp took after her famous father's footsteps and got into acting as a career, so it makes complete sense to know that the two are close. She's even appeared in movies alongside Johnny Depp at the start of her career (via IMDb). In an interview promoting the movie "Voyagers," she mentioned that she might not be done sharing the screen with her dad, either.
"Never say never," Lily-Rose said when asked if she would ever do movies with her dad in an Entertainment Tonight interview. "That's really not something that I consider first and foremost. What's interesting to me is the particular character that I may or may not be playing and then the story that it's telling." Of course, she had to add in that she knows how great of an actor Johnny is as well by saying, "But yeah, I mean, I love to work with great actors."
This might be the most supportive father-daughter acting duo out there.
Lily-Rose didn't attend her father's wedding to Amber Heard
While Lily-Rose Depp has always been super supportive of her dad, there was one decision that she reportedly did not get behind. According to Johnny Depp's testimony in the London defamation trial against The Sun, Lily-Rose did not attend his 2015 wedding to Amber Heard.
"My daughter Lily-Rose did not come to the wedding," the actor said while testifying in London, according to Us Weekly. "She and Ms. Heard were not on particularly great terms, for several reasons." Johnny went on to say that Heard would often criticize him as a father, alleging that she "would tell me what a bad father I was and that I had no idea how to parent."
He didn't get into more specific reasoning and statements, but go ahead and let your imaginations run wild. Either way, Johnny decided to go along with the marriage, but it's nice to see that he and Lily-Rose have a supportive relationship.