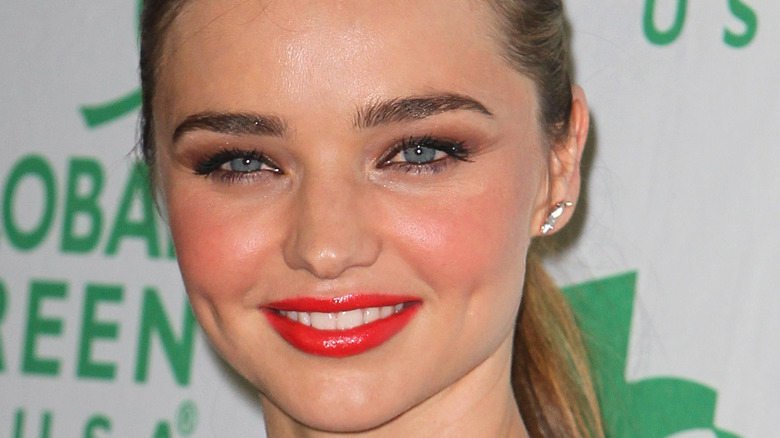 Stop signs, traffic lights, and red flags. Red is often a color that makes us stop from proceeding forward. But when it comes to makeup, beauty lovers flock toward red-hued products without any hesitation. Whether it is Marilyn Monroe's signature red lip or the modern red eye looks in "Euphoria," red-toned makeup has become a pop culture staple. But there's one red makeup item that has especially been a long-lasting Hollywood beauty secret — red blush.
Red blush gives an innocent, youthful, amorous appearance (per Into the Gloss). Think of the ruddy hue your cheeks turn as blood rushes to your face after a brisk walk in the cold.
According to The Smithsonian Magazine, red blush became popular during the flapper era of the roaring 1920s thanks to silent movie actresses like Joan Crawford and Clara Bow. The red blush helped actors' cheekbones stand out and not look washed-out in black-and-white films, per Glamour Daze. These days, red blush is still used on several celebrities for a timeless fresh flush.
Model Miranda Kerr often rocks a ruby-hued blush, which is key to her iconic, angelic look that gives the appearance of pinched cheeks (via Glamour). Recently, Bella Hadid sported an otherwise neutral makeup look that was highlighted by a classic red blush at the 2022 Met Gala, where the dress code was "Gilded Age" (per Stylecaster). To try this old Hollywood-inspired beauty tip, the good news is there are plenty of red blushes that will have you flushed with joy.
The one that's worth the splurge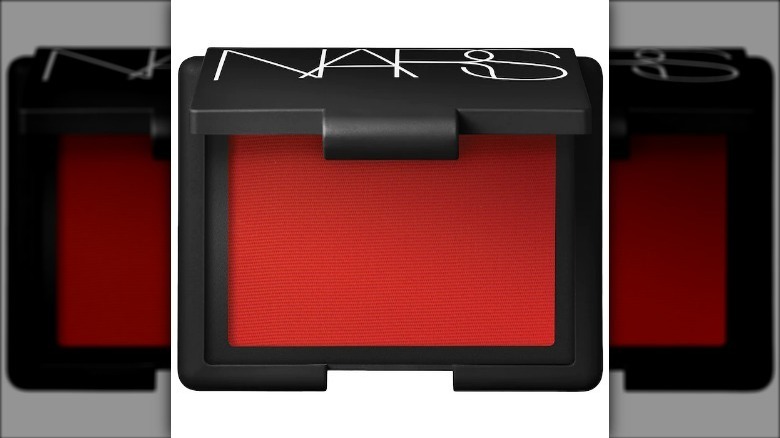 If you love the look of ruddy cheeks, then you should try the NARS Powder Blush in Exhibit A ($32). This bright, warm-toned red matte blush may look intimidating, but Stylecraze says this blush blends into your cheeks flawlessly and provides a rosy flush that will enhance any skin-tone. The powder blush doesn't emphasize pores and wears well through the end of the day. According to Sephora, the blush has a "subtle pink undertone," which is why the bold hue blends out to naturally enhance your cheeks.
The long-wearing blush is universally-flattering and stays in place, making sure not to transfer to other parts of the face. Per Nylon, this blush is the best red blush to come in a matte formula, making it ideal for those with oily skin. Nylon recommends using a fluffier brush to help disperse the red pigments for a diffused flush on the cheeks that mimics the look of lying on the beach for a couple of hours.
The one that is ridiculously affordable
Let's admit it. With this inflation causing the price of everything from gas to groceries to increase, buying a bold-colored blush may not be at the top of your priority list — especially if you're loyal to that one nude-colored blush. If you're new to red blush and want to try out this trend, there's a blush that won't put a dent on your wallet. In fact, it's even cheaper than a bean burrito from Taco Bell.
The AOA Perfect Powder Blush in Kindle ($1) is a true-red, matte blush that packs a pigmented punch. According to beauty guru Zabrena, the long-lasting blush formula doesn't budge the slightest bit throughout the day. Tanealya Kim, who also reviews makeup products on YouTube, calls the Kindle shade a "pure red color" that looks absolutely gorgeous on the skin.
Several customers left positive reviews for the Kindle shade on the product page for the blush. One review said, "I'm a deeper complexion and it actually shows up as a red, rather than leaning toward orange or pink, so that's nice." Another review said, "Do not be afraid of this color, even if you have light skin. With one dip, you look like you just came in from the cold." Both customers highly suggest using a light hand to gently dust on the ruby-hued blush.
The one that will give you a natural, rosy flush
While red blush is a great option for people who love the bold blush trend, it's a shade that can also work for those who prefer a more natural tint to the cheeks. The Milk Makeup Bionic Liquid Blush in Fly ($22) will give you an innocent, babydoll-like radiance. According to the LA Sentinel, the product not only gives a dewy glow, but also hydrates the skin with skin-loving hyaluronic acid and snow mushroom extract. Made with 90% natural ingredients, the first layer applies as a sheer wash of scarlet and can be built upon for more pigment.
Staff at Glamour Magazine UK also tested out the product in the shade Fly and gave it high ratings. Bandi Manzini, Glamour's Partnerships Director was "impressed by how the cushiony, weightless formula blended seamlessly even with it being layered onto a powder." Glamour Social Media Assistant Luca Wetherby-Matthews, said "Despite its intimidatingly bright red color, the formula was really buildable, starting as a sheer wash of color and building up to a bold wash of color when more was applied."
The one that gives ultimate pigment
If you embrace color and think "bolder is better," then you will be grateful for the Rare Beauty Soft Pinch Liquid Blush in Grateful. Per Who What Wear, this ultra-pigmented formula melts into the skin and sets to a luminous finish on your cheeks. The end result is akin to the radiant skin you get after a relaxing steam facial at the spa.
It's so pigmented, you only need one dot of the cool-toned red blush for both your cheeks. The recommended way to apply the blush so you get a rosy hue (and not clown cheeks) is to apply the dot of red liquid blush to a makeup palette and then use a stippling brush to pick up the product. Doing so will give a more realistic flush to your face, rather than applying the doe foot applicator directly on the cheek.
Beauty guru Jackie Aina also highly recommended the liquid blush in the shade Grateful. According to Aina, the color blended out beautifully on her skin, with just a little going a long way. Regarding the blush, Aina said, "That's what liquid blush is supposed to do. It's not supposed to be too greasy. It's not supposed to be too oily. It's supposed to have color payoff so I can sheer it out." This is a blush that works well on a "no-makeup" day on top of your bare skin, or over a full face of makeup for the ultimate glam look.
The one that comes in a blendable, cream formula
Cream blushes are seriously trending now because of the skin-like, dewy sheen they impart on your cheeks (per Glamour). One red-toned cream blush comes in a highly-blendable balm formula, per Marie Claire Australia. The Rituel de Fille Color Nectar Pigment Balm in Bloodflower is a crimson-hued gel-based formula that adds a healthy shine to the cheeks. This watercolor effect on the face is due to the replenishing lanolin, as well as lavender, castor, and jojoba oils in the blush. The blush is also eye and lip-safe, making it perfect for a quick monochromatic, romantic look.
According to lifestyle blogger, Arundhatee Talukdar, this blush even works on acne-prone skin and doesn't emphasize skin texture. Talukdar found that the cream blush could be layered both over foundation, or over your skin without any makeup. The best part: applying a pore-filling primer isn't necessary. She recommends applying the blush with your fingers and using a beauty blender to soften any harsh edges.
With any of these five ravishing red blushes, you're bound to find the perfect one for you. So go ahead and paint your cheeks red, and then go paint the town red with your bold and beautiful self.