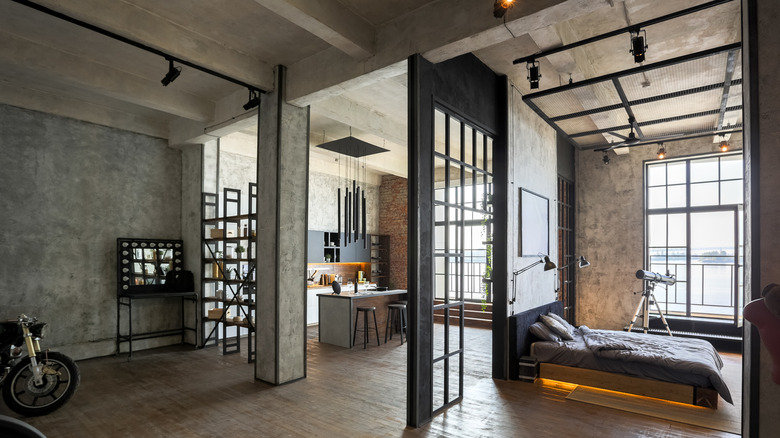 An authentic loft apartment is spacious — the ultimate open floor plan — with stylish throwbacks to industrial roots like exposed brick walls, high ceilings, and concrete floors. Many celebrities, including Vanessa Carlton, call lofts home. Lofts are highly sought after and can be hard to find. However, if you appreciate loft spaces, it may be worth the effort. According to Realtor, authentic lofts come from upcycled factories and industrial sites. Lofts took off in the '60s and '70s in New York City's SoHo district when developers saw big bucks in converting industrial places into apartments. Lofts were such a hotcake item that builders constructed loft-style housing to fill the demand. As Beverly Hills sales agent David Kean said to Realtor, "Converted loft apartments have more of a cool factor than a typical condo does." Of course, not every apartment claiming to be a loft is authentic, so those on the trail of this living space should dig into the home's roots and industrial features before purchasing (via Quality Bath).
What makes a loft so cool is also what makes it a decorating challenge — blank space devoid of dividing walls. Wondering how to tame a super-sized open floor plan and make your living quarters cozier and allow for privacy? Here are the best ways to decorate your loft and make it feel like home.
Size it right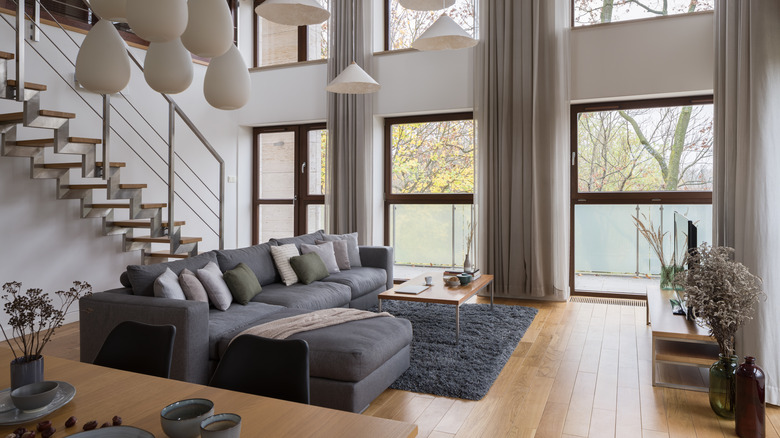 The challenge of high ceilings and skylights is that they can overshadow the rest of the loft and make the space uninviting. To let other aspects of your loft shine, House Beautiful suggests paying attention to scale. Curtains can help achieve harmony if placed near the ceiling. While long curtains are a powerful way to bring proper proportion into a space, you don't want to block one of the loft's winning features: sunlight. Consider tiebacks to get the sweeping effect of curtains without losing rays.
Scale your furniture to fit your spacious loft. Avoid small pieces that look out of place, dwarfed by their surroundings (via Crate & Barrel). Instead, make the most of your space by pairing big furniture with some medium-sized pieces. After selecting furnishings, accent those walls with vertical style. Here's an opportunity to unleash your imagination and decorate vertically with abstract art, tall mirrors, or towering shelves. These pieces will help establish scale and create a cool, industrial-inspired vibe in your loft.
Build rooms within a room
Furniture should be more than a place to land yourself for a day of binge-watching. Sure, you can pack plenty of couches, chairs, and tables into a loft's vast space, but if you don't have a design plan, the apartment will have all the warmth of a warehouse. Brrr! According to House Beautiful, cozying up the place with furniture groupings creates the effect of individual rooms. Each room within a room should stand on its own as a gathering area yet still be in concert with the loft's overall vibe. This tip is like decorating an open floor plan, another potentially massive space that gains a comfy feel from furniture clusters. Or you can think about the lobby of a posh hotel, where different seating configurations each have their own sense of individuality without clashing.
In any home, space is a commodity and not something to waste. For that reason, think about your lifestyle and how to create rooms that best match your needs (via Crate & Barrel). Do you entertain often? Does working from home demand office space? The answers to these questions and more should shape the configuration of your new loft apartment.
Rugs help to define space
Loft owners welcome rugs to take the chill off bare feet, and they are also a key player in design strategy. Some well-placed rugs will help create a room within a room and make the loft's immense size more manageable (and home-like). Station your furniture cluster on a living room rug, and you've sealed the success of that room within a room. Rugs are that powerful. According to Crate & Barrel, area rugs add comfort and texture to the loft setting, which we know can be uninviting without the right decor. Remember to choose a floor covering that fits the furniture you want to group. Do not leave a chair or table out since this breaks design logic and disrupts harmony. You can layer a variety of rugs for extra texture.
Embrace your bold side by experimenting with different shapes beyond the traditional rectangular rug (via Urban Rhythm). Take a playful approach with round or oval rugs, making sure the furniture fits on top. Accurate measurements are a must.
Master storage needs creativity
To cut down on clutter and crowding in your loft, confront storage issues head-on. If you dream of a spacious walk-in closet, a one-room loft space probably isn't for you. Lofts are notoriously lacking in closet space. According to Crate and Barrel, you can tackle this problem with coat racks and wall hooks. Use them to hang up jackets, hats, and handbags. You can create more storage by using shelving units as room dividers and furniture with plenty of drawers. Create a room divider by floating storage units away from the walls. Remember, lofts typically won't feature built-in bookshelves, but furniture storage units will compensate well.
For an affordable option, you can stack crates to create a decorative storage center or use baskets as a handy hide-all on shelves (via Architectural Digest). Pegboards are another creative storage idea. They can get the job done in the office and the kitchen. A clever choice is to stash out-of-season clothes inside a raised platform. Typically, it takes a tall ceiling to accomplish this, but no worries, you have a loft.
Accessorize to bring out the loft's unique character
Working with scale and tackling sound issues are some of the challenges of designing your loft. Now here's the fun part: accessorizing. If you're a true loft enthusiast, this part is for you. Where else can a bicycle look right at home on the wall and concrete fixtures like they were born for the role? If you have left the original features like exposed brickwork, concrete floors, and other industrial pieces, you're in a great position to showcase those elements. Adding factory-inspired decor will help you achieve this. According to Vaunt Design, metal frame mirrors give off a bold industrial vibe and can provide the illusion of more space by capitalizing on natural lighting. You can also add towel ladders, which fit the loft's unique character. Towel ladders not only make a style statement, but they have a practical side. Lastly, concrete is the perfect match for a loft, and there's no shortage of ways to introduce concrete, from tables to planters.
Not sure about where to find industrial decor? Machine parts might be perfect for your mantel (via Better Homes & Gardens). You can find them at a flea market, junkyard, or architectural salvage store. Widen your horizons to include farming equipment, lab gear, school fixtures, restaurant supplies, and shipyard materials. All of these will help create a chic vibe in your loft.
Create color harmony, not competition
Complementary colors such as a neutral palette will soothe the eye and create a harmonious, comfortable loft space. According to Homedit, you're not locked into neutrals as long as the colors don't clash. Before embarking on your color journey, chart a style course. For instance, classical style may thrive on black and white contrasts, while a mid-century modern or contemporary interior design can be neutral or vibrant. One thing to keep in mind is that your loft is one big room.
While you can divide it into different areas for work or play, it's still one big room that aesthetically needs harmony, not extremes. Once you have decided on a style, limit your color choices to two or three complementary hues and get your contrast from accent features, like metals. An easy way to decorate with color might be pillows and accessories (via Crate & Barrel). They pack a punch without upsetting the cohesive feel that a loft demands.
Style uninterrupted walls
Few apartment designs let you go big like a loft with its often-uninterrupted walls. According to Architectural Digest, you can play up the space with large artwork or designer furnishings. Custom bookshelves, for instance, bring life to concrete walls, whether used for a classic library or to showcase collectibles, sculptures, and other souvenirs. Concrete walls are often the heart of a loft.
Atlanta Designer Maggie Minor, who grew to love lofts from her family ties, uses her artistic skills to design abstract canvases for drab gray stone. "I've been a little obsessed with decorating large walls with little to no color options for the past decade," she said. While you can't go wrong with browns and whites, Minor prefers vibrant colors (via Maggie Minor Designs). Her canvases answer the question, "What do I do with that wall?" Art lovers might even create a free-floating wall to display their favorite pieces. Lofts are perfect for designing a gallery wall the same size as a real art gallery. However, you don't need a canvas to brighten your loft space. Frescoes can elevate the loft's bohemian style and give life to traditional brickwork with patterns, landscapes, and even birds, which are on-trend for 2022 (via Hackrea). Tapestries and sculptural wall hangings with an industrial vibe are other tips for lofts.
Be true to its industrial roots
When decorating your loft, it's best not to get frilly with your decor. Focus on celebrating its roots by going for an industrial style. According to Quality Bath, the days when factory workers labored in the great big room you now call home are long gone, but you can still connect to the past. While you may want to cover over features like exposed brick, beams, cinderblock, plumbing or ductwork, or concrete floors, these are part of the loft's personality.
Another hallmark of the loft is an open floor plan, so consider retaining its charm and not getting boxy with room dividers. The same goes for authentic factory-style windows. Don't hide their charm behind heavy draperies. Neutral tones better highlight a loft's unique vibe, although a pop of accent color won't spoil the character. Emphasize a loft's high ceilings with hanging pendant lights or swinging seats in a breakfast zone (via DigsDigs). Adding concrete panels to the design also helps celebrate industrial roots.
Go for a double-sided fireplace
Nothing warms a place visually and aesthetically like a fireplace. A double-sided fireplace can help partition a cavernous space like a loft, giving it more of a homey quality. A fireplace pairs naturally with hot cocoa and family togetherness, the kind of ambiance a loft space may be sorely lacking. A fireplace will get more mileage than other design strategies and help your loft feel like a home.
According to Vaunt Design, lofts can struggle to look comfortable. However, a fireplace can take the chill out of your open plan warehouse. A double-sized fireplace may be the best investment since it allows more of the loft to bask in the warmth. The added ambiance can help bridge that gap from the factory to home. A two-sided fireplace is less challenging and expensive to install because no second chimney or extra fuel is required (via Impressive Interior Design).
Plan for privacy
Since lofts are large and open spaces, you may feel doomed to a life with no privacy. Even if you love the airy nature of a loft — it may be what attracted you in the first place — some areas cry out for privacy. Who wants guests congregating within sight of a bedroom? According to Apartment Therapy, there are solutions. One way to achieve privacy in the bedroom area is by using a custom bi-folding door. Some people use floor-to-ceiling draperies to conceal a bedroom closet. Draperies are a great hack and can be extended almost anywhere with the help of tracks or tension wires. If you're looking for a less severe break in the loft's open space, create a room divider from a wall of potted plants, tall bookcases, or low-slung shelves with a raised platform.
As Boston interior designer Brenda Be said to Bob Vila, an alcove works wonders in a loft, creating a place where "people can be both together in the same space and yet individual and participate in their own activities." Get the look with furniture, 40-inch-high knee walls, or divider walls that extend a few feet. Folding screens can add privacy and interest with unconventional metals or a more delicate Japanese Washi paper.
Turn a loft conversion into purposeful space
Maybe the loft isn't your entire apartment but just part of your house you'd like to redesign. Lofts can serve many functions, from a family room to an office. So, determine your priorities and get innovative. According to Daily Dream Decor, converting a loft into usable space is best accomplished with an architectural plan that meets local building codes. A loft can be a tricky area to design to its full potential — that's where getting expert architectural advice comes in, but many homeowners have accomplished the task on their own, and you can too.
Often people envision a loft as an extra bedroom but don't take that route if you don't need (or want) another bedroom. Other options might be a kids' study area, lounge area, game room, yoga studio, and gym. Even if it's only a storage area, make it attractive with shelving and furniture — not boxes on the floor. The possibilities seem limitless when you consider suggestions like a kids' playroom, family room, gathering space, an office for a side gig, and a creative studio (via Visionary Homes).
Mix metals, patterns, and textures
As with any interior design, lofts can rise to style perfection with the right mix of metals, patterns, and more. According to Elle Decor, you can accentuate a beautiful brick wall by mixing metals, especially if working off an otherwise neutral backdrop. Make your loft a class act with a combination of patterns for pillows, upholstery, and even an upholstered coffee table. Your designs can be subtle or bold, like a wallpaper that packs a punch. Additionally, patterns can team up with textures, like in a great area rug. Remember, even with a good thing, too much is a spoiler. As they say, less is more.
Mixing metals for variety can be particularly tricky. However, New York designer Courtney McLeod provided some pointers (via Better Homes & Gardens). First, select the primary metal, then choose one or two accent metals, ensuring they don't clash. Variety can also come from the finish of the metal. "Softer, more muted finishes that don't have a lot of shine are easier to mix than polished ones," McLeod said. With these hacks, the loft can be a showcase for sophistication.
Shine some light on your loft
The soaring ceilings and sparse wall space in a loft can create a lighting challenge. Luckily, you can overcome this by selecting the correct overhead lighting. While the limited wall space can limit the placement of plug-in lamps, Bob Vila suggests building floor outlets into new construction and redesigns. For renters, flat cord covers may do the trick. Suspended lighting is an optimal statement for high ceilings (via Lights.com). Think pendants and chandeliers with adjustable chains or cords. These can be eye-catching pieces, especially if paired with artisan-crafted bulbs. This lighting statement can be pronounced and visible throughout the open loft space.
However, don't overlook the benefit of task lighting, especially for desks and reading areas where a floor or table lamp can provide direct light. Concrete lighting is a loft-appropriate style since these minimal fixtures complement warehouse-style decor (via Vaunt Design). Not sure where to install your concrete lighting? Hang a few pendants over a breakfast bar, a dining room table, or anywhere your loft needs some oomph.
Improve sound quality
Big open spaces with no walls and tall ceilings can distort sound in a way that's far from home-like. According to The Spruce, you can silence the cacophony with pieces like sound-absorbent floor tiles. There's no need to suffer because soundproofing doesn't have to break the bank. One of the simplest ways to reduce reflected noise is carpeting with thick padding. The padding gets the job done better than carpeting alone, so no skimping! If the walls are your problem, consider acoustic panels consisting of boards or fabric hung on the wall.
There's no such thing as a simple phone conversation inside a loft. "They thought I was in an airport hangar," New York loft resident Bob Weinstein told Bob Vila. "It's a little disconcerting." To keep sound from affecting your sanity, use fabric everywhere, including window coverings, bedding, wall hangings, or cushy seating. Severe noise problems might call for sound-control matting like the type seen in a recording studio or custom-upholstered panels. Once more, use fabric to ease those sound waves for the ears.