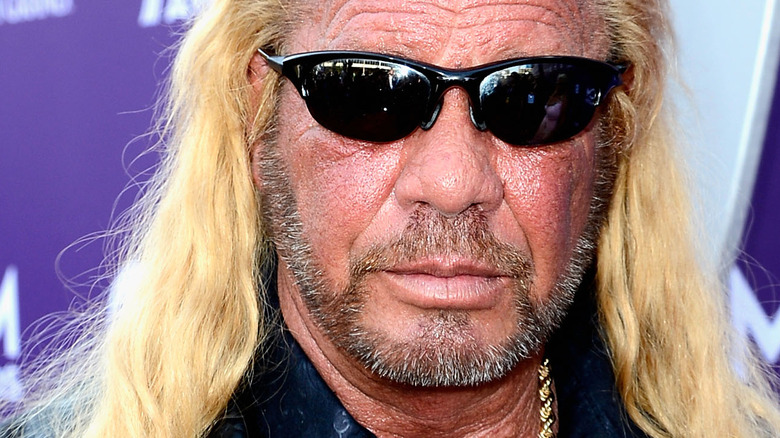 Duane Chapman, better known as Dog the Bounty Hunter by reality television junkies everywhere, is a larger-than-life guy. His one-of-a-kind ways, eccentric attitude, unique appearance, and no-apologies persona make him a fan favorite for many people who wait with bated breath to see what Dog is going to be up to next. From hard times and fast living to fame and fortune by way of reality television, Duane Chapman keeps viewers and fans on the edge of their seats because you just never know what he will take on next.
Dog has done everything from joining a national manhunt to trying his hand on a reality television singing show. The only thing you know for sure with Chapman is that whatever he chooses to do, it will never be characterized as boring. Always a busy guy and never conforming, here is a glance into Dog the Bounty Hunter's life today.
Dog the Bounty Hunter's rise to fame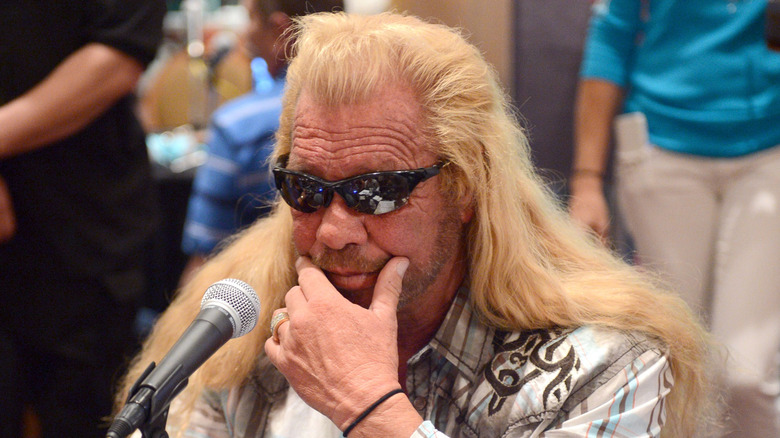 Following a rocky start to life, Dog found his way in the world by learning to hunt down hardened criminals to see that justice was rightly served. He gained the attention of many after he apprehended the dangerous and elusive cosmetic heir, Andrew Luster. Luster fled the country during his lengthy court trial, but he didn't stay hidden for long, as bounty hunter Duane Chapman and his team tracked him down and dragged him back to the states to face the music. While Chapman didn't get financial reimbursement for his part in the takedown, he did gain a massive fan following and the attention of a country that seemed enthralled by this unconventional knight in shining armor.
In 2003, Chapman landed his first reality show, "Dog the Bounty Hunter," on A & E. Following an eight-season run, Chapman, aka Dog the Bounty Hunter, appeared in the spin-offs "Dog and Beth: On the Hunt" and "Dog's Most Wanted." His bounty-hunting reality TV empire helped the once down-and-out Colorado native amass a net worth of $6 million.
Chapman has closed the door on his initial bounty hunting series but not on the entertainment business entirely. He has turned his talents and attention elsewhere, making everyone wonder what he will take on next.
Duane Chapman's colorful past
Duane Chapman has never tried to hide the colorful past that is all a part of his big, bold, and unapologetic persona. Before he was Dog the Bounty Hunter, he was in and out of troubled relationships, and was often on the wrong side of the law. Life got off on the wrong foot for Chapman. He was born to a middle-class family in Denver, Colorado, but his upbringing was anything but roses and sunshine. Chapman has described his upbringing as abusive, and the instability during his formative years might have led to rocky decades of self-destruction and ill-fated personal choices.
At age 13, Chapman dropped out of school and joined a biker gang, often becoming involved in unsavory activities. In his early 20s, he found himself in serious trouble. Duane Chapman was present at a fatal shooting, a drug deal turned sour, and the incident put him behind bars. He was sentenced to five years in prison and served 18 months of the sentence.
Chapman's wife and mother to two of his 12 children divorced him during his prison stint. While Chapman could have leaned into his pain and bad luck, he chose to turn lemons into lemonade by leaving the dark past behind him and stepping into a brighter, smarter, and more lucrative future. The man who once only found himself on the wrong side of the law would now commit his days to doing the right thing.
A family man who's known love and loss
In his lifetime, Dog the Bounty Hunter has known so much love and loss. Among his many accomplishments, fathering 12 children likely sits at the top of that list. He fathered his son Christopher Michael Hecht in his teen years and has two sons, Duane Lee Chapman II and Leland Blane Chapman, from his first marriage to La Fonda Sue Darnell.
After his divorce from Darnell, Duane Chapman wed Ann Tegnell in 1979 and they had three sons together, Zebediah, Wesley, and James Robert. This marriage didn't stick either, and following divorce number two, Champman wed Lyssa Rae Brittain. This relationship also hit the skids, but not before the couple welcomed Barbara Katie Chapman, Tucker Dee, and Lyssa Rae into the world. Duane Chapman's last biological child is Bonnie Joanne, a daughter Chapman had with his late wife Beth Barmore. Beth also brought her two children from a previous relationship into the fold, Garry and Cecily, who rounded out the "dog pound."
Each of Dog's relationships ended in divorce, with the exception of his marriage to the late Beth Chapman. Beth was diagnosed with stage II throat cancer in 2017. While it looked as if she would beat the diagnosis, her condition returned and took her life in 2019. This was not the first time Duane Chapman had to bury someone he loved. His young son Zebediah died in infancy, and years later, his daughter Barbara would die in a tragic car crash.
Chapman suffered serious health complications
Following the loss of his wife, Dog the Bounty Hunter was forced to face the long-term effects of living life hard. Three months after Beth died, Duane Chapman was hospitalized with chest pains and diagnosed with a dangerous pulmonary embolism. After smoking up to four packs of cigarettes a day since the age of 12, the reality star had to take a long, hard look at his lifestyle and make some changes for the better.
The scary situation was the focus of Dog's appearance on the "Dr. Oz show." The famous doc didn't mince his words when he made a house call to Denver to tell Chapman that he was "a ticking time bomb." Aside from his pulmonary embolism, Dog the Bounty Hunter also suffered from high cholesterol, low blood oxygenation levels, and high blood pressure. Thanks to medical intervention, treatment, and family intervention and assistance, the Dog's ticker is still pumping away, and he has received yet another lease on life. Chapman seems to have a new outlook on health and life, telling People, "Once this goes away, I am 100 percent. I've had fears. The blood clot is not a normal thing but it happens a lot, but I'm going to be 100 percent. I'm encouraged by it."
Another chance at love for Dog
Duane Chapman had been unlucky in love until he found his late wife, Beth. Her death was brutal for the reality star, who, after losing the love of his life, professed he would never marry again, claiming, "There will never be another Mrs. Dog." Time has a way of healing wounds, however, and it wasn't long before the bounty hunter's life took yet another sharp left as he landed in the arms of former acquaintance, Francie Frane. Duane Chapman and Francie Frane were wed on September 2, 2021, 10 months after Beth Chapman died from throat cancer. The happy pair threw a lavish Colorado celebration that focused on the new couple and the groom and the bride's deceased spouses. Chapman jested, "This is going to be the celebrity wedding of 2021, scoot over Blake Shelton."
The event worked in a blingy gown for the stunning bride and personalized wedding cake flavors to suit the bride and the groom's personal palates. When it came to paying homage to their late spouses, aspects of the vows reflected the respectful nature and deep, eternal love both would forever feel for their former loves throughout their lives. Frane told ET's Kevin Frazier that she and Chapman "Honor them all of the time. And so we will continue to do that throughout their lives."
Dog the Bounty Hunter puts his skills to good use
If there is one thing in life that Duane Chapman does very well, it is hunting down lawbreakers. In the fall of 2021, 21-year-old Brian Laundrie was wanted for questioning in connection with the death of his fiancée, Gabby Petito. When it seemed that Laundrie had just up and disappeared off the face of the earth, Dog decided that if anyone were going to bring this guy in, it would be him. Chapman joined the massive search for Laundrie, temporarily relocating to Florida to help look for clues in the case. The Dog had personal reasons for involving himself in this particular case. Like the Petitos, he too had lost a daughter at the same age. Of the situation, Chapman said, "The reason I went to Mr. [Christopher] Laundrie is I carry a reputation with me. The reputation is, 'He gives you a second chance. He's gonna get you, but he gives you a second chance," adding, "I know what the victims feel like."
Amid the search, Chapman suffered an ankle injury that resulted in him returning to his home state of Colorado for medical care. It wasn't long after the injury that the remains of Brian Laundrie were found in a Florida preserve. Dog might not have tracked Laundrie down personally, but he gave it the old college try, and more importantly, the location of the remains afforded some level of closure to the families in mourning.
Chapman's new show is a no-go
Dog fans had been looking forward to their favorite bounty hunter's return to reality television, as there were murmurings of a new show starring Duane Chapman in the works. The show, "Dog Unleashed," was slated to take on a different angle than other reality series that had run in the past. This one would have no-nonsense Chapman facing off with some of the country's most dangerous criminals, not the typical bail-rebuking runners. Unfortunately, the series never got off the ground and was canceled in 2021 before it ever hit the airwaves.
Unleashed Entertainment President and CEO Mike Donovan revealed in a statement the reason behind the abrupt cancellation: "We greatly respect the incredible work of Duane Chapman tracking down and bringing fugitives to justice. Unfortunately, Unleashed Entertainment received reports of actions taken by Mr. Chapman during the show's production that breach our contractual agreements." After an investigation, the media company decided on a permanent shut-down of the show. "Dog Unleashed" quickly became Dog Unreleased.
Duane Chapman had a big screen moment
There is very little that Duane Chapman hasn't done in the entertainment world. He even took a shot at a lead role on the big screen, starring in a major motion picture! "Hunter's Creed," released in 2020, follows a faith-based man's hunting excursions into the woods. The expedition turns dark and sinister when the leading character and his gang are forced to face off with supernatural forces. Chapman's character must rely on his unwavering faith to see him through the evil that lurks within the deep, dark forest.
Said Yolanda Macias of Cinedigm, the company which had rights to the movie: "Casting Duane 'Dog' Chapman was the perfect addition to the project as he channels his own life experiences to the big screen." Director Justin Jackola felt that Chapman embodied the character perfectly, based on the Dog's personal life. While this was the first film that Dog snagged a leading role in, it wasn't his first appearance in a major motion picture. Chapman was one of the many stars who made a cameo appearance in "Sharknado: The 4th Awakens." While his role in the 2016 film was small (he played a chainsaw dealer), it did help to snag him some movie street cred in the entertainment realm.
Dog gives singing a shot
Duane Chapman has tracked down bail-jumpers, joined a national manhunt, faced countless setbacks in life and dark tragedies, and starred in film roles and reality television. Now he can add singing to his ever-growing resume of talents.
While fans have grown accustomed to watching Dog hunt hardened criminals, they were likely surprised to see the gritty, rough-around-the-edges guy put down the handcuffs and pick up a microphone. In 2022, Dog performed on the Fox series "The Masked Singer." Dressed as a crooning armadillo for his Season 7 stint, he belted out the lyrics to "Amazing Grace," a favorite of his mother's. Chapman ended up being eliminated from advancing in the series, as both Jenny McCarthy and Nicole Scherzinger were able to guess who the person behind the armadillo get-up was. Of the experience, the Dog had nothing but nice things to say. He spoke to Fox, saying, "For a living I chase clues. That's how I make a living, right? So to be the clue leaver, I loved it. So every sentence, everything we said was strategic."
Duane Chapman feuds with daughters
The Dog loves his pack, but with 12 kids, conflict is bound to happen from time to time. In 2021, Duane Chapman found himself embroiled in a back-and-forth battle with two of his grown daughters. Bonnie and Cecily Chapman claim ties with their famous father were severed after their mother Beth died from throat cancer. The two grown children (one being Chapman's biological daughter with late wife Beth and the other being the biological daughter of Beth and adopted daughter of Duane) remain firm on their stance that following their mother's death, their father suddenly started neglecting them.
Cecily, specifically, made a public statement regarding the sudden rift, telling Inside Edition, "When my mom passed away, my dad pretty much neglected us." The sisters have also accused their father of cheating on their late mother during their marriage. Bonnie took to social media, saying, "He (Dog) would cheat on my mom all the time, and I hated him every time he did it, but I forgave him for that because I wanted a relationship with my dad." The family drama seemed so tumultuous that it resulted in Dog's daughters not receiving an invitation to their father's wedding to his sixth wife, Francie Frane. However, Duane and Francie hit back, releasing a statement that read, in part, "Bonnie's allegations are false and a misguided attempt to derail our wedding." They further alleged that "disgruntled former associates" were to blame for the daughters' actions.
Dog's new starring role in video games
Duane Chapman might be taking his talents to a different small screen, starring as himself in video games! In 2022, Newsweek reported that the famous bounty hunter is set to team up with Virtual Interactive Technologies to create multiple games reflecting Dog's illustrious career tracking down those running from the law. Fans are surely eager to take what they have learned from watching Dog track down lawbreakers and put the tactics into practice, albeit via videogame.
Fans aren't the only eager beavers ready to see this new venture through. CEO of Virtual Interactive Technologies Jason Garber expressed his excitement over the venture, saying in a press release, "Dog's successful career in reality TV and his widely recognized persona will provide us with exceptional content to build a number of exciting and engaging games."
Duane Chapman also released a statement following the announcement of the new venture: "After years of sharing my life on television, I'm thrilled to bring my many stories and experiences to the video gaming environment." It certainly is quite the accomplishment to have your life's work immortalized in a series of video games, and it sounds like Dog could not be more pumped at this unique opportunity.