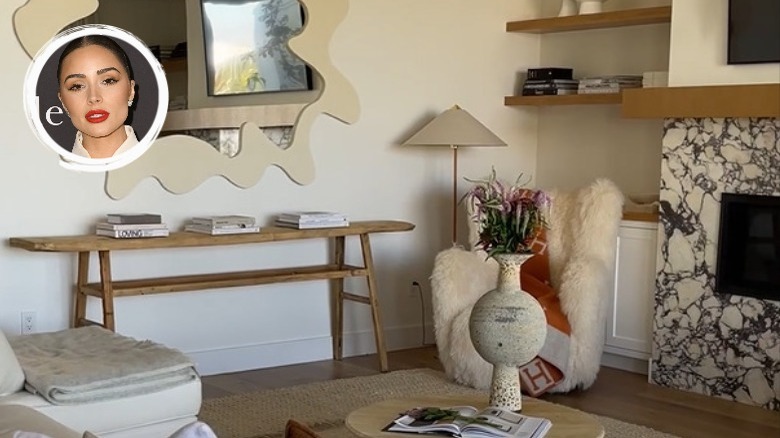 Thanks to her magazine-cover-worthy Instagram posts and runway-inspired outfits, Olivia Culpo has become a top fashion influencer. And the former Miss USA has the perfect backdrop for her photo shoots: a $3.5 million mansion she snapped up in the Encino neighborhood of Los Angeles in 2019, according to Dirt. The "I Feel Pretty" actor brought on her interior decorator Jess Diab as soon as she bought it, who helped her find "balance" with the décor, she told Architectural Digest.
The result is a very comfortable-looking nest with creamy beige sofas, furry chairs, Italian marble, and dark hardwood floors. There are several quirky pieces here and there, like a table with a stone wheel as a top, a chair made out of fur, and a massive marble end table by decorating wiz Kelly Wearstler. But there are many old-fashioned touches, too, like a glass cabinet for her antique cello that she has had for three decades. Plus, the outside is just as inviting as the inside. The outdoor area is breathtakingly beautiful, with a lounge area, a zero-edge swimming pool with a hot tub, and a stunning view of the San Fernando Valley below. Here is a look inside the chic property that the Rhode Island native calls home sweet home.
Her front door is so big she needs two hands to open it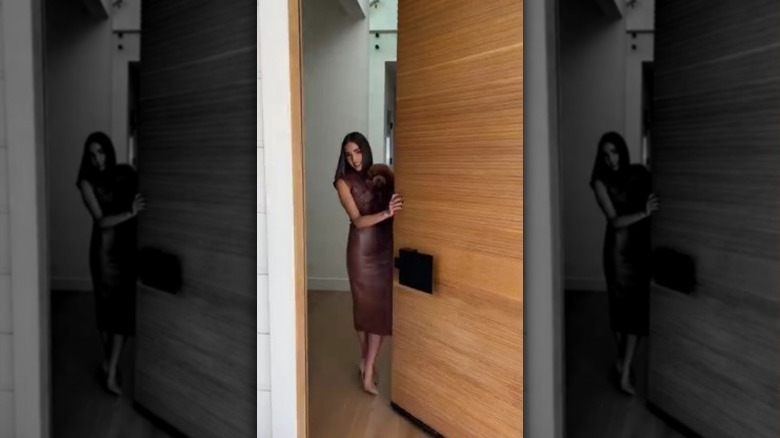 Olivia Culpo has become a top influencer thanks to her magazine cover worthy Instagram posts where she wears high-end fashion and knockout accessories. And the former Miss USA, according to her website, has the perfect backdrop for her photo shoots: a $3.5 million mansion she snapped up in the Encino neighborhood of Los Angeles in 2019, according to Dirt. The I Feel Pretty actress brought on board her interior decorator Jess Diab who helped her find "balance" with the décor, she told Architectural Digest, meaning she has both soft and hard textures in her two story home. The result is a very comfortable-looking nest with creamy beige sofas, furry chairs, Italian marble and dark hard wood. There are several quirky pieces here and there like a table with a stone wheel as a top, a chair made out of fur and a massive curved end table in marble from decorating wiz Kelly Wearstler. But there are many old-fashioned touches, like a glass cabinet for her antique cello that she has had for three decades. And the outside is just as inviting as the inside. The outdoor area is breathtakingly beautiful with a lounge area, a zero-edge swimming pool with hot tub, a lush green lawn and a stunning view of the San Fernando Valley below. Here is a look inside the chic property that Rhode Island native calls home sweet home.
Her cello is in a glass box
One way to know that you made it big is if your front door is so enormous that you can fit a grand piano through it without a problem. Culpo has such a door. As seen in her home tour, she opens her massive front door to greet Architectural Digest with a big smile, and her dog Oliver Sprinkles in her arms. According to The Pivot Door Company, she has the Dina door, which is eight feet tall and four feet wide.
The door is also handsome since it's made of polished blonde wood with a horizontal grain to give it a slightly rustic touch. It perfectly fits the design of her two-story white farmhouse, giving it an earthy but upscale look. But one thing that is missing? A peep hole to see who is knocking at the door! (Though Culpo likely has cameras in place of the hole.) Per Elle Décor, a solid wood front door is the best choice because it can be modified over time; wood doors can be easily stained and painted, whereas fiberglass ones can't. "The key is to choose a simple design in a timeless timber such as oak, or a classic dark color," Elisabeth Assaf, a door design specialist, told the publication. According to Veranda, the hottest trend in home design right now is a blue-gray front door.
The top of her entry way table used to be a wheel
Culpo has been playing the cello since she was a young girl, and according to Sports Illustrated, she is a trained classical musician. She is so good that she has already won various awards, has worked with the Boston Youth Orchestra, and is looking to play with a major symphony like the Charlotte Symphony in North Carolina. "I've been practicing my cello constantly — constantly! — as part of a quartet with some friends, who are Julliard graduates and studio musicians in L.A.," she told the magazine. So it's no wonder the cello is one of the first things the eye turns to when entering the living room.
The very old wood instrument is from Romania and over 100 years old, she said on her home tour. Her parents purchased it for her in 1983 when she was a kid and interested in music. She said she had "been through a lot" with the cello before upgrading to a bigger model. She added that it "is very personal, it means a lot to me." Sylvane shared that it is important to control the humidity around an instrument, so it makes sense that she had a glass case made for her precious antique. Culpo shared that when her mother Susan comes over for a visit, she takes out her viola and plays alongside Culpo on her cello; sometimes they even do a duet!
There is a furry chair in the living room
Not all tables are alike, and Culpo's is certainly a cut above the rest. Jess Diab, the star's interior designer, found the living room entranceway table, which adds to the modern organic feel of the house. But it is not an ordinary wooden piece one can pick up at IKEA. Instead, it is custom-made. It has a thick and very heavy beige antique stone top with cracks here and there to add a feeling of history. And history it sure has: The piece of stone used to be a wheel used to grind flour many decades ago, Culpo shared on her house tour. The base is made of dark wood, which complements the light stone on top.
She decorated the table with a massive beige ceramic vase stuffed with dried green and rust-colored leaves and a tray with a stone bowl with red fruit next to it. Real Simple suggests using quirky antique pieces to decorate a living room entranceway because it is the first thing one sees when entering the room. Vintage, reclaimed, or flea market pieces will add instant character.
A stand-alone record player is from her boyfriend
It's hardly ever cold in Los Angeles. In fact, it is often over 70 degrees, even in autumn. But when the temperatures dip below 50 degrees, stars like to cuddle up in style at home. That is why Culpo has an off-white wingback chair in the living room that simply cannot be missed. But this is not just any off-white living room seat. Instead, it is a Bozzi Mongolian Sheepskin chair designed by Ross Cassidy for the chain CB2, as per Architectural Digest. What is not seen are the "asymmetrical, wire-brushed feet made of solid bleached oak," according to the CB2 website. The price for the statement chair is $3,000. And there isn't just fur on the seat, but rather everywhere: on the back, the armrests, the sides, and right down to the floor.
It is positioned next to her massive marble fireplace and has a cashmere Hermès blanket thrown over it for those nippier evenings. The star mentioned during her tour that she gravitated toward the unusual chair because she liked the texture of the fuzzy sheepskin material and wanted to be comfortable when hanging out with her friends in this cozy room. But if you don't want to go out and splurge on a huge $3,000 chair, there are other ways to add cozy texture to your room. DIYs suggests decorating with faux fur throw blankets on sofas and adding fuzzy faux fur throw pillows.
She spends all her time in the kitchen
Records are back in a big way, and boxy antique record players with old-school touches like dials and wood paneling make a stylish statement in a home. Culpo's steady beau, football player Christian McCaffrey, thoughtfully gave her a stand-alone 13-inch bone-colored record player, according to her video tour. It looks vintage but is actually newly made by Victrola. It is also surprisingly affordable, clocking in at around $150.
It also plays CDs and has an AM/FM radio, according to the Victrola website. To decorate her music nook, Culpo also has a record with their favorite songs and an album cover featuring their photo. According to Décor Home Ideas, record players are back in style because people miss the old-fashioned format and how one can jump from song to song by moving the needle. And vinyl record sales have gone up, according to Statista: In 2021, a total of 41.7 million vinyl albums were sold in the U.S. It's nice to know some things never really go out of style.
Her pool table is brown, not green
Though Culpo is a busy star who is often seen at Los Angeles' best restaurants like Catch, Pace, or Gracias Madre, according to L.A. Travel Magazine, she likes to cook at home too. And who wouldn't want to chop and fry in this lovely room? There are white cabinets with a marble backsplash and big black framed pendant chandeliers overhead. Then there is the massive island that has a sink with on-trend black fixtures. Above the chef's stove is a vent with a stylish chevron wood design over it, and there are plenty of windows that look out to the lush back yard.
Overall, the space is light and bright with plenty of space to move around when guests visit. The star called the large kitchen her '"fun room" because it is where everyone gathers during cocktail parties and also where she keeps her collection of international wines. According to Kitchn, it is not wise to store bottles of wine on a kitchen counter or anywhere near the oven due to the heat. Rather, a cool place is preferred, like on the bottom shelf of a cabinet or even a basement.
The swimming pool is where she plays with her nieces
Every girl needs a fun game to play when lounging at home, and Culpo said she loves to play pool, so it was a must-have for her dream home. But her Parsons Billiard table is not the standard green color that one would find in a dive bar. Instead, it is a dark caramel beige hue. It also has a washed wood border that looks more like a piece of art than a game table. Even more unique, the balls are a mustard yellow color rather than the traditional green, red, and bright yellow hues.
The star explained on her home tour that the massive table is from Restoration Hardware. The pool table takes up almost the entire game room with the exception of a console table off to the side, a leather armchair, and a wet bar behind it, which is perfect for mixing martinis during those long games when you're stuck behind the eight ball. According to The Spruce, the best pool table is the American Legend Brookdale Pool Table, which has a washed wood base and is affordable at $799.
A gallery wall can be found by the staircase
Hollywood stars love to have big, fancy swimming pools to make them feel like they have made it onto the A-list, and Culpo is no exception. The model said on her home tour she liked to take a dip in the rectangular-shaped pool every weekend to cool off and fend off tension from a hard day's work. Culpo also said that her nieces and nephews like to go in the pool with her to splash around — playing Marco Polo and doing handstands are part of the fun. It is a zero edge pool, which means it looks as if the water will run over the edges.
Zero edge pools are all the rage in Hollywood, but they come with a lot of planning. There has to be a complex recirculation system to make sure the water stays on level, as per Fluidra. Around the pool are large rectangular pavers made of cement with grass between them, lending a luxury resort feel. The pool also offers a spectacular view of the San Fernando Valley below, made possible by the glass fence. And for those who aren't in the mood to swim, there are lounge chairs to chill in all around the pool.
The outdoor patio off her bedroom is nicely appointed
Every home needs a personal touch. Adding framed photos of family members to a wall has become a big trend this decade. And Culpo found a beautiful way to make her "gallery wall," as it has been called, look organized and chic. She has white framed black-and-white pictures of her loved ones, including sisters Sophia and Aurora and her mother Susan and her dog Oliver. She said she is thrilled to see her wall after leaving her bedroom and heading down the stairs every morning. Culpo added it "makes her day" to be reminded of the people closest to her featured in her home.
The small photos are arranged in perfect order, one on top of the other, with 24 framed photos in her collection. Several stars have these gallery walls, like Kylie Jenner and Kris Jenner, who have shown on Instagram that they like to frame childhood photos and images from holidays like Easter and Christmas. Framebridge shares that the best way to create a gallery wall is to use either six, nine, or 12 frames and have them all about the same size. It was also suggested that the frames match for a clean and minimalist look.
Her walk-in closet is roomy and locked
There is a spacious balcony off her primary bedroom where she can unwind after a photoshoot or catch up on a new script. And, in keeping with her interiors, the space is beautifully decorated with expensive pieces and tasteful accents. The area includes a white cushy outdoor sofa with a brown throw pillow that seats three. There is also a round green stone coffee table with three balls for feet from her favorite designer Kelly Wearstler. Culpo explained that the table was a birthday gift from her boyfriend, McCafferty. "It's so special to me, and she is beyond talented," said Culpo.
The balcony also has a green stone side table that perfectly matches the coffee table; it also has balls, but they are between the first and second levels. The patio has a glass fence that heightens the visibility of the swimming pool below. And it does not hurt to have a sweeping view of the backyard and pool, but the valley below, which looks magical at night when the lights come on. Per Vogue, outdoor furniture is becoming more stylish because people spend more time outdoors thanks to the pandemic and rising temperatures. "Outdoor furniture will become more sophisticated and refined as we continue to spend more time entertaining outdoors, and our patios become true extensions of our interior décor," Timothy Corrigan shared with the publication. There are now more options than just wicker and metal!
Culpo collects art work
A walk-in closet is the ultimate dream for a Hollywood red carpet regular. Culpo made sure her home had one, which she could stock with her designer purses from Gucci, Louis Vuitton, and Bottega Veneta, as well as stilettos from Louboutin and Jimmy Choo. She also has plenty of leather bike shorts, which she told Fashionista are her favorite fashion item. "I would describe my personal style as classic, but playing with contemporary trends," she said, which would explain why she has so many crisp white shirts and brown leather jackets on her racks.
Culpo lives with her sister, which makes life more fun. But her sibling has a knack for swiping her designer clothes out of her closet when she is not at home. That is why Culpo has put a keypad lock on her closet door — she shared in her home tour that her sister doesn't know the key code, and never will! According to People, Teresa Giudice and Carrie Underwood have some of the best celebrity walk-in closets. They all have one thing in common: Stand-alone islands with drawers for their jewelry and sunglasses placed in the center of the room next to a full-length mirror.
Her dog has full access to the house
This star has already become a serious art collector at 29 years old. According to the home tour, Culpo has canvases everywhere, often in soothing neutral colors. In her pool room, a white canvas with beige squiggly lines sets a calm mood. There are also Jeannert-style lounge chairs by France & Son, which are very rare. "I love how angular they are and feel they really grab the room," she said during the tour. In her living room is a large mirror with an off-white wavy frame by Hannah Polskin Studio. "I love the funky shape, and I love how it's hard to miss, and I felt like it added a very playful element to the room," she added.
Many stars become art collectors once their careers have taken off. According to Money Inc, Leonardo DiCaprio is a big collector. He often hits the Gagosian Gallery booth at Art Basel in Miami to see what some of the new artists are doing. Some of his pieces include a $700,000 Takashi Murakami unfinished painting. And Sean Combs is a collector as well, as he has a $65,000 Ivan Navarro mirrored sculpture.
The fireplace is wide and stylish
Culpo is a loving fur parent that lets her little pooch do what he wants in her roomy mansion. She shared during her home tour that her toy golden doddle dog — bred from a Golden Retriever and a Poodle, according to Dogtime – is named Oliver Sprinkles Culpo McCaffrey, and he can go anywhere he likes in the house. And to prove that she loves her four-legged friend, Culpo has framed pictures of her canine all over the place (including in the frame gallery).
She adopted the puppy in July 2020 during the pandemic lockdown. He became an instant celebrity as she featured the fuzzy guy on her Instagram page, and also created an Instagram page just for Oliver. On his page, the dog can be seen playing in the backyard, snuggling up to Olivia's boyfriend while watching TV, and also wearing a Santa costume on Christmas. He sure does have a doggone good life!