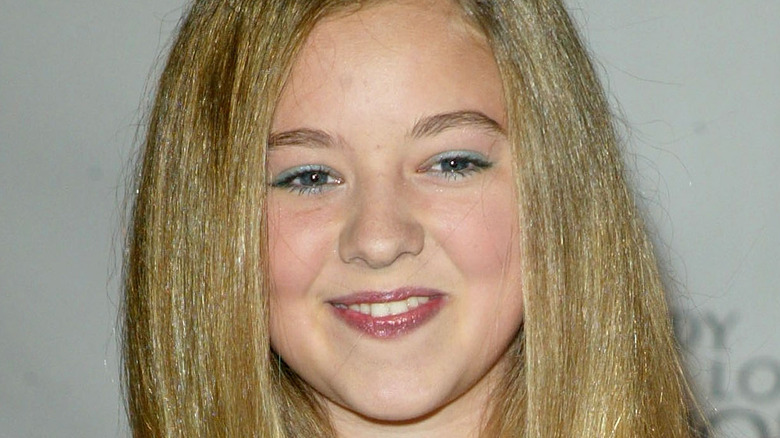 Get ready for a throwback to the late 1990s and early 2000s! Back then, Everybody Loves Raymond was one of the hottest shows on television. The sitcom was centered on sports writer Ray Barone and his family. The show entertained audiences for nine seasons, wrapping up in 2005. During its run, the show racked up more than 200 awards and nominations, including an impressive 15 Emmy wins.
It's been a while since a new episode of Everybody Loves Raymond aired, but that doesn't mean fans have forgotten the iconic show or its characters. One of the show's most memorable cast members was Madylin Sweeten, the actress who played the main character's daughter, Ally Barone. Born in 1991, Sweeten was just 5 years old when the show first debuted in 1996. How has she been doing since the show ended? Sweeten is all grown up now, and living a pretty amazing life.
She got her start in pageants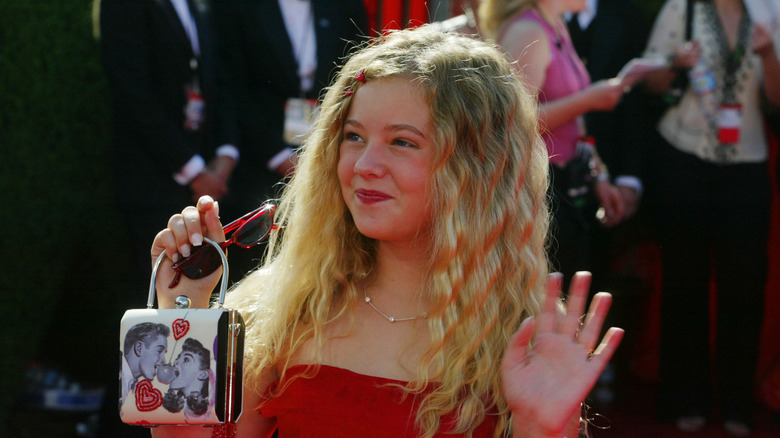 Before she became a beloved child star, the precocious Madylin Sweeten was winning over hearts in beauty pageants when she was a little girl. She was pretty successful, too, racking up more than 40 trophies in just a year and a half of competing. She started at the local level in her hometown of Brownwood, Texas. Sweeten did so well that she quickly moved past the local level and was eventually awarded the national title of "Our Little Miss."
According to her mom, Sweeten was an unstoppable contestant. "She would win and win," she told Pageantry. "She would talk to the judges, while the other kids were pretty shy." Her success in pageants was an indicator of bigger things to come. At the age of 4, Sweeten landed her first television role in A Promise To Carolyn, a CBS film. That same year, she made her debut as Ally Barone on Everybody Loves Raymond.
No, she's not related to Jodie Sweetin
Those who think the name "Sweeten" sounds familiar might be quick to connect the dots to Jodie Sweetin, another adorable blonde sitcom star who is famous for her role as Stephanie Tanner on Full House. Whether or not Sweeten and Sweetin are related is a topic that comes up a fair amount on online forums, and there's enough curiosity about it that it has even merited its own disambiguation page on Wikipedia.
While it would undoubtedly make for a fun '90s trivia question if Sweeten were related to the Full House star, there's no known connection between the two of them beyond starring in two of the decade's most popular sitcoms. Sweetin's name is even spelled slightly different from Sweeten's. It's still a pretty interesting coincidence that such a rare name, albeit one spelled differently, took over the airwaves around the same time, though. What are the odds?
But she IS related to her on-screen brothers
While Madylin Sweeten might not be related to Jodie Sweetin, there are celebs in her immediate family. Her on-screen twin brothers, Michael Barone and Geoffrey Barone, were played by her actual brothers, twins Sawyer Sweeten and Sullivan Sweeten. The three of them spent a lot of time together growing up since they were together at work and at home, although Madylin Sweeten appeared in more episodes than her younger brothers. Over the nine years that Everybody Loves Raymond was on air, Sweeten was in 206 out of 210 episodes, while her brothers appeared in 142.
Sweeten's brothers pretty much grew up on the show. Born in 1995, they were just a year old when Everybody Loves Raymond first aired. Fortunately, they had their big sis around to show them the ropes. Not only was Sweeten already familiar with fame by the time the twins were walking and talking, she also would have been able to help them memorize their lines. Sweeten told Pageantry that memorizing her lines was "not a problem." The skill came so easily to her that she often memorized her castmates' lines as well!
After the show wrapped, she was directionless for a while
So many child stars turn to drugs or alcohol that the troubled child star has become something of a cliche. Madylin Sweeten herself struggled after the end of Everybody Loves Raymond, although she has fortunately turned her life around since then. "As a young woman, living a normal life seemed trivial, useless, and impossible to me," Sweeten told Voyage LA. "This led to a quite adventurous lifestyle in my youth. By the time I was 19, I had lived the lives of many people. I was lucky enough to see the world, meet my heroes, and work on a primetime television series for nine years. Once my twenties came knocking at my door, I had spent so much time chasing adventures that I had forgotten to take care of my mental health."
Desperate for something to provide meaning, Sweeten turned to alcohol. "It's a tale as old as time, a bright young woman starts chasing booze and boys to fill the empty holes in her soul," she said. "My life went on, directionless, like this for a while."
Her husband is also an actor
Theater helped save Madylin Sweeten. "I met a man, a wonderful man, who saw all my flaws and embraced them," she told Voyage LA. "Along with him came his boisterous theater company the Loft Ensemble. There I made lasting friendships that turned my life around."
Sweeten stressed the importance of keeping good company, advising young people not to make the same mistakes she did. "You take on the attributes of the people that you spend the most time with, so choose wisely," she said.
Today, Sweeten is still with the Loft Ensemble, as well as with the man who introduced her to it. In 2018, she married Sean Durrie, the man who changed her life, in a low-key ceremony surrounded by friends. Like Sweeten, Durrie is also an actor. It's a happy ending to what could have been another tragic story of a former child star. "I will be forever grateful to my friends and husband for teaching me that responsibility can be sexy and fun," Sweeten said.
Her brother's death had a profound impact on her life
While Madylin Sweeten was able to fight off the demons that so often accompany child stardom, one of her brothers who appeared on Everybody Loves Raymond wasn't so lucky. Sawyer Sweeten passed away from suicide in 2015, just weeks shy of his 20th birthday.
Sweeten also has her brother to thank for helping her get her life back on track. His death forced her to take a harder look at her choices. "My brother was a funny young man who also hated a lot of things," she told Voyage LA in 2019, four years after her brother's death. "One day he was just different, he didn't like anything anymore. … He took his own life, and we were blindsided."
At the time of the interview, Sweeten was three years sober. "Eventually, I realized that my brother would never get to marry his soulmate, have a career, or live up to his full potential. That was my job now, and I was going to do my best to do everything I could to live up to the man I know he would have been."
Honoring her brother's legacy
Living her best life isn't the only way Madylin Sweeten honors her late brother's legacy. In 2019, she and her family also restored two run-down theaters in Sawyer's name, both on the grounds of North Hollywood's St. Matthew Lutheran Church. Sweeten told People that their Everybody Loves Raymond dad, Ray Romano, contributed to the restoration along with his wife. Also chipping in to the cause was the show's creator, Philip Rosenthal, and his family.
"My brother told me once that belief in any form is so powerful that it creates our reality and the next reality that we'll encounter, that believing in heaven and reincarnation is what makes it real," she said at the dedication ceremony. "That particular belief of his gives me the most joy because he believed in everything so he is everywhere. I urge you, all of you, to come here and find him when you need a light and when you need to believe."
The theater doesn't just honor Sawyer; it's also the new home of Loft Ensemble. "I'm so grateful for my Loft Ensemble family for loving and caring about Sawyer," Sweeten wrote in an Instagram post following the dedication.
Making a difference through theatre
Madylin Sweeten has really expanded her repertoire since her sitcom days and isn't afraid to tackle a tough project if she believes it will make a difference. In 2018, she performed in The Columbine Project with the Loft Ensemble. The show is based on the tragic real-life Columbine High School shooting, which resulted in the deaths of 13 people. Sweeten wanted not just to entertain people, but to honor the memories of those who died and potentially prevent such horrible atrocities from happening again.
In an Instagram post, Sweeten called The Columbine Project "one of the most important pieces of theater" in Los Angeles. "Many people have said to me that if every student in America could see this play, school shootings would be a thing if the past," she wrote. "It's difficult to watch, yes, but it's important. At the end of every show, we list all the major school shootings since Columbine. Every night I watch my cast mates backstage stop where they are to force themselves to watch the names [of the victims] scroll by, to NEVER FORGET. It's impactful."
Her comedic skills are stronger than ever
While she's taken on dramatic roles, that doesn't mean that Madylin Sweeten has lost touch with her comedic roots. It's clear from her hilarious demo reel that Sweeten learned a lot from her time on the set of Everybody Loves Raymond. She has a true instinct for comedic timing, and her ability to take on both comedic and dramatic roles proves just how versatile the young star's acting skills are.
Sweeten has turned her ability to make people laugh to good use. She's appeared in several episodes for TMI Hollywood, a series that parodies celebrities. One of her hilariously memorable roles is playing herself in a Kim Kardashian parody where she appears on an imaginary Kardashian talk show. She's also starred as Adele in a parody video of the singer. We don't know how she does it, but it seems that Sweeten only gets funnier and funnier with age!
Her talents go beyond acting
Fans already know that Madylin Sweeten is a talented actress, but she's got skills that go beyond acting. In 2019, she was named as the Associate Producer of The Blank Theatre's 27th Annual Young Playwrights Festival. According to her LinkedIn profile, Sweeten also designs and constructs sets for seven productions per year for the Loft Ensemble.
In addition, Sweeten is also a production manager with the Loft Ensemble, overseeing the company's many productions including conception, art design, casting, and scheduling. Not only does she do a lot for the Loft Ensemble, but she also does it on a budget. According to her website, her work with the nonprofit ensemble is donation-based, so she has to get pretty creative in order to stretch the budget as far as possible.
Sweeten isn't just a talented amateur, either. She went to school to get an associate degree in interior design, graduating in 2018 from the Fashion Institute of Design and Merchandising.
She's fairly quiet on social media, at least for a millennial
A lot of people expect millennials to be glued to their smartphones 24/7. While modern technology is no doubt keeping the world more connected than ever, not all millennials are spending all of their time texting or engaging with followers on social media. As a former child star and a millennial, it would be typical for Madylin Sweeten to have a massive social media presence, but she's actually keeping things pretty casual online.
The actress has a Twitter account with a handle, @REALAllyBarone, that pays homage to her Everybody Loves Raymond character, Ally Barone, but her tweets are infrequent. Like her Twitter account, her Instagram account has just a few thousand followers (a low number for a celeb). Her Instagram bio even once stated that she's not looking to build her brand, reading, "This page contains 100% non-curated, non-branded content. I'm tired of desaturated life. FYI: it's mostly my cat and theater."
Sweeten's Twitter and Instagram accounts aren't verified, but she does have a blue check mark on her personal Facebook page, which seems to be more for personal use than fan engagement.
She's a devoted cat mom
Madylin Sweeten isn't your typical millennial, but there is something that she has in common with her generation: a love for cats. While a lot of people adore felines, studies show that millennials are particularly enamored with cats and that many even view their pets as "starter children." Sweeten has her very own fur baby, although "furless" baby might be a better term for her pet Sphynx. The hairless breed might not be everybody's cup of tea, but Sweeten adores her kitty and has his pictures plastered all over her Instagram. His mama keeps him warm in spite of his lack of hair, often dressing him in cute outfits.
That's not the only animal appearing on Sweeten's Instagram. A Maltese dog named Pooka also pops up on her feed, although there aren't as many pictures of him, and he hasn't appeared in her posts since 2018.
You can still see her in guest roles and indie films
If you can't get enough of Everybody Loves Raymond reruns and really wish you could see more of Madylin Sweeten acting, never fear. You could always book a ticket to L.A. and catch one of her stage performances or, if movies and TV shows are more your thing, check out some of her recent projects. Sweeten has been racking up some guest-starring roles and indie films, including the short film Frames, which you can watch on YouTube.
Her other credits since the hit show ended include a role on TV miniseries Games Gone Wrong and guest spots on Grey's Anatomy and Lucifer. Sweeten might not be as visible on TV these days as she was when she was playing Ally Barone, but she does seem to have struck up a good work/life balance filled with family and friends. Fans who miss seeing her on their screens can at least rest assured that she's happy.
Will we see her on an Everybody Loves Raymond revival?
It seems like every beloved show is getting a revival or a reboot these days. Is it possible that we might see Madylin Sweeten on an updated version of Everybody Loves Raymond? Don't get your hopes up. The show's creator, Phil Rosenthal, spoke to Cinema Blend about the possibility of reviving the show and his response wasn't too encouraging.
"I'll never say never, but look, we lost three of our cast members, right?" Rosenthal said, referring to the deaths of Sawyer Sweeten, Peter Boyle, and Doris Roberts. "It's never going to be the same again, it can't be. Plus these shows usually aren't the same again anyway. We did the show exactly the way we wanted to. If you love the show and love those characters, they're still available, thankfully, in syndication. … I think to try and recreate that (now), it's like we don't ask football players at 70 years old to go out on the field and let us tackle them again, right?"
Rosenthal was, however, open to the idea of "a reunion show where we get together and we reminisce about the show."
The daughter from Everybody Loves Raymond is selling art online
Madylin Sweeten has pursued many passions since Everybody Loves Raymond wrapped, and it seems like she is always finding more ways to express her creativity. In 2020, she began to share some more art with the world, setting up a website with her husband to do so.
The Instagram account for Design by Durrie promises "custom art on custom products" that is "curated by a lovely couple just for you," but it seems that the art itself is created by Sweeten who is credited in an "about the artist" section on their website.
Some of the art for sale in Design by Durrie's online catalog includes an illustration of a person pulling a rabbit out of a hat, a person doing a trick on a motorcycle, and a person embracing their body. The illustrations are offered on a variety of products, including t-shirts, backpacks, and even beanbags.
Everybody Loves Raymond's Madylin Sweeten is all about body positivity
Madylin Sweeten has faced a lot of ups and downs over the years, but the Everybody Loves Raymond star has learned how to love herself. The actress revealed to Ventura Blvd that she struggled with her body image for years, but that she finally got to a better place after becoming sober. "I'm comfortable with who I am," she said.
Sweeten emphasized the importance of body positivity, stating that it "starts with the way you talk to yourself." For Sweeten, loving yourself and loving your body means building yourself up. While it can be all too easy for people to criticize their weight or their skin or other aspects of their bodies, Sweeten said, "I refuse to tell myself hateful things I would never tell another person."
One of the designs Sweeten and her husband sell on their online storefront, Design by Durrie, is an image of a kneeling woman hugging herself next to the words "love thyself." The product description for a tank top featuring the design sums up Sweeten's stance on body positivity: "We could all use a little more self-love!"