Some celebrities are completely comfortable with baring it all and feel they have no need for getting body doubles for the more exposed scenes in their films and TV shows. There are, however, other celebrities who are not comfortable with the world seeing everything and have clauses that say as much written into their contracts. Take Pitch Perfect star Anna Kendrick, for instance. The famous actress has gone to great lengths to avoid exposing herself on the big screen. Here are actresses who surprisingly refuse to bare it all and their reasons for choosing to remain clothed.
Jessica Simpson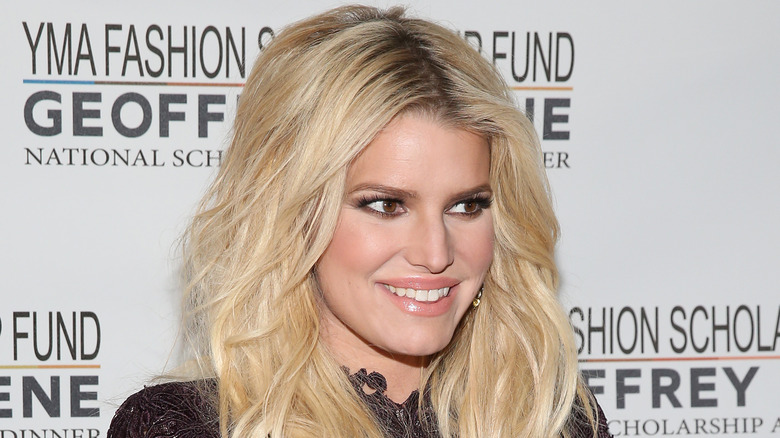 Jessica Simpson has a fantastic figure, and she doesn't try to cover it up. While she has posed provocatively for photos and her Instagram page contains a few near-bare snaps, she has a strict policy when it comes to her professional work.
Simpson told Allure in their April 2004 issue, "I don't care how dark and intellectual the role could be, you know? I don't care if I frickin' get an Oscar for it, I'm not going to do it. Those accolades mean nothing to me…. I don't think people deserve to see what's underneath my clothing. That's only for my next husband — ha ha ha!"
Sarah Jessica Parker
Sarah Jessica Parker was one of the stars of Sex and the City, and while some her co-stars appeared to have no problem with lascivious scenes, she refused. Parker even had a clause in her contract and opened up about it during an interview with The Hollywood Reporter. "I've always had one, and it's apropos of absolutely nothing," she said. "Some people have a perks list and they are legendary. They have to have white candles in their room. I don't have a crazy list like that. I've just always had [a no-nudity clause]."
Parker went on to confirm that while fans will never be seeing her completely bare, she has no issue with other actresses who want to do it. She told the publication, "I think it's fantastic that people feel comfortable doing it."
Rebel Wilson
Rebel Wilson is another actress who has a clause in her contract about how much she's willing to show. She spoke about her policy in an interview with Marie Claire for their July 2016 issue (for which she was the cover girl) and how she refused to give in, despite some people in the industry trying to convince her otherwise.
She explained how it came up while filming The Brothers Grimsby. "[They] wanted full-frontal nudity. We write in the contract, specifically, 'No nudity.' They got in another girl — this larger burlesque dancer from South Africa — to be a nude double. And they got her to do all this stuff."
Wilson also revealed that despite Sacha Baron Cohen (who wrote and starred in the film) insisting that the body double looked good, she still had no intention of taking off her clothes. "I'm like, I'm not doing it. I don't care what you say," she said. However, she did tell the publication that she may be willing to change her mind in the future, if the film was not a comedy.
Mandy Moore
Mandy Moore told USA Today in 2007 that the reason she would never film scenes in her birthday suit is that she doesn't think there is any need for them. She said, "It would be completely uncomfortable to walk down the street and know that the person passing by had seen me without my clothes on. I've turned down several roles where the producers or directors or writers wouldn't budge on that point."
While Moore is steadfast when it comes to her own stance, she did tell the publication that she has no issue with others who are more open in front of the cameras. She explained, "I'm not saying that it's wrong for someone else to do them, but I think there's a way to be feminine and sexy without posing half-naked."
Julia Roberts
Julia Roberts' career has spanned across more than three decades, and, while she has starred in a wide range of roles, the one thing she claims she won't ever do in a film is bare it all. In a 2007 interview with OK! magazine (via Marie Claire), she told the publication, "To act with my clothes on is a performance. To act with my clothes off is a documentary."
Some may remember the 1990 film Pretty Woman, in which Roberts plays the role of an escort named Vivian Ward and showed off a bit of skin. But according to body double Shelley Michelle, she filmed some of the early scenes, including the memorable opening scene where the character pulls on her thigh-high boots.
In a 1991 interview with Orlando Sentinel, Michelle said, "My legs were a little curvier, I was a little more busty. It made her [Roberts] look a little more curvaceous, just gave her that body she needed."
Ashley Benson
Ashley Benson also has rules when it comes to her onscreen performances and how much skin she is willing to show. In 2014, she told Cosmopolitan that it can be hard to negotiate on films, because producers and directors are always pushing for her to take it off.
She said, "I make it clear that I have a line. Everyone tries to push you, and it's easy to get talked into doing those things. I'll just walk off-set: 'If that's the way it's going to be, then you can do it without me.' But not everyone realizes they can do that."
As for what the "line" that Benson won't cross is, she claimed she never wants to do scenes that are "gratuitous." In Benson's opinion, "Girls look so much better in lingerie or a tee shirt and leave the rest up to the imagination."
Kristen Bell
Kristen Bell told Women's Health magazine that before she appeared on House of Lies in her underwear (she played the role of Jeannie Van Der Hooven), she ensured that she kicked her "buns and abs sets into high gear" to look her best. But at the same time, she revealed that although she was fine with posing in her bra and panties, she is not willing to bare it all.
She said, "But I don't show my crack! All the Mr. Skins of the world are like, 'Ooh, Kristen gets naked!' I'm like, 'Dream on!'" Good for her for sticking to what she believes in.
Rachel Bilson
If a director is not willing to accept that Rachel Bilson won't show more skin, she's not willing to compromise. Bilson told Playboy magazine (via People) that movies can still accomplish their end result "without showing things." She shared that she almost didn't appear in the 2006 film The Last Kiss, directed by Tony Goldwyn, because of her policy against showing it all.
"It's almost a deal breaker," the former star of The O.C. said. "The movie was rated R, and they like to put in nudity wherever they can, but I'm pretty strong willed and believe it can be avoided."
Jennifer Garner
In 2009, while promoting her movie The Invention of Lying, Jennifer Garner gave an interview to MTV News about her feelings about on-screen exposure. While Garner did not take it all off in the film, her co-star Ricky Gervais appeared without a shirt. Both stars, however, said that they would never appear completely bare on screen.
Gervais exclaimed, "There's no chance of me doing it!" And Garner stated, "I will not be taking it all off!" She also insisted that there was "zero percent" chance that she would ever take her clothes off for a role, adding, "No, thank you. The world deserves better. Not interested."
Jessica Alba
Jessica Alba's reason for not taking off her clothes in her films is something that most people could probably relate to. The reason is that she doesn't want her family members to see that much of her.
During a 2014 interview with Glamour, Alba said, "I don't want my grandparents to see my boobs. That's it. It would be weird at Christmas. And, I mean, really, if you look at the movies I have done, getting naked would never 'elevate' the picture."
Anna Kendrick
In 2010, Anna Kendrick revealed that she has a strict policy when it comes to her films and would not be willing to take off her clothes for future roles. At a party in Mayfair, London, she confessed to Mandrake (via The Telegraph) that she would "not do that."
Six years later she had still not changed her mind. In 2016, Kendrick revealed that she used a butt double for a scene in the film Mike and Dave Need Wedding Dates, where her character was filmed bare from behind. She opened up to E! News about the process of choosing a butt double and how the film's crew had shown her three photos of potential stand-ins.
Keira Knightley
Keira Knightley has bared it all onscreen before — notably for her role in 2008's The Duchess, as well as the 2005 action thriller Domino. However, since taking on those risqué roles, Knightley has revealed she's stopped taking off her clothes for work.
Speaking with Financial Times, Knightley said the decision to stop doing nude or partially nude scenes for films was based partly on how she feels about her body now that she's a mother (via Harper's Bazaar). Jokingly saying that certain parts of her anatomy now "droop," the actress told the publication she now uses a body double instead of going nude herself. "I also don't want to stand there [naked] in front of a whole film crew," Knightley said.
According to Knightley, fear of ending up on an X-rated website also keeps her from baring it all onscreen. "It used to be that you'd do a sex scene in isolation with the film, and it would make sense," Knightley told Financial Times. She continued, "But now, you can take the whole thing and put it in a completely different thing," noting that it could wind up on an adult site.
Lena Headey
When Lena Headey refused to bare it all onscreen, some Game of Thrones fans surprisingly lashed out at the star.
Headey, who portrayed the infamous Game of Thrones villain Cersei Lannister, seemingly appeared in the buff for six minutes in the Season 5 episode "Mother's Mercy." However, the body shown actually belonged to Headey's body double, actress Rebecca Van Cleave — a revelation which apparently left some fans feeling duped. Telling Entertainment Weekly that she'd received some "really great" reactions to the episode from viewers, Headey revealed, "But some people thought I was less of an actress because I didn't get my t**s out."
Admitting she's done nude scenes in the past and is "not averse to it," Headey told Entertainment Weekly that she felt that being naked for the three days it took to film the emotional scene would have negatively impacted her mood — which would subsequently had a negative impact on her performance. "It's not a natural thing to do," Headey said. She explained, "I film every year and I have kids and they know me now and [being naked in the scene] was just too much on top of that."
Hilary Duff
Hilary Duff likely won't be baring it all onscreen anytime soon — if ever.
Of course, considering Duff became a household name for her portrayal of the lovable Lizzie McGuire in Disney's wildly popular show of the same name, it makes sense that the former Disney darling would steer clear of risqué roles requiring nudity. However, since other former child stars have been known to rebel against their G-rated public images (such as Miley Cyrus and Lindsay Lohan), some might be wondering if Duff — who has experienced a stunning transformation over the years — will ever decide to follow the same path.
Well, according to an interview Duff gave to The Telegraph as a young adult, doing a nude scene simply isn't something that interests her (via Insider). "If I do a movie I want to be myself," Duff told the publication. She continued, "I don't want to take my top off or anything. In the States, it seems it's the trend to turn 18 or 19 and then take your shirt off and do something crazy, and I don't know what comes after that."
Allison Williams
Allison Williams refuses to do a nude scene for her job; however, the former Girls star isn't worried about what the public would think of her. Instead, she's far more concerned about embarrassing her future children.
In an interview on ABC's Popcorn With Peter Travers, Williams revealed that HBO had tried to get her to sign a nudity waiver for her role as Marnie on Girls – something Williams adamantly refused to do. "They were so stunned and so up against it time-wise, that I think they were just like, 'All right. She'll change her mind,'" Williams said. However, the star stuck to her guns, and Marnie was famously one of the few Girls characters to not bare it all onscreen.
"I didn't want to give my future hypothetical children another avenue by which to be made fun of," Williams joked, saying she knows the pressure of growing up with a public figure as a parent. She continued, saying, "I just didn't want to give them another thing to have to deal with … people showing up to school with old Google images of their naked mom."
Megan Fox
She's frequently ranked among the sexiest women in the world and is known for playing racy characters in the Transformers series and Jennifer's Body, as well as gracing the covers of various lads' mags. However, in recent years, Megan Fox has made a push to be taken more seriously as an actress, particularly since she's become a mother. Speaking to The Sun in 2016 (via Time), Fox explained that having children has given her a whole new perspective on the kinds of jobs she takes on.
"There are just certain things boys should never see their mothers do," the actress explained. Fox went on to reveal how she's turned down some potentially very lucrative work because it requires nudity or her participation in sex scenes. "I don't think my children should ever see me doing some of that stuff. I don't think my boys could handle that," the Transformers star noted simply (via Independent).
Blake Lively
Gossip Girl featured plenty of steamy scenes, and Blake Lively's Serena van der Woodsen was typically at the center of them. In fact, her countertop tryst with Nate (played by Chace Crawford) set the entire first season in motion. In the aftermath of the hit show, Lively has proven herself equally adept at handling action (The Shallows) and comedy (A Simple Favor), but she's less inclined to show off her body unless it serves the story in a very real way.
As the actress explained to Style magazine in 2012 (via the Daily Mail), she personally finds nude scenes in movies distracting, admitting, "I know that if I am watching a scene and someone has their boobs out, then that's all I'm looking at — I can't help it." As a result, Lively doesn't foresee herself ever going full frontal, explaining, "I just don't think that will ever be right for me."
Samuel L. Jackson
He's one of the biggest bad-asses in movie history — maybe even the biggest — known for fighting off mutant sharks (Deep Blue Sea), a plane full of snakes (er, Snakes on a Plane), and regular ol' people (Pulp Fiction) during his storied, decades-long career but, surprisingly, there is one thing that scares the great Samuel L. Jackson: revealing himself on screen. He may laugh in the face of danger in many of our favorite movies, but Jackson isn't about to show us the goods.
During a 2016 interview on The Howard Stern Show, the prolific actor admitted, "I might ask for a d**k double," if the situation presented itself (via Entertainment Tonight). "Do you feel your penis isn't big enough to show off on camera?" Stern asked, to which Jackson reasoned it isn't "formidable" enough. As the Tarantino favorite reasonably explained, he's such a massive star that there's no way his appendage could possibly live up to that mystique.
Mila Kunis
Mila Kunis memorably started her career when she was teamed up with Ashton Kutcher on That '70s Show as a teen. Their first onscreen kiss was actually her first IRL, too (via Refinery29). In the years since, Kunis has married Kutcher and established herself as a serious actress, but she isn't one to bare all even for the sake of the story. In 2011, Kunis told Ryan Seacrest during an appearance on his radio show that she was instrumental in choosing a butt double for the movie Friends With Benefits.
As Kunis reasoned, she wasn't unwilling to show everything, noting, "I showed side-boob." However, she would never "give away everything all at once," according to The Hollywood Reporter. At the time, the actress argued that she was only willing to do partial nudity while young, too, "before gravity gets the best of me."
In 2016, Kunis called out a film producer for trying to bully her into posing half-naked on a magazine cover and claimed she'd "never work in this town again" if she didn't, as reported by Variety. Naturally, she stood her ground and proved him wrong.
Emma Roberts
Emma Roberts is Hollywood royalty, counting iconic actress Julia Roberts as her aunt and workaholic Eric Roberts as her father. She started her career on Nickelodeon, playing the lovable Addie Singer on Unfabulous, before transitioning seamlessly into more adult fare thanks, in large part, to a lucrative collaboration with wunderkind producer Ryan Murphy on his American Horror Story series. Roberts also fronted Scream Queens as the instantly iconic Chanel Oberlin.
Presumably her toughest role yet is playing mother to son Rhodes. However, although Roberts has spent much of her life in front of the camera, there are still certain things she's hesitant about sharing with the general public. Speaking to W magazine, she once revealed, "I don't know that I'd do a full-on nude scene, ever." At the time, the young actress had never even been involved in a sex scene, but she simply noted "we'll see" in relation to her future career.
Emma Watson
When it comes to first roles, there aren't many much bigger than those in Harry Potter. Daniel Radcliffe, Rupert Grint, and Emma Watson were practically babies when they appeared in the first movie, all the way back in 2001, and the trio has spent most of the ensuing decades finding their identities outside of the fantasy franchise that made them. Watson, in particular, has emerged as a vocal feminist and civil rights activist. She also went back to school, completing her degree in English literature at Brown, as E! News reported in 2014.
Watson still acts too, of course, taking high-profile roles in The Bling Ring, Beauty and the Beast, and Greta Gerwig's celebrated take on Little Women. Although she's keen to prove herself as a viable performer, the English starlet was quick to note she won't be doing so at the expense of her integrity. Back in 2010, she told the Sunday Times magazine (via New York Daily News), "I'm not going to get my kit off or snort cocaine in a film, just to leave Hermione behind." In fact, she keeps the character close to her heart and is "proud" of her sweet-natured legacy.
Jenna Fischer
The Office breakout Jenna Fischer has become inextricable from her most famous character, Pam, to the extent that, as she regaled The New York Times in a 2019 interview, "a lot of young women talk to me about Pam's journey, the way that Pam finds her voice and finds herself throughout the life of the series." She's not known as a sexpot actress, and, as Fischer revealed, that's by design. In 2008, Female First reported the actress ran afoul of Hollywood playwright/screenwriter Shem Bitterman early in her career after she refused to go nude.
She reportedly told Playboy magazine he'd asked whether she'd "ever do a raunchy sex scene in a movie? Like really raunchy, with nudity?'" Fischer laughed it off, reasoning, "I wouldn't do anything I wouldn't be proud to show my parents." Shockingly, Bitterman allegedly told her, "You're not a real actress, then." Thankfully, Fischer wasn't swayed, and her subsequent career success speaks for itself.
Naomie Harris
English actress Naomie Harris is the modern Moneypenny to Daniel Craig's James Bond, but her impressive career stretches back to attention-grabbing roles in 28 Days Later…, Miami Vice, and Pirates of the Caribbean: Dead Man's Chest. As a Black woman, Harris is already up against it in Hollywood, and her casting as Moneypenny was widely heralded as a major step forward in the notoriously white-leaning spy series. However, even though she's serious about her work and intent on making an impact, Harris won't be coerced into dodgy situations.
The Sun noted that just because Moneypenny and Bond flirt up a storm doesn't mean she is going to be involved in any steamy scenes with him. In fact, Harris isn't a fan of sex on screen in general, arguing in 2012 that it simply isn't necessary. Likewise, she made it clear that from her perspective, it's "above the call of duty for me, as an actress, to take my clothes off," adding, "It should not be my job."
Isla Fisher
Comedic actresses seem to get an easier time of it when it comes to scrutiny of their looks or sex appeal. In the case of Isla Fisher, however, she's been straddling the line between sweet sexpot and goofy weirdo for essentially her entire career, whether she's appearing in Confessions of a Shopaholic or Wedding Crashers. The actress first found fame on homegrown soap Home and Away, but these days she's more focused on craft above all else.
Speaking to local paper The Sydney Morning Herald in 2005, Fisher acknowledged using a body double for her raunchier scenes in Wedding Crashers. "It is not like I have a problem with nudity but I didn't think there was anything funny about seeing a woman's nipple," she explained of her position. Fisher also worried that showing a woman naked robs her of her comedic appeal. "That was my theory," she noted, "and that's why I didn't want to do it."
Carrie-Anne Moss
She tussled with Keanu Reeves in the Matrix movies and Jessica Jones in the titular Marvel TV adaptation, proving her worth as a star in action projects regardless of her age. Although Carrie-Anne Moss is considered a sex symbol thanks predominantly to her leather-clad butt-kicking character Trinity, the actress is notably demure when it comes to taking her clothes off. In fact, she's been offered the chance to pose for the pages of Playboy magazine and has resolutely turned it down.
According to the Irish Examiner, in 2006, Moss made it clear she doesn't consider nudity part of her job description. "My first thought would be: 'What would my mother think?'" she admitted. She noted that accomplished actresses, including Julia Roberts and Michelle Pfeiffer, refuse to be filmed in their birthday suits, making her more confident taking the same position. She bats away suggestions Playboy would be good for her career, noting, "For me there's also the feeling that since I'm married, there's a kind [of] sacredness to the body."
Christina Hendricks
The modern definition of a bombshell, who set pulses racing on Mad Men as Joan Holloway and who frequently poses for sultry fashion shoots, actress Christina Hendricks is wary of being pigeon-holed because of her looks. She explained in a 2010 interview with New York magazine the emphasis on her curves, rather than her performance, on Mad Men really upset her. "Anytime someone talks about your figure constantly, you get nervous, you get really self-conscious. I was working my butt off on the show, and then all anyone was talking about was my body!" she railed.
Although Hendricks couldn't envision herself behaving the way her most famous character does, confessing to slumming it in jeans and flip-flops in her downtime, as she told BlackBook magazine a couple years later, playing Joan gave her a burst of self-confidence. However, she said, "I'm really just a girl who would prefer talking about my acting rather than my body." Hendricks acknowledged she's "comfortable in [her] skin," just "not in front of other people."
Jamie Dornan
The Fifty Shades of Grey movies were a worldwide phenomenon, banking an eye-watering amount in total, as tallied by Box Office Mojo. The raunchy trilogy also made instant stars of its two leads, Dakota Johnson and Jamie Dornan. While Johnson spends plenty of her onscreen time in a state of total undress, northern Irish actor Dornan largely retains his modesty. Although actresses tend to get the shorter end of the stick when it comes to sex scenes regardless, as Dornan explained in a 2018 interview with Elle, he wouldn't have let it all hang out even if the role required it.
He shot down long-standing rumors about being offered more money to go full frontal, joking, "It was $30 million — to show one testicle," but acknowledged that showing his butt is about as far as it'll go for him on any project. Although Dornan advised if he had breasts he'd be fine with showing them off, the actor argued, "We don't need to be flashing the rest if it's not essential to the story."