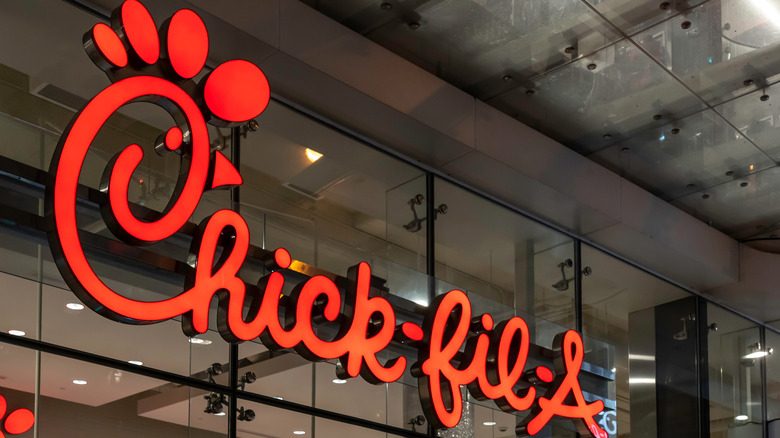 Chick-fil-A is one of the most popular fast-food restaurants in the United States, and it was even voted number one in America in 2021 by the American Customer Satisfaction Index. As the name suggests, the chain is known for its variety of chicken menu items, including sandwiches, nuggets, and strips. Fans also love their freshly squeezed lemonade and famous Chick-fil-A sauce.
Having been in operation since 1946, it's no surprise their menu has changed a time or two. Their test kitchen cooks are constantly creating new recipes, looking for the next popular menu item. Just think, some of our favorite Chick-fil-A recipes might not have even been written yet! Not all menu items are a success though. As Chicken Wire indicates, there are plenty of ideas that didn't even make it on the menu, like the Chicken Quesadilla or Rosemary Garlic Flatbread Wrap.
What's more disappointing than the absence of foods we never tasted is the loss of dishes we fell in love with. Chick-fil-A has broken the hearts of many by pulling beloved foods off their menu. Read on for the discontinued Chick-fil-A items we desperately miss.
Cinnamon Cluster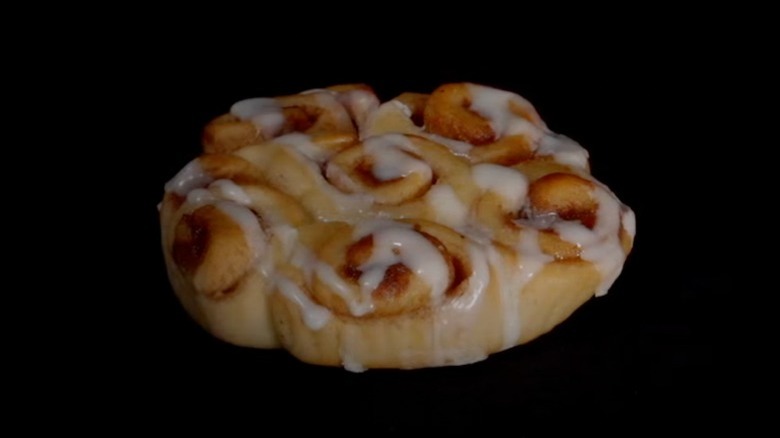 Although they're closed on Sunday, the day of the week we seem to crave Chick-fil-A most, the chicken restaurant offers a superb breakfast menu, replete with biscuits, hash browns, eggs, and bacon. Their breakfast menu is enough to make any morning better, and it was especially great when they offered their Cinnamon Cluster, a gooey mass of cinnamon and doughy goodness.
When Chick-fil-A released the sticky pastry in 2005, it was instantly met with positive reviews. One reviewer from Chron described the treat as "perfectly delicious" and wished it had been available for more hours of the day, as it could have been a great dessert option too. The Cinnamon Cluster was loved by many, and fans were noticeably upset to see it go. One fan even took to Change.org in an effort to revive the item, reaching 160 supporters though the petition was eventually closed. Nonetheless, the restaurant hasn't acknowledged the effort, leaving its once-popular Cinnamon Cluster in the past.
Oatmeal
Another former breakfast item, Chick-fil-A oatmeal was so beloved by patrons that it earned a permanent spot in the Menu Legends Hall of Fame, right next to the Cinnamon Cluster. Back in 2011, Chick-fil-A was excited to introduce oatmeal to their menu. A company representative explained that the addition was in response to customers' desire to have more healthy options on the menu. "Our menu is all about choices — we offer our signature Chick-fil-A Chicken Biscuit for the more hearty appetite to the Cinnamon Cluster for those craving something sweet in the morning to the health-minded customer who now has an additional choice of our slow-cooked oatmeal," he said, per PR Newswire.
Unfortunately, unlike the Cinnamon Cluster, the oatmeal only lasted four years on the menu before being relegated to a distant memory. Chick-fil-A's oatmeal was a mouth-watering take on the classic breakfast food, and customers were fond of the comforting dish. The slow-cooked multigrain oats were customizable and could be dressed up with toppings like brown sugar and berries, or enjoyed plain.
A Trio of Salad Dressings
What's Chick-fil-A without its sauces? A trip to Chick-fil-A minus sauce is like Thanksgiving without turkey. It's a classic combination and unimaginable to think they would ever discontinue something so delicious. Consequently, the news that we would no longer have access to some of our favorite dressings was so devastating. Buttermilk Ranch, Spicy Dressing, and Berry Balsamic Vinaigrette are no longer available, much to the dismay of many Chick-fil-A customers.
The Buttermilk Ranch was a creamy dreamy delight, perfect for dipping fries or pouring over a salad. The Spicy Dressing was just that — spicy — and it made any dish taste better. As for the Berry Balsamic Vinaigrette aka the salad dressing of the heavens, it gave a fruity, tangy bite to fresh greens. It was especially great when employees snuck extras in to-go bags, making them available for use at home. Without a doubt, each dressing still holds a special place in our hearts.
Asian Salad
Salad lovers were disappointed to learn that Chick-fil-A had removed its Asian Salad from the menu. The dish packed red cabbage, wontons, oranges, and their Honey Sesame Dressing into a beautiful medley of flavors, topped with juicy crispy chicken. This item wasn't around for long — only three years — but it made an impact in its short-lived time on the menu, pleasing patrons around the country. Once again, fans took to Change.org to petition against the removal of the item from Chick-fil-A's menu. Unfortunately, only a handful of fans signed it, making it seem even more far-fetched to believe the powers that be might offer it to customers again.
However, Chick-fil-A didn't leave its customers totally high and dry when they removed the Asian Salad from their menu. The chain swiftly replaced it with the Spicy Southwest Salad, per Business Insider, which is still currently available. The change came with the restaurant's effort to offer more nutritious choices. "We're fully committed to providing more healthy options, and we're seeing purchase behavior move in that direction," a representative of the company said of the menu change (via Business Insider). While it's certainly a different flavor profile than the Asian Salad, the Spicy Southwest Salad is still a fresh menu option. Knowing that Chick-fil-A didn't eliminate a fan favorite without some sort of replacement softens the blow a bit.
Cole Slaw
Chick-fil-A originated in the South, and few sides for chicken are as quintessentially Southern as coleslaw. The chain first offered its Cole Slaw on the menu in 1967, shocking many customers when they discontinued it in 2016. The creamy cabbage and carrot mixture was peak comfort food, and people were distressed over its removal from the menu. As Business Insider reports, fans took to Facebook to document their distaste at the new menu sans Cole Slaw. "Thousands of customers are boycotting your establishment and refusing to stop in until you put it back on your menu," one wrote. "I haven't been since they stopped selling the slaw as I always used to put it on my sandwich," wrote another.
The company wrestled over their decision to remove the slaw from the menu, knowing it would upset many customers. "As our sales volumes grew, it just wasn't feasible to keep adding to the menu without taking anything away," a representative said of the choice (via Business Insider). To appease the more passionate fans, Chick-fil-A published its Cole Slaw recipe. Although we can't buy it in stores, we can still taste the delectable side any time we want.
Carrot Raisin Salad
Introduced the same year as their slaw, Chick-fil-A's coveted Carrot Raisin Salad was subject to the same fate. In 2013, the chicken restaurant axed the item from their menu, closing a historic chapter since Chick-fil-A's founder Truett Cathy wrote the recipe himself. Made with shredded carrots and filled with raisins and pineapple bits, this sweet salad was a Chick-fil-A staple for generations, making the news of its death a huge letdown.
Fans asked the restaurant to reverse their decision, even taking to Reddit to lament over the loss of the beloved menu item. A Reddit user and former employee shed some light on the menu change, noting that "No one bought it. We probably sold 1-2 per day. It wasn't worth it for the prep time to pay someone to make something that wouldn't sell." Chick-fil-A has never released an official statement as to why they no longer offer the item. Although the chicken chain has remained committed to its removal, as with their Cole Slaw, they published their Carrot Raisin Salad recipe for millions to enjoy.
Chicken Salad
In 2017, Chick-fil-A said goodbye to their Chicken Salad. This tasty item featured chopped chicken, hard-boiled eggs, celery, and relish, sandwiched between toasted bread and leaves of crisp lettuce. The fast-food eatery posted a recipe for the dish online, including pictures of each step so sandwich fans could recreate the magic at home.
Chick-fil-A knew customers would be upset about their actions and they opened up to TODAY about it: "The decision to remove Chicken Salad from the menu was a difficult one. We know many of our customers loved our Chicken Salad, but we have also heard from guests that they are looking for new tastes and fresh flavors on the menu in our restaurants," a representative said.
Chick-fil-A eliminated the chicken salad sandwich around the same time period they discarded other favorites in an attempt to offer new, healthy options. "We don't want folks to think we're walking away from classic Chick-fil-A items. But we are going to have to part with some things to make way for some new items," a representative told Business Insider of the many menu changes.
Sunflower Multigrain Bagel
As previously mentioned, Chick-fil-A has a stellar breakfast menu, with loads of tasty items. One of the offerings was the crunchy Sunflower Multigrain Bagel, which was used to build breakfast sandwiches. In the spring of 2021, Chick-fil-A announced it was removing the bagel and decaf coffee from the breakfast offerings. The restaurant said changes were being made to allow room on the menu for seasonal and limited-time-only items like the Chicken Tortilla Soup and Grilled Spicy Deluxe.
Still, fans were upset by the news, and as usual, one started a petition on Change.org to add the Sunflower Multigrain Bagel back to the menu. This petition has over 60 signatures, but it's not likely to gain any traction with Chick-fil-A as they've shown they don't reverse their menu changes. Chick-fil-A has yet to provide a recipe for their beloved bagel, but they did give customers recommendations for navigating the menu without it, noting that items previously made with the bagel can be enjoyed with an English muffin or buttermilk biscuit instead.
Spicy Chicken Biscuit
Arguably the most crushing loss to the Chick-fil-A menu is the Spicy Chicken Biscuit. Fans were understandably broken when they learned of its discontinuance. This spectacular sandwich was removed from the menu so Chick-fil-A could include a Frosted Coffee and Egg White Grill. While both are fine items, customers missed the Spicy Chicken Biscuit. A Chick-fil-A restaurant spoke to the Atlanta Business Chronicle, sharing that the item was removed because it "represented one half of one percent of breakfast sales."
Depending on where they live, fans don't have to stick to wistfully longing for it. Chick-fil-A took to their blog to clarify the status of the Spicy Chicken Biscuit, as it's not entirely absent from the menu. While it's not available nationally, it can be found in 95 cities in the United States, and Chick-fil-A lists exactly where so customers can travel for the famous sandwich. Those of us who can no longer order the Spicy Chicken Biscuit or any of the discontinued items at our local restaurants are still disappointed, but we'll always have love to spare for Chick-fil-A.