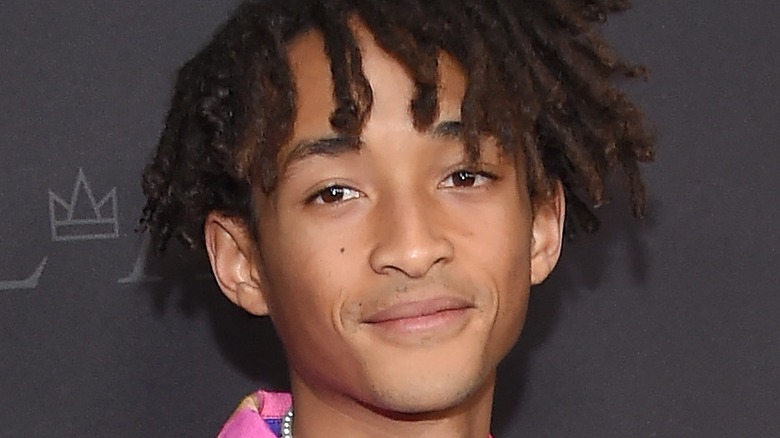 Everyone knows Jaden Smith, whether it's because of his famous family or his determination to carve out his own path to become one of the most influential creatives in the world. From an early age, Smith was thrust into the limelight, and learned that he didn't want to live his life stuck in a bubble and do things his way. "I have a goal to be just the most craziest person of all time. And when I say craziest, I mean, like, I want to do like Olympic-level things. I want to be the most durable person on the planet," Smith stated in a 2014 interview with T Magazine.
Fast forward to eight years later, and it seems the 23-year-old is doing just that. Here's a look into the journey of a young man born into one of Hollywood's most famous families who is becoming a notable adult by creating a legacy all on his own terms.
Jaden Smith was born into a famous family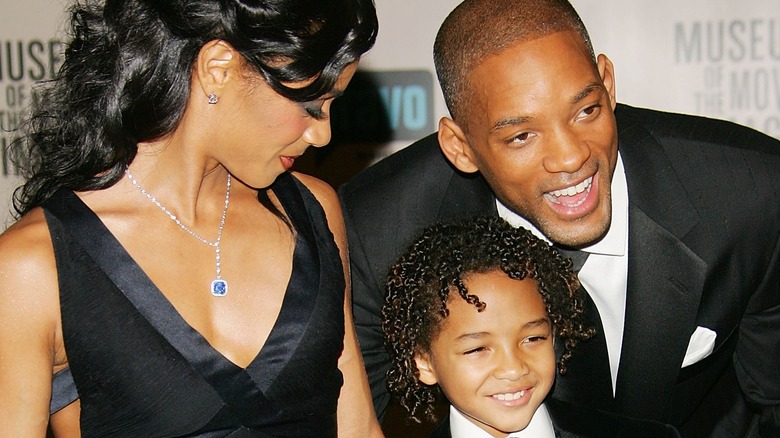 Jaden Smith is the first child that actress Jada Pinkett Smith and musician/actor Will Smith had together (via MTV News). The Smiths first met one another when Jada auditioned for a role on Will's hit sitcom "The Fresh Prince of Bel-Air" in 1990 (via People). Even though she didn't land the part, the pair would cross paths a few years later when Will visited the set of "A Different World," a television show that Jada appeared in. According to USA Today, Will revealed while appearing on Jada's Facebook series "Red Table Talk" that he knew Jada was the woman for him. At the time though, he was still married to Sheree Zampino (via Us Weekly). However, when Will divorced Zampino in 1995, he contacted Jada to see if she was single, and the two began dating. Two years later, Jada became pregnant with Jaden.
During that same "Red Table Talk" episode, Jada recalled the pregnancy and shared, "We started dating, and then I got pregnant two years in. I knew the moment after the act that I was pregnant." She added that Will Smith didn't think she was with child at the time, and stated, "He didn't believe me, but I knew. You know those big locks on the bank? I could feel that in my womb, in my uterus" (via USA Today). On July 8, 1998, the Smiths welcomed their son (via IMDb).
He followed in his father's footsteps at an early age
Jaden Smith's first major acting role was in the blockbuster 2006 biographical drama "The Pursuit of Happyness," in which he starred alongside his father, Will Smith. However, this wasn't Jaden's first acting gig — the youngster played a sweet kid named Reggie on the sitcom "All Of Us" when he was five years old for seven episodes throughout its four season run from 2003-2006 (via IMDb).
Will Smith discussed working with his son in the movie during an interview with movie and book critic Kam Williams, and stated, "Having my son, and being able to lay in a subway bathroom, with my real son, just added to the ability to be able to transform and to become Chris Gardner for those moments."
Even though director Gabriele Muccino wanted to hire Jaden to portray Christopher Gardner, Jr., the studio wouldn't allow it at first. In Will Smith's self-titled memoir, he recalled that Muccino told him, "The studio felt like it was a death sentence for the film from a marketing standpoint. They felt that people wouldn't be able to suspend disbelief seeing Jaden and you on camera as father and son" (via Insider). Muccino proved everyone wrong, because he cast Jaden in the film, which went on to make over $307 million at the box office worldwide (via IMDb). After his breakout performance, Jaden was cast in "The Day the Earth Stood Still," "The Karate Kid," "After Earth," and "The Good Lord Bird" (via IMDb).
Jaden Smith didn't have a normal childhood
Like lots of kids born to celebrity parents, Jaden Smith didn't grow up like most children. When sitting down with Variety, the then 18-year-old reflected on his childhood and said that he'd always felt like an outsider when growing up. He shared, "I always knew no one was going to understand me — since before I could talk — and that's why I was so quiet. I was very calm, very to myself. I could tell I felt about life differently than other kids; I could tell by the way they treated me."
"The Karate Kid" actor spoke about his upbringing again two years later while promoting his film "Skate Kitchen" and discussed that while his life came with perks, it also came with a unique set of struggles. He told Dazed, "I didn't always get to hang out with normal people when I was young. So being older and being able to hang out with the big kids and play with normal people is fun."
Growing up, he received a unique education
When Jaden Smith first started attending school, he was homeschooled by his parents. In 2009, Will Smith and Jada Pinkett Smith opened up the private elementary school the New Village Leadership Academy in Calabasas, California (via CBS News). Once the school was up and running, Jaden and his sister Willow Smith enrolled at the academy for some time, according to Yahoo! News. Classes consisted of yoga, karate, robotics, technology, math, literacy, Spanish, art, and living skills, according to ABC News. As Jaden got older, he took to social media to voice his opinions about attending school. He tweeted numerous statements including, "School is the tool to brainwash the youth," and "Education is Rebellion."
In November 2014, Jaden and his sister Willow discussed their sentiments about school in an interview, and told T Magazine, "School is not authentic because it ends. It's not true, it's not real. Our learning will never end."
On the 2020 Father's Day episode of "Red Table Talk," Jada sat down with her husband in a one-on-one conversation, and when Will talked about why his kids were homeschooled, the "Men In Black" actor explained that he learned he could not "father from a distance" and wanted them by his side while he was away filming movies. Will added, "My kids being with me is of a higher value than sitting in a classroom."
He was already trying to change the world as a tween
After seeing how plastic bottles were damaging to the earth, at a young age Jaden Smith wanted to create a company that sold beverages in more sustainable packaging. During a phone conversation with Fast Company, he stated, "I knew that it was going to be really hard to create, like, a new soda. And I knew that the recipe for water all over the world is pretty much the same, and it was going to be a lot easier to create a new water bottle company than a soda company. And that's what I wanted to do, and I was like, 12 years old."
With the help of his parents, Smith founded Just Water in 2015, a company that sells spring water all over the world that comes in plant-based paper cartons (per Florida Today). As of 2019, the company has sold its water in stores in over ten countries and over 15,000 retail stores in the United States (via Fast Company).
During an interview for V-Man Magazine in 2019 with Kid Cudi, Smith gave an update on Just Water, and shared, "Right now, I'm trying to launch this water filtration system in places where the water quality is very poor, which is sadly a lot of places in the world right now." The filtration system that Smith and his partner Drew FitzGerald created brought clean water to residents in Flint, Michigan (per Fast Company).
Jaden Smith left acting behind to focus on a music career
While Jaden Smith was still acting, he began to dabble in music. In 2010, Smith and pop star Justin Bieber teamed up for the pop hit "Never Say Never," which served as the signature tune for Smith's flick, "The Karate Kid." Then, two years later, the 14-year-old put out his very first mixtape, "The Cool Cafe," and released a sequel, "Cool Tape Vol. 2," in 2014. After his second mixtape came out, Smith decided to take a break from acting to focus on his music career. That same year, the budding rapper/singer also made appearances on multiple artists' albums, including Childish Gambino's album "Kauai."
In 2017, Smith finally released his long-awaited debut album, titled "Syre." His album featured his sister Willow Smith as well as a few other artists, including A$AP Rocky and Raury, according to djbooth.net. "I think the noticeable influences are Frank Ocean, James Blake, Kanye … there are a lot of people that you can feel in there. But for the most part, I'm really trying to create my own sound that's never been heard," he said in an interview with Complex after the album dropped.
Smith has also performed at Coachella and gone on tour with music industry heavy hitters Post Malone and Tyler the Creator. He has been announced as one of the opening acts for Justin Bieber's 2022 Justice World Tour.
Jaden Smith wanted to break free from his parents as a teenager
In 2014, Jaden Smith made headlines when he supposedly wanted to be emancipated from his famous parents. In an interview with The Sun, Will Smith disclosed that his son wanted to strike out on his own for his 15th birthday. Will reportedly told the outlet, "He says, 'Dad, I want to be emancipated.' I know if we do this, he can be an emancipated minor, because he really wants to have his own place, like 'Ooh,' That's the backlash. On the other side, if kids just want to have command of their lives, I understand" (via Buzzfeed).
In a 2018 episode of "Red Table Talk," Jada Pinkett Smith talked about the emancipation with her son. She told him, "I remember this day specifically, it's probably one of the most heartbreaking moments of my life. You got to a point where you told me straight up, you were like, 'Mom, I have to leave here to live my life.'" She added, "Being in this lifestyle, in this world is a bubble, and [Jaden] wanted out. I understood that because I didn't have the bubble. I knew what having my freedom outside the bubble, what I gained from that. I knew the sooner I let him go, the faster he was going to come back" (via Buzzfeed).
Smith didn't emancipate himself, but he did move out and purchase his own house a month before his 18th birthday, according to People.
It's no surprise that one of Jaden Smith's biggest influences is his father
When it comes to music and fashion, Jaden Smith has various influences. In a Billboard interview with his sister Willow Smith about their inspirations, Jaden discussed his father's music. He stated, "I love his songs, I go back and re-listen to those songs and the newer songs he's made in the studio too." One of Jaden's favorite songs by his father is the 1997 smash hit "Gettin' Jiggy Wit It." The artist also feels his dad inspires him not only when it comes to his music but in life in general, and shared, "My dad is awesome. I wouldn't be where I am right now if it wasn't for all of the things he's taught me. He's taught me a lot about driving and just about life."
While chatting with Nylon Magazine in 2016, Smith talked about his upbringing, saying, "The greatest lesson I've learned from my parents is to be myself, at all costs, no matter what anybody thinks."
He returned to the big screen for the movie Skate Kitchen
After quitting acting, Jaden Smith returned to the silver screen for a 2018 film about female skateboarders. "Skate Kitchen" follows a lonely Long Island suburban teenager named Camille, played by rapper/actor Rachelle Vinberg, who befriends an all-girl New York City skate crew (via IMDb). The movie marked Smith's first feature film since 2013. In the teen drama, Smith plays Devon, a chill teen seeking to become a photographer and the main character's love interest. Vinberg recalled that the writer/director Crystal Moselle had approached her to see if she knew any other actors who could skateboard during filming, and Smith came to mind. She told USA Today, "I was like, 'Oh, yeah, Jaden Smith does. He told me he's bad, but I don't think he actually is.'"
According to the publication, Smith stated he wasn't interested in any roles until this project came along and said, "The kinds of roles I was being offered weren't exactly what I was looking for. Nothing felt really necessary that I needed to be in until this came along." When the film premiered at the Sundance Festival in January 2018, it received a 90% positive review from Rotten Tomatoes.
Jaden Smith epitomizes Gen Z activism
Over the years, Jaden Smith has used his platform to raise awareness of various social justice issues in addition to climate change. In a 2020 appearance on ABC's "Jimmy Kimmel Live," Smith performed a song called "Boys and Girls," which is about today's youth that will change the world in which we live in through love and determination. During his set, he performed in front of a screen that featured imagery from various Black Lives Matter and civil rights protests (via allhiphop.com).
Smith also pushed his clean water initiative forward by creating 501CTHREE, a non-profit committed to creating solutions to bring change to climate change. He spoke with Interview Magazine about the water crisis in October 2020 and shared a bit about his organization. "The non-profit that I co-founded, 501CTHREE, has been around for a while now. There are so many people across the world who die from lack of access to safe water every day, and they're mostly young kids. We wanted to find a solution that was more sustainable than delivering bottled water to those communities, so we developed this filtration system that purifies ten gallons of water every minute." At the height of the pandemic, 501CTHREE worked with The Newark Water Coalition to establish his water filtration boxes in New Jersey neighborhoods that were experiencing unsafe water.
He now follows a healthier lifestyle
In 2018, Jaden Smith became a vegetarian after he consumed too much meat and got sick, according to NYLON. Then, in 2019, Smith was going back and forth between following vegetarian and vegan diets. However, it seems that his strict diet was doing more harm than good, and his parents had to step in (via Us Weekly). While appearing in an episode of the "Red Table Talk" in December 2021, he talked about how he felt better since his parents had spoken to him about his diet and pushed for him to ensure he was getting the proper nutrients.
He explained, "I was able to work with the doctors and really get my vitamins and get my supplements and protein shakes. That's half of my diet. It's like a password that I have to find to my body." He also shared that since the 2019 intervention, he was doing much better and was ten pounds heavier, noting, "I feel like I'm keeping on my weight. I'm able to put on my muscle."
Jaden Smith is in the process of taking his clothing line to new heights
While Hollywood may not be casting Jaden Smith lately, the star has kept busy by co-founding a clothing line called MSFTS with his sister Willow Smith and friends TÉO and Moises Arias (via W Magazine), and the brand seems to be doing better than ever. The Los Angeles-based company recently gained worldwide recognition when they were asked to present three looks at Italy's biannual menswear tradeshow, Pitti Uomo. According to Paper Magazine, Smith issued a statement about the collection and said, "The collection preview is a symbol of organized rebellion within the youth. There are three looks we are currently showing, and they were all designed to evolve consciousness and the way you see clothes."
In an interview with i-D, Smith shared that the label has moved all of its production to Italy since the tradeshow so they can be competitors in the luxury fashion arena. When asked what type of brand MSFTS is, the innovator shared, "The brand is for people who feel left out, and feel that they don't belong. That's what it's all about." On the future of the brand, he noted, "I feel like during the pandemic I really had a lot of time to work on it more. 2022 is gonna mark ten years of MSFTS, so now I'm just doing what I've always wanted to do but have never been able to."