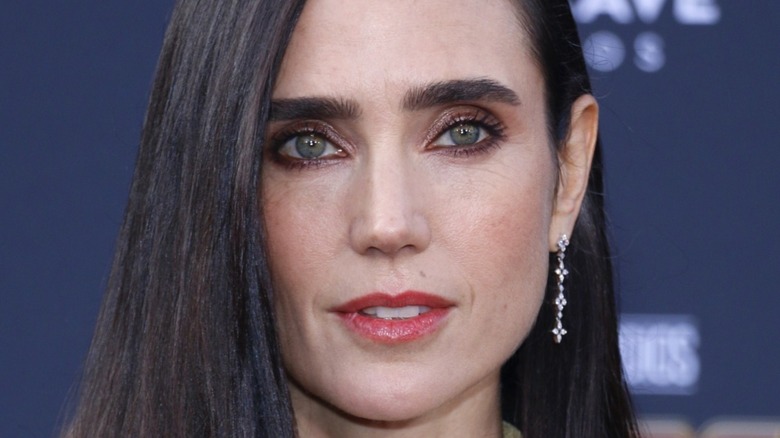 In the early 2000s, when Jennifers Lopez, Anniston, and Garner were dominating Hollywood, another Jennifer emerged as a sort of cool-girl alternative to the more mainstream others: Jennifer Connelly. The star of critically-acclaimed dramas like "Requiem for a Dream" and "A Beautiful Mind" took off in her 30s, but she had been around for decades, silently building an impressive resume of varied projects that ranged from Dario Argento's terrifying "Phenomena" to Disney's throwback superhero flick "The Rocketeer."
Though she is married to a Marvel Cinematic Universe superstar, Connelly likes to keep her private life private, and as such she often takes long breaks from the spotlight. She doesn't like the Hollywood life, telling Independent that she prefers to remain low-key. "I'd rather hang out with my kids and family when I'm not working. Going to premieres is not my idea of a fun night out," she explained. When she does re-emerge into public life, it can sometimes seem like a re-invention; although her career has had its ups and downs, Connelly remains one of Hollywood's most reliable stars.
However, Connelly is not just an actor. In addition to her time away from the spotlight, Connelly has dabbled in many other forms of entertainment, including modeling, singing, and being a makeup spokeswoman. Here is a look back at the transformation of Jennifer Connelly, from childhood to age 51.
She was a child model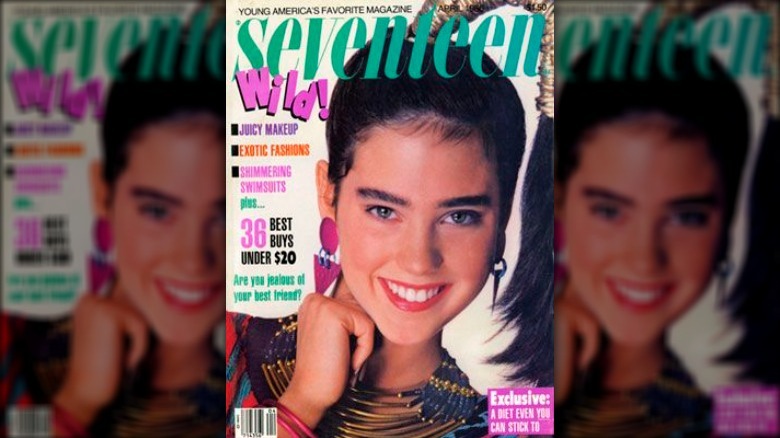 Jennifer Connelly was born in 1970 and was raised in Brooklyn Heights, New York. Though she would later go on to win fans and accolades as an actor, Connelly's first foray into performing was something different: she was a child model. According to the Independent, a family friend told her parents about a casting call, and the rest was history.
"I started when I was ten, doing that," she told Anderson Cooper on his short-lived talk show; the silver-haired news anchor revealed that he, too, had started modeling at a young age. The future "Blood Diamond" actor bonded with the host over both being signed to Ford Modeling Agency when they were younger; while Cooper appeared primarily in clothing catalogs, Connelly was a bit more visible. She was a cover model for Seventeen several times, even appearing on what the magazine now calls one of its most iconic covers; the ultra-80s image depicts a young Connelly with a super-high side pony and totally tubular purple jewelry (above).
She later looked back at her early career and confessed to the Independent, "I wasn't the biggest rebel as a child; I wanted to do my job, show up on time and be responsible for my career." Modeling would, indeed, prove to be an important stepping stone on Connelly's way to the top.
She transitioned to film in 1984
Jennifer Connelly's early success as a child model didn't come without a cost; she later told Rolling Stone, "I did a little modeling, which I hated, and then I got interested in acting." Thankfully, her already-impressive resume made the next step easier: "So I called up an agency and got an appointment." She was angling for a transition into the world of film acting, and it seems to have been a simple one for the budding young star. In 1984, Connelly was picked to act in Sergio Leone's crime epic "Once Upon a Time in America," a film where she was required to both dance and kiss a boy. In the multi-generational film, Connelly played a younger version of Deborah, Elizabeth McGovern's character.
Although the film was initially a critical and commercial flop, it is now regarded as one of the best gangster movies ever. Connelly said she had a great experience on her first film set, and she looks back on the film fondly. In fact, Connelly doesn't like to watch her own work, but she does still enjoy "Once Upon a Time in America," telling Rolling Stone that she can only rewatch the film "because I'm in it so briefly."
She was big in Japan
When Jennifer Connelly was young and was still finding her place in the entertainment industry, her success as a child model led to some interesting opportunities. She was a particular success in Japan, and back in the day, she recorded a pop record for release in Japanese markets — a success which included the singles "Ai no Monologue" and "Jennifer's Dream." The former was used in an advertisement for Technics sound systems, and Connelly appeared in a commercial for the brand, singing her hit song.
Years later, after she found success as an actor, her musical past came back and surprised her. Graham Norton asked the star about her pop aspirations, and she confirmed that she has firmly left her Japanese pop star days in the past. "I'm not a singer. I have no aspirations to be a singer," she laughed. "Everyone in my family is musical except for me, really." Connelly even claimed never to have heard her own music. Imagine that — having a #1 single in Japan, never having listened to yourself. Ah, the life of a movie star!
She worked with David Bowie
One of Jennifer Connelly's first big roles was opposite none other than David Bowie in the Jim Henson fantasy epic "Labyrinth," where he played The Goblin King. Connelly was only 14 when she played the moody teenager Sarah, but her experience with her mega-famous co-star seems to have been a positive one. Years later, after Bowie's untimely death, she told ET, "[He] was very warm. He was lovely. He was just a nice, sweet guy — cracking jokes and friendly with the crew."
ET actually visited the set of the film and spoke with the young Connelly at the time; she told them it was a big step up for her career, only her fourth film role. "It's completely different than I had imagined," she marveled. "I've never worked on a film this big with so many different angles and things to do."
Her future husband, Paul Bettany, later admitted that he had a crush on his wife when he watched her in the film as a teenager. "What 13-year-old boy didn't have a crush on Jennifer Connelly when they saw 'Labyrinth?'" he recalled to ET. Perhaps realizing how that sounded, he added, "At the risk of sounding like the longest, most successful stalker that has ever been."
She broke out in Requiem for a Dream
Jennifer Connelly worked throughout the 90s, but aside from a few smaller successes like Disney's "The Rocketeer" and John Singleton's "Higher Learning," Connelly's career didn't really take off until 2000, when she starred in "Requiem for a Dream," Darren Aronofsky's indie drama about a group of people dealing with various addictions. She told Vulture years later, "I remember loving the script and feeling strongly about it. I found it moving. Devastating, but also really moving. I remember wanting so much to be part of it."
Connelly recalled Aronofsky not being eager to cast her, and the director revealed that her career was in a rough patch, but clarified, "She gave one of the best auditions I've ever seen to this day. She came in, and I was not expecting anything, and she left with the role."
In the movie, Connelly plays Marion, a dressmaker spiraling into heroin addiction with her boyfriend, played by Jared Leto. The film includes a climactic, grotesque scene where Marion is sexually degraded in front of a group of leering men, and it's one of the standout moments that people still remember about the film today. Film Inquiry, for example, calls it the most "repugnant" scene in the entire movie.
If you or anyone you know is struggling with addiction issues, help is available. Visit the Substance Abuse and Mental Health Services Administration website or contact SAMHSA's National Helpline at 1-800-662-HELP (4357).
She did her research for A Beautiful Mind
In 2001, Jennifer Connelly starred in "A Beautiful Mind," opposite Russell Crowe. The film is about a mathematician named John Nash (played by Crowe) who develops schizophrenia; Connelly played Alice Nash, his wife. Although her co-star famously avoided coming into contact with the man he was portraying on-screen, Connelly told Female.com.au that she wanted to meet the woman she was playing in the film. Specifically, she had a whole speech prepared, wanting to tell the real Alice Nash, "I'm playing you, more or less. What's your life like? Is there anything that you would really like me to convey about you, or is there anything that is important to you that I don't convey? I will respect that." However, when they actually met up, the woman just asked her what it was like to work with Crowe, and Connelly didn't really get a chance to investigate the role.
However, it all worked out in the end. Her performance won her serious accolades including an Oscar, for Best Supporting Actress. "By some beautiful twist of fate I've landed in this vocation that demands that I feel and helps me to learn," she said during her acceptance speech, adding, "and no film has moved or taught me more than 'A Beautiful Mind.'"
She married a co-star
Though she was Paul Bettany's childhood crush, Jennifer Connelly finally met the man who would become her husband on the set of "A Beautiful Mind." However, they didn't date until later — more specifically, after 9/11. Bettany told Larry King that although their connection was instant, noting, "What happened was September the 11th. I was in Tuscany. I was shopping for groceries and I saw this crowd outside this cafe." He witnessed the second plane crash into the World Trade Center, and he ran home to reach Connelly, which took two days because of how jammed up the phone lines were. "I remember very clearly thinking to myself, 'What are you doing… oh,'" he recalled. "I realized I was in love." When he finally connected with her, he told her, "Let's get married." Yep, that's right; Bettany proposed before they even technically dated.
Bettany and Connelly finally married two years later, in 2003. She told Glamour that she felt drawn to the Brit, explaining, "It was something about the way that we were together. He stood out to me as someone singular and rare and beautiful, and I liked the way he was in the world. I liked the way he was with people."
Hulk halted her momentum
While Jennifer Connelly's husband Paul Bettany would go on to be a Marvel Cinematic Universe superstar as Vision, in the early 2000s, Marvel was still trying to figure out what to do with their superhero library. After the success of "Spider-Man" in 2002, the following year the studio released "Hulk," a standalone film about the character who would later be played by Ed Norton and Mark Ruffalo in the MCU. In an interview with Sci-Fi Wire, Connelly talked about her role in the then-upcoming film, insisting, "It's really interesting and ambitious." She praised director Ang Lee and told the outlet he was "not talking about a guy running around in green tights and a glossy fun-filled movie for kids. He's talking along the lines of tragedy and psychodrama."
However, the movie was a critical and commercial flop; the studio would start over and make "The Incredible Hulk" a mere five years later. Unfortunately, "Hulk" was released shortly after Connelly's Oscar win, halting her momentum. "It doesn't diminish the experience for me," she claimed to The Guardian years later. "But I can't say that I feel entirely neutral about it. Who wouldn't want people to respond favorably to something that they make?"
She took several years away from the spotlight after "Hulk," re-emerging in 2005 with the J-horror remake "Dark Water…" which also flopped critically. Jennifer Connelly, the up-and-coming, respected dramatic actor, was no more.
Revlon came calling
In 2008, after a couple of years of films that failed to impress both critics and audiences, Jennifer Connelly became a representative for Revlon. David Kennedy, the President and CEO of Revlon Cosmetics wrote, "Jennifer Connelly is a modern, dynamic and intelligent woman. She is an accomplished wife, mother and actress and her successes complement the spirit of the Revlon brand." Connelly shared her own thoughts, adding, "Revlon is one of the great iconic brands of today and I am thrilled to be part of a company that has done so much for women around the world."
She started filming commercials the following year, per Just Jared; one 2012 commercial for the UK pharmacy chain Boots shows the actor wearing a bold, red lip at a dinner party and, inexplicably, checking her lipstick in a shiny toaster. In addition to her print and television advertisements, Connelly also appeared in person on behalf of the brand, helping host the 2009 edition of the company's Entertainment Industry Foundation Run/Walk for Women in Times Square, according to a press release.
Celebrity Net Worth says that her endorsement deals with Revlon and other companies like Shiseido helped push her net worth north of $50 million.
He's Just Not That Into Jennifer Connelly
Though she got most of her critical acclaim in dramas and she has acted in horror films like "Phenomena" and "Dark Water," 2009 saw Jennifer Connelly take a career shift into rom-coms. In Ken Kwapis' "He's Just Not That Into You," Connelly played Janine, a woman obsessively renovating her house possibly as a distraction so she doesn't need to fix her relationship with her husband (Bradley Cooper). Though Showbiz Junkies tried to get Connelly to play along with their interview and pick which other character she would have wanted to be, she insisted that she really liked her character. In addition, the famously-reclusive actor wouldn't engage on the advice offered by the film for men and women; although it was based on a self-help book, she said she didn't view the film as "advice," per se, just "a fun collection of stories."
In an interview about the casting of the film, she told Emmanuel Levy, "Janine is a bit old fashioned in some ways. She hates lying, so for her, it's really important to be with someone straightforward and honest, to trust the person she's with. She likes the idea of marriage."
Her career changed after having her daughter
Jennifer Connelly spoke frankly about being pregnant on "The Late Show With David Letterman" in early 2011 (via People), describing her nausea early in her first couple of months. "I had to stand in one spot, which happened to be in front of my refrigerator," she said, comparing keeping her queasiness under control to the stars aligning for spotty cell service. However, she had a joke up her sleeve, continuing, "which was open, with me dipping pretzels in cream cheese and stuffing them in my mouth. If I did that, I was good."
By that year, Connelly had a son from when she was a single mother in the 90s, as well as a young boy with Paul Bettany; she delivered her third child, a daughter, by way of an at-home water birth (per US Weekly).
She later told Town & Country that having her daughter changed the kind of roles she was offered. "All of a sudden I'm reading scripts where I'm the mother of the woman who's going on the adventure, and just sort of sitting on the sidelines. I was like, 'Wait a minute.' What was interesting was that it seemed to happen so quickly."
She reunited with former collaborators in 2014
In 2014, Jennifer Connelly starred in "Noah," a Biblical epic about Noah's ark. Before release, the film generated controversy about how Biblically accurate it would be — sparked, in no small part, by the director declaring that it would be "the least Biblical Biblical film ever made" in The New Yorker. Connelly, though, defended the film, which was banned in multiple countries, according to Mother Jones; the actor, who played the boat-building Noah's faithful wife, told Vogue UK, "I felt that, while being creative, it was also really true to the spirit of the story as it was in the Bible. You can't control people's reactions to things, and I felt that everyone was approaching it very responsibly and respectfully."
The film reunited her with two of her most famous collaborators: Russell Crowe once more played her husband after "A Beautiful Mind," while the film was directed by Darren Aronofsky, who put Connelly through the wringer in "Requiem for a Dream." Aronofsky told the Telegraph that he really wanted Connelly for the part and was worried people would be distracted by her reuniting with Crowe, but decided it was worthwhile. "She's actually the first person I thought about while working on the script," he explained.
The film was a return to form for the actor, garnering her critical acclaim; it currently sits at 76% Fresh on Rotten Tomatoes.
She launched a TV series while in lockdown
After yet another break from the big screen in the late 2010s, Jennifer Connelly made a big return to high-profile acting when she starred in "Snowpiercer," a show about a post-apocalyptic train. The show premiered in early 2020, while most of the world was in quarantine due to the early days of the COVID-19 pandemic; the "House of Sand and Fog" star told Emmy Magazine that she and her kids were struggling without much human connection while locked down together in Vermont. She elaborated on Good Morning America, explaining, "They miss their friends, but I have to say the school has done an amazing job, so thank you to their teachers and thank you to all the teachers out there."
Connelly previously starred in a television show called "The $treet" in the early 2000s, before she found success thanks to a string of critically-acclaimed dramas that led to her winning an Oscar. The Darren Star-created series about Wall Street lasted only twelve episodes before being canceled, and it would be almost two decades before Connelly returned to the medium.
She told Emmy Magazine that she hadn't been consciously avoiding TV, but, "The [right] project hadn't presented itself." "Snowpiercer," however, was different. "I was really drawn into this story and really intrigued by my character," she explained; on the show, she plays Melanie, one of the mysterious overlords who created and runs the society on the train.
Jennifer took to the skies in Top Gun: Maverick
Jennifer Connelly has been absent from leading roles for nearly half a decade; she appeared in 2017's "Only the Brave," a film about firefighters, and followed it up with a role in "Alita: Battle Angel" in 2019. However, Connelly will make her grand return to the big screen in 2022 in "Top Gun: Maverick," the long-awaited sequel to the classic Tom Cruise '80s film. In the action flick, Connelly plays Penny, the love interest of Cruise's character; set photos shared by Movieweb showed the duo on a motorcycle, seemingly referencing an iconic scene from the original film.
The film has been delayed several times due to the ongoing COVID-19 pandemic, so Connelly first started doing press for the role back in early 2021. She and Cruise revealed to Graham Norton that he, shall we say, metaphorically held her hand and helped her overcome a fear of flying that she described as "really crippling" while filming the movie — which is important considering how much of the story revolves around planes! "Originally when I signed on to do the movie, there was no flying for my character," Connelly insisted. Still, while filming, Cruise took her up anyway, flying the plane himself and showing off what he described as "graceful" and "elegant rolls" in the jet.