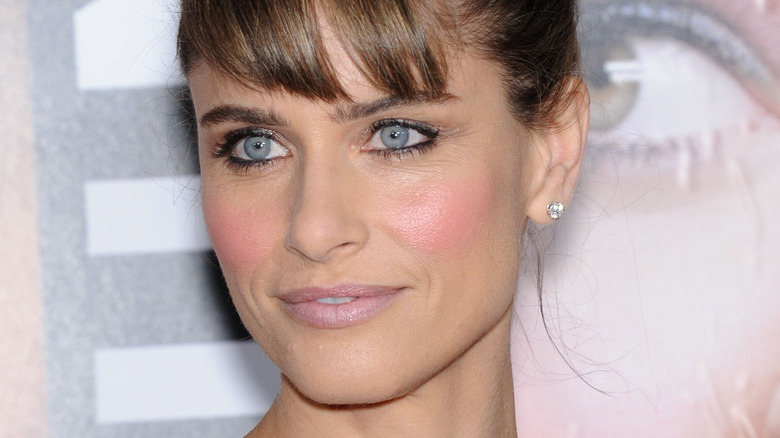 Celebrity is fickle and fleeting. Case in point: a Twitter post went viral after a user posted photos of Amanda Peet, asked if people knew the star by name, and wondered whether she was famous or "super famous." What followed was a discussion of the arc of her career (with some suggesting that her stardom had fizzled out) as well as a passionate defense of the actress by some fans who have continued to follow her work. So what did become of Amanda Peet?
This smart, stunning, and once promising leading lady didn't exactly take the road most traveled by young actresses who make it big in movies, and it seems like that was mostly by design. She might not be "super famous" by Twitter's standards, but she's carved out a career that fits her life and her convictions. Peet is a candid and ambitious working wife, mother, and activist. She's especially frustrated by the lack of depth and breadth in the types of roles that are available to women. In interviews, she's lamented that there isn't much to playing a "lovely mom" or the pretty girl in an action movie. Instead, she's sought out opportunities — in front of and behind the camera, as well as on stage — that she finds intellectually stimulating and that allow her to collaborate with other artists she respects. Her journey in the entertainment industry has taken her from college acting classes to creating her own show about college and some surprising places in between.
Where You've Seen Her Last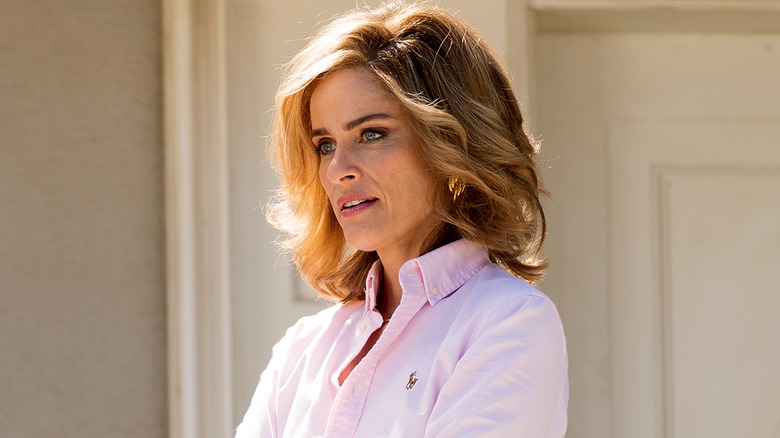 Amanda Peet is still acting, though she's been working primarily in television for the better part of the last decade. Recently, she could be seen in the second season of the true crime anthology series "Dirty John" which originally aired in 2020 on the USA Network. Based upon the popular podcast of the same name, Season 2 of "Dirty John" carried the subtitle, "The Betty Broderick Story." Peet plays the title character, and Christian Slater plays her husband, Dan. The plot revolves around their marriage and affluent life, which appears picture perfect to outsiders, but — as this is a tale of true crime — is anything but. The show itself garnered mixed positive reviews, but Peet was often singled out for her strong performance.
Peet also co-starred in IFC's sports sitcom "Brockmire" with Hank Azaria and J.K. Simmons. The series, about a disgraced sports announcer who tries to restart his career in a small Pennsylvania minor league baseball market, ran for four seasons from 2017-2020. Peet was cast as Jules James, the hyper-competitive owner of the team, the Morristown Savages — who undergo a name change to become the Morristown Frackers.
Concurrent to "Brockmire," Peet also worked on the 2018 Amazon Prime Video series "The Romanoffs." The eight-part anthology was Matthew Weiner's follow up to "Mad Men" and featured an almost entirely unique cast and story for each episode, though there were a few interconnected characters and plot threads. "The Romanoffs" imagines the lives of people all over the globe who claimed to be descendants of the infamous Russian Royal family who's line met a bloody end. Peet is the star of the fourth installment, "Expectation."
How She Got Her Start
In some ways, it's fitting that Peet has largely returned to the small screen. The now 50-year-old actress got her start with minor television roles on programs like "The Larry Sanders Show" and "Law & Order." But her entire career in the entertainment industry might not have happened at all if not for one encouraging professor.
Peet's worldly and extensive education seemed to be preparing her for a very different life. She moved to London as a child and attended an all-girls school before returning to the United States, where she was enrolled in a Quaker seminary. She was accepted into Columbia University and graduated in 1994 with a degree in history. Prior to graduation, Peet took a theatre class with acclaimed stage actress Uta Hagen. The two hit it off; Hagen saw something in Peet and encouraged her to start auditioning. During that time, in addition to the aforementioned television appearances, she also landed a Skittles commercial as well as a role in an off-Broadway revival of "Awake and Sing!" by Clifford Odets.
In 1995, she nabbed her first feature film role alongside Neil Patrick Harris and Matthew Lillard in "Animal Room." This psychological thriller about bullying was described in marketing as a modernization of "A Clockwork Orange." "Animal Room" hasn't endured as a hit, though it did help propel Peet's acting career to the next level.
From Bit Player to Star
Between 1995 and 2000, Peet continued to find work in relatively big studio films (mostly in romantic comedies), though she was limited to relatively little screen time. In 1996's "She's the One," she plays Jennifer Aniston's younger sister. That same year, she appeared in the single parent rom-com "One Fine Day" starring George Clooney and Michelle Pfeiffer. Peet had a similarly sized part in 1998's ensemble dramedy "Playing by Heart."
Then Peet gave what would become her breakout performance in 2000's "The Whole Nine Yards" where she was the proper co-star of Bruce Willis and Matthew Perry. The organized crime comedy was not particularly well-reviewed, but it was a box office hit, and Peet stole the show over her more famous and experienced colleagues. In "The Whole Nine Yards," Bruce Willis plays Jimmy the Tulip, a mobster turned informant who relocates to Montreal. Matthew Perry is Oz, a painfully normal and unhappily married dentist who recognizes his new neighbor, Jimmy, from his testimony. Peet shines as Jill, a dental assistant who's keeping a secret that complicates Oz's marriage and his budding friendship with the former hitman.
From there, the now famous-in-her-own-right actress went on to star in higher profile movies like the 2001's "Saving Silverman" and 2003's "Something's Gotta Give" as well as the 2004 sequel, "The Whole Ten Yards."
Going the Indie Route
It's entirely possible that Amanda Peet could've had a future in major Hollywood blockbusters. She did appear in the climate disaster epic "2012," but almost as soon as she became a household name, she began to veer toward projects that interested her instead of those designed for maximum fame. Peet co-starred with Kieran Culkin, Jeff Goldblum, and Susan Sarandon in the low-budget dark comedy "Igby Goes Down," which some critics compared (favorably and unfavorably) to "The Catcher in the Rye."
She tried her hand at horror with 2003's "Identity," in which a serial killer methodically picks off ten strangers trapped at a hotel during a storm. Peet plays Paris Nevada, a sex worker who's among those stranded. She was a member of another ensemble cast in the 2004 Woody Allen philosophical comedy "Melinda and Melinda" along with Will Ferrell, Chiwetel Ejiofor, Chloë Sevigny, and Radha Mitchell. Then, in 2005, she reteamed with George Clooney in "Syriana," a political thriller based on the memoir of a former CIA agent.
From there, her choices got even more idiosyncratic. In 2010, she co-starred with Catherine Keener and Rebecca Hall in indie writer-director Nicole Holofcener's "Please Give" (which she told Vanity Fair was the "Holy Grail" of acting opportunities), and in 2012, she was featured in that year's Sundance Film Festival fave, "The Way Way Back." During this time, Peet consistently earned strong reviews for her work as an actor, but most of the titles in her filmography remain underseen.
Return to Television
Amanda Peet never really left TV. Throughout her more than 20 year career, she's continued to make pilots and pop up in guest starring spots, and she's headlined a few series and a TV movie that premiered to various degrees of success.
Peet and then-fellow newcomer Timothy Olyphant appeared along with a young Jena Malone in the 1997 Hallmark movie "Ellen Foster." In 1999, Peet filmed a pilot for a cop show called "Partners" that didn't make it to a full season. She can be seen in the Season 8 "Seinfeld" episode "The Summer of George" as a waitress who Jerry invites to be his guest for the Tony Awards. She also appears in one episode each of "Entourage" and "How I Met Your Mother."
In addition to more recent series like "The Romanoffs," "Brockmire," and "Dirty John," Peet also starred in the WB show "Jack & Jill" which ran from 1999-2001 as well as NBC's "Studio 60 on the Sunset Strip" which lasted only one season in 2006. The Aaron Sorkin-penned drama that went behind the scenes of an "SNL"-like show premiered at the same time as "30 Rock." The comedy version with the same premise ultimately lasted longer. Peet went on to star in the NBC miniseries "Bent" about a type-A lawyer who becomes a single mom after her husband is jailed for insider trading. She was a recurring character for a 7 episode arc of "The Good Wife." Then the actor turned in some of her best work to date in the Duplass Brothers' critically-admired HBO series "Togetherness" about a failing marriage. Peet plays the sister of the unhappy wife (Melanie Lynskey) who moves in with the couple.
A Career on the Stage
Fans of Amanda Peet's screen work might not know the actor has also graced the Great White Way with her presence on more than one occasion (and in more than one capacity). After her stage debut in 1995's "Awake and Sing!", Peet appeared in 2005's "This Is How It Goes" with Ben Stiller and Jeffrey Wright. The following year, she starred in a revival of Neil Simon's "Barefoot in the Park" with Patrick Wilson. In 2010, she co-starred with David Duchovny in Neil LaBute's "The Break of Noon."
Peet works behind the scenes, too, as a playwright. Her script "The Commons of Pensacola" is loosely based on the family of disgraced Ponzi schemer Bernie Madoff, and its off-Broadway production starred Blythe Danner and Sarah Jessica Parker. She's also the author of "Our Very Own Carlin McCullough," about a 10-year-old girl who turns out to be a tennis phenom. It premiered at the Geffen Playhouse in 2018. In an interview with Vanity Fair's Richard Lawson, she said she, "found not performing to be incredibly liberating."
Raising a Family
Like so many professionals, Amanda Peet has to balance her work life with her family life. The actor is married to writer-director-producer David Benioff, best known for creating the HBO series "Game of Thrones." Benioff is also the screenwriter behind "25th Hour," "Troy," and "X-Men Origins: Wolverine." The pair met in 2002 and married in 2006. They have three children together — Frances Pen, Molly June, and Henry, born between 2007 and 2014 — all of whom use David's legal last name, Friedman.
Between the birth of her kids and her husband's phenomenally popular fantasy show, which ran for eight seasons between 2011-2019, it's safe to say that the Peet-Friedman household (or households; they split their time between New York and Los Angeles) was pretty busy for the better part of the last two decades. Peet continued to work during this time, but it stands to reason she made decisions about which projects to take based on multiple factors, including her family situation. The actor has been open and honest about her struggle with postpartum depression. Peet says (via People) that her husband also encouraged her interest in writing during this time and gave her the time to work on scripts uninterrupted.
She's the Boss
As she approached 50, Amanda Peet stepped into her own as a producer and showrunner with Netflix's "The Chair." Vanity Fair called the six-part limited series "an Academic Game of Thrones," which is ironic and all-too-appropriate considering who Peet's married to. "The Chair" — which stars Sandra Oh and previous collaborator Jay Duplass as well as Bob Balaban and Holland Taylor — is about the machinations within a stuffy East Coast college's English department as it tries to deal with societal pressures to be more inclusive and diverse.
Peet told Vanity Fair that she got the idea for the comedy-drama as she brainstormed with Duplass after "Togetherness" was canceled. They'd been batting around a show about a widower who started dating his supervisor. Peet, who doesn't like to write characters for herself, had nonetheless been ruminating on her experience as an "unrepentant nerd" and the child of a psychologist, as well as her experiences as a mother in middle age. She combined all of these elements and pitched the concept to Netflix with Benioff, who already had a deal in place with the streamer following the conclusion of "Game of Thrones." Though both are listed as executive producers, Peet was definitely the one running the show (and co-writing four of the six episodes) while David was at home with the kids. "The Chair" was released to mostly positive reviews in August of 2021.
A Missed Opportunity
Amanda Peet was set to have a juicy starring role in the big-budget HBO period drama "The Gilded Age" until COVID-19 disrupted production. Peet had been cast as Bertha Russell, one of the show's central characters (and without question, the most fun to play and the one with the best costumes). Bertha is the wife of the fictional self-made tycoon George Russell. Though she's got more money than everyone else in 1880s New York City, it's new money and thus she isn't readily accepted into established society. In the series' first season, Bertha stops at nothing to impress and ultimately control her peers.
"The Gilded Age" had been in development for going on ten years and was only five days away from filming when pandemic restrictions necessitated a lengthy shutdown. Once production restarted about seven months later, Peet had to drop out due to a scheduling conflict. She was replaced by Carrie Coon ("The Leftovers" and "Ghostbusters: Afterlife") — an actress who's had a similar career to Peet, in that she's not necessarily uber-famous but has devoted fans who appreciate her versatility on the stage, the small screen, and the big screen. Coon is more than comfortable in the role of Bertha Russell (though those period costumes had to be altered as she was pregnant during filming), but the part would've been just as ideal a fit for Amanda Peet, who could've really sunk her teeth into Bertha's mannered but cutthroat lines of dialogue.
Always Time for Activism
Many celebrities have causes that are near and dear to their hearts, and Amanda Peet's passion is as timely and important as anyone's. The actor-turned-writer-producer has long been involved with Every Child by Two, an organization that advocates for the safety of childhood vaccines, as well as the United Nation's Shot@Life initiative, which aims to vaccinate children globally against communicable diseases like measles, pneumonia, and polio. Peet told People that she volunteered to be a spokesperson for vaccination efforts after her own daughter contracted whooping cough during an outbreak. She wants to remind parents that routine vaccinations are, "not just about your kids, but about your neighbor's kids, everyone's kids."
Her passion for the subject has come through in several interviews and TV appearances, where she's stressed that parents should consult with doctors and not trust unqualified celebrities when it comes to the issue of pediatric vaccine schedules. Peet has tried to fight against rampant misinformation about vaccines and links to autism, although her candor drew her into a media debate with the most prominent actress who disagrees with her, Jenny McCarthy. Despite the fact that she regularly gets hate mail for her pro-vaccination stance, she continues to lend her voice to the cause today.