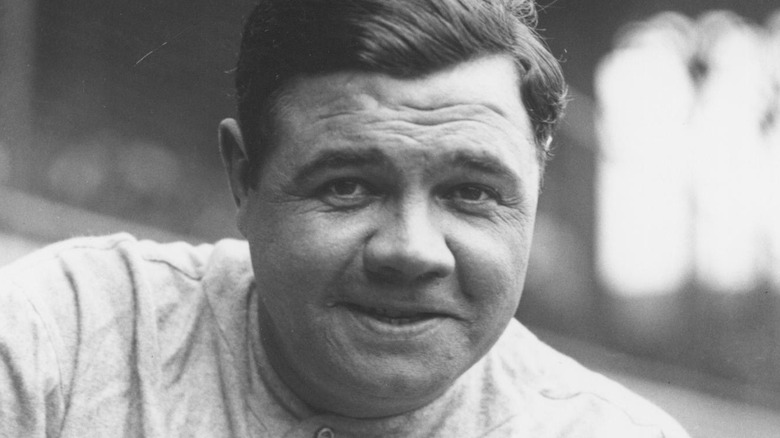 With the sounds of summer quickly upon us, baseball fans will soon be filling the stadiums across the U.S., filling their afternoons and evenings with nine innings of a game that has long been since considered the national pastime (per MLB Hall of Fame). But for all of the players that fans cheer and jeer on the field, some dedicated fans will travel to out-of-the-way locations to pay respects to those players that have passed on. With every year that goes by, the baseball world loses more players of yesteryear, consigning them to final resting places at various locations across the world.
For those who might wish to visit the various places that the fan favorites of the past are interred, there are a total of 13 discussed in this article. The following players, both on and off the field, have impacted the lives of those around them in various ways. Among these players are ones who traded their baseball uniforms for military attire during three separate wars, one who died en route to give relief to victims of a natural disaster, one whose love for children lived on through a foundation, and one whose tireless work for civil rights left a legacy that might far surpass what he accomplished on the baseball diamond.
Whether admired for their dynamic playing ability on the field or their heroism off of it, you can be assured that you will be able to pay your respects.
Mickey Mantle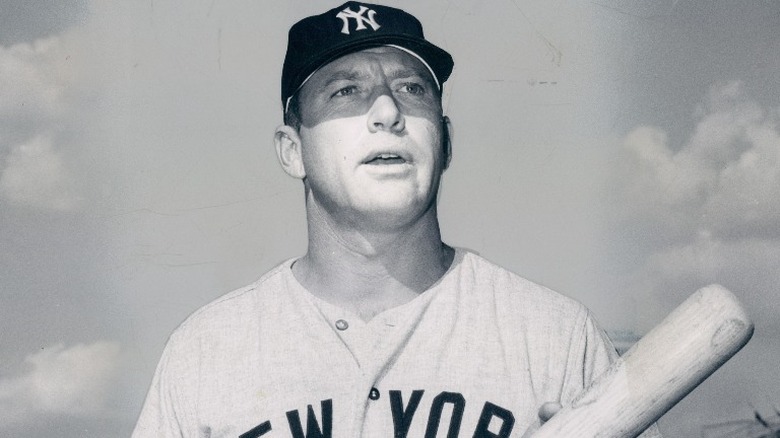 New York Yankee great Mickey Mantle was a standout player in the days before the expansion era. Playing the entirety of his career in pinstripes, Mantle spent 18 years in the big leagues. Battling injuries that often threatened to cut his time as a player short, Mantle was able to overcome them time and time again and put up some stats that are still impressive (via Baseball Hall of Fame). When he retired after the 1968 season, he had amassed 536 career home runs, 1,509 runs batted in, and a .298 batting average. Mantle played on a total of seven World Championship Yankee teams and was a 20-time All-Star selection.
He was inducted into the Major League Baseball Hall of Fame in 1974.
Mantle is buried at the Sparkman-Hillcrest Memorial Park Cemetery in North Dallas, sharing the same final resting place address as Mary Kay Cosmetics founder Mary Kay Ash (per The Preston Hollow Advocate). He was interred in a mausoleum on the grounds, with a plaque commemorating his accomplishment as "the most popular baseball player of his era" (per Find a Grave).
Ted Williams
Being the winner of six batting titles is only part of what made Ted Williams one of the greatest hitters of his era. His career slugging percentage is second on the all-time list for major-league players, only being bested by the legendary Babe Ruth. In the 1940 season, he became the last pro to hit over a .400 average (per MLB Hall of Fame).
But his performance off the field might outshine his career. Williams served his country during World War II, missing three seasons. He came back on the field for the 1946 season, where he continued to be a monster at the plate. After his return, Williams won two MVP awards and one Triple Crown. But the duty to his country called again during the Korean War, which sent Williams overseas again as a Marine for most of 1952 and 1953. He returned safely and resumed his career, in which he played as a top player until he retired in 1960.
Williams was not buried after he passed away on July 5, 2002. CBS News reports that, in a move that was contested by at least one family member, Williams had his head and body separated in a process known as neuro separation. With hopes to one day be resurrected, Williams has both his head and body suspended in liquid nitrogen. This process, also known as cryonic freezing, cost his ballplayer's estate over $130k. His body is still there in two pieces, chilling at -321 °F (via Deadspin).
Ty Cobb
Ty Cobb was one of the greatest hitters to play in the live-ball era of baseball. In a time when hitting the long ball wasn't commonplace, hitters focused more on clean hits and base speed, two areas where Cobb excelled greatly. When he retired in 1922, Cobb held 43 different single-season offensive records. He still has the record for the highest career batting average at .366. Cobb was one of five players inducted into the inaugural class of the Major League Baseball Hall of Fame. He received more votes than any player nominated (per MLB Hall of Fame).
Like many of his generation, he put his career on hold during World War I to commit service to his country. He was put in charge of training recruits to safely put on gas masks during chemical weapons attacks. During one drill that he ran with fellow MLB player Christy Mathewson, the signal to notify them that gas was being pumped into their sealed training chamber came too late, resulting in a near-death experience for Cobb. His exposure to mustard gas sidelined him for a week and could have killed him. Eight of the trainees died immediately after the incident, making Cobb's escape that much closer (per Yahoo News). But he survived, coming back to the ballfield after the war ended.
Cobb passed away on July 17, 1961, at the age of 74. He was interred in a mausoleum in the Rose Hill Cemetery in Royston, Georgia (per Find a Grave).
Cy Young
After the end of every baseball season, the greatest pitcher from each league is given the coveted Cy Young Award. The Baseball Almanac tells us that every year since 1956, one player (two players, as of 1967) walk away with this distinction that is based in part on their E.R.A, win and loss percentage, strikeouts, and other stats.
The award's namesake is Cy Young, one of a handful of players from the early 20th century that still has a familiar name. At the end of a storied career, Young was able to put up records as a pitcher that still stand today: Most wins (511), most innings pitched (7,356), and complete games (749) (via MLB Hall of Fame). Young also threw one perfect game and three no-hitters. With stats like these, he's considered the greatest pitcher of the dead-ball era. At any rate, he was certainly one of the best to ever put on a uniform for the Boston Redsox, even winning two games against the Pittsburg Pirates and helping lead his team to the first-ever World Series in 1903.
Ohio Magazine reports that Young is buried in the New Peoli Cemetery, 11 miles from the small town that he returned to farm in after retiring from the major leagues. He passed away at the age of 88 on November 4, 1955. He rests next to his wife, Roba. The outlet also states that countless winners of the Cy Young Award have visited his final resting place over the years, including Bret Saberhagen and Dwight Gooden.
Lou Gehrig
Known as the "Iron Horse," Lou Gehrig was a tough and gritty player that never took a day off. His record of appearing in 2,130 consecutive games stood until Baltimore Oriole Cal Ripkin, Jr., surpassed it on September 6, 1995 (via MLB Hall of Fame).
Though perhaps more well-known for that impressive streak, Gehring was a leading hitter for the New York Yankees for 15 seasons. The New York Post reports that during his career, Gehrig amassed 493 home runs and a .340 lifetime batting average. He was also on a Yankees team that saw seven World Series appearances, six of which the Yankees won (per ESPN).
Sadly, Gehrig's career was cut short at the age of 35. Barely into the 1939 season, Gehrig was diagnosed with amyotrophic lateral sclerosis. Known more commonly today as "Lou Gehrig's Disease," it's an incurable neurological condition that deteriorates nerve cells that control voluntary muscle movement. Modern medicine can certainly help, but 80 years ago it meant a rapid decline and a painful death. Gehring died two years after his diagnosis on July 2, 1941. He was buried at Kensico Cemetery in Valhalla, New York.
Babe Ruth
George Herman Ruth, better known as "The Babe," was one of the most versatile players to ever take the field. While known for his tremendous home run ability (he held the career home run record of 714 and the single-season home run record of 60), Ruth was also a prolific major league pitcher (via Baseball Almanac). With nearly 100 career wins and an enviable career 2.28 earned run average, it's hard to imagine how much more damage he could have done to other teams if he'd stayed on the mound. But as a hitter, Ruth was virtually unstoppable. With the power of his bat, he helped lead the New York Yankees to their first-ever World Series victory in 1923 and was a part of four more championship Yankee teams (per ESPN).
Spending most of his childhood living in an orphanage, Ruth grew into an adult that had a soft spot for children. He started the Babe Ruth Foundation, a charity that gave aid to underprivileged children. It was this foundation that received the bulk of his estate when he passed away (per Biography).
According to History, Ruth died on August 6, 1948, after a two-year battle with throat cancer. He is buried in Hawthorne, New York, at the Gate of Heaven Cemetery next to his second wife, Claire (via MLB News).
Phil Niekro
There are not many who can effectively throw a knuckleball, let alone ones that can hurl this complex pitch to Cooperstown. But this signature pitch is what it took for big leaguer Phil Niekro to make his mark on America's pastime, etching his way into the history books as one of the greatest knuckleballers to ever take the mound. According to MLB News, Niekro threw for over 5,400 innings and found his way to five All-Star Team selections. Mostly wearing a Braves uniform throughout his 24-season career, Niekro also played for the New York Yankees, Cleveland Indians, and Toronto Blue Jays (per Baseball Almanac).
Niekro took the field in his final season as a major leaguer playing for the Indians before being traded near the end of the season to the Blue Jays. But he was able to wear the Braves uniform that he donned for 20 seasons one last time, as he was traded yet again at the end of the 1987 season back home to Atlanta. Niekro previously held the major league record for being the oldest pitcher to hurl a shutout. He captured this distinction in 1987 as he wore the Indian uniform. It remained with him until 2010 when it was broken by Jamie Moyer of the Philidelphia Phillies.
Niekro passed away at age 81 in 2020. He was buried at Memorial Park South Cemetery in Flowery Branch, Georgia.
Walter Johnson
The 6'1" Walter Johnson made his major league debut for the Washington Senators on August 2, 1907. Though he lost on the mound that day by a 3-2 margin to the Detroit Tigers, Johson was immediately taken notice of. The Society for American Baseball Research writes of how he faced the legendary Ty Cobb that day, who claimed that Johnson hurled fastballs that "made him flinch."
Known as "The Big Train," this sandlot-ball-trained pitcher from rural Kansas quickly grew to dominance on the mound in the big leagues. He finished with a World Series ring with the Senators and tallied up an impressive 417 career wins (via MLB Hall of Fame). His record of 3,509 career strikeouts was held until it was broken by fellow Hall of Famer Nolan Ryan in 1983 (per MLB Hall of Fame). He was one of five players inducted into the inaugural Hall of Fame class in 1936.
The Society for American Baseball Research reports that Johnson developed an illness related to a brain tumor that he was diagnosed with in 1946. He died in December of that year and is buried next to his wife, Hazel, in the Union Cemetery in Rockville, Maryland.
Christy Mathewson
Christy Mathewson, along with fellow players Ty Cobb, Babe Ruth, Walter Johnson, and Honus Wagner, was the first class elected into the Major League Baseball Hall of Fame in 1936 (per MLB News). En route to this achievement, Mathewson spent 17 years as a pitcher, with all but one season with the New York Giants (per Baseball Almanac). His 373 wins are third all-time and tied for first in the National League (via MLB Hall of Fame). This powerful right-hander was a force on the mound, appearing in 635 games and throwing 434 complete games. Mathewson tossed 79 shutouts in his career, which Baseball-Reference states places him third behind Walter Johnson (110) and Pete Alexander (90).
Mathewson ended his legendary baseball career at the end of the 1916 season, his only year in a Cincinnati Reds uniform. In 1918, he enlisted in the United States Army and began his service as a captain. He and fellow MLB players Ty Cobb, Branch Rickey, and George Sisler were training recruits on how to properly put on gas masks during chemical attacks when the unexpected occurred (per Yahoo News).
Mathewson, Cobb, and dozens of recruits were accidentally gassed before they were ready. Though he survived the incident, Mathewson developed tuberculosis as a result. His health lingered until he passed away in 1925 at the age of 45 (per MLB Hall of Fame). His final resting place is at the Lewisburg Cemetery in Lewisburg, Pennsylvania (via Uncovering Pennsylvania).
Henry Aaron
On April 8, 1974, Henry "Hank" Aaron broke a baseball record that had stood for nearly 40 years. Aaron hit a fourth-inning pitch deep into the stands at Atlanta Fulton County Stadium for the 715th home run of his career, edging out the legendary Babe Ruth for the distinction of being Major League Baseball's home run king (per History). Finishing his baseball career after the 1976 season with 755 round-trippers notched on his belt, Aaron was a force on the field even when he wasn't swinging for the fences. Aaron finished his 23 years in the pros with a .305 batting average (via MLB), 25 All-Star Game appearances, two National League batting titles, and three Gold Glove Awards (per Biography).
Aaron dedicated his post-baseball life to various charities and was active in civil rights causes. His leadership in the latter made his final resting place only fitting, being buried near civil rights leaders Martin Luther King, Sr., and John Lewis in Atlanta's South-View Cemetery. Fox 5 Atlanta News reports that this is Atlanta's oldest African American cemetery.
An outspoken critic of the lack of black managers in baseball, Aaron leaves behind a legacy that the Braves will not forget. After his death, they announced the Henry Louis Aaron Fund. With a million-dollar donation by the Braves organization to jumpstart it, the fund will work to carry on Aaron's work to increase minority presence on the field, in management, and the offices of baseball.
Bob Gibson
Saint Louis Cardinals Hall of Fame pitcher Bob Gibson is still among a handful of Cardinals players that will probably be forever engrained in the Saint Louis club's history. The MLB Hall of Fame reports that he was feared on the mound and was able to chalk up two wins during the Cardinal's 1964 World Series victory against American League rivals New York Yankees. Not intimidated by the likes of Mickey Mantle or Whitey Ford, Gibson pitched the decisive game seven on only two days' rest, which helped garner him the 1964 World Series Most Valuable Player Award.
But that wasn't the first or last time Gibson was decorated. Baseball Almanac writes that Gibson won nine Gold Glove Awards and two National League MVP Awards. He was inducted into the MLB Hall of Fame in 1981 alongside fellow Cardinal Johnny Mize (per MLB Hall of Fame).
Gibson was laid to rest in Evergreen Memorial Park Cemetery in Omaha, Nebraska, after his death on October 2, 2020 (via Find a Grave). CNN reports that Gibson had announced in 2019 that he had been diagnosed with pancreatic cancer.