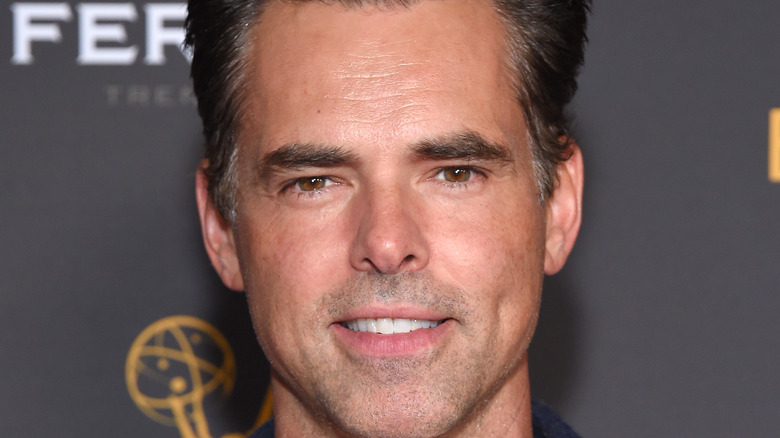 "The Young and the Restless'" Billy Abbott was the son John Abbott and his younger wife, Jill Foster Abbott, never thought they'd have. John (Jerry Douglas) and Jill (Jess Walton) had an off-and-on relationship for years and didn't even meet until John had three grown children — Jack Abbott (Peter Bergman), Ashley Abbott (Eileen Davidson), and Traci Abbott (Beth Maitland). Jill had already believed her only son, Philip Chancellor III, had been killed in a drunk driving accident. In fact, John even had a vasectomy when they married for the second time, but Jill managed to get pregnant just prior and John was stunned he would be a father again (via Soaps In Depth).
Billy Abbott was born in 1993, but like most soap kids, he had a very brief childhood and was a full-fledged teenager causing trouble for his now-divorced parents by 1999. Also, like most soap kids, that bout of Soap Opera Rapid Aging Syndrome (SORAS) occurred off-screen while Billy was in boarding school. Billy has also been causing trouble ever since, with several actors playing the part over the years (via Soaps In Depth).
David Tom is the first grown Billy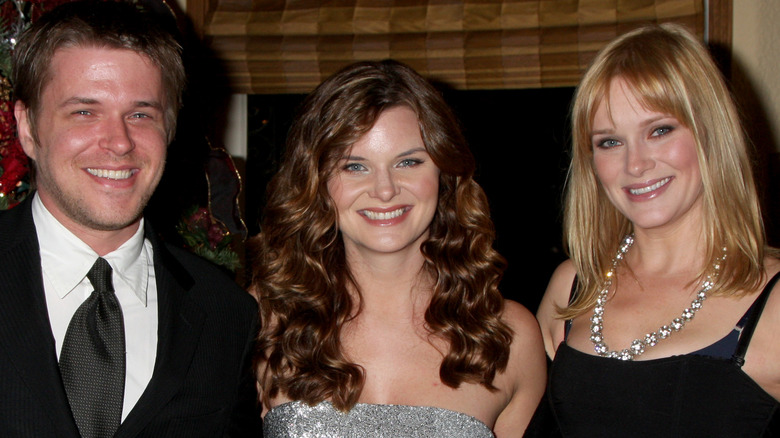 In 1999, David Tom joined his sister, Heather Tom, on the set of "The Young and the Restless," according to Soaps In Depth. Heather started playing the role of a SORAS'd Victoria Newman in 1990 and remained with the show until 2003 (via IMDb). The sister, Nicholle Tom, was also an actress finishing up a 6-year run on the primetime sitcom "The Nanny" at that time (via IMDb). So, Tom joined his acting siblings and took on the role of a teenage Billy Abbott. Ironically, later incarnations of Billy would go onto date Victoria, but by then she was played by Amelia Heinle.
Tom's Billy seemed to be following in the footsteps of Jill's older son, Philip and started drinking as a teenager. He also got involved in an awkward relationship with Mackenzie Browning (Ashley Bashioum) and married her, but they quickly split when they believed they were cousins, according to Soaps In Depth. (They were not). Tom remained in the role of Billy until 2003, leaving the soap when his sister did. However, he made a small comeback in 2014 as an adult Billy.
Ryan Brown and Scott Seymour have brief stints as Billy
After David Tom left "The Young and the Restless" and the role of Billy Abbott behind, Ryan Brown played the part in 2003 for about 10 episodes after already playing another soap opera Billy for two years. Brown also brought a young adult Bill Lewis to life on "Guiding Light" from 1998 to 2000. Brown only has two other acting credits after his short stint on "Y&R," according to IMDb. He appeared in an episode of "Law and Order: Special Victims Unit" in 2006 and in the TV movie "Inspector Mom: Kidnapped in Ten Easy Steps" in 2007.
Scott Seymour was the next actor to give the character of Billy Abbott a whirl for 26 episodes in 2006. Before Seymour joined the soap world for a short time he had small roles on "The Shield" and "The O.C.". Since leaving "Y&R," Seymour only amassed a handful of credits to his name, including roles on two TV series, "Pushed" and "Pretty Tough" (via IMDb).
Billy Miller makes his mark as troubled Billy
Billy Abbott came into his own when actor Billy Miller took over the part in 2008 and remained with "The Young and the Restless" until 2014. He played a recast, Jason Morgan, on "General Hospital," (via IMDb), winning three Daytime Emmys along the way, according to Gold Derby.
Miller's Billy fell madly in love with Victoria Newman, but that was after he had a brief affair with Chloe Mitchell and married her after she became pregnant with his daughter. While Billy adored little Delia, he and Chloe didn't work out, but Billy became a dad again when he was married to Victoria and got Chelsea Lawson pregnant. Chelsea gave up all rights to her child and Victoria became Johnny Abbott's legal mom.
However, tragedy struck Billy's life when he carelessly left Delia (Sophie Pollono) in the car by herself when he stopped to get ice cream. After her dog jumped out of the car, she ran across the rod to get him and Adam Newman (then played by Michael Muhney) accidentally hit her with his car and she was killed. Poor Billy hasn't been the same since (via Soaps In Depth).
Burgess Jenkins is the next actor to take on Billy
After Billy Miller departed "The Young and the Restless," Burgess Jenkins took over the role of Billy Abbott in 2014 and remained in the role until 2016. Jenkins got to play much of Billy's grief and downward spiral after losing Delia, blaming Adam Newman, and also blaming himself. Billy started drinking heavily during this time and revisited his compulsive gambling habit. Ghost Delia would also come to visit Billy often, trying to urge her father to get his life together and move on (via Soaps In Depth). However, that was easier said than done for a man who had been troubled since his teenage years.
Jenkins came to the soap after being a semi-regular on the series "Army Wives" from 2009 to 2013, but chose to leave "Y&R" after two years. Since then, the actor has appeared in the TV movie "Christmas on the Coast" and did a guest shot on "Chicago Med" (via IMDb).
Jason Thompson has been Billy since 2016
As Burgess Jenkins departed "The Young and the Restless," Noah Newman hit Billy Abbott with his car and sent Billy into a coma (via Soaps In Depth). When he woke up, he was played by Jason Thompson, who had just ended a successful 11-year run on "General Hospital" (via IMDb) where he played Dr. Patrick Drake, the man who finally got Robin Scorpio (Kimberly McCullough) to settle down and get married.
According to Soaps In Depth, Thompson's Billy has done it all. He has gambled. He has drank too much one too many times. He had an affair with his brother's wife, Phyllis Summers (then played by Gina Tognoni), who fell for him after Billy bought a motorcycle. When he was with Phyllis, he also bought a boat he named Jaboat, a play on his family's cosmetics company, Jaboat (via Soap Hub). This Billy even reunited with Victoria and became domestic again, but that didn't last long. Like Billy Miller, Jason Thompson also turned Billy into an Emmy-winning role, taking home a trophy for best lead actor in 2020, which he accepted from home with his adorable kids during the first wave of the coronavirus pandemic (via YouTube).