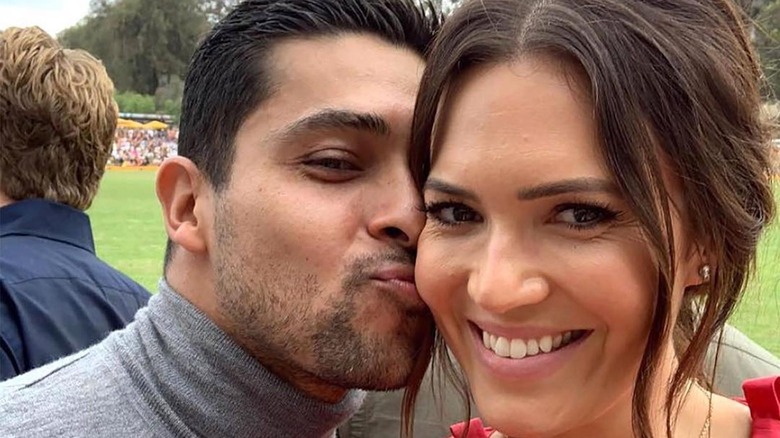 Believe it or not, Mandy Moore and Wilmer Valderrama were once a couple. You likely recognize Moore from playing Rebecca on the NBC hit "This Is Us," but she had a pretty prominent singing career years before that. Valderrama, on the other hand, is probably best known for playing Fez on "That 70s Show," the foreign exchange student that was a little desperate to land a girlfriend.
However, one thing that you probably never knew about Moore is that she became famous relatively quickly. On the The Late Late Show with James Corden, she said, "I was 15 when I started singing, and I went from watching them on MTV as I would get ready for school in the morning to six months later I was on the road with NSYNC."
It was this fame that led her to meet Valderrama. The two were both at a photo shoot for a teen magazine when they met, when Moore was just 15 (via People). Soon after that, they dated from 2000-2002 when the teen singer was 16 and 17. "He was like my first, real, true boyfriend," says Moore.
However, what Valderrama did years later left Moore shocked.
Wilmer Valderrama's interview on The Howard Stern stunned Mandy Moore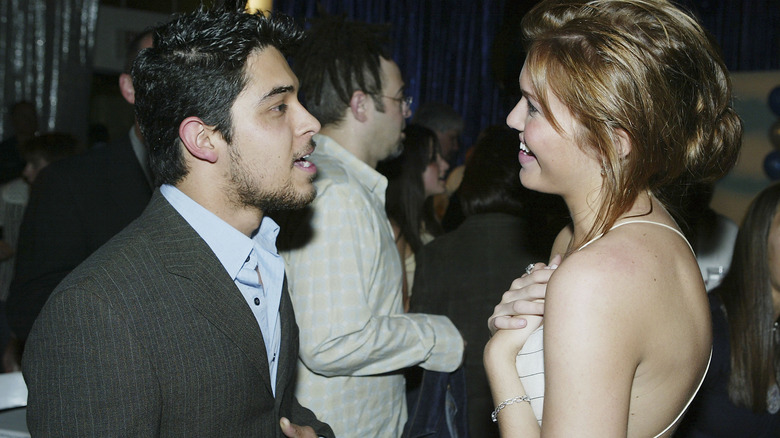 Since meeting Wilmer Valderrama at the tender age of 15, Mandy Moore has made a stunning transformation into womanhood. Though no longer a teen, she was still caught by surprise when she learned of an interview that Valderrama gave on the "Howard Stern Show" back in 2006.
The actor purported to have taken Moore's virginity. If that wasn't enough, he continued to make things worse by saying crass comments. He told Stern on the radio show, "The sex with Mandy was good, but it wasn't like warm apple pie" (via Elle).
Apparently Valderrama was also set on bragging about his sexual escapades after he broke up with Moore. He said that he had also had affairs with ​​Lindsay Lohan, Jennifer Love Hewitt and Ashlee Simpson, and then gave his opinions on those escapades as well (via Us Weekly).
Valderrama's comments came two years after he and Moore had broken up. However, he'd hear from Moore again, and she'd eventually call him out about that interview.
Mandy Moore says Wilmer Valderrama lied about taking her virginity
In 2018, it was time for Mandy Moore to make her own appearance on "The Howard Stern Show" and she took the time to set the record straight on what Wilmer Valderrama said. Moore didn't just call out Valderrama and say straight out that he lied during the radio interview, she hared that she also confronted him about it directly. She recalled asking him, "'Where did this come from?' And I remember in the moment he tried to explain it away, that sort of he did get caught up, and like he maybe insinuated more than outright said it. And I was like, 'No, you outright said it'" (via Elle).
According to Insider, although Moore was admittedly angry about Valderrama lying, she didn't hold it against him. She explained, "I still love him, and he's a very good friend and that's why I was so shocked by it because not only was it a fib, but it was so unlike him, it was so uncharacteristic."
Years later Mandy Moore and Wilmer Valderrama are still friends
Wilmer Valderrama managed to say some sweet things on "The Howard Stern Show" including that he and Mandy Moore were each other's first loves. Though Moore was 16-17 when they dated, Valderrama was a bit older at 20-21. Now in their late 30s and early 40s, they've managed to get past the incident and keep an amicable friendship. Moore said, "This was 2005. We're not that close, but we're friendly" (via People).
It looks like there are no more hurt feelings, at least publicly. The duo ran into each other on a studio lot and snapped a quick pic for Instagram. Valderrama posted the pic and wrote, ​​"A Paramount Studios moment … When one of the most special people just so happens to be shooting her show @nbcthisisus at the same lot you're shooting @ncis_cbs … Love you Mandela!"
Likewise, Moore posted a similar pic from the same day on her Instagram and wrote, "Sometimes you get to work on the same lot as your friends and you can run over, catch up and watch them continue to be a bad-ass (in real life and on TV). Love this guy. Friends for over 16 years."
Wilmer Valderrama has finally settled down
Despite Wilmer Valderrama's penchant for being a ladies' man and publicly bragging about bedding multiple actresses over the years, it seems like the actor has placed his focus on one woman. According to Us Weekly, Valderrama began dating model Amanda Pacheco in 2019. They became engaged in 2020. Soon after they announced Pacheco was expecting. When Valderrama initially shared the news of the pregnancy on his Instagram, Mandy Moore offered congratulations.
On February 15, 2021, the couple welcomed a daughter. Valderrama shared photos of the new family on Instagram and captioned them, "Life is an ever evolving journey, and for all those times when our path needs a light.. often angels are sent to show us the way and that we can be more … straight out of heaven we welcome our first daughter … #ItsJustUs3Now 02/15/2021."
At the time of this writing, the couple still have yet to tie the knot.
Mandy Moore is living her best life
They say life lessons propel you to where you need to be, and Mandy Moore might agree. While Wilmer Valderrama proved to cause a difficult time in her early relationship history, Moore then went on to marry singer Ryan Adams in 2009. But that didn't work out as planned, either. The "This Is Us" star maintains Adams was "psychologically abusive" and controlling (via The Sun).
"I felt like I was drowning," Moore said. "It was so untenable and unsustainable and it was so lonely. I was so sad. I was lonely with him" (via CNN). Moore divorced Adams in 2016. However, there may be another reason why Moore divorced Adams. According to The New York Times, Adams was accused of exchanging sexually suggestive tests with an underage teen fan.
After a very dark time, Moore found love again with musician Taylor Goldsmith. The couple married in 2018 and soon after shared exciting family news. Moore gave birth to son, August Harrison Goldsmith, in February, 2021. On Father's Day, Moore posted a pic of her husband and son, affectionately known as Gus on Instagram. "Let's face it, I'm pretty sure you were always destined to be a dad," she wrote. "But watching you step into this role with so much confidence and ease and patience and adoration for our sweet guy just astounds me and has made me fall deeper in love than I ever thought possible. Gus and I are so truly lucky to be on this journey of life with you."
If you or someone you know is dealing with domestic abuse, you can call the National Domestic Violence Hotline at 1−800−799−7233. You can also find more information, resources, and support at their website.