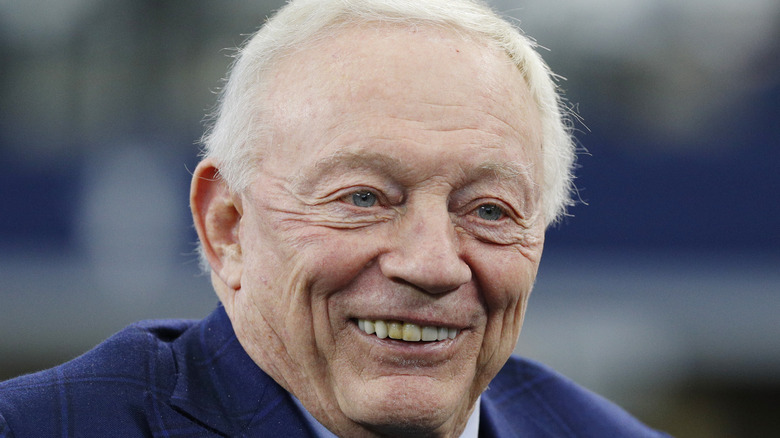 For more than three decades now, Jerry Jones has been the owner and general manager of the Dallas Cowboys, and regardless of how you may feel about how he's been running the team in more recent years, the man has made some good personnel moves. By drafting the likes of Troy Aikman, Emmitt Smith, and Darren Woodson and making big moves such as the addition of Deion Sanders via free agency (via The Dallas Morning News), Jones built one of the NFL's most dominant teams of the 1990s, one that walked away with three more Super Bowls to add to the two they had won in the 1970s. And you can say what you want about his lack of playoff success, but Jones used a fourth-round pick on Dak Prescott in the 2016 NFL Draft, and he's been a huge steal for a Day 3 draft pick, to say the least.
The organization's recent inability to go far in the postseason has been a source of frustration to many — and a source of memes from those who realize how far removed the Cowboys are from their dynastic greatness in the '90s. But it was a whole lot worse for the Cowboys during the first year in which Jones served as owner-slash-GM. How bad was it? Keep reading and you'll find out soon enough.
The Cowboys hit rock bottom with a 1-15 record in 1989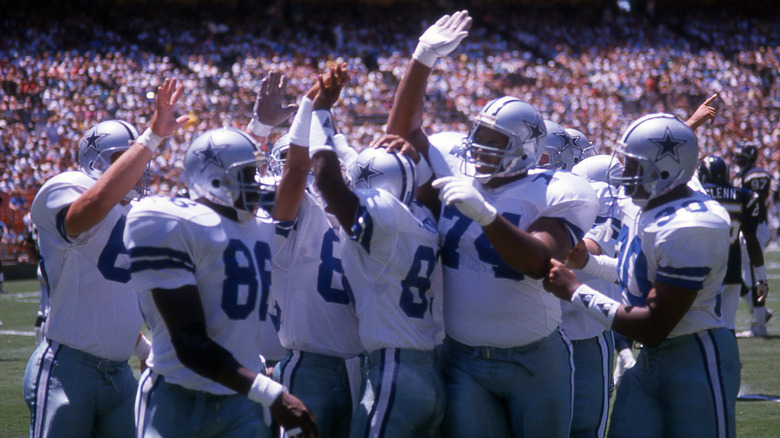 The Dallas Cowboys' last NFL season under head coach Tom Landry, president-slash-general manager Tex Schramm, and owner H.R. "Bum" Bright was a disaster, as the team finished 3-13 in the 1988 campaign. Despite featuring superstar running back Herschel Walker and promising rookie wide receiver Michael Irvin, the offense was held back by journeyman-caliber quarterback Steve Pelluer, while the largely undistinguished defense featured past-their-prime veterans such as linemen Ed "Too Tall" Jones and Randy White.
With new owner-slash-GM Jerry Jones taking over for the 1989 season, the Cowboys hired a new head coach, University of Miami legend Jimmy Johnson, to replace Landry. Likewise, they addressed their quarterback issues in that year's draft, selecting UCLA's Troy Aikman with the No. 1 overall pick. Midway through the season, Dallas swung a blockbuster trade with the Minnesota Vikings, sending Walker up north in exchange for five veterans, as well as six future draft picks (via Bleacher Report). By the looks of things, the Cowboys had nowhere to go but up, but their 3-13 season in 1988 was a prelude to an even worse campaign.
When the dust settled on the 1989 season, Dallas finished with a shameful 1-15 record. How did "America's Team," the same organization that had such great success under Landry, sink to such depths? What were the reasons why the 1989 Cowboys, before they became really good once again, became even worse than they were the year before?
The Cowboys drafted two stud quarterbacks, and they both struggled
Troy Aikman wasn't the only blue-chip quarterback taken by the Dallas Cowboys in the 1989 NFL Draft. During the supplemental draft, the Cowboys chose Steve Walsh, who was new head coach Jimmy Johnson's own star QB from the last Miami Hurricanes team he coached. This essentially created a competition for the No. 1 QB spot between two highly-touted rookies, but as is the case with most rookie signal-callers, neither Aikman nor Walsh played particularly well against NFL defenses.
As shown on the 1989 Cowboys' Pro-Football-Reference team page, Aikman went winless in 11 starts at quarterback, throwing just nine touchdown passes to 18 interceptions and finishing the season with a measly 52.9% completion rate and a QB rating of 55.7. Walsh, who started five out of the eight games he played in, was even less accurate as he completed just 50.2% of his passes, but he played slightly better overall, with five touchdown passes and nine interceptions and a 60.5 QB rating. He was also the starter when Dallas picked up its only win of the season against the Washington Redskins.
Certainly, this was not a very auspicious start for either quarterback. Aikman, of course, would go on to enjoy a Hall of Fame-caliber career as the Cowboys' No. 1 guy during their 1990s run of dominance, but Walsh failed to live up to expectations in the pros. He was traded to the New Orleans Saints midway through the 1990 season, and while he played decently in the Big Easy, he was essentially a journeyman who played for a total of six teams in an NFL career that ended after the 1999 campaign.
Michael Irvin missed several games with a knee injury
Just like Aikman, wide receiver Michael Irvin eventually made his way to Canton as a Pro Football Hall of Fame inductee. While far from the best-behaved individual on a Cowboys dynasty that had its share of volatile personalities and party animals (via Sports Illustrated), Irvin was very productive on the football field, and was rightfully known during his heyday as "The Playmaker." However, his 1989 season was, barring the 1999 campaign where he suffered a career-ending injury, the most forgettable of his 12-season career in terms of overall production.
Despite Dallas' losing ways, Irvin was actually off to a great start and was on pace to finish the season with more than 1,000 yards, according to the Los Angeles Times. But in the sixth game of the season, the wideout tore the anterior cruciate ligament in his right knee and was sidelined for the remainder of the campaign, depriving Aikman and Walsh of a reliable target and arguably costing the Cowboys a chance at improving on their 3-13 record from 1988.
Due to the injury, Irvin finished 1989 with only 378 receiving yards, and he wasn't himself just yet in 1990, where he started seven of 12 games and had 413 yards. Fortunately, the former University of Miami star had a long-overdue breakout season in 1991, just as the Cowboys were finding their stride as one of the NFC's top teams.
Jimmy Johnson's coaching received a lot of flak early on
Rounding up the list of problems the Dallas Cowboys dealt with in Jerry Jones' first season as owner was the perception that Jimmy Johnson was not worthy to fill the giant-sized shoes (or distinctive hat, in this case) left by Tom Landry, who had coached the team from their inception in 1960 until he was fired in 1988. As reported by The Baltimore Sun, Dallas' offense received a lot of criticism, particularly during the 1989 season, as Cowboys great Drew Pearson derided it as being high school-level. New York Giants linebacker Lawrence Taylor didn't have kind words for Johnson's offense either, calling it plain vanilla and ridiculing it for being so basic he thought the ex-Miami Hurricanes coach was running trick plays.
Linebacker Steve DeOssie, who was traded to the Giants after he missed a few days of spring minicamp in 1989 to attend his children's birthdays, had some sarcastic quips to make about Dallas' offense in 1990. "Last year, their offense was vanilla," he told The Baltimore Sun. "This year, it's more like chocolate chip." He also accused Johnson of treating his players like children, making him one of many Cowboys or ex-Cowboys who aired grievances about Johnson's coaching.
Despite those rough beginnings for the Jerry Jones-owned Cowboys, the Herschel Walker trade paid dividends when they turned the draft picks they got from Minnesota into productive players, including, but not limited to running back Emmitt Smith and safety Darren Woodson. As noted above, Aikman came into his own after establishing himself as Dallas' No. 1 quarterback, and Irvin overcame his injury woes. And Johnson proved his doubters wrong when he led the Cowboys to two of their three Super Bowl wins in the 1990s.