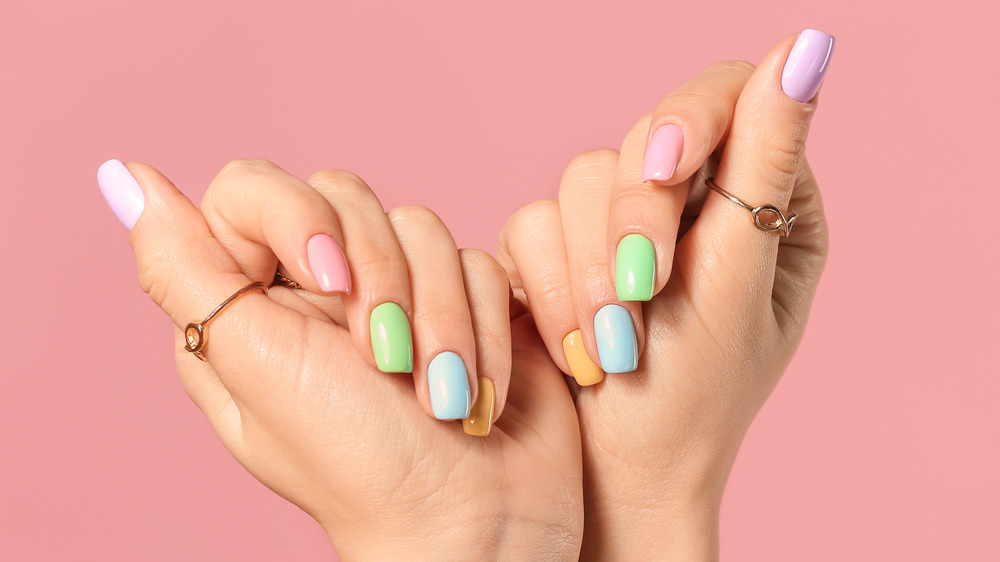 What are the best nail designs for 2021? That is the question that a lot of us have been asking, and with so many photos on Pinterest to comb through, fashion websites to follow, and influencers to be, well, influenced by, it can be tough to know where to start. With the coronavirus pandemic still around and consistent mask wearing being a thing, it's been tough to show off your personal style this year. Outfits can really only go so far, so cue eye makeup and daring nail looks.
Nail designs have always been a fresh way to represent your personal style, and the trend of cute nails is not going anywhere this year. But while nail designs of the past consisted of pastel polka dots and the infamous "party nail," 2021 looks are a bit more sophisticated.
So what nail designs should you go for this year? What trends should you say no to, and what designs will carry throughout the year? With so many nail salons still closed, how do you maintain said nail designs? There are so many questions, and we have the answers. Here are the best nail designs of 2021.
The "cuticle moon" look is a fresh take on nail designs for 2021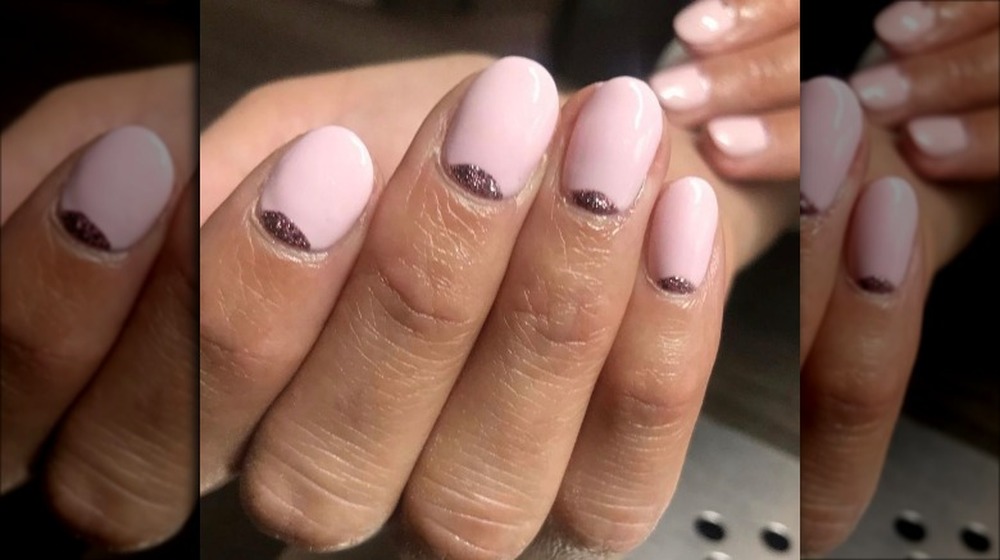 As far as nail designs go, we all have done the French manicure. It's simple, easy, and effective, but it is, by no means, tired. Still, in 2021, your nails deserve an upgrade. As noted by The Zoe Report, the "cuticle moon" design is a huge trend for 2021, and with its sleek look, it's easy to see why. All you have to do is create an arch either conforming to your cuticle bed or moving away from it and then fill in the space accordingly. Then just paint the rest of your nail with your desired color. It's a really easy way to do something different, and with endless color combinations, you can keep this design rotating throughout the year.
Don't believe us? Nail artist Rose Barron might be able to seal the deal. She told Refinery29 that the "irregular French" and the crescent style applied elsewhere on the nail (rather than just the tip) is the way to switch things up. She suggested using a fine, long-haired brush to create the look and then to seal it all up with a top coat. Can't go wrong.
Nail stickers added to simple nail colors are a major nail design trend for 2021
We all have tried to create bold and intricate nail designs on our own, but as soon as you go from your dominant to non-dominant hand, all hell breaks loose. Nail polish goes everywhere, and remover and Q-tips have to be at the ready. And it's even more of a disaster when black nail polish is involved. Luckily for us, nail designs — created by nail stickers — are the trend for 2021, and, honestly, we love it because acrylic nails can be risky.
Nail artist Holly Falcone told Vogue that nail stickers are making a huge splash in 2021 nail designs, especially considering that many nail artists are releasing their own stickers. Who wouldn't want to buy nail stickers from people who create gorgeous nails for a living? "Art on a negative space look less grown-out than a full-coverage manicure," Falcone said, highlighting just how great minimal designs will look for 2021.
Falcone also speculated that stickers are having a huge moment because of coronavirus lockdown restrictions, but if one good thing is going to come out of this pandemic, then it's the nail sticker trend. We don't want it to go anywhere.
Take your French manicure to the next level with this 2021-inspired nail design
There is something to be said about the French manicure — this timeless, professional, and low-maintenance nail design has maintained its popularity. But the squared-off French tip has run its course, and if you're trying to use 2021 as the year to switch up your go-to nail design look, then try the new twist on the French tip: velvet nails. Yes, you read that correctly.
As noted by Glamour, velvet nails — where the tip of the nail is used as a canvas of sorts — are taking over social media. Some people have taken the theme of velvet seriously and have added glittery polish to their nail tips that creates a texture and movement. Others have added design elements to the tips of their nails (keeping that velvet/glitter look, mind you) to create a daring look.
This is the year to go a little bit more bold with your nails, so even if you want a nail design that is professional and toned down but still fun, this is the look for you. Don't settle for the square French tip anymore — we're past that.
Experiment with cute metallic dot nail art designs for 2021
If you're a fan of polka dots, then this is the nail design for you. There was a time back in the early 2000s when polka dots on your nails had to be white, your base nail color had to be some sort of pastel — basically the look was as close to Easter as you could get. But the polka dots of the past have been replaced with minimalist dot art that is far more trendy.
As noted by Allure, people who often opt for minimal nails will love this design for 2021, because not only is it tidy and no-fuss, but it can often be accomplished without a professional nail artist. Nail artist Kate Smith created a metallic dot nail design herself, using three different colors for the dots so that they "really stood out." But to tone it down, she used a "sheer-base manicure."
So, to make this look yourself, choose a neutral base — like white or nude — and then go in with a fine brush to create the dots. Better yet, get a dotting tool yourself, and you'll never need to go to the nail salon again.
Nail designs with large jewel accents are the nail design trend for 2021
If you're someone who lives for the nail salon for all the cute nail designs, 2020 and 2021 have had to be rough. But don't worry, because you'll be heading back to the salon with nail inspiration that is hard to beat. As noted by Vogue, the boldest of the bold out there are opting for nail designs that feature jewels and adorned detailing, and while the looks are quite bold, they're literally beautiful.
Nail artist Sarah Nguyen told Vogue that she thinks this design trend will carry well into 2021 and could possibly be enhanced by even more ornate detailing. "We've seen such a huge increase in jeweled and adorned manicures … animal prints are going to make a huge comeback," Nguyen said. "We've seen tortoiseshell, crocodile, leopard, zebra and giraffe. From a 3D textured feel to high gloss mixed with matte, the possibilities are endless."
So get ready with your photos to show the nail artists just as soon as you find yourself back in the chair, and prepare yourself to wait a couple hours for the finished product. But you can't go wrong with this look.
Go retro with this mid-century modern nail design for 2021
The 1950s and 1960s are really having a comeback moment in 2021, and the trends of the mid-century modern aesthetic are even popping up in nail designs. As noted by Allure, the art deco look is the design for 2021 because it's sleek and sophisticated, but has a pop of color.
Nail artist Gina Edwards told Allure that she came up with a mid-century modern look sort of by accident. She was using different hues of purple and a pure white nail polish and started to improvise. "There was no guide for this look," she said about the look, which ended up featuring different color blocked sections on the nail. "I ended up blending some colors by Emilie Heathe and decided to make a grid on the nail."
We're glad that she experimented with the look, because it's inspired a bunch of mid-century looks. So don't be afraid to do some color blocking, to add some minimal stripe detailing, and to switch up your go-to color of light pink or nude with a fun purple or green.
Bring flowers back to your nails with this retro-inspired nail design for 2021
We know what you're thinking: flowers on your nails, seriously? And, yes, we are serious, because these aren't the early 2000s nail design look of dot flowers that you'd get on the corner of your nail (with a rhinestone center). We have all evolved since then, so before you get flashbacks to the days of pure white nails with a bright pink flower, let us explain. Floral nails, using retro 1970s colors and featuring full-length nail designs, are the look for 2021.
As noted by Glamour, the simpler the flowers are individually, the better. That way, you can add more and more flowers to each nail for a unique, trendy look. You could even go as far as using more muted colors, or even just feature a floral or greenery-inspired design on just one nail. Flowers don't have to have rhinestones, and they don't have to be over the top. Just stick to toned-down colors and more intricate designs, and you'll be golden.
Press-on nails with bold, graphic designs are taking over 2021 nail designs
Tired of your own nails? Same. So for 2021, opt for bold nail designs in the form of press-ons. These aren't the press-on nails from CVS that you used to get in middle school and hide from your mom. These are just about the closest thing you can get to designer press-on nails, and, as noted by Vogue, you're going to want to hop on this trend now.
Nail artist Juan Alvear told Vogue that press-on nails have seen an uptick in popularity given the restrictions of the coronavirus pandemic. As a result, colors and designs on said press-on nails have become more elaborate and bold — like red and orange swirls on a yellow background. "I expect this trend to continue. It's an exciting idea for people to start a collection of reusable nails that match different moods and color schemes," Alvear said. "I expect to see a lot more custom day-to-day nail art. People have more time on their hands, which allows them to experiment."
So, you heard it here, don't be afraid to try a bold, press-on nail.
Bring a different look to each nail with this bold and fun nail design for 2021
2021 nail design is all about taking risks. After a year of living a far more publicly-restricted lifestyle and having to compromise on self-care moments like getting your nails done, it's time that we start doing what we want. And, if you've never been one to conform, then this nail design look for 2021 is for you. As noted by O, The Oprah Magazine, a nail design trend called "indie nails" is coming in hot, and given the flexibility of the look, it's not hard to understand why.
Indie nails are created by giving each nail a different design — so whether you want all different shades of retro green to make up your look, or you really want to be bold and give each nail an entirely different image, then this is the look for you. The great thing about indie nails is that you can make the design out of anything you want. So whether you're more of a swirls and checkered pattern person, or you want a nail painted with little avocados next to a nail painted with a smiley face, this is a design that will serve you well.
Bold nail designs with negative space are hard to beat for 2021
2021 nail designs are all about creating something new, and if you think that nails can't be used for a political purpose, then think again. Nail artist Gina Edwards created a gorgeous black-and-white nail design for 2021, and we're certainly wanting to recreate it. Not only does the design use negative space to do most of the talking, but the subtle wisps of black nail polish create a look that is clean, daring, and easy to replicate. "I was inspired by the Black movement and equality of Blacks in America," she told Allure. "Stemming from George Floyd and others before him, the design shows black strokes moving in various directions in search of equality and respect."
Nails that look great don't have to just be for vanity, and if Edwards has proven anything with her design, it's that nails can go far beyond just looking good in 2021. Different uses of negative space and black nail polish can create gorgeous, dynamic looks. And using black nail polish does not have to mean all doom and gloom. So grab your black nail polish, and with a simple base coat, you'll be good to go.
Don't fear bold pink nail designs in 2021
Good news for those of us still looking to Legally Blonde for all of our life inspiration: Pink nail designs are back, and they're better than ever. As noted by O, The Oprah Magazine, bold, pink nails with geometric designs have seen a steady increase in popularity in 2021, and the look is only going to get more popular with time. "Pinks were a popular choice amongst designers this season, so I expect them to have a moment," Jin Soon Choi of Jin Soon Hand and Foot Spas in New York City told O.
If you're really looking to shake things up and want to be that person with the loudest nails in the room (a position of which we completely support), then this is the look for you. And what's even better is that all pinks — from bright to bubblegum to neutral — are on the table. No more "ballet slipper" pink only — 2021 is the year to go bold.
So bust out that pink nail polish, get a detail brush to get some geometric designs in there, and go to town.
The best upcoming 2021 nail designs to look out for
Nail designs can come and go like the weather — it seems like what's on trend is always changing, and it can be tough to keep up. So here is your 2021 nail design forecast (this is the time to screenshot). As noted by Refinery29, there are a couple nail design trends to keep an eye out for, including tinsel accent looks and warm, chocolatey marble designs.
Trend one: tinsel accents. Instead of returning yet again to the classic French tip (just don't do it), opt for a nail design that features long, single stripes of polish down the nail. Paint your nail with a neutral base color, bust out your best metallic shades, and use each one to fill out the tip of your nail. Feather out the stripes as you work down, and you can't go wrong.
Trend two: the chocolate marble look. You really can't go wrong with this one either. The warm tone will be perfect for the warming seasons of spring and summer, plus the marble look is always classy. But leave this design to the professionals.